When you think of train travel, usually the first thing that comes to mind is that backpacking trip through Europe. Trains and the Eurail pass are considered a right of passage for many young travelers.
Train travel in the US is largely under utilized. With a country so full of amazing places and sites it's a shame we don't opt for the train more often.
That however is changing and train travel in the US has gained a ton of popularity over the last decade. In fact, Pinterest reported US train travel searches are up almost 200% in 2018.
This is great news because seeing the US by train is not to be missed. It's easy on the wallet, you meet great people, and see parts of the country that you can't see by vehicle.
So let's see what Amtrak is all about and how to experience this unique and underutilized way of seeing our great country.
WHY TRAVEL BY TRAIN
The United States has no shortage of terrific country to see. If you think you're seeing the country as you cruise down an Interstate you couldn't be more wrong. The magic of the US sits well off the Interstate and trains are a perfect way to capture these less visited parts of the US.
Not only do trains get you on a path less traveled, but they also cover parts of the country that aren't accessible by car at all. Cross country travel by train is back in style thanks to Amtrak's exciting new routes.
Unlike planes that simply wisk you from one point to the other, trains make the travel itself enjoyable as you cruise from point A to point B.
In addition, train travel is a far more eco-friendly way to travel when compared to vehicles or airplanes.
US TRAIN ROUTES
With more than 30 train routes throughout the United States, and some in Canada, Amtrak travels to over 500 destinations in 46 states, giving you the best views North America has to offer.
Whether you want to visit big cities, small towns or places you can only see by rail, Amtrak can take you there. With over 30 different routes I won't go over them all but rather highlight some of the more popular ones.
Don't miss these iconic small towns of the west

9 Not To Miss Small Towns Of The West
AMTRAK ROUTE MAP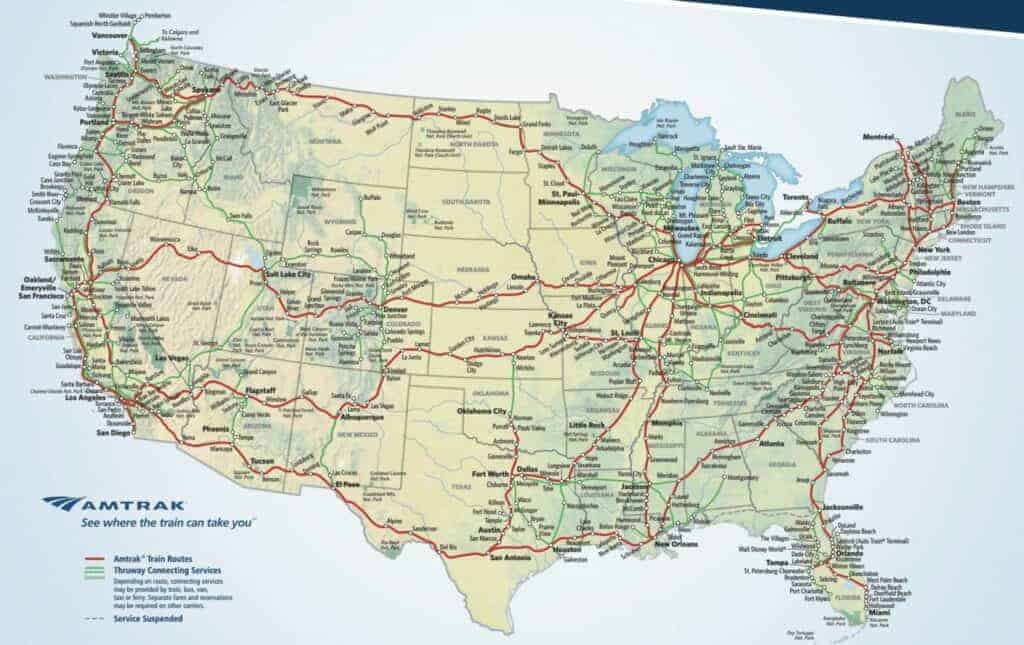 Above you can get a general idea with the Amtrak Route Map. In addition Amtrak has put together long-distance routes that highlight the country, national parks, and scenary that make the country such a special place to see.
SOUTHWEST CHIEF
This 2-day journey between Chicago and Los Angeles makes its way through Kansas City, Albuquerque, and Flagstaff to name just a few.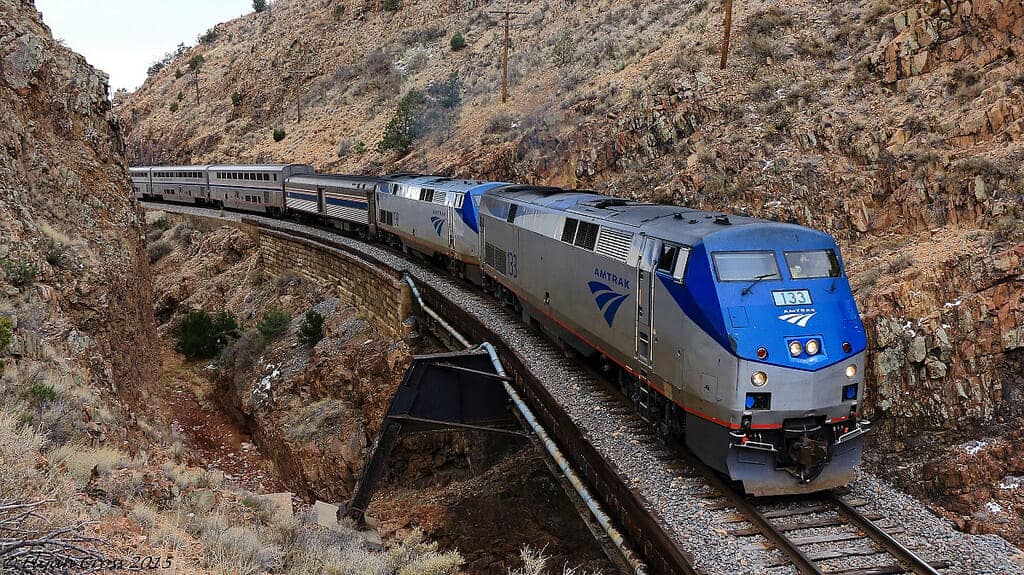 Running daily, this route promises views through the vast expanses of the iconic American West. Across the mighty Mississippi, through vast wheat fields, pueblos, mountains and deserts. All while carving through canyons that are not accessible by vehicle.
This route passes near several national parks including the Grand Canyon. It's easy to hop off the train for a day or two and then hop back on when you're ready to continue.
Amtrak will even arrange shuttles or busses to get you to and from the sites.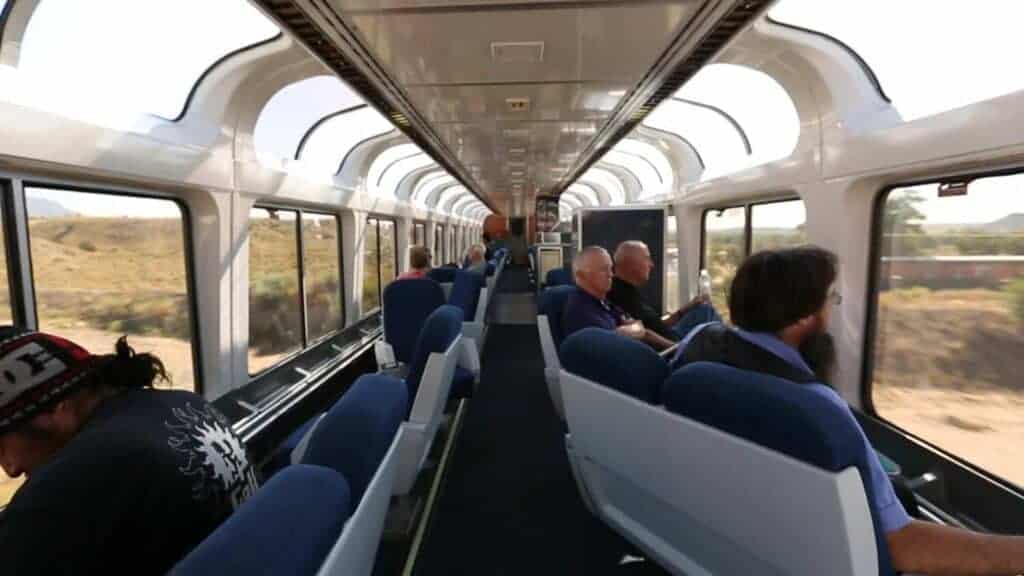 CALIFORNIA ZEPHYR
Arguably one of the most beautiful and popular routes offered by Amtrak, the Zephyr is sure to please. As you climb through the heart of the rockies and snow-capped Sierra Nevadas you'll be mesmerized by the sites as you climb some of the highest passes in North America.
This daily route between Chicago and San Francisco runs through 7 states and is one of North Americas most scenic routes.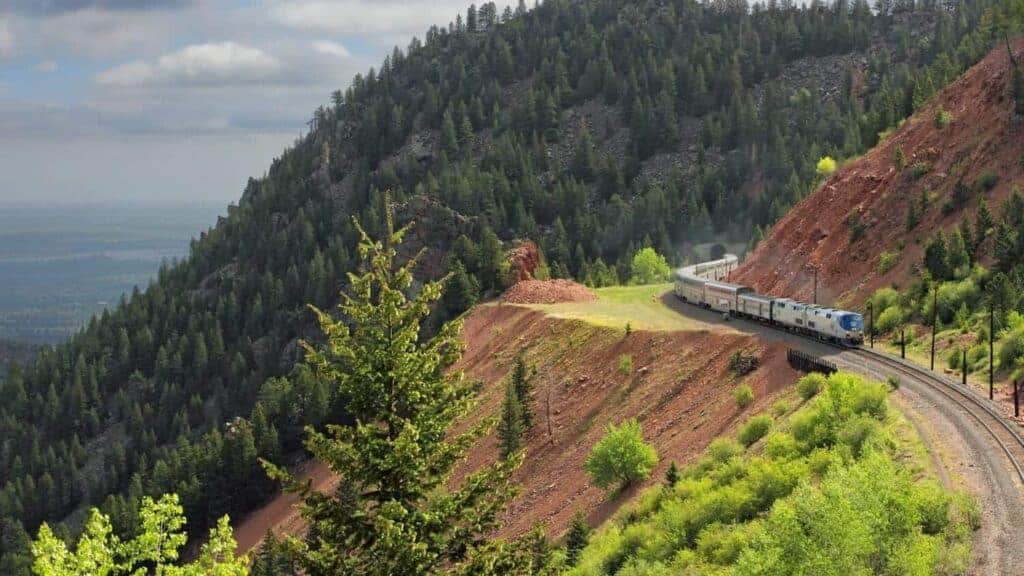 CRESCENT
The Crescent offers a unique coastal route between New York City and New Orleans. You will follow the eastern seaboard through New Jersey, Delaware, Maryland, Blue Ridge Mountains of Virginia, North and South Carolinas, and finally Georgia, Alabama, and Mississippi before arriving in New Orleans.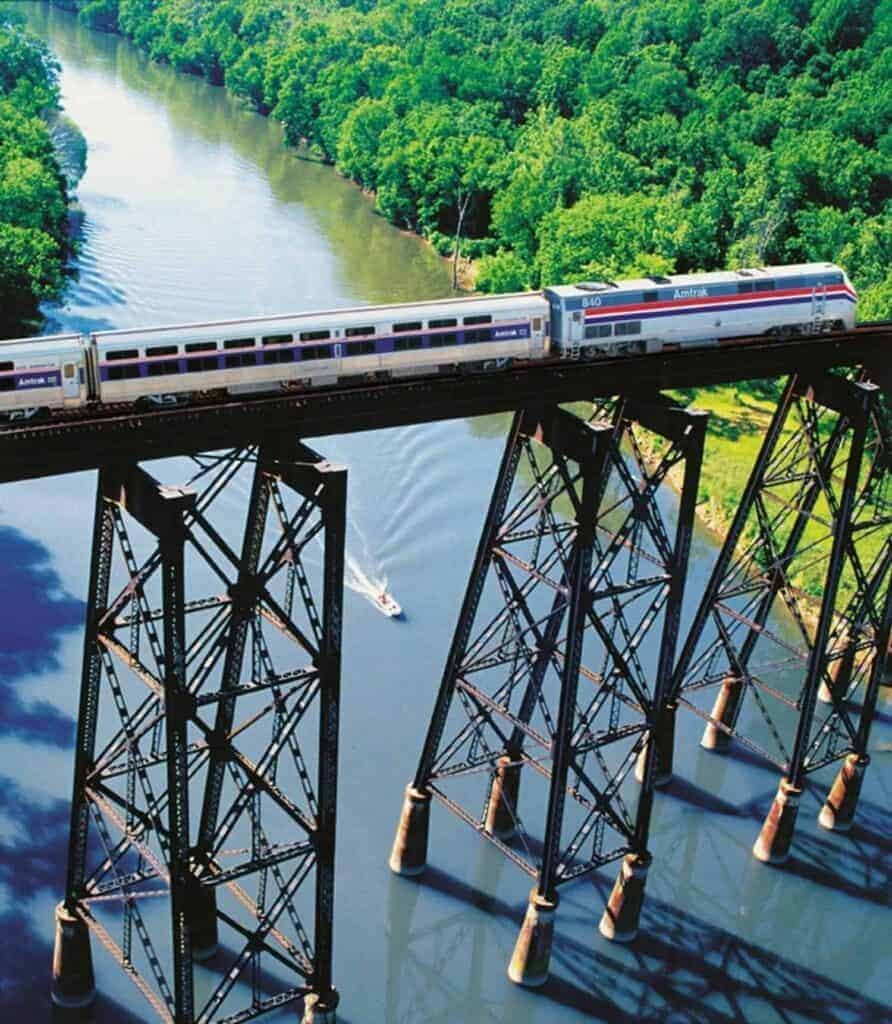 EMPIRE BUILDER
Also departing from Chicago but this time staying north through Wisconsin, Minnesota, North Dakota, Montana, Idaho, and Washington. The route splits at the end offering destinations to Seattle or Portland.
Along the way you will pass through Montana's Big Sky country and Glacier National Park.
PICKING AN AMTRAK ROUTE
The above were just a few that I have experience with or that come highly reviewed. There are a ton more routes so be sure to check them out here. And don't forget you can link routes together for even longer trips.
It's also worth noting that Amtrak does their best to time routes so that you'll be passing by the best sites during the daylight hours.
NEED SOME TRAVEL DESTINATION IDEAS?
AMTRAK SEATING
Depending on your route you may have just a few or all of the options listed below.
Coach Seating – I find coach seating much more comfortable than what you would find on a typical flight. You'll have more arm and foot room as well as a seat that reclines further than what you're used to on an airplane.
Business Class – This dedicated car offers a bit more leg room as well as complimentary snacks and non-alcoholic drinks.
First Class – Available exclusively on the Acela Express route. You'll enjoy the finer things in life like complimentary beverages and food service in addition to a roomy seat.
Consider throwing in a little luxury camping or glamping as it's often referred to

Spice Up Your Road Trip: The West's Best Glamping Destinations
AMTRAK SLEEPER CAR
For the longer routes you have the option of sleeper cabins. While many will opt for the standard seat and just take advantage of the reclining chair, sleeper cabins will assure you are rested the following day.
The specific types of accommodations vary depending on the train route you are taking. There are two primary train types, Superliner and Viewliner. While both have similar ammenities the configuration is a little different.
I'll go over the Superliner sleepers below but just know the Amtrak Viewliner are almost identical and can be found here.


AMTRAK SUPERLINER ROOMETTE
The simple Roomette option accommodates two people and is perhaps best shown with a couple pictures. The Viewliner Roomettes have a single toilette that is not available on the Superliner.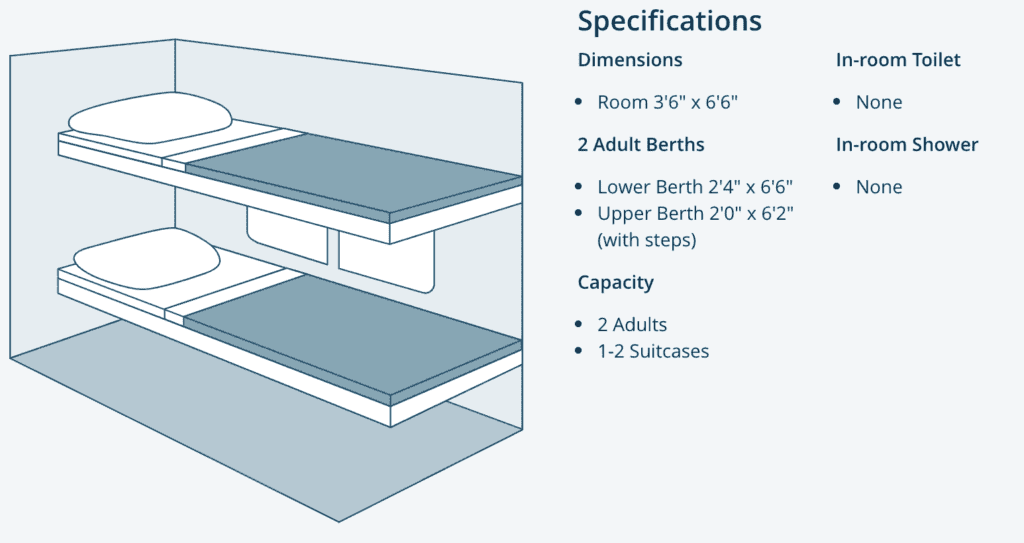 Superliner Roomette Amenities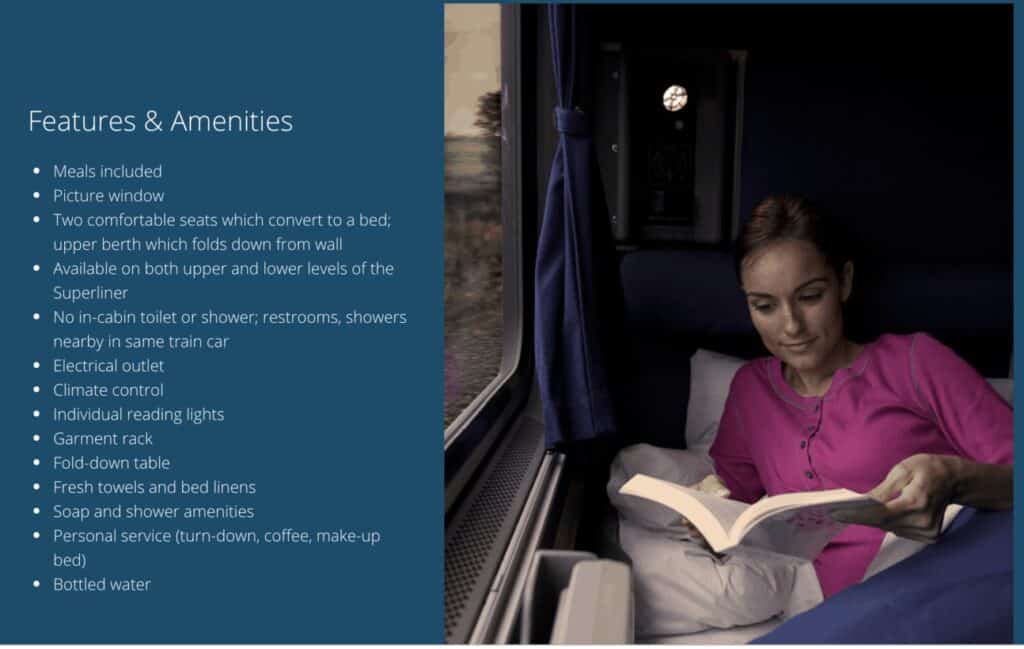 AMTRAK SUPERLINER BEDROOM
Next we have the Superliner Bedroom complete with bathroom and shower. If you have a bigger group you can combine two of these together to make one large suite.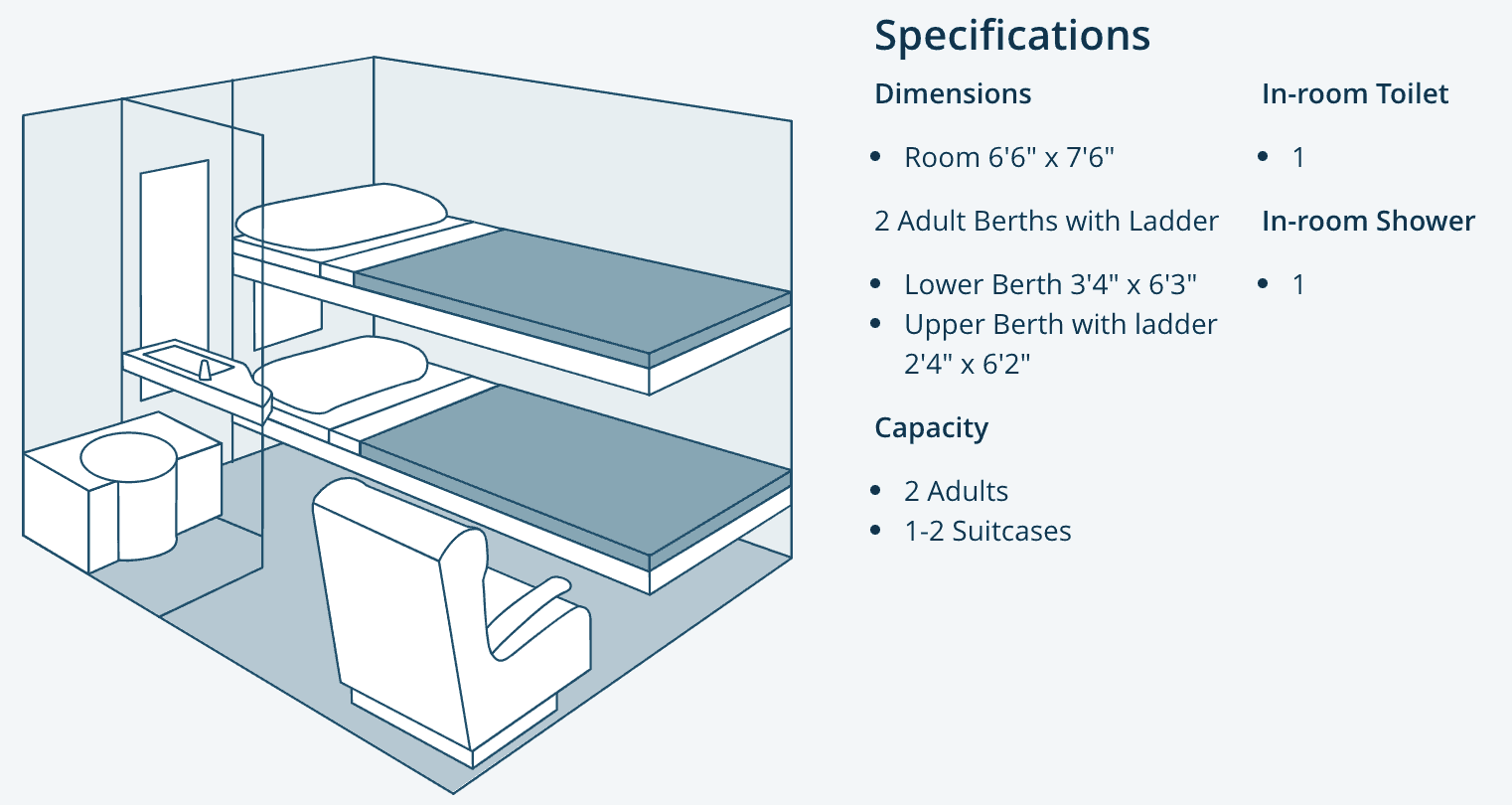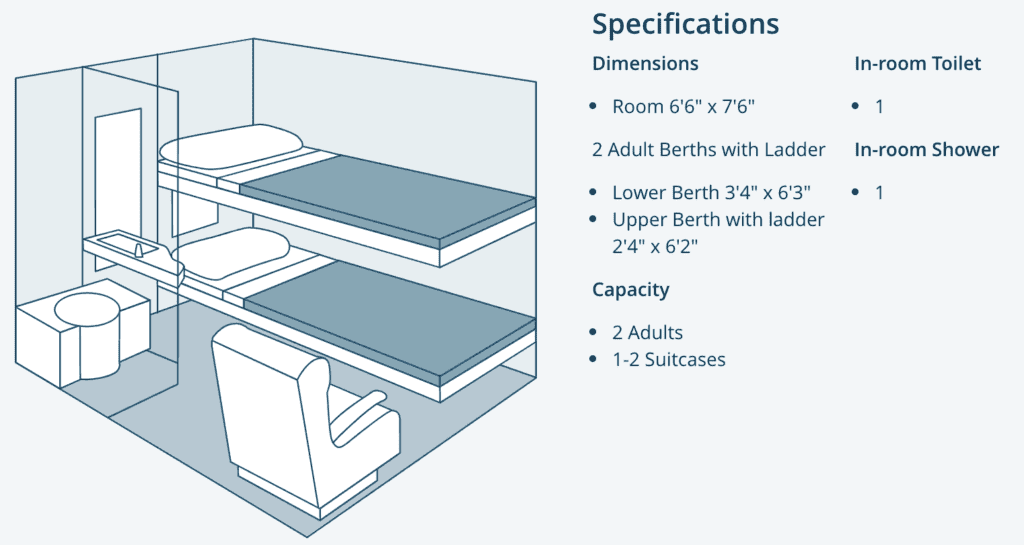 Amtrak Bedroom Amenities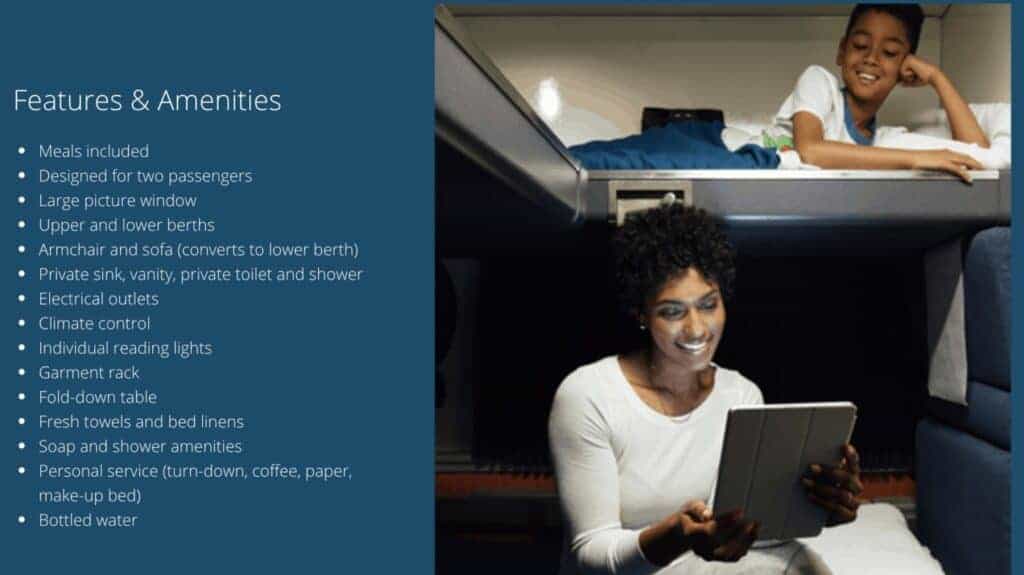 AMTRAK SUPERLINER FAMILY BEDROOM
And finally we have the Superliner Family Bedroom that offers sleeping for 4 people in a compact budget friendly setup.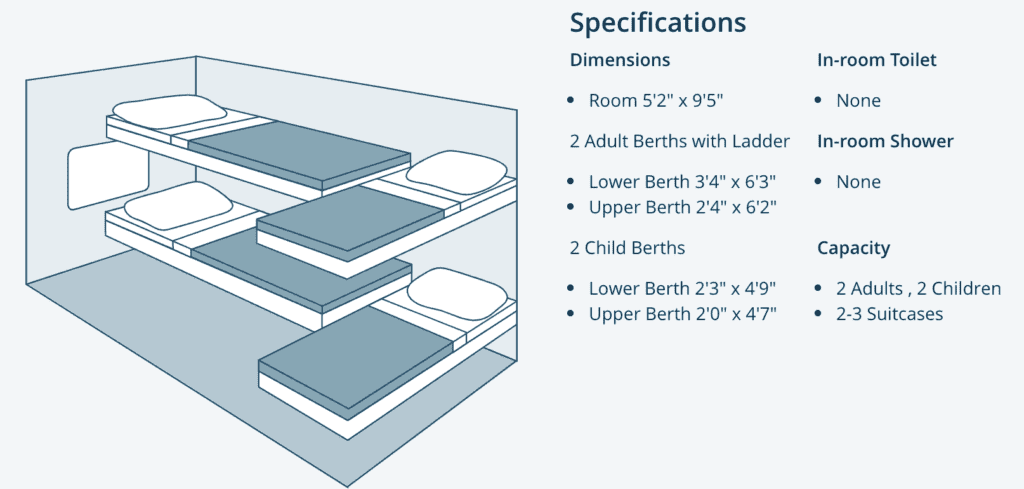 Amtrak Family Bedroom

AMTRAK DINING CAR
Let's not forget that you are free to roam the train, stretch the legs, and enjoy the view from a different part of the train. Long distance trains will include dining and lounge cars where you can have yourself a proper table-cloth dinner. In fact, meals are included if you book a sleeping car.
To get a glimpse of the different menus offered on Amtrak dining cars you can head here. Each of the long distance routes offers a unique menu that pairs with the area of travel.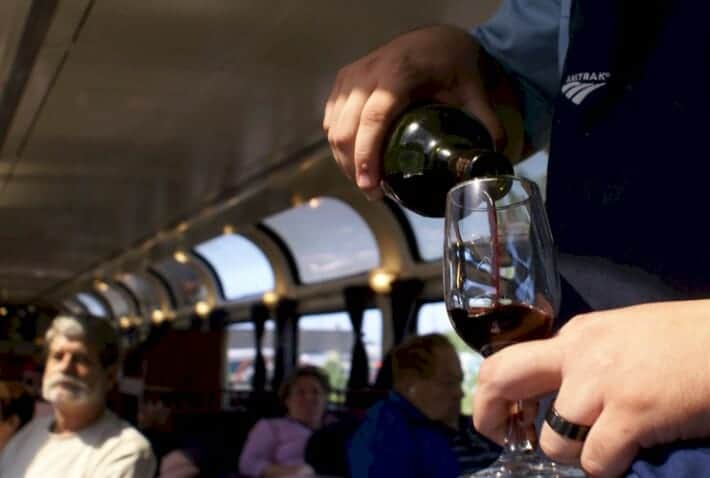 AMTRAK LOUNGE CAR
Or perhaps it's time to enjoy a sunset with your favorite cocktail in the lounge car. And don't miss the dome car for the incredible view.
On most medium and long-distance trains, food service is available in the Lounge Car, featuring table and casual seating. Food service is generally available from early morning till late evening.
They offer a variety of carry-out style foods, including sandwiches, pizza, snacks, and beverages including liquor, wine and beer.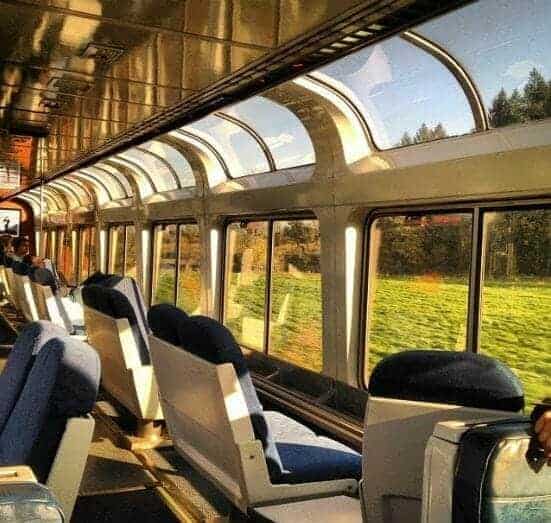 US RAIL PASS
It's important to note that Amtrak trains don't operate like a city bus in that you are allowed to just hop off and get back on wherever you want. They require that you designate your on and off points. So if you want that 2 days off to explore the grand canyon that is something you can't really decide last minute.
The USA Rail Pass is a great deal if you want to break up your trip with some stopovers. Similar to the Eurail pass in Europe it allows you to pick a plan based on how many stops and how long you wish to travel. You can then book your legs with a bit more flexibility and a better deal than booking those all individually.
The plans start at $460 for adults which includes 8 legs over a 15 day period. Longer duration options are available as well. But for a lot of people 15 days is just about right.
While 15 days might not sound like a lot you must remember that that train is rolling all night while you sleep so you can really cover a lot of country compared to say driving yourself.
Now you can hop off the train and catch a bus or Uber to sights you wish to see. Knowing that Amtrak runs most of its routes daily so hopping back on the train the following day shouldn't be a problem.
Get details on the Rail Pass here.
TRAIN TRAVEL TIPS AND TRICKS
Pack a roll of toilette paper and hand sanitizer
An eye mask and neck pillow are great to catch a quick nap
A lightweight bag liner or sleeping sheet. Even though the sheets are clean it's still a nice touch to have your own.
Grab some healthy snacks to save a few bucks for those between-meal snacks.
Trains are a great place for cards or other board games. My favorites are Mad Libs (the adult version of course). There's no better way to break the ice with fellow travelers and have some fun.
Some sort of slipper or other comfortable shoes for walking about during the evenings and for night visits to the restroom.
Dress in layers as some people report the temps can swing from hot to cold even just between different cars.
GET OFF THE BEATEN PATH ON USA TRAINS
I hope it's obvious that trains are a great option for getting around the US. This often overlooked form of travel for Americans is gaining steam so "all aboard!" for a stunning way to see this great country.