My wife and I have been traveling all over the world and have learned a lot about travel safety. With these travel safety tips you can stack the odds in your favor for a great and safe trip.
I was hesitant to write this article because I don't believe in filling people with fear. But I thought a better way to go about this is to give you everything you need to replace that fear with confidence.
I should also mention that in our travels we've had very few problems. Aside from very minor petty theft we haven't run into much else. Even the problems we have had were due to mistakes made on our end and could have been easily avoided.
There are numerous things you should do before the trip even begins. At a minimum, I would start this at least 2 weeks out. Let's get started.
Be sure to read our International Travel Planning Guide – Passports, visas, and how to book the cheapest flight.
INTERNATIONAL TRAVEL SAFETY
The U.S. Government hosts a site with specific safety info for every country in the world. The problem with this site is that the warnings are generally far more severe than they need to be.
They outline everything that could possibly go wrong as opposed to what likely could go wrong. If they rated the U.S. I'm sure it would come back "dangerous." So don't weigh this one too heavy but it does give you a general idea of what's going on. You can check it out here.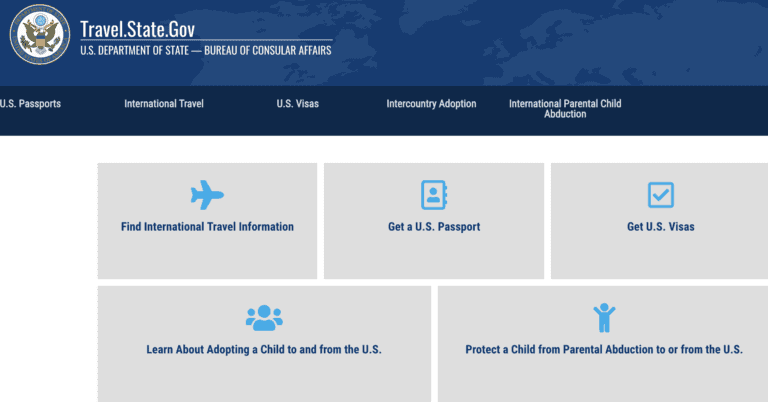 The State Department does have a program that I like called STEPS (Smart Traveler Enrollment Program). You simply enter your information in about your trip such as when and where you're going.
It then monitors that region and lets you know of any possible concerns such as political problems, natural disasters, or other dangers. It even offers a way for your family to get in touch should there be an emergency back home.
TRAVEL FORUMS
From here I like to take it to the travel forums. These are filled with real people that are living and traveling in the area of question. This is going to be your best information.
Tripadvisor, LonelyPlant, and Fodor's will get you started.  Just look through the forums and they will have not only country but regionally specific info.  This is also a good place to get a grip on the current travel scams.
For example, in Ecuador they had a lot of counterfeit money that people would try to dump on you. Luckily it was easy to spot and avoid as long as you knew about it.
TRAVEL DOCUMENTS
From here we dive into the necessary documents. Required documents will vary by destination and the State Department site can help you figure out just what you need. Another site handy site for Visas is iVisa.
Check out our International Travel Planning Guide for more tips on passports and Visas.
Any document that I need I take a picture of it or have it color scanned. I then email myself and a family member a copy. I also keep a copy on my cell phone since that is usually going with me as well. If you're with a group make sure you send copies to other people in the group.
Here's a list of documents to think about
Passport, Visa, Drivers License
Any pertinent medical information.  The more significant your history the more info I would include.  Even down to your primary physician phone number.
Health insurance, car insurance, and travel insurance
Any travel specific vaccinations
Look up the U.S. Embassy for the area and write that down
The State Department has an overseas emergency number, US/Canada 1-888-407-4747, overseas +1 202-501-4444.
I often include these phone numbers in my Travel Journal pre-planning section along with contact numbers for the various places I'm staying in case the internet is hard to come by.
We are off to a really good start and now you are prepared for that all too common lost passport. I can tell you from experience, having passport copies and the right phone numbers to call will really speed things up.
TRAVEL SAFETY PACKING TIPS
Where to keep all this important documents is the next big question. There are all sorts of passport holders.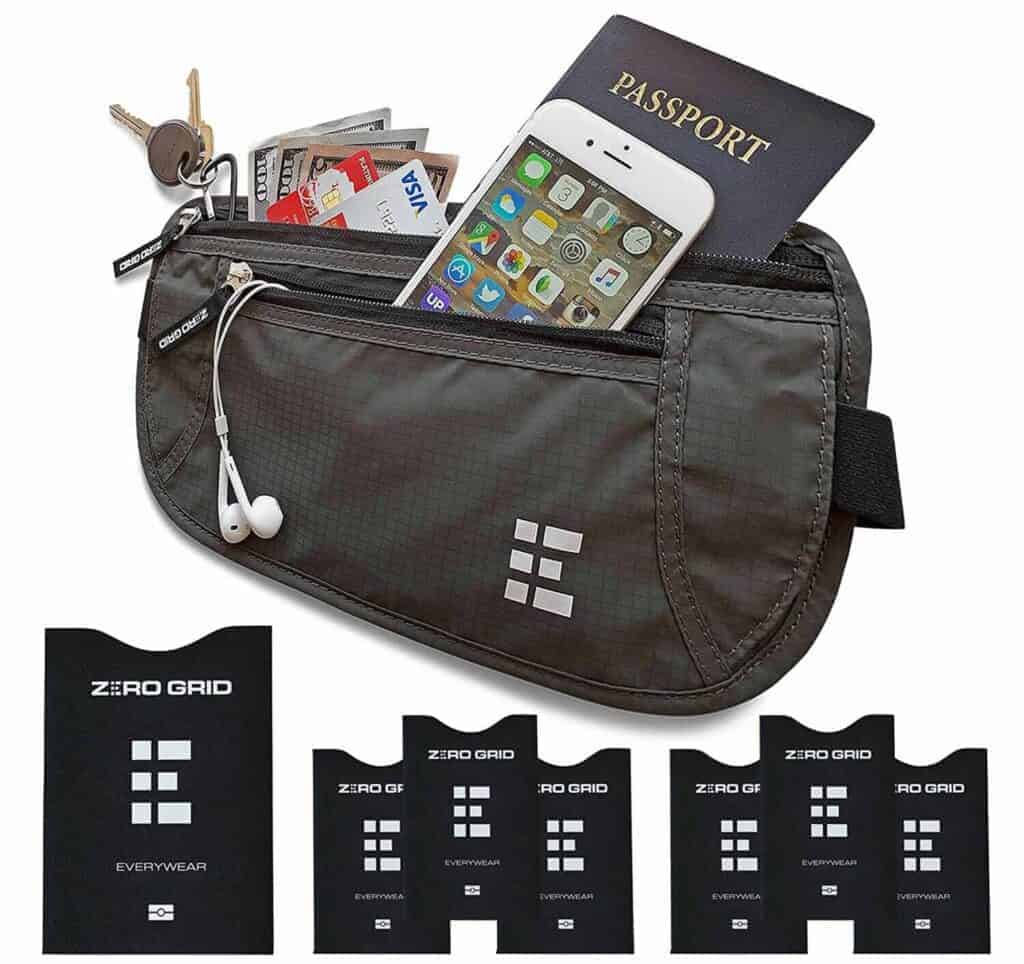 These belt or fanny pack style are a popular choice. They are easy to hide under a shirt and can even be worn inside your pants. This particular bag includes RFID blocking sleeves that you put over your credit cards to prevent mobile scanners from getting your info. These are moderately priced and well reviewed at Amazon.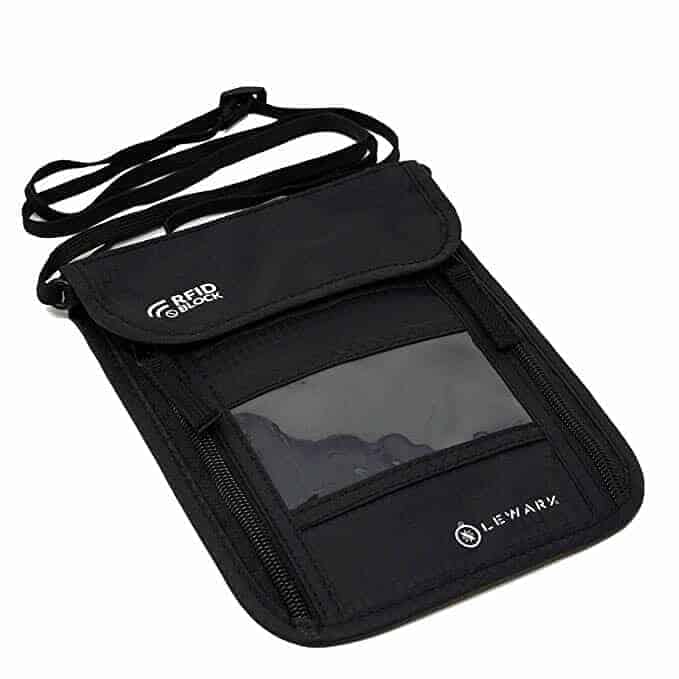 This is another very popular style. These can be worn around your neck and even kept under a shirt. This particular one also has the RFID blocker. Also available at Amazon and is very well reviewed.
What do I use? I typically keep my passport in my cargo pocket of my pants or a zippered front pocket in my shorts.
One important tip is to NOT keep EVERYTHING in one wallet. I like to split things up between two places so that if I get jacked I'm not completely cleaned out.
I'll even make a fake wallet with old expired credit and gift cards. Throw a little cash in their to make it look legit. If someone politely requests to steal your wallet you can just give them the fake one. And over dinner that night you can laugh at the poor sucker trying to buy things on a bunch of empty and expired gift cards.
TO CHECK LUGGAGE OR NOT
I refuse to check luggage unless I absolutely have to. My wife and I travel for months at a time with bags that can easily be carried on. The art of Packing Light is easier than you think.
We took our honeymoon in Ecuador and one of our bags didn't make it.  Took over 3 days for it to show up.  Needless to say it put a damper in our travel plans. Thankfully we had a little travel insurance.
If you do check luggage just make sure you keep a carry-on bag with your essentials and your first nights clothing with you just in case. Medications and other comfort items to get you by if a bag is misplaced.
INTERNATIONAL TRAVEL INSURANCE
We do recommend insurance. I like to know that I'm covered if my laptop or camera get's stolen. For flight cancellations and missed connections they will put you up in a hotel. Medical and evacuation coverage, the list goes on and on.
We've been using World Nomads and have been happy with it.  It definitely seems to be the most popular choice.  I also like that they have high altitude trekking coverage.  
Head over to our Travel Insurance Review to see if it's right for you.
Roam Right is another popular choice and definitely worth a look.
Regardless of which you chose I think you'll find the prices are quite reasonable for what you get.
SAFETY TIPS WHILE TRAVELING
SITUATIONAL AWARENESS
Situational awareness is good practice everywhere. To put it simply it's just being aware of what's going on around you and being aware of the people around you.
If you start noticing that you're seeing the same person at multiple coffee shops and then hanging out around your hotel, that's a red flag. Thieves will often stock people before they strike.
TRAVEL SCAMS
Once you get to the country be sure to talk with people about any known problems or scams going around. Talk to other travelers and see how things have been going. Just have a casual conversation and I assure you if they are having issues they will let you know.
LOCK UP YOUR VALUABLES
Now there's not always going to be the option to lock up your camera or computer. Most likely you'll want those with you anyway. The trick to keeping these items safe when out and about is to never loose sight of them.
Don't think for a minute that a quick trip to the bathroom will be okay. Most thieves go for the easy opportunity thefts. These are simple to avoid with a little diligence.
When you're taking a nap use your bag as a pillow and slip your arm through a strap so that if someone quickly grabs it they can't. Do your best to not show off all this expensive camera equipment unless it's necessary. Keep that stuff under wraps.
STAYING HEALTHY WHILE TRAVELING
I don't know about you but one of the biggest parts of travel for me is the food. I can't help myself when I see a street food cart. While I realize they could be a touch risky that's a risk I'm willing to take.
As far as water goes I'm a little more careful.  I carry with me a SteriPen and can give a quick swirl to a glass of water and know that it's safe to drink.  
If I'm buying water I try to buy in gallon jugs to avoid all the plastic waste of those smaller bottles. The waste in some of these 3rd world countries is staggering.
Be sure to read our How to Avoid Altitude Sickness if you plan on hitting up any high country.
AVOID USING YOUR BACK POCKETS
Keep everything in your front pockets or side cargo pockets. A back pocket is just too easy to pick. If you're in a crowded area or standing in a crowd make sure you swing your bag up front.
That goes for cameras as well.  Even though they may be secured around your neck they can still pull the lens off.  My Sony A7 lenses cost significantly more than the camera itself.
AVOID LATE NIGHT WALKS
Most cities are pretty safe during the day when there are lots of people out. As night falls things can change. If you must walk at night try to do so in a group.
TRAVEL FIRST AID KIT
Don't forget some sort of first aid kit.  Here's a great DIY First Aid Kit you can build yourself, along with some travel specific medications I recommend.
It's always a good idea to talk to your doctor about any vaccinations or Malaria pills depending on where you're traveling.
SUMMARY
Well I hope I didn't scare anyone. I've been traveling internationally for decades and have had far more problems in the state's than I ever have internationally.
Just like everything in life traveling does carry a certain amount of risk. No different than driving a car or crossing the street. But with these travel safety tips you will be stacking the odds well in your favor for a lifetime of worry-free travel.
I also recommend reading my roundup article on travel safety.  I had 16 of the top full-time travelers share their travel safety advice and close calls.
ADDITIONAL READINGS: