Having grown up in Seattle I will always call Seattle home despite my thirst to travel and explore other places.  Seattle has just the right amount of funk and culture that contribute to its amazing food.  These Unique Seattle Restaurants will not only thrill your taste buds but I've also chosen them to get you into some of Seattle's best neighborhoods for the most unique places to eat in Seattle.
We just updated this article for 2023 and added even more hidden gem restaurants Seattle has become so famous for. So grab a fork and let's dive into all the fun restaurants Seattle has to offer.
Nue – A Truly Unique Seattle Restaurant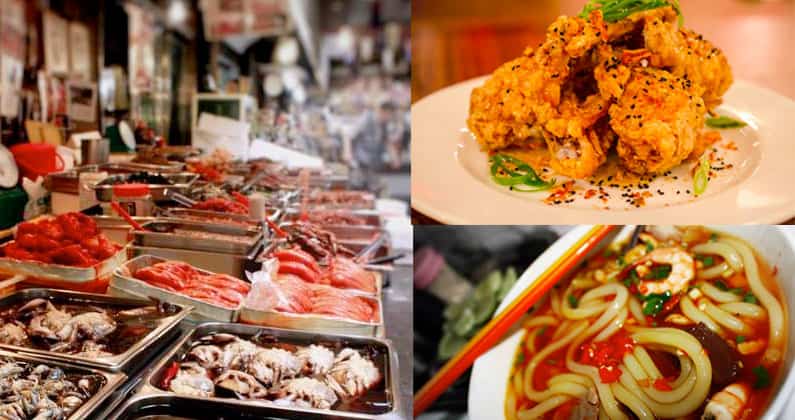 Nue offers a casual dining experience with food and drink inspired by international travels making this one of the coolest restaurants in Seattle. The diverse inspirations range from the tascas of the Iberian Peninsula to the colorful markets of Asia. The food is approachable yet unique, often surprising and always delicious.
The atmosphere is unassuming and perfect for a relaxing meal or gathering with friends. Highly recommended for those looking to try something new and delicious. One of the most fun restaurants Seattle has to offer for foodies.
Beth's Cafe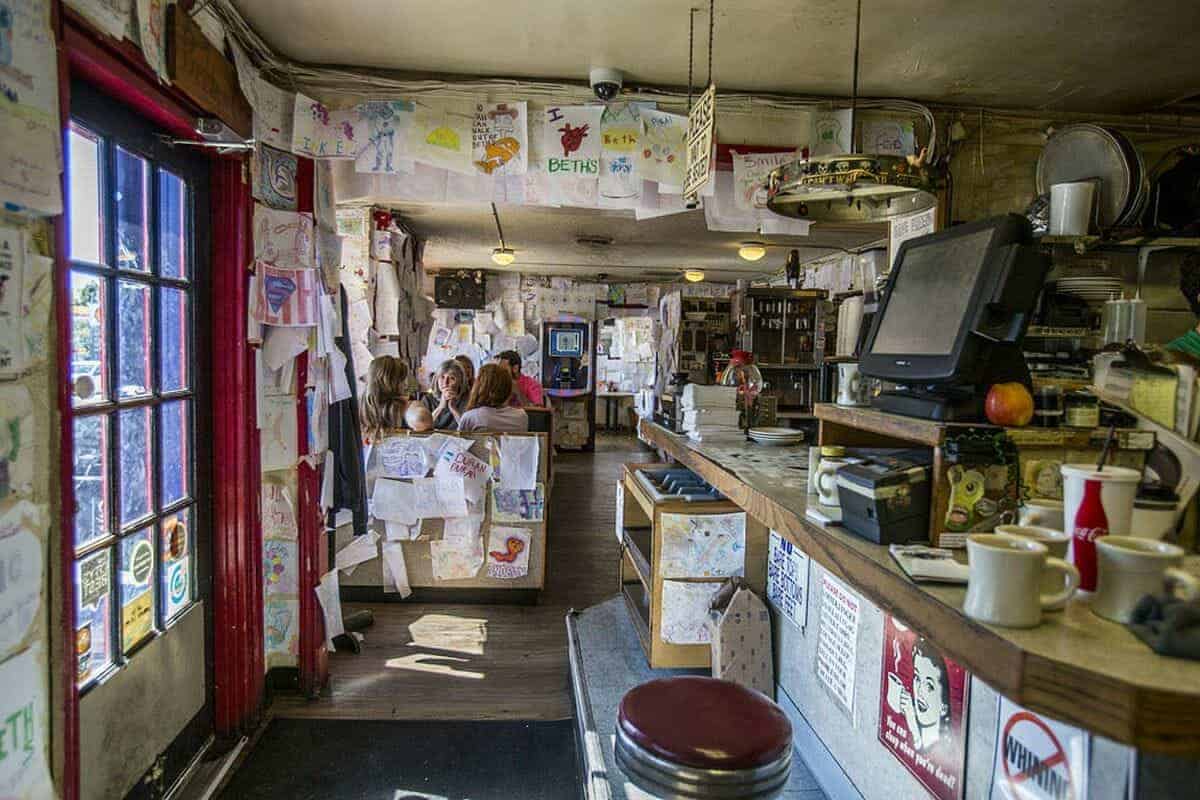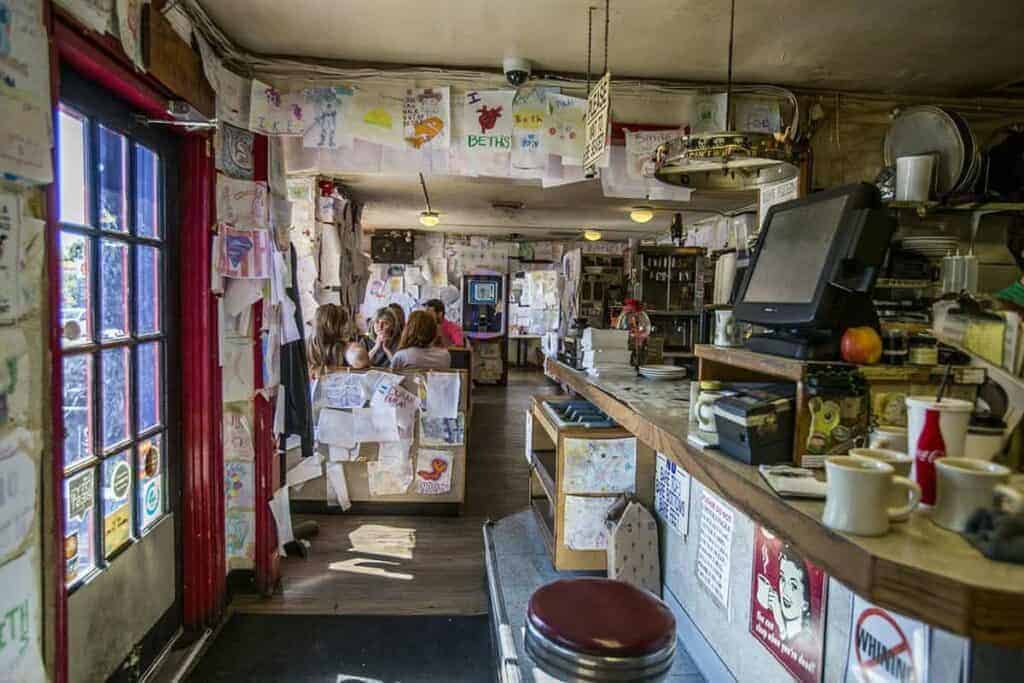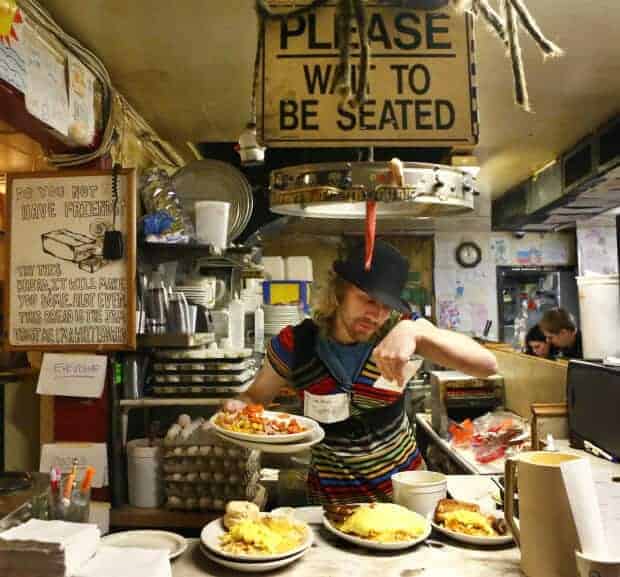 Beths Cafe holds a secret spot in our hearts as it was one of the one the first places August and I hung out after a late night of one too many drinks in the city. If you're into a great late night or early morning meal this is your place!
Beth's Cafe opened in 1954 and remains largely unchanged. It's an absolute Seattle late-night staple and perhaps one of the greatest "greasy spoons." The Travel Channel picked Beth's Cafe as the best place in the country to "pig out."
The walls are decorated in patron created art from napkin drawings to dirty Seattle quotes. The most famous dish, 12-egg omelette, was featured on the February 11, 2009 episode of Man Vs. Food. Open 7am to 3am this Seattle icon keeps the locals fed day and night.
If your lucky you'll score the booth with the "I lost my virginity at Beth's" napkin artwork.
Biscuit Bitch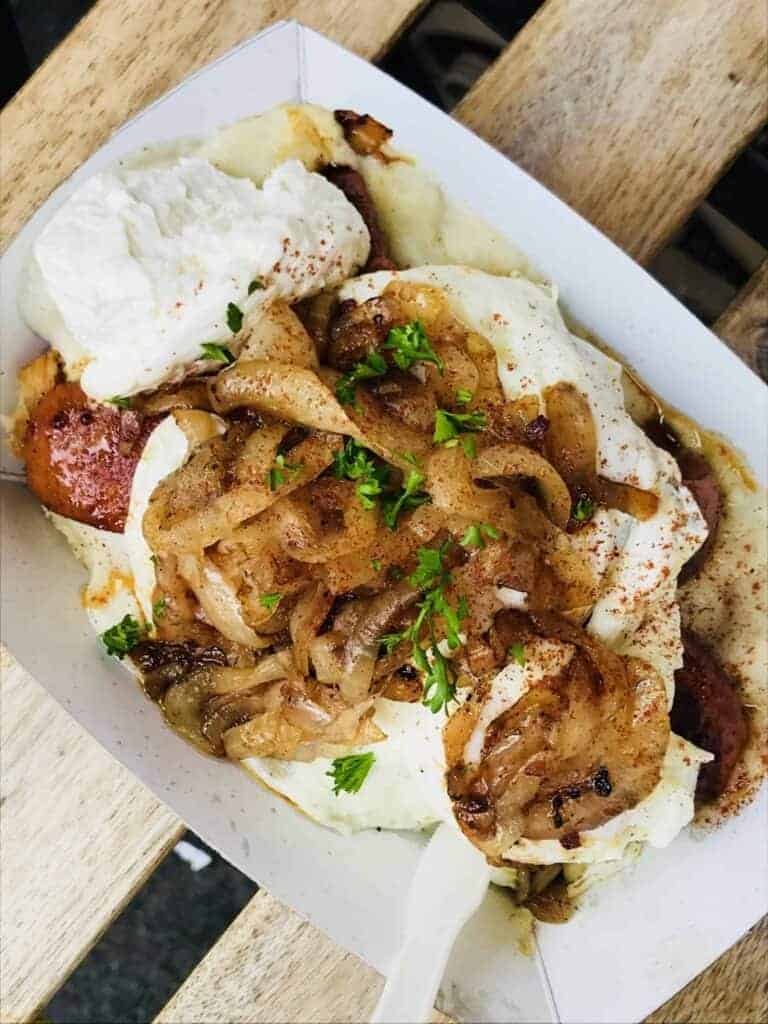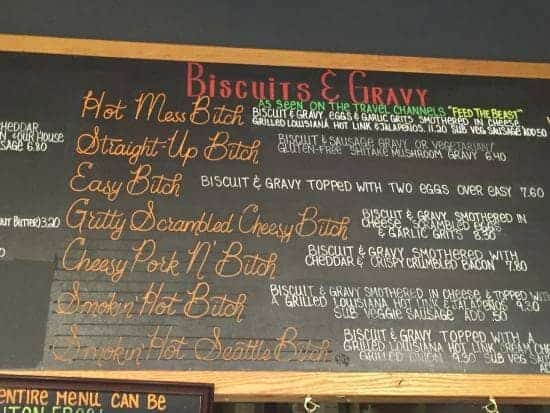 Biscuit Bitch serves up some amazing biscuit themed dishes. My favorite the "Gritty Scrambled Cheesy Bitch" with biscuit and gravy, covered in cheese, scrambled eggs and garlic grits.
Or perhaps the "Canadian Bitch" with biscuit, maple peanut butter, and bacon. Expect a line as this place is slamming right now. When it comes to fun Seattle restaurants this checks all the boxes.
19 Gold – Perhaps The Most Fun Place To Eat In Seattle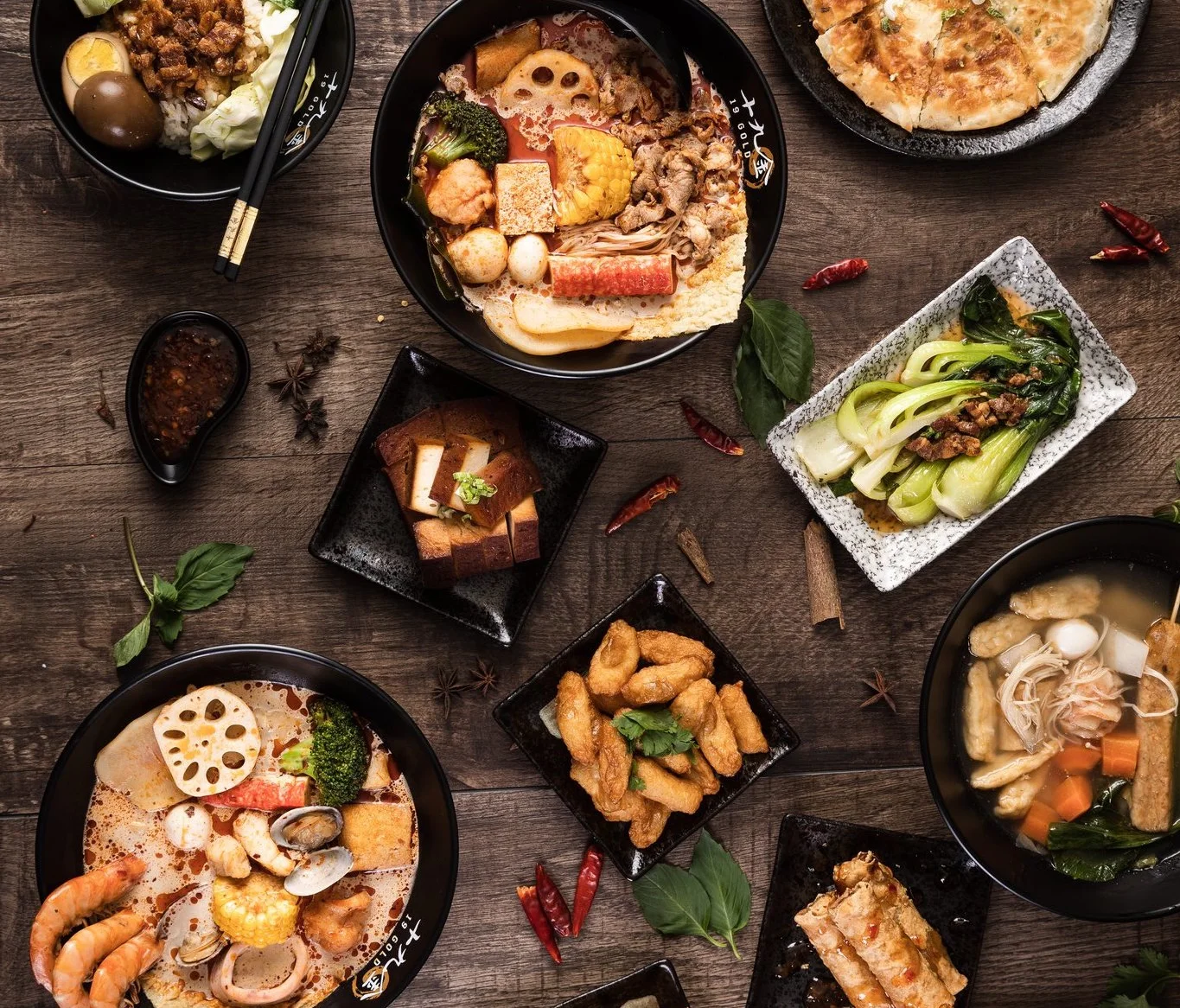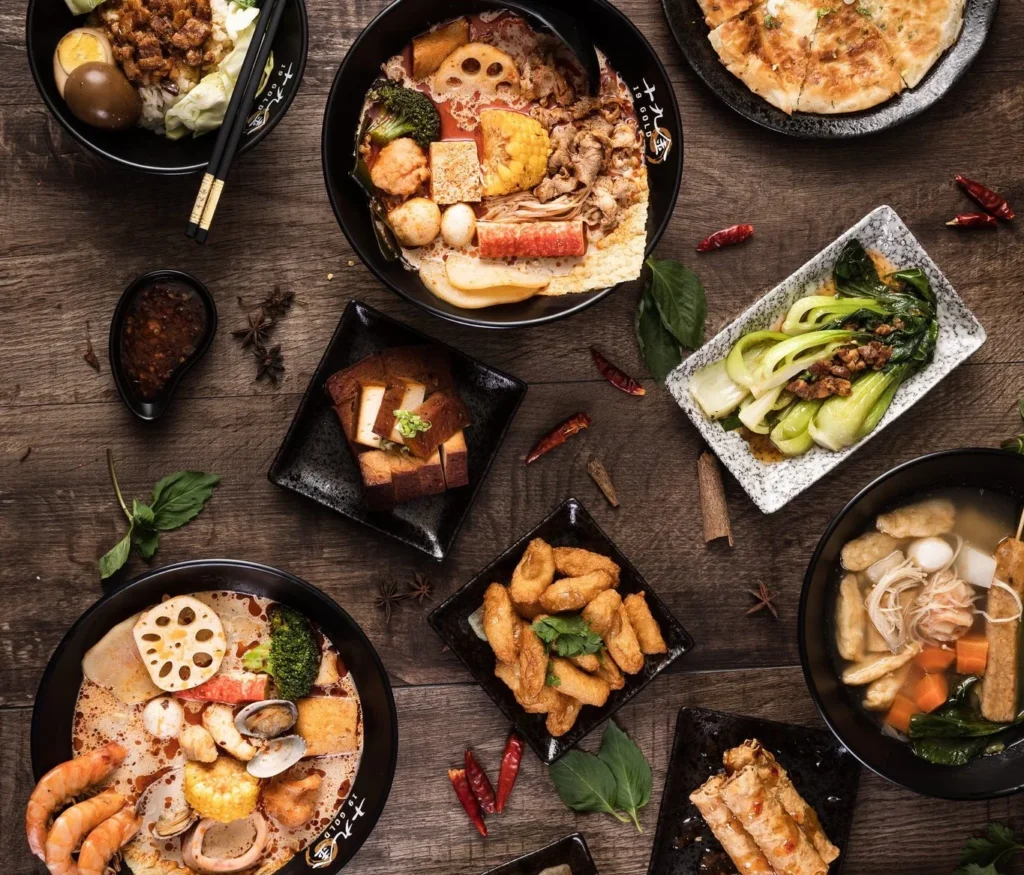 One of the more unique places to eat in Seattle, 19 gold is the first Taiwanese Malatang restaurant in the city. The menu is very diverse and as you explore all the tasty options you almost feel like your on a worldly vacation.
This place is all bout exploring different cultures through food. Their name is from their Malatang broth which contains 19 different species. This place is a true culinary journer making it one of the most fun places to eat in Seattle.
Are you a foodie? Here are our favorite Seattle Food Tours.
Daily Dozen Doughnut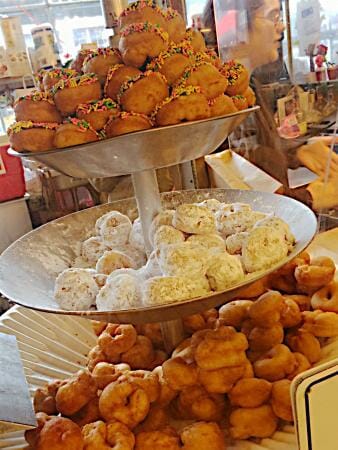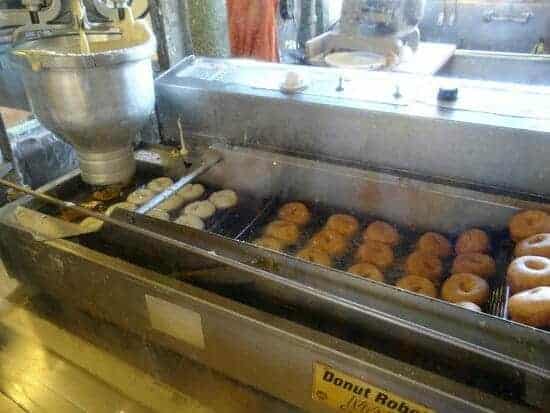 Daily Dozen Doughnut is a must stop for us anytime were in Seattle. This popular donut spot located in the heart of the Pike Place Market churns out hot and fresh doughnuts.
One of the most fun places to eat in Seattle is the Pike Place Market and there's no better place for a delicious bag of hot doughnuts. This iconic Seattle spot is an absolute must.
Dick's Drive-In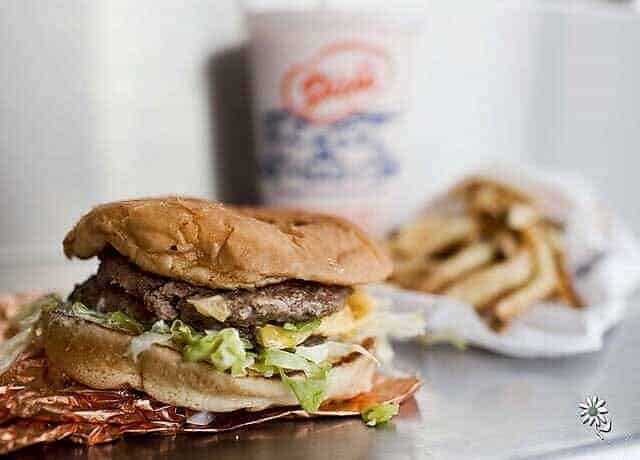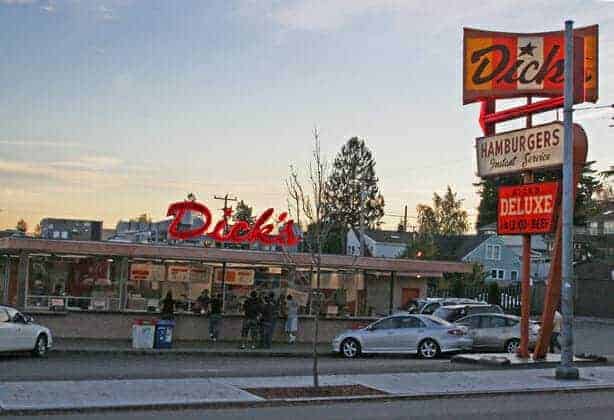 Another one of our absolute favs after enjoying a Seattle night out (or anytime of the day) is the iconic Dicks! Don't be scared of the long lines and seemingly drunk crowd late at night into early morning because Dicks serves up some mean burgers and fries!
The first Dick's opened in 1954 in Seattle's iconic Wallingford district. Famous for their hand cut fries, stellar shakes, and mouth watering burgers, Dick's is not to be missed.
Unlike most fast food diners, Dick's has offered employee benefits such as a matched 401(k), 100% employer-paid medical insurance, and a $22,000 college tuition scholarship after six months of work. Needless to say, this was a popular place to work in high school.
WANT TO DISCOVER MORE UNIQUE SEATTLE RESTAURANTS?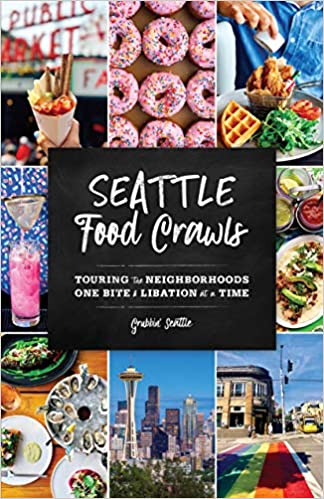 Seattle Food Crawls is an exciting culinary tour through this vibrant city. Discover hidden gems and long-standing institutions of Seattle.
Each crawl is the complete recipe for a great night out, the perfect tourist day, a new way to experience your own city, or simply food porn and great stories to enjoy from home.
Eat your way through Pike Place, hit the hottest spots in West Seattle, and eat like a hipster in Capitol Hill. Put on your walking shoes and your stretchy pants, and dig into the Emerald City one dish at a time
Dim Sum At Harbour City Restaurant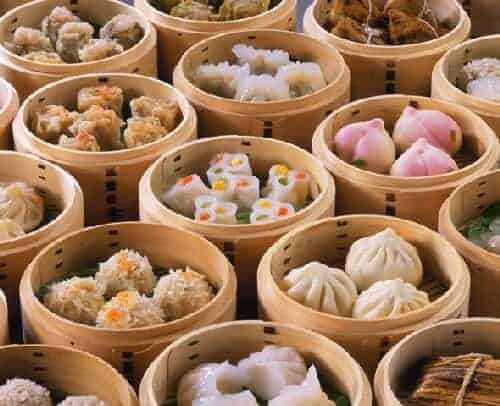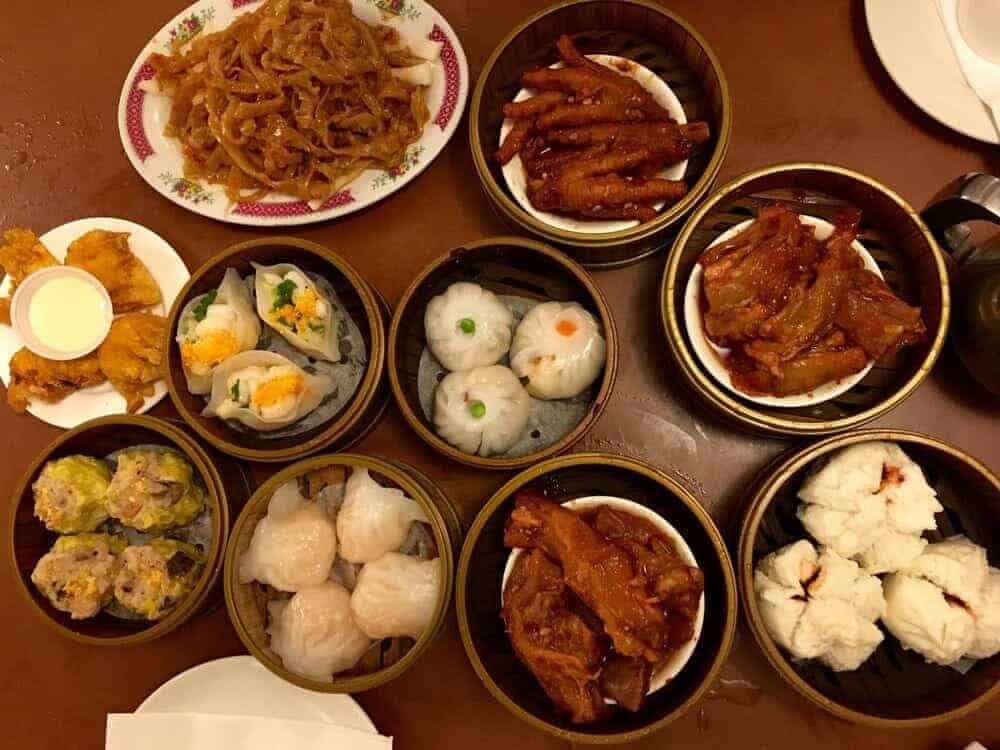 If you haven't had the pleasure of eating Dim Sum you are in for a real treat. August introduced me to Dim Sum in China town and I was a bit overwhelmed at first but after experiencing a couple of his favorites I was 100% in!
Dim Sum is a Chinese cuisine of small bite-sized portions of steam cooked deliciousness. The international district of Seattle is home to some amazing restaurants but Harbour City is a local favorite and a fun place to eat in Seattle.
Seattle Dumpling Co.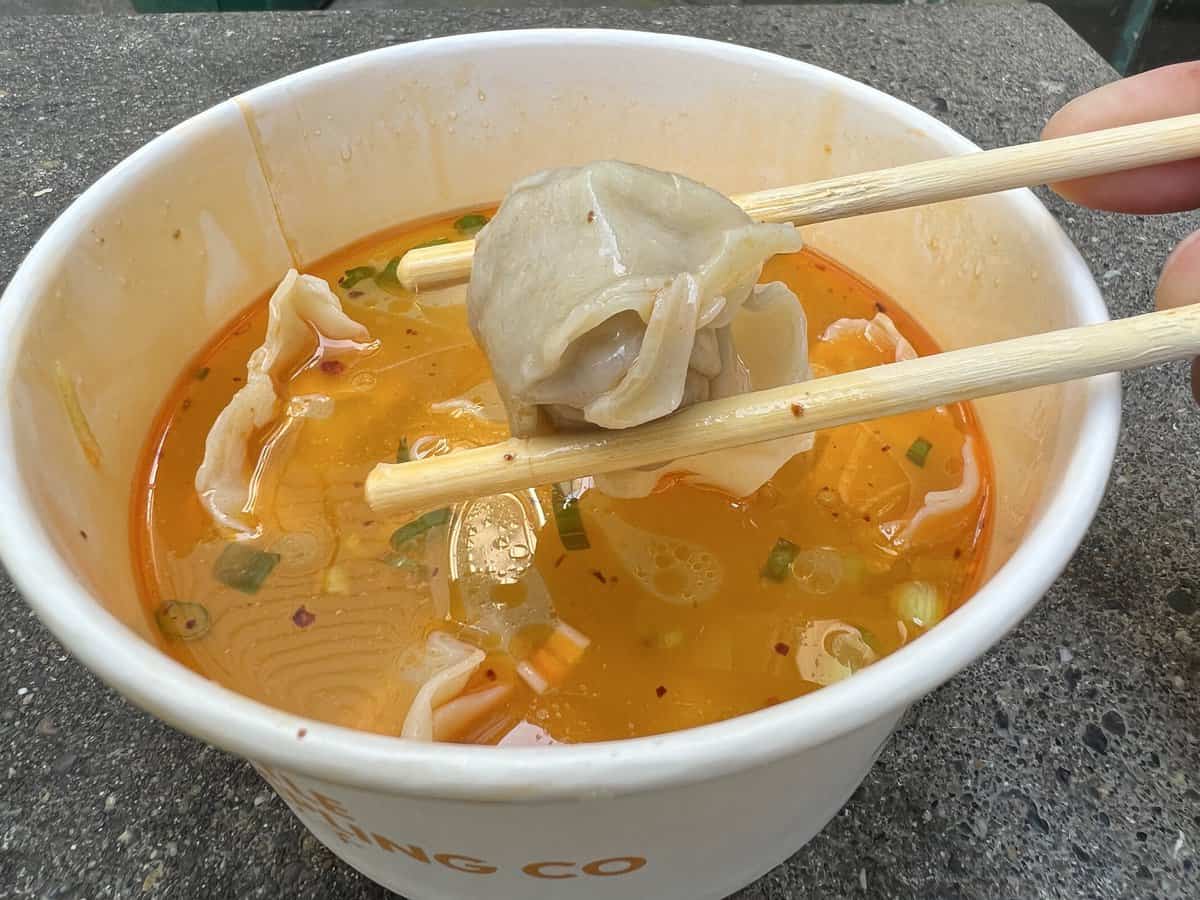 A simple menu with dumplings and stir fry noodle dishes. These hand-made dumplings are delish and we usually get them in the broth as a soup but you can also get them plain.
The atmosphere here is great and expect a line on weekends as this place gets buzzing. They have very limited seating indoors but have plenty of seating in their courtyard. The easiest way to find Seattle Dumpling Co. is to enter from Post Alley which is a must see street packed with restaurants and bars.
---
---
Pike Place Chowder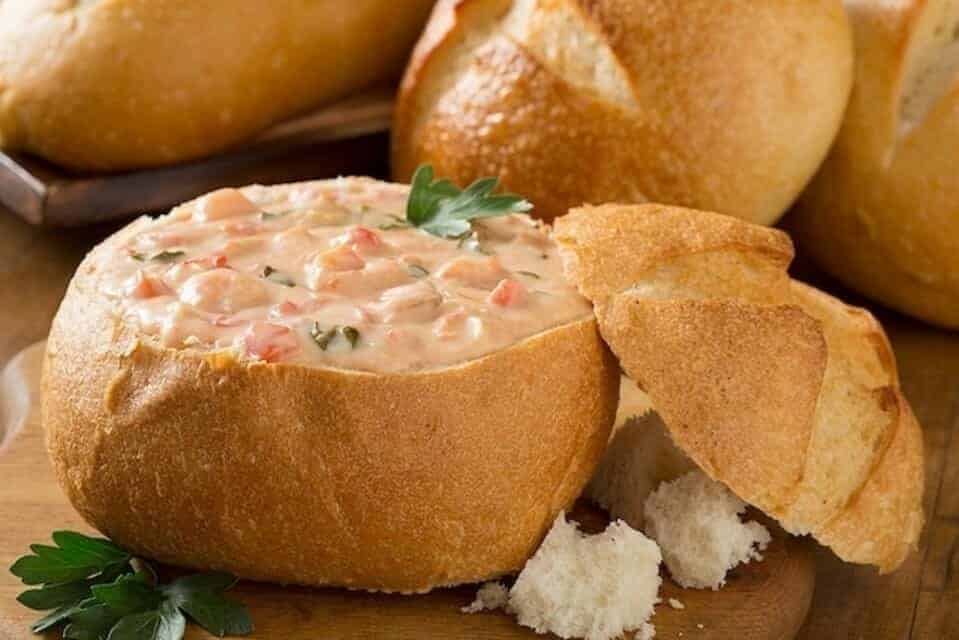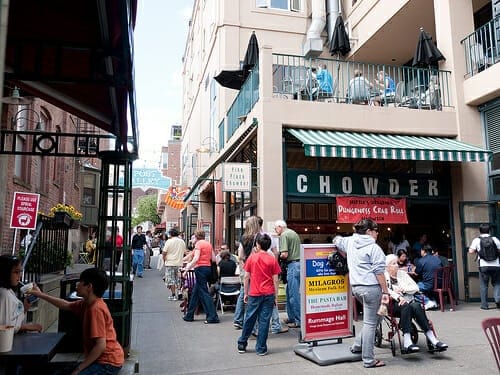 A trip to Seattle wouldn't be complete without a visit to the Pike Place Market and a delicious bowl of Chowder from Pike Place Chowder.
After your belly is nice and full with hot bowl of chowder we'd recommend taking a 1 hour underground tour of Seattle. Why not explore Seattle from a different angle and go below Pioneer Square.
You'll take a walk through three underground passageways originally constructed in the 1890's and learn about Seattle's forgotten history. Learn more about the Seattle underground tour here.
Thai Tom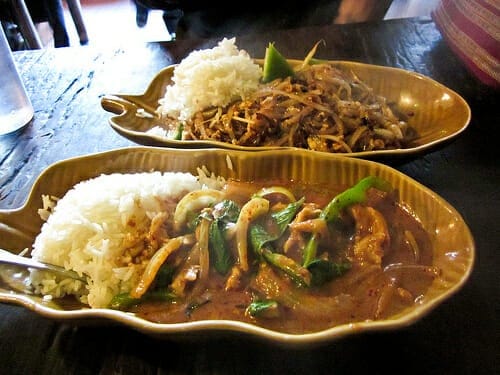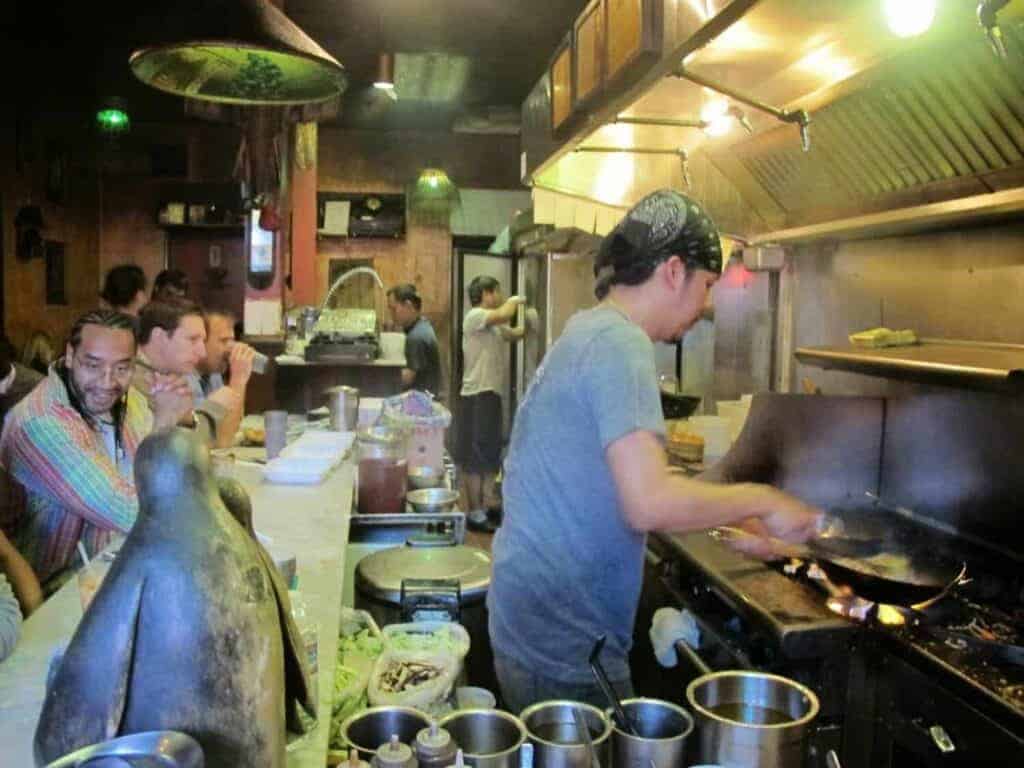 Every time we visit Seattle Thai Toms is one of our top 5 stops for places to eat while visiting the city. This tiny little restaurant located in the University District is sure to bring tears to your eyes, tears of joy of course. Or tears of spicy goodness if you so choose.
Once you get through the long wait you will be rewarded with authentic Thai classics presented in a hole-in-the-wall style restaurant.
The restaurant is buzzing with activity as the meals are prepared in an open kitchen for everyone to see. Pots and pans flying, knives chopping, it really is quite a site. Thai Tom ranks top 3 of my all-time favorite restaurants.
5 Point Cafe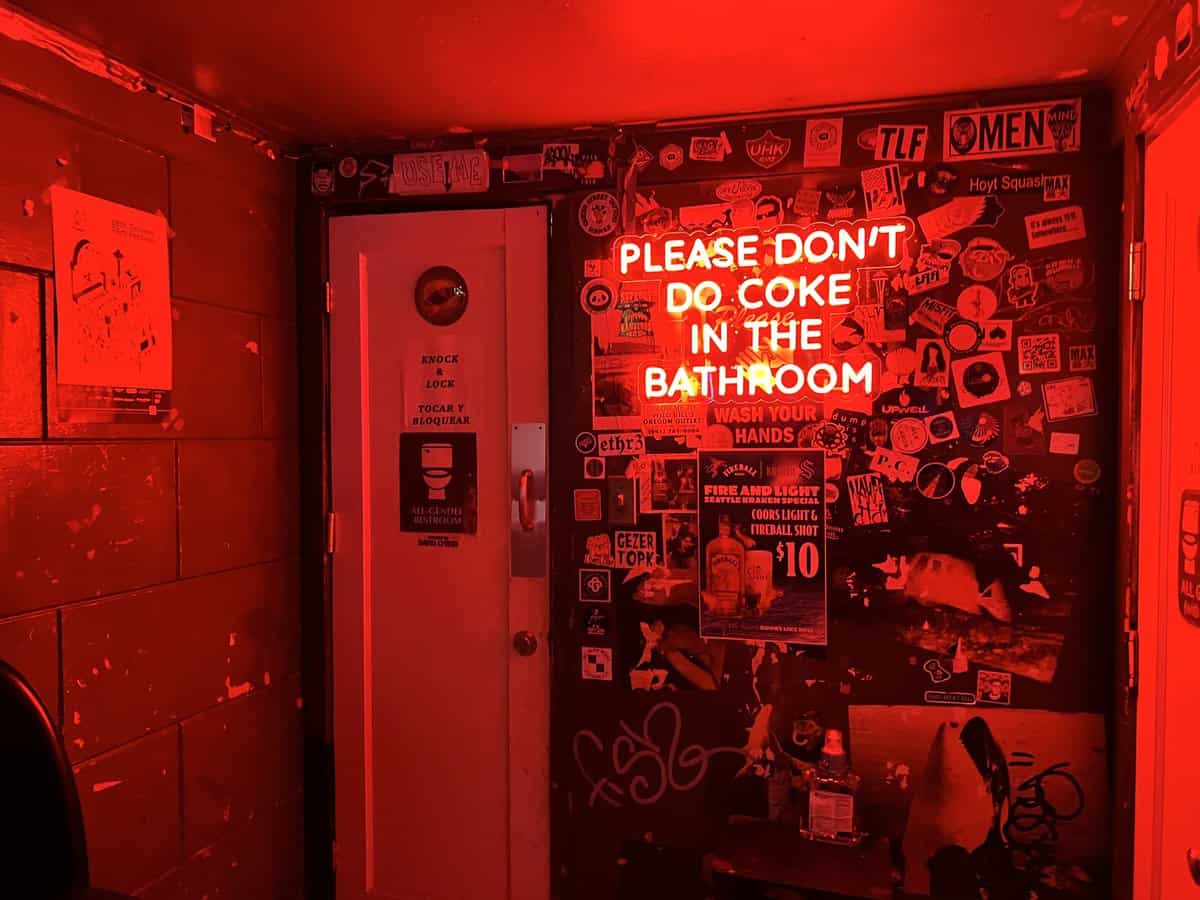 In the heart of Seattle, where urban sophistication meets timeless tradition, stands the iconic 5 Point Café Tavern. Established in 1929, this storied establishment is more than just a café or a bar—it's a testament to Seattle's rich history and vibrant culture.
Celebrated as one of the city's longest-running eateries, the 5 Point Café Tavern seamlessly weaves the allure of the past with the buzz of the present. Frequented by both locals and travelers, its walls have heard countless stories, making it a living tapestry of memories, merriment, and Seattle spirit.
Whether you're drawn by its rich legacy, diverse patronage, or the promise of hearty meals and classic cocktails, the 5 Point Café Tavern beckons with the promise of genuine Seattle charm.
The Pink Door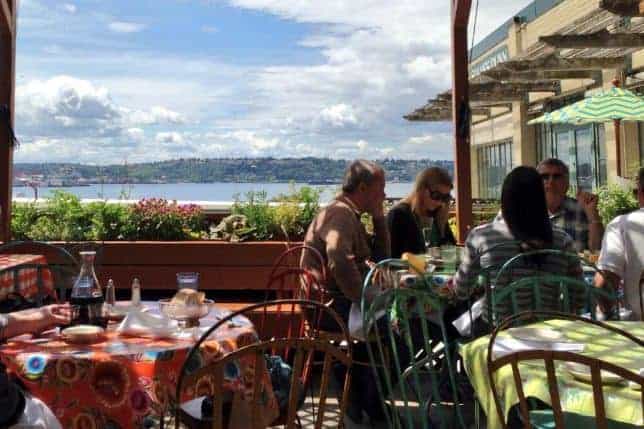 Located alongside the infamous Pike's Place Market sits another Pacific Northwest favorite restaurant, The Pink door. The white table cloth dining room with burlesque-ish style is hip and mysterious.
As you walk through the unmarked pink door don't forget to look up because you just might catch a trapeze artist precariously dangling above you. One of the more fun restaurants in Seattle.
What makes this best restaurant in Seattle even better is the stunning patio deck that has unbeatable views over downtown Seattle. The Pink Door is one of the most unique places to eat and one of the finest themed restaurants in Seattle and is consistently ranked top 10 places to eat in Seattle.
The Pink Door coupled with the amazing live talent makes it our top pick for the most unique restaurants in Seattle.
Morsel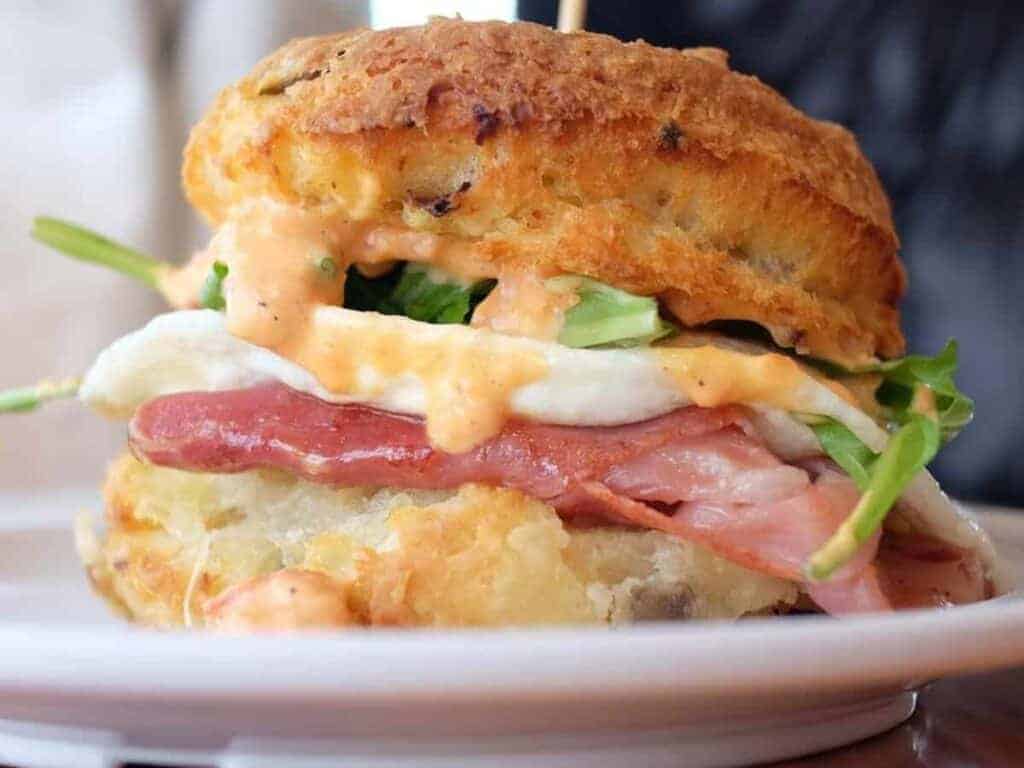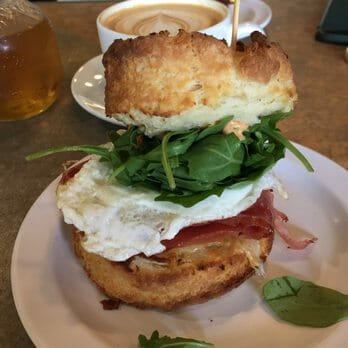 If you're ever in the University District on a Saturday, stop by Morsel for an unforgettable biscuit experience! Their biscuits are delectably crunchy outside and delightfully flaky inside. The U-District farmers market is right next door – so why not make a day of it? They provide a small selection of delicious sandwiches and other delectable biscuit creations.
For the perfect combination of savory and sweet, I can't help but recommend the "Fast Break" egg sammy. The smoky bacon alongside a delightful tomato jam will have you asking for seconds!
The Laudable's biscuits and gravy are truly remarkable, especially because they offer two different varieties of gravies – pork sausage and mushroom.
When you dine in, the atmosphere is reminiscent of a vintage school cafeteria with touches of industrial design. The perfect combination for a unique dining experience!
Seattle Fish Company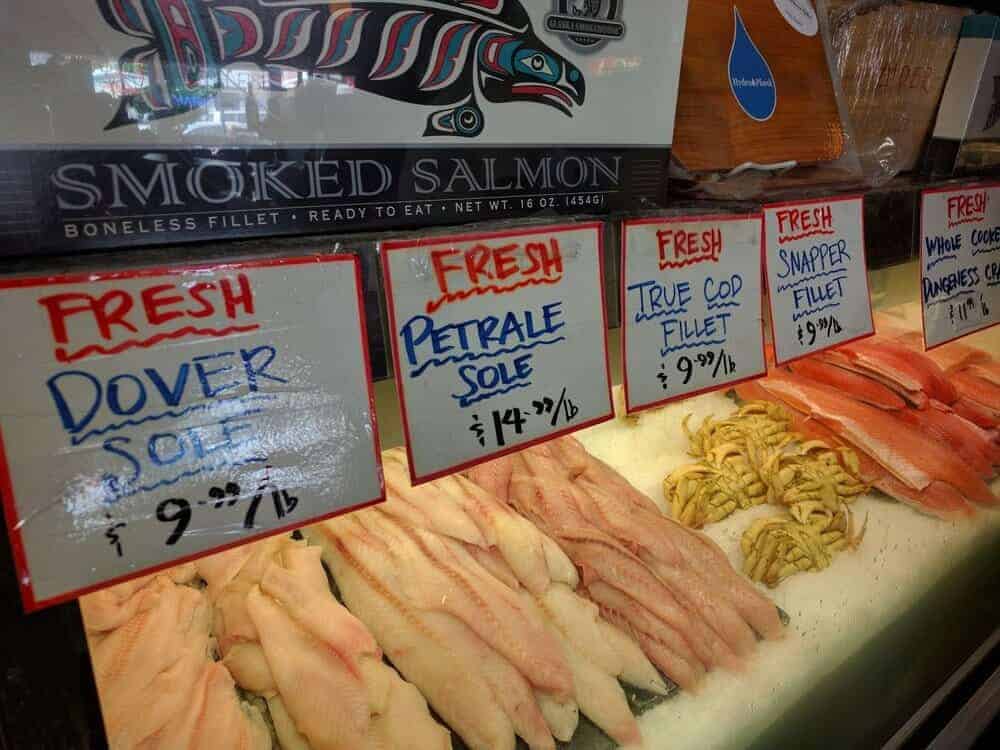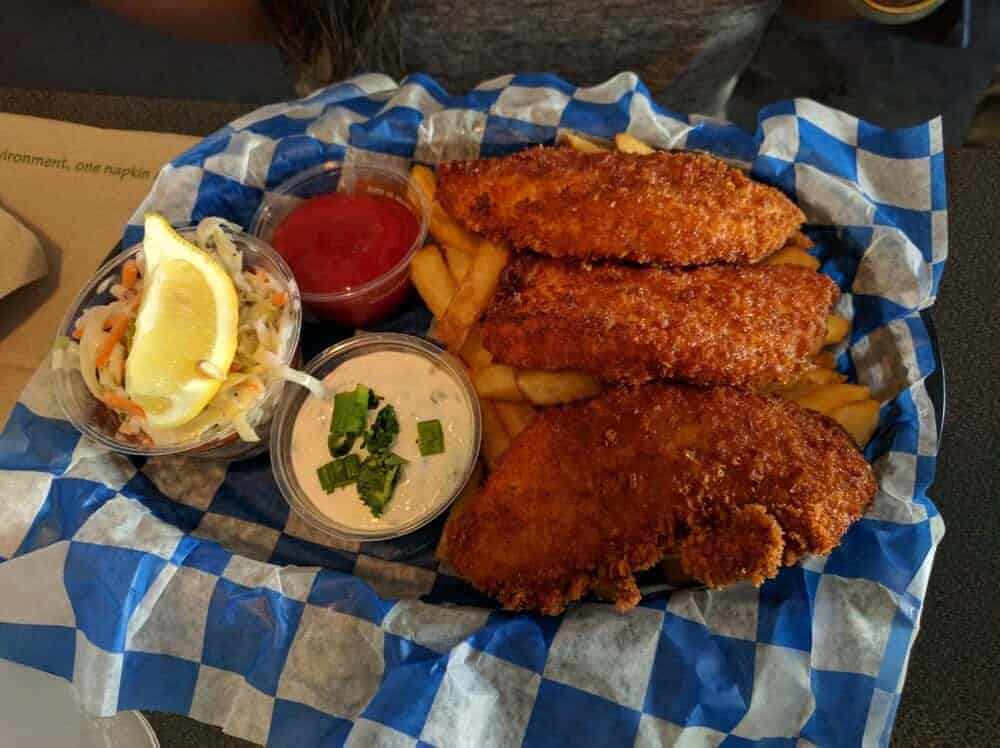 Seattle Fish Company sits in one of my favorite Seattle neighborhoods, Alki Beach. Seattle Fish Company serves up fish 'n' chips, shrimp cocktail, crab cakes, and a terrific cioppino.
In addition, they will serve up any of the fish offered fresh and whole from Ma'ono Fish Market next door. After a full belly cruise the Alki beach for a perfect evening sunset.
Damn The Weather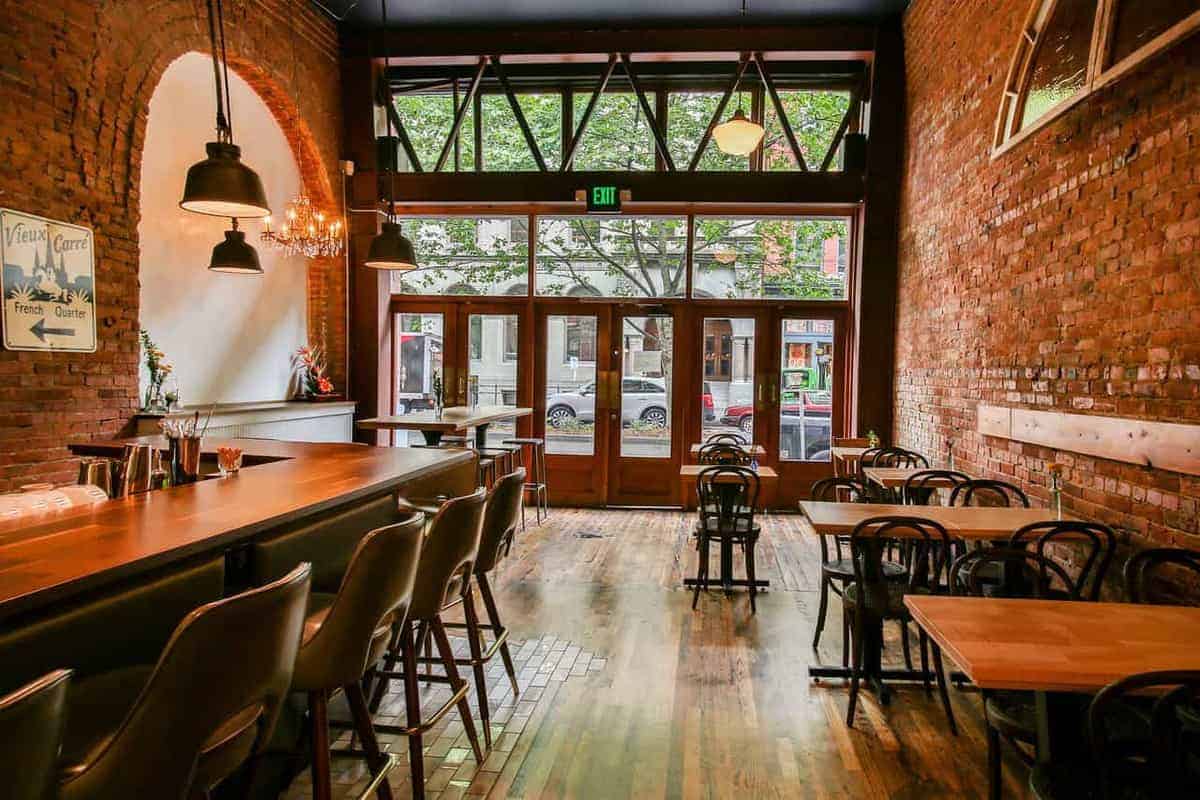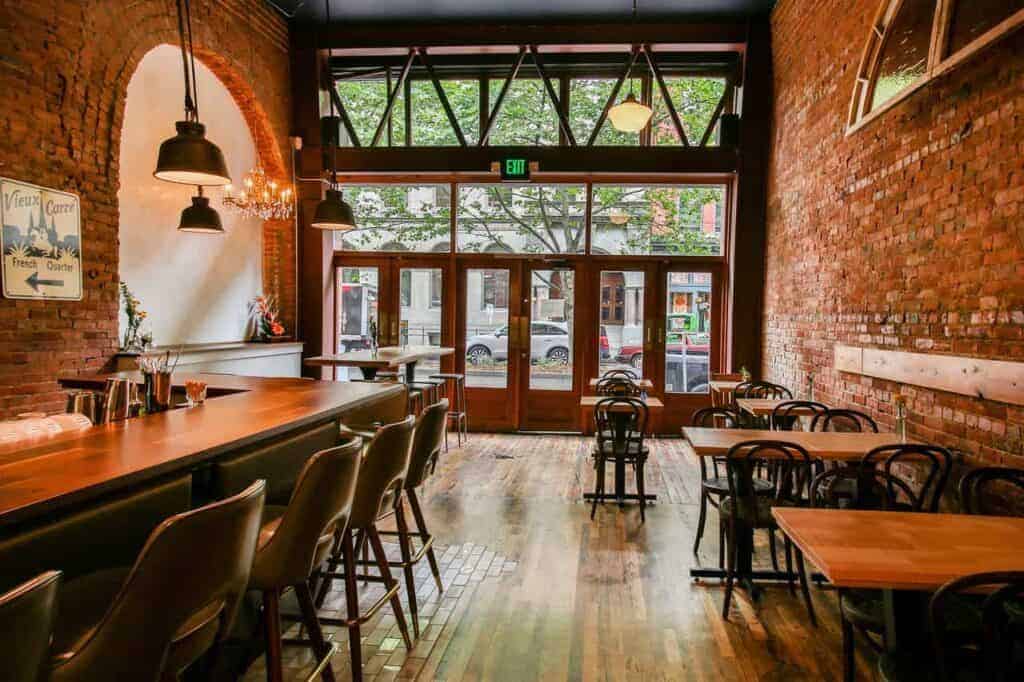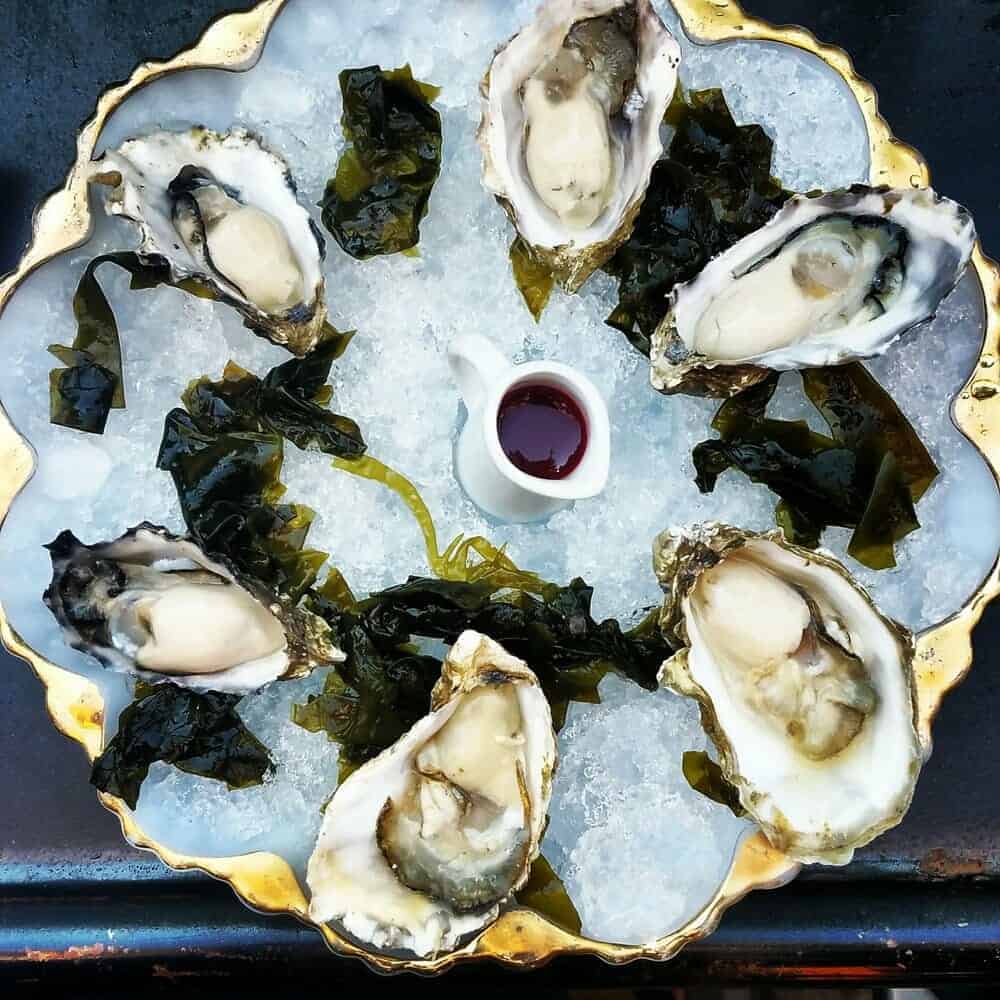 Housed in the charming Pioneer Square area of Seattle this 100 year old brick building ads to the charm of Damn The Weather. A great place to dodge the drizzle and enjoy a refreshing cocktail and a delicious meal. For an appetizer the curried chickpeas are terrific. If you're looking for cool places to eat in Seattle these folks do it in style.
The Whale Wins Larder and Cafe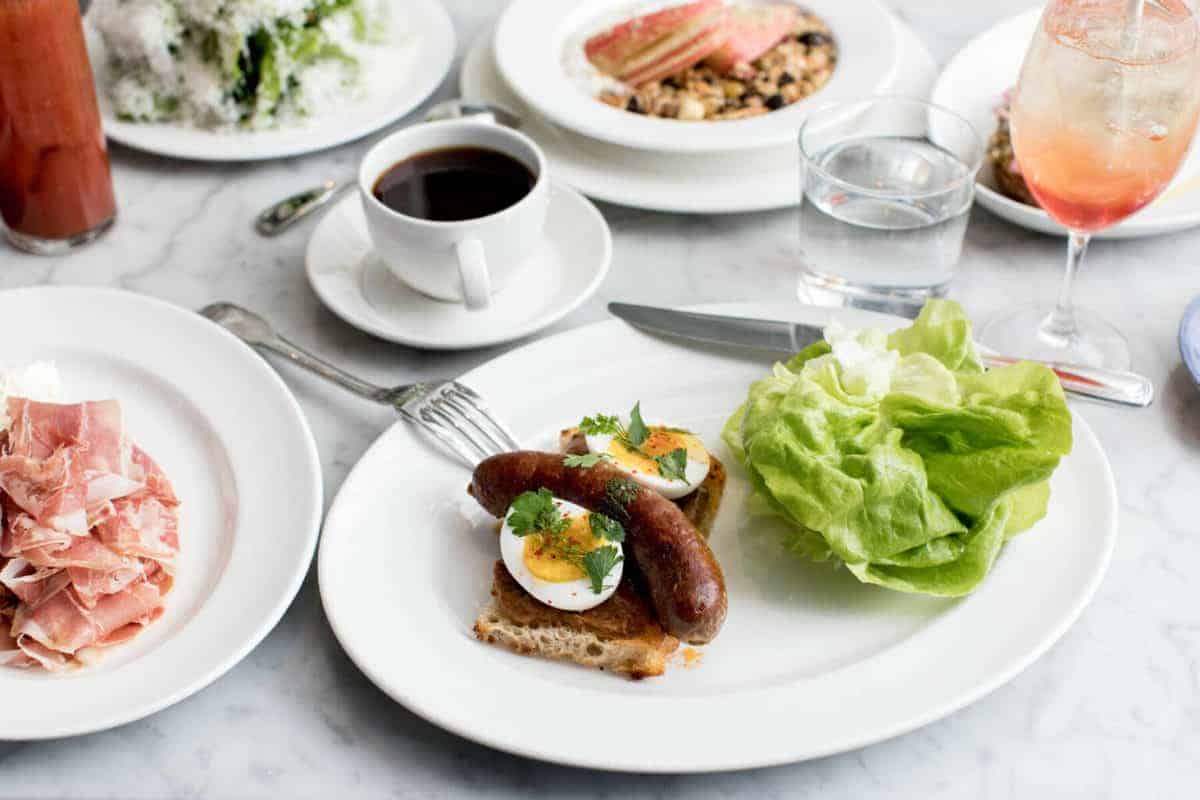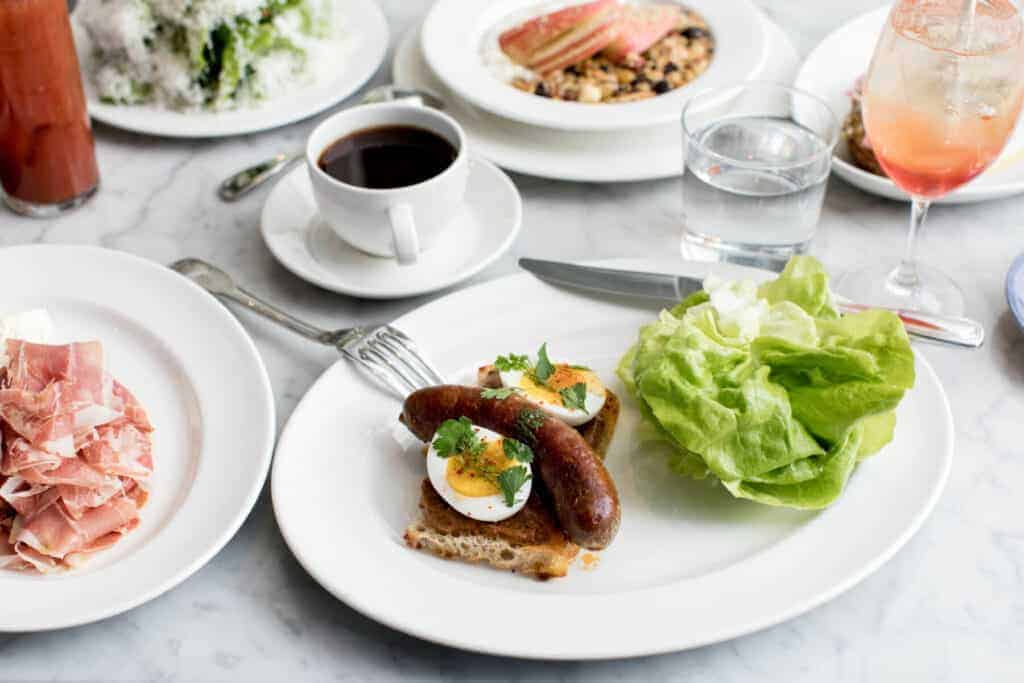 The Whale Wins is the creation of James Beard Award winning chef Renee Erickson and partners Jeremy Price and Chad Dale. These are the folks behind Ballard's acclaimed The Walrus and the Carpenter another one of Seattle's famous restaurants.
Drawing inspiration from the cuisine of some of Renee Erickson's favorite places in southern Europe and England, The Whale Wins' wood-fired, vegetable focused menu created with the very best foods from local beaches, gardens and farms prepared simply and served casually in a lively, light filled, cottage-like space.
Annapurna Cafe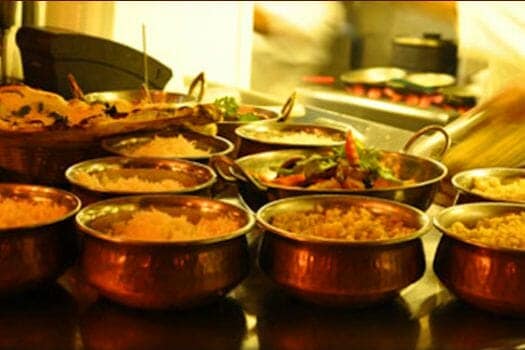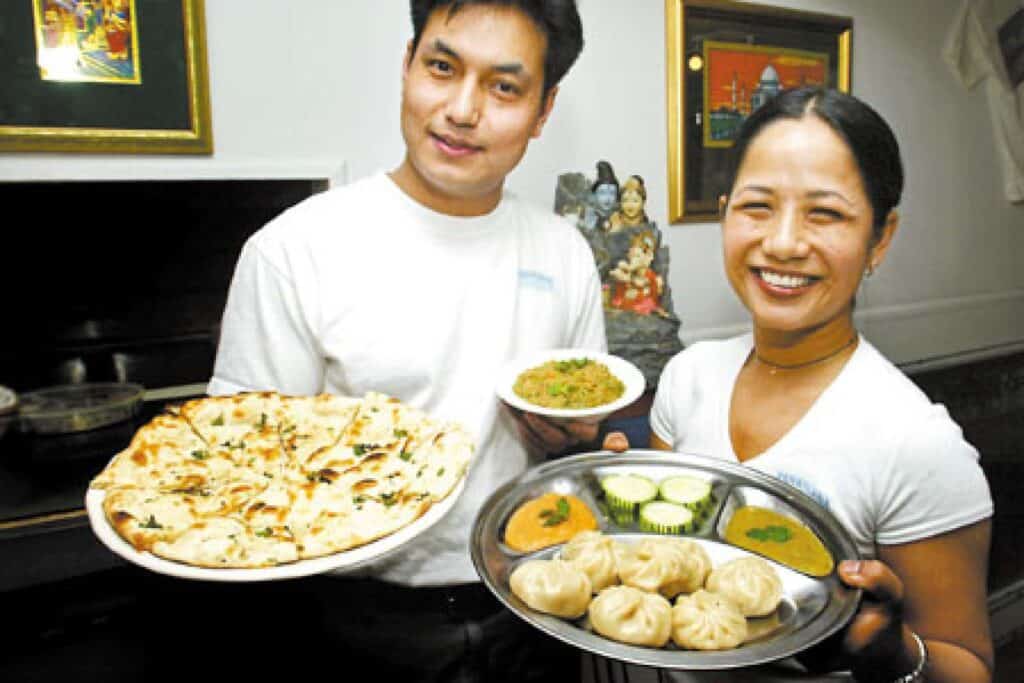 Mo' momos please. Indulge in 6 mouthwatering momos for just $12, accompanied by savory sauces! For a unique and delicious drinking experience, sample the Hot Night in Kathmandu made with their signature saffron-infused vodka.
After traveling to Nepal and falling in love with some of their traditional dishes we were delighted to find this unique restaurant that serves up some delicious food.
A couple of our favorites were Momo's (of course), vegetable Kofta (paneer vegetable balls in a cashew sauce), the Annapurna Curry with goat (a spicy and comforting curry) and a delicous side of garlic naan.
Wrapping Up Unique Restaurants Seattle
Whether you're looking for an upscale dining experience or a casual restaurant, Seattle is home to some of the most unique restaurants around. You'll find everything from seafood spots to vegan eateries, dim sum joints to fine dining establishments. Explore the diverse culinary scene of Seattle and experience something truly special.
What food should you not miss in Seattle?
Seattle is a very culturally divers city but it does pride itself on Seafood and particularly Penn Cove Oysters from Whidbey Island.
Is Seattle a foodie city?
Absolutely! Seattle is widely regarded as a foodie city and is celebrated for its vibrant culinary scene. Here's why:
1. Fresh Seafood: Given its location along the Pacific Northwest coast, Seattle offers an abundant supply of fresh seafood. Pike Place Market, one of the oldest continuously operated public farmers' markets in the U.S., showcases this with its daily fresh fish offerings, oysters, clams, and more. Restaurants around the city often feature salmon, Dungeness crab, and other local delicacies on their menus.
2. Coffee Culture: Seattle's coffee scene is legendary. It's the birthplace of Starbucks, but beyond this global giant, the city is teeming with independent coffee shops, roasters, and cafes that have been pushing the boundaries of coffee culture for decades.
3. Farm-to-Table Movement: Seattle has been at the forefront of the farm-to-table movement, with many restaurants sourcing their ingredients from local farms, ensuring fresh, organic, and sustainable dishes.
4. Ethnic Cuisine: The city boasts a diverse range of international cuisines, from Vietnamese pho to Ethiopian injera, thanks to its rich tapestry of immigrant communities. Neighborhoods like the International District offer an array of Asian cuisines, while Capitol Hill and other areas showcase flavors from around the world.
5. Craft Beer and Wine: Washington state is a major wine producer, and Seattle is home to numerous urban wineries and tasting rooms. The city is also renowned for its craft beer scene, with many local breweries offering a range of unique and traditional brews.
6. Innovative Chefs and Restaurants: Seattle's culinary scene is constantly evolving, with chefs and restaurateurs experimenting and innovating. From upscale dining establishments to quirky food trucks, the city offers a breadth of dining experiences that cater to both traditional and avant-garde palates.
7. Food Festivals: Seattle hosts a variety of food festivals year-round, celebrating everything from seafood to craft beer, offering locals and visitors alike a taste of the city's diverse culinary landscape.