Bangkok is the vibrant and quirktastic capital city of Thailand. For decades, it's been the jumping-off point for countless Southeast Asia adventures. And oh boy, it is so much more than floating markets and Khao San Road. It's hard to not fall in love with Thailand and why we frequently visit this magical place
It's not just the local markets that cater to every taste. The city itself has something for everyone, from saffron-clad monks strolling around Buddhist temples and hard-hitting Muay Thai fights to bone-cracking Thai massages.
And of course, then there's Bangkok's nightlife, which is rightly infamous for its "anything goes" approach to fun. There's no shortage of unique things to do in Bangkok.
With so many backpackers and holidaymakers arriving every day and so many "been there, done that" long-term expats warming barstools, is it possible to still find off-the-beaten-path, unusual things to do in Bangkok? Err, yeah.
Don't believe me? Well, then just take a quick look at this list of crazy things to do in Bangkok.
1. The Museum of Death
📍Directions: Thanon Wang Lang, Thailand, Bangkok
I'm going to kick off with a spot that is definitely one of the most unusual things to do in Bangkok, albeit one I know not everyone is going to love. It's definitely not for the faint-hearted or the weak-stomached, anyway.
Come and wander the macabre halls of Siriraj Medical Museum, also known as the Museum of Death.
The Siriraj Medical Museum is one of the most unique and morbid medical museums in the world, known for its extensive collection of preserved human remains and medical oddities.
Now, if you don't think you will enjoy peering at pickled body parts while trying to work out what they were and what happened to them, then this is not the spot for you. Maybe don't book a cooking class for the same day!
A trip to the petal-filled Pak Khlong flower market, this is not!
2. Try Some Super Old Soup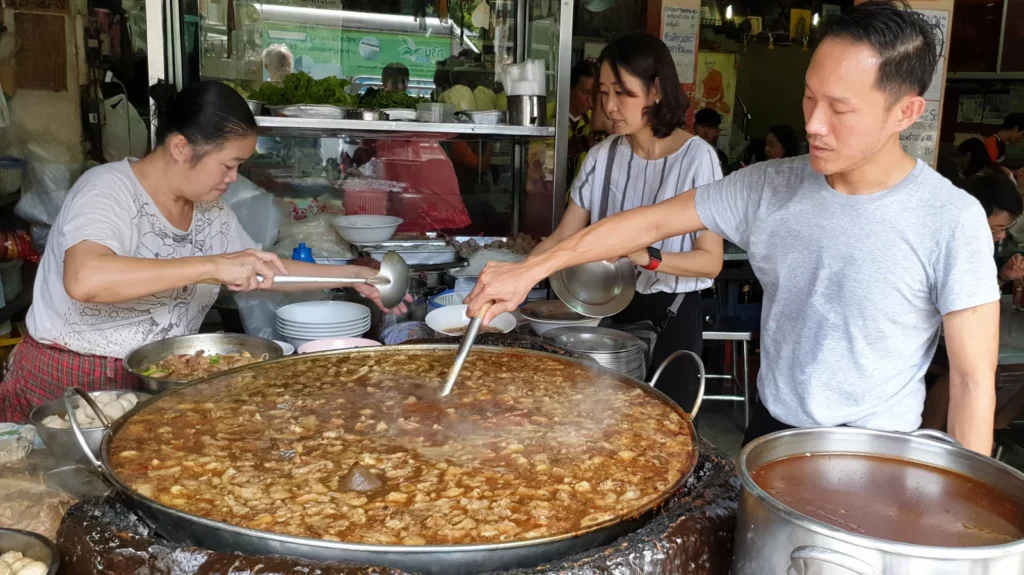 📍Directions: 336 338 Ekkamai Rd, Khlong Tan Nuea, Watthana, Bangkok 10110, Thailand
One of the main reasons Thailand is known as the "land of smiles" is the huge grins that tourists have on their faces after trying delicious Thai food. Thai cuisine is internationally renowned, and Bangkok must be considered a top contender for the title of the best street food city in the world.
There are so many hidden stalls dishing out traditional Thai dishes that simply selling delicious food isn't enough to stand out. You need something else, something extra special to put yourself on the culinary map, like, um, I don't know, maybe simmering a pot of soup continuously for 45 years straight.
At one neua tune (beef stew) eatery in Ekamai, central Bangkok, three generations have kept one soup alive using some of the previous day's leftover broth to start the base of the following day's soup. It's an old-school technique known as Perpetual Stew.
Each mouthful literally contains a little piece of Thai history.
3. The David Beckham Temple
📍Directions: 734 Rama III Rd, Bang Phong Phang, Yan Nawa, Bangkok 10120, Thailand
If you've already visited Reclining Buddha Wat Pho and Wat Arun, you might be experiencing a bit of temple fatigue. In that case, treat yourself to a rejuvenating Thai massage and flag down a tuk-tuk for one last Buddhist temple experience – the "David Beckham Temple."
Thailand's passion for soccer is well-known, and their affinity for temples is equally strong. So, it shouldn't come as a complete surprise that the Thai capital has found a way to combine these two interests. However, before you arrive with expectations of encountering a 30-foot-high statue of David Beckham cast in bronze, it's wise to temper your expectations a bit.
The temple's official name is Wat Pariwat (Pariwat Temple), and in reality, there is only a relatively small statue of David Beckham adorning the base of a Buddha statue. Nevertheless, it's still a fun sight to behold, especially if you happen to be a soccer fan.
Reportedly, the head monk is an avid Manchester United supporter, which explains the inclusion of David "Golden Balls" Beckham in shimmering gold leaf.
4. Get Lost in Jim Thompson's House
📍Directions: 6 Kasem San 2 Alley, Wang Mai, Pathum Wan, Bangkok 10330, Thailand
As you will see from the crowds the Jim Thompson House isn't exactly "off the beaten path" it is however quite unusual.
Firstly the house itself is a traditional Thai-style teakwood house in the middle of a city of steel and concrete. The building was originally frankensteined together from several dismantled teak houses from various parts of Thailand.
Jim Thompson was an American who worked in Thailand during and after World War II, helping to put the Thai silk industry on the map. What's most unusual is what happened to him. He just vanished. Disappeared on vacation in Malaysia. And nobody knows where or why.
The house is also handily located in Central Bangkok, Siam, walking distance from the main shopping malls.
5. Take a Stroll Along the Benchakitti Park Green Mile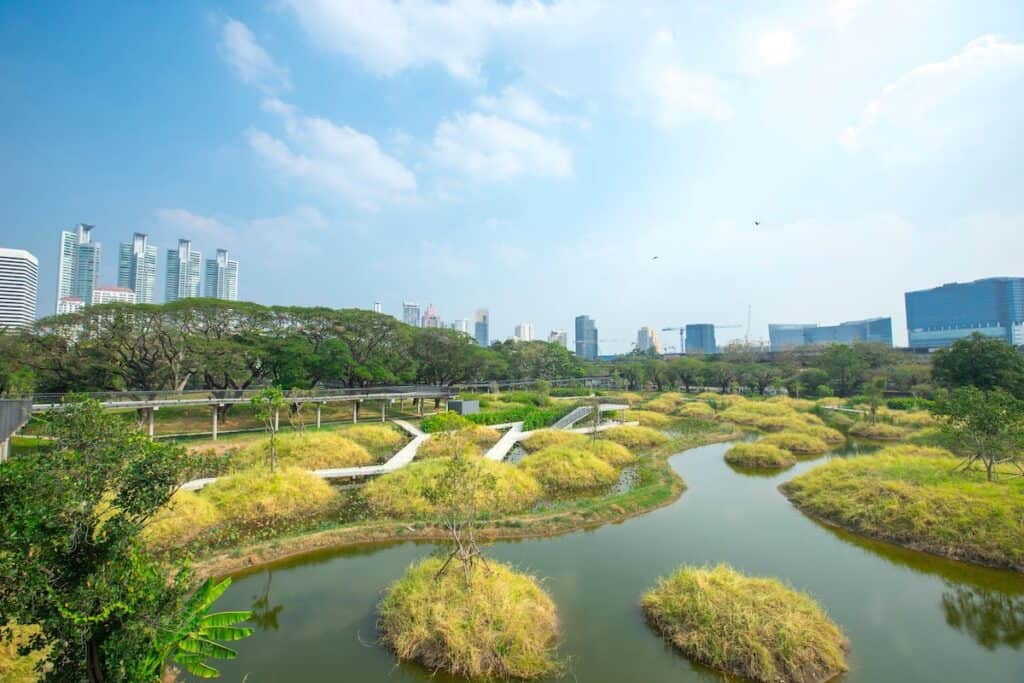 📍Directions: Ratchadaphisek Rd, Khlong Toei, Bangkok 10110, Thailand
Huh, parks aren't weird or unusual, are they? Hmm, they are in Bangkok, which can often feel like the epitome of the concrete jungle.
Sure, it's relatively easy to hop on a coach and get out to some genuine jungle like Erawan National Park, but if you just want to find a green space in Central Bangkok, your choices are limited. You certainly won't find a tree-lined promenade along the Chao Phraya River.
Your options are pretty much Lumphini and Benjaketti Park, both of which are great. Fortunately, now there is a great new pedestrian-only walkway linking these two green lungs, known as the Green Mile, which makes for a great afternoon stroll.
Find out more about the joys of a stroll around Bejakitti Park here.
6. Get Charmed at the Amulet Market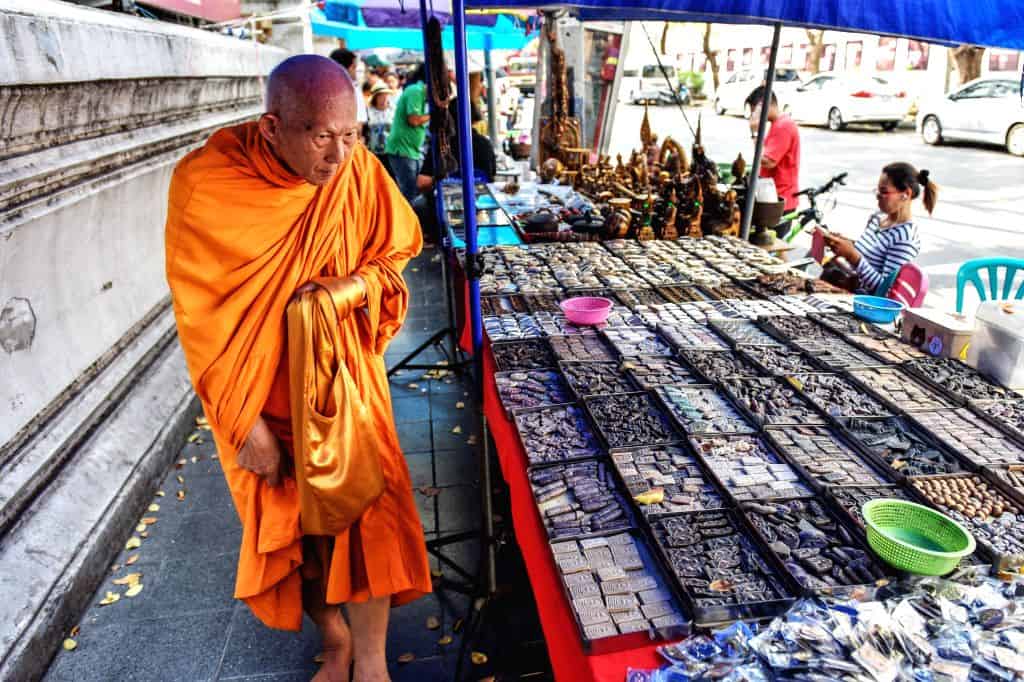 📍Directions: 1 Trok Sake, Phra Borom Maha Ratchawang, Phra Nakhon, Bangkok 10200, Thailand
Located near the Chao Phraya River and in the shadow of the historic Wat Mahathat temple, you'll find another of our unusual things to do in Bangkok: the utterly charming Tha Prachan Amulet Market, where commerce and spirituality converge.
To some, it might appear as rows upon rows of assorted knick-knacks, but for those in the know, such as Bangkok citizens working in hazardous occupations, this market is the go-to place to discover a lucky charm or a blessed object that could make the difference between life and death, wealth and poverty.
If you're in search of a pair of elephant pants to blend in with the backpacker herd, then head to the Chatuchak Weekend Market. However, if you seek a mystical item to safeguard your very soul, then the Amulet Market is where you should be.
The Grand Palace and Bangkok National Museum are both worth a visit, but they won't really help you understand Thai culture as you would here in the Amulet Market.
7. Practice Safe Eating at the Condom Cafe
📍Directions: 6 10 Suk Chai Alley, Khwaeng Khlong Toei, Khlong Toei, Bangkok 10110, Thailand
To complete our list of unusual things to do in Bangkok, there's one cafe that is unquestionably "safe" for dining: Condoms and Cabbages.
Their tagline is rather fabulous: "Our Food is Guaranteed Not to Cause Pregnancy."
This immediately raises concerns about every other restaurant I've ever dined in that doesn't make such a claim.
As you look around this themed cafe adorned with condom-festooned statues, which serves up delicious Thai and international dishes, you'll instantly agree that it's one of the more unconventional experiences to have in Bangkok.
Owned by the politician Mechai Viravaidya, also known as "Mr. Condom," the cafe's aim is to promote family planning and raise awareness about HIV/AIDS in the most palatable way possible – through great Thai cuisine.
What an amazing place! And rest assured, the food doesn't taste rubbery at all!
Final Thoughts on Unique Things To Do In Bangkok
So, there you have it – our list of unusual things to do in Bangkok. This is not an exhaustive list, but I hope these quirky gems spice up your Bangkok itinerary, much like a bowl of tom yum soup.
For Bangkok aficionados, you may notice that the Bangkok Airplane Graveyard and the Sathorn Unique Tower (better known as the Ghost Tower) are absent from the list above. It's not because they lacked uniqueness, but rather because they no longer exist. They've been cleaned up and closed for business. My apologies for any disappointment.
Enjoy your adventures in Bangkok! Oh, and always remember to practice safe eating.