The Pacific Northwest is a gem of a place to visit in the United States. This Emerald City, also known as the city of Seattle, is situated between two major bodies of water: Lake Washington and the Puget Sound. With its rugged mountains and cascading waterfalls, it has a lot to offer to any traveler. The city of Seattle boasts many unique features, including museums, parks, tourist attractions, restaurants, and scenic views that provide an unforgettable experience for anyone visiting the area. Here's a list of the most unique things to do in Seattle.
LOOKING FOR MORE FUN THINGS TO DO IN SEATTLE
Watch the Fishmongers Make the Fish Fly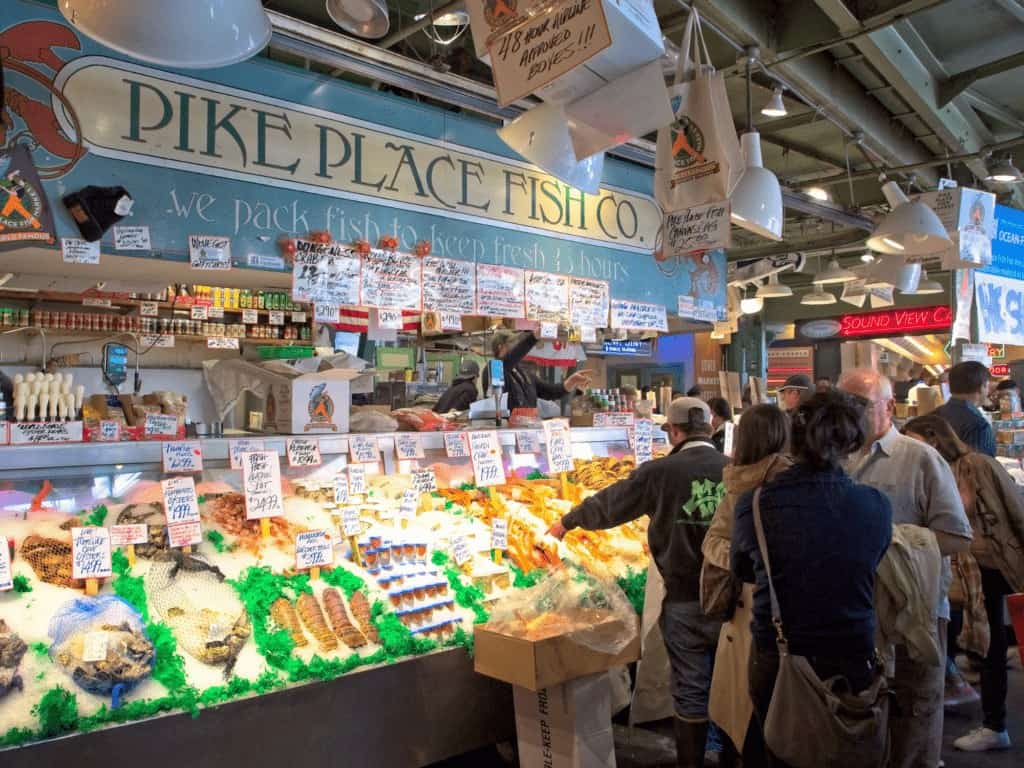 One of the most unique activities in Seattle is watching fishmongers throw their daily catch. If you've never witnessed them in action, I can assure you that it's an entertaining show. You'll be amazed by the huge variety of fresh seafood, as well as by how quickly these fish fly to keep up with the orders.
To keep the sales rolling, fish are thrown from the outside display racks to the center, where they're weighed and packaged for sale. It's a spectacle all on its own.
Clench Your Curiosity at the Ye Olde Curiosity Shop
If you're looking for a unique and fun activity in Seattle, Ye Olde Curiosity Shop is the place to go. The Ye Olde Curiosity Shop is jam-packed with unique items you won't find anywhere else. The century-old shop houses a priceless collection of artifacts, including shrunken heads, three-tusked walrus skulls, a functional merry-go-round organ, and a narwhal tusk.
The collection's most famous items are Sylvester and Sylvia, the museum's two mummies. The two stand in glass cabinets at the rear of the shop, next to displays of shrunken heads.
Discover the Fremont Troll
The welcoming Fremont Troll resides beneath the Aurora Bridge in Seattle's Fremont neighborhood. He's constructed of rebar, steel, wire, and heavy-duty cement. The Fremont troll is 18 feet tall and has a shiny metal eye, with stringy hair, and appears to be crushing a Volkswagen Beetle in his left hand. The troll was built as an art restoration project to transform the area that had been known as a shady area for drug dealers and unfavorable activities.
Don't worry, this area is very different these days and is now booming with tourists climbing all over the troll to get the perfect picture.
Pikes Place Market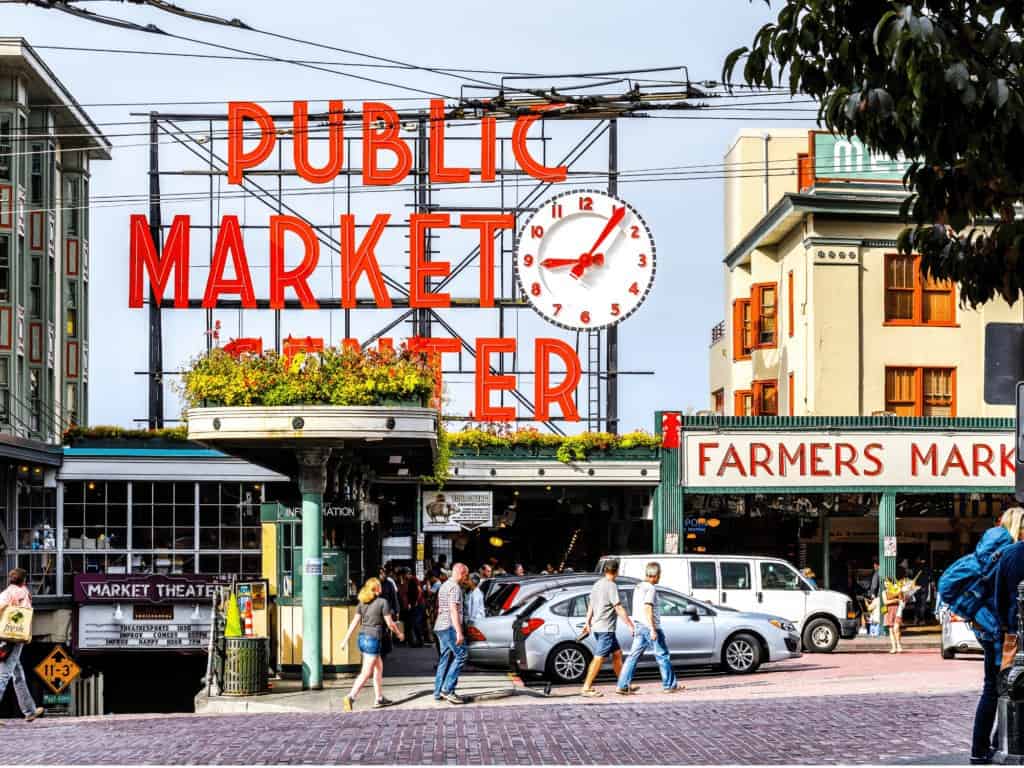 The Pike Place Market, Seattle's epicenter, is a must-see! The market has stunning views of the water and is visited by tourists from all over the world. There are buskers ready to entertain you, as well as vendors selling locally grown produce, jam, flowers, fresh fish, and seafood!
The historic market in the heart of Seattle is jam-packed with activity and has a long history. The market first opened its doors in 1907, and it is still bustling with activity from 10 a.m. to 6 p.m. 363 days of the year (closed only on Thanksgiving and Christmas). Stop by for yourself to enjoy this 9-acre marketplace and discover local produce, arts and crafts, and delectable food.
Seattle Underground Tour
Seattle may have one of my favorite finds beneath the surface! Did you know that Seattle has an underground city built over itself? In 1859, a fire destroyed 25 square blocks in the center of Pioneer square.
After the Yukon Gold Rush of the 1890s, new building owners rushed to capitalize on the economic surge by rebuilding the city atop itself, leaving empty tunnels and abandoned passageways. Eventually, sidewalks bridged the gap between the new streets and the buildings. If you want to experience the underground of Seattle and the unique history from the old days in Seattle, we definitely recommend taking this tour.
Visit The Meowtropolitan Cat Cafe
The Metropolitan Cat Cafe is one of the most unique things to do in Seattle. Metropolitan Cat Cafe is a Seattle-based cafe that provides the ultimate experience for cat lovers. It gives people the opportunity to meet a variety of playful cats (that are all adoptable) and mingle with other cat lovers in one convenient location.
You can order "catpuccinos" or a "meowcha" before venturing into a cozy, sunlit room filled with toys, tunnels, wooden beams, and scratching posts. This unique space is designed to offer an escape from the hustle of everyday life while providing tons of entertainment for both cats and humans alike!
See The Orcas In Seattle or the San Juans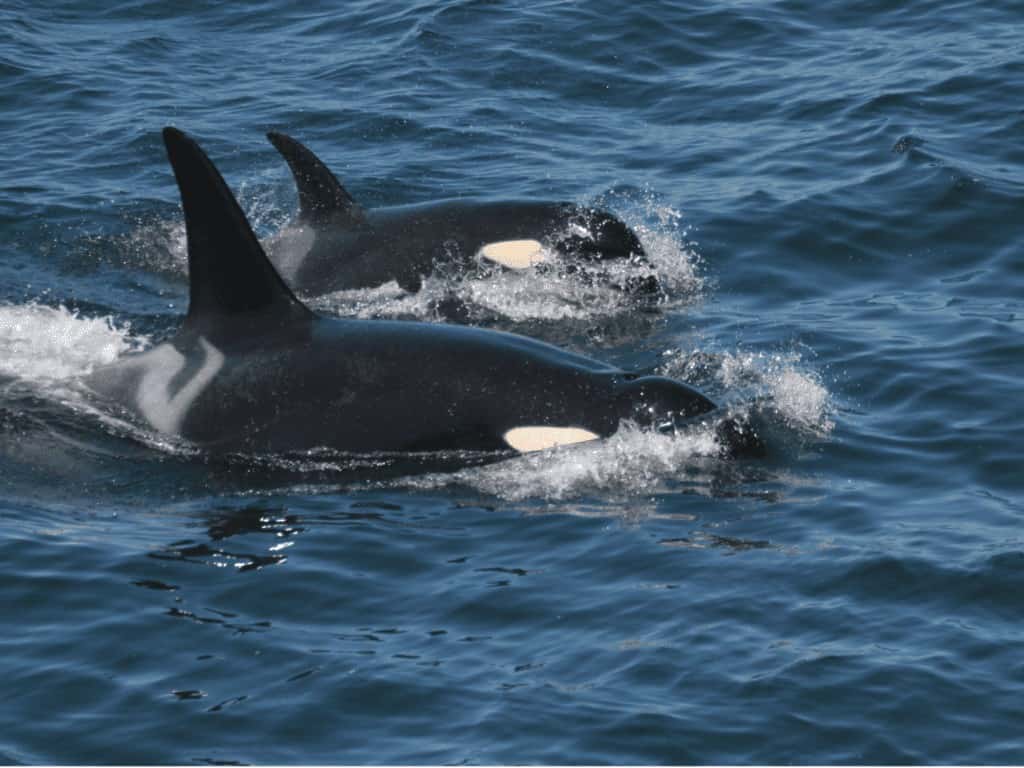 One of the most unique things to do in Seattle is to see the orca whales in their natural habitat.
Orcas are one of the most stunning aquatic creatures on the planet, and if you haven't seen them before, they're definitely worth seeing. Your best options for seeing Orcas are at Alki Beach in West Seattle or on a whale-watching cruise that takes you to the San Juan Islands. Seeing the Orcas is an unforgettable and unique thing to do in Seattle!
Swim, Chill Hike or Learn at Discovery Park and Beach
Discovery Park is Washington's largest park at 540 acres and offers a variety of activities. You can choose to go for a swim, take a hike, visit the Daybreak Star Indian Cultural Center or just chill on the beach while taking in the rocky natural shoreline. The loop trail around the park is 8 miles long and makes it easy to get from one place to another.
Make sure to check out the West Point Lighthouse, a famous landmark of Seattle located on the point of land that juts into the Puget Sound.
Go on a Haunted Ghost Walking Tour
A ghost tour in Seattle is the perfect way to get your spooky fix. If you're a ghost enthusiast, go on a Haunted Ghost Walking Tour to find out the scary stories of Seattle. This tour will take you through old parts of town while telling tales about ghosts and spirits haunting these areas for years.
Take in the sights, including Pioneer Square Hotel, Smith Tower, and the Merchant's Cafe and Saloon, all dating from around the 1900s. You'll even ​​explore the underground of Seattle, where they'll take you through an eerie and haunted underground room on this tour. If you're short on time and cannot do both the underground tour and the haunted ghost tour, you can get the best of both worlds by just doing the haunted tour.
Fun Fact: Merchants Cafe' is the oldest continuously operating bar in Seattle, opened in 1890.
Whisper the Secret Word at a Speakeasy Bar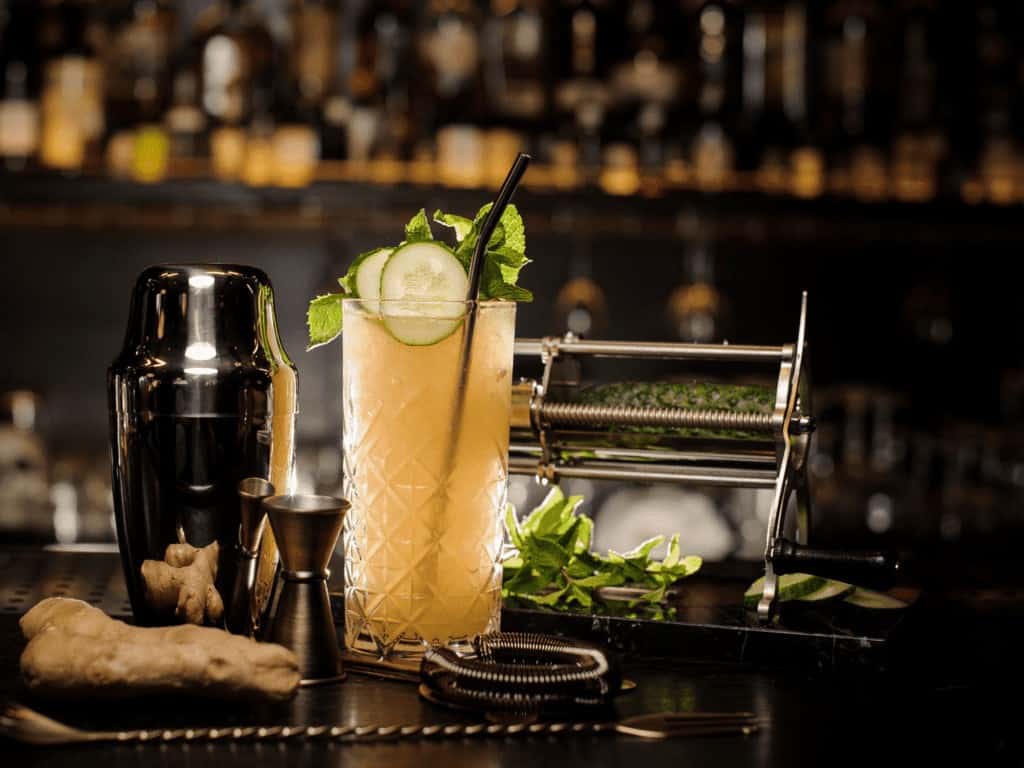 Speakeasy bars in Seattle are some of the best places to go for a drink and experience something out of the ordinary. Some of the most iconic cocktails we drink today were created during the prohibition era, and you can enjoy these at a speakeasy in Seattle.
Wondering What is a Speakeasy?
When prohibition took effect in the 1920s, thousands of formerly licensed male-only saloons across the country closed down due to prohibition. People wanting to drink had to purchase booze from legitimate pharmacists for "drug" purposes, clergymen for "religious" reasons, or illicit vendors known as bootleggers.
Another option was to visit private unlicensed bar rooms nicknamed "speakeasies." They were given this name because you had to speak the "password" in a quiet voice to gain entrance and avoid being caught by authorities.
Fancy drinks aren't your thing? Check out some of our favorite Seattle Dive bars
Practice Yoga with Goats
Practice yoga with goats! It's a unique activity that you can find at the Wobbly Ranch near Seattle. The animals will assist you in maintaining your asanas while giving you a good laugh at the same time. This practice is led by an authentic, certified instructor who will help you experience true peace and serenity before returning to the hustle and bustle of your day.
Practicing yoga with the goats is easily one of the most unique trips outside of Seattle. If you're looking for some of the best Seattle day trips, check out some of our favorites here!
Ride the Iconic Seattle Great Wheel on the Waterfront
The Great Ferris Wheel on Pier 57 takes you on an exciting ride high above Seattle's waterfront. If you're visiting Seattle, this is the perfect activity to do with your friends and family because it gives you a great view of the city while also providing stellar photo opportunities.
Visit the Museum of Pop Culture
The Museum of Pop Culture (MoPop), formerly known as the EMP, is one of the best places to visit if you're looking for something entertaining! If you love pop culture or just want to learn more about it, then this museum is your perfect destination. The Museum of Pop Culture's mission is to explore popular culture and its influence on society.
The museum has a variety of collections, including Jimmy Hendrix, ACDC Nirvana, Kurt Cobain, and more. The MoPop allows aspiring musicians to become musicians for the day as they perform live music in a studio with drums, guitars, and vocals! Computer-simulated lessons are given at each recording studio to help you improve your talent.
Enjoy a Sunset Cocktail Cruise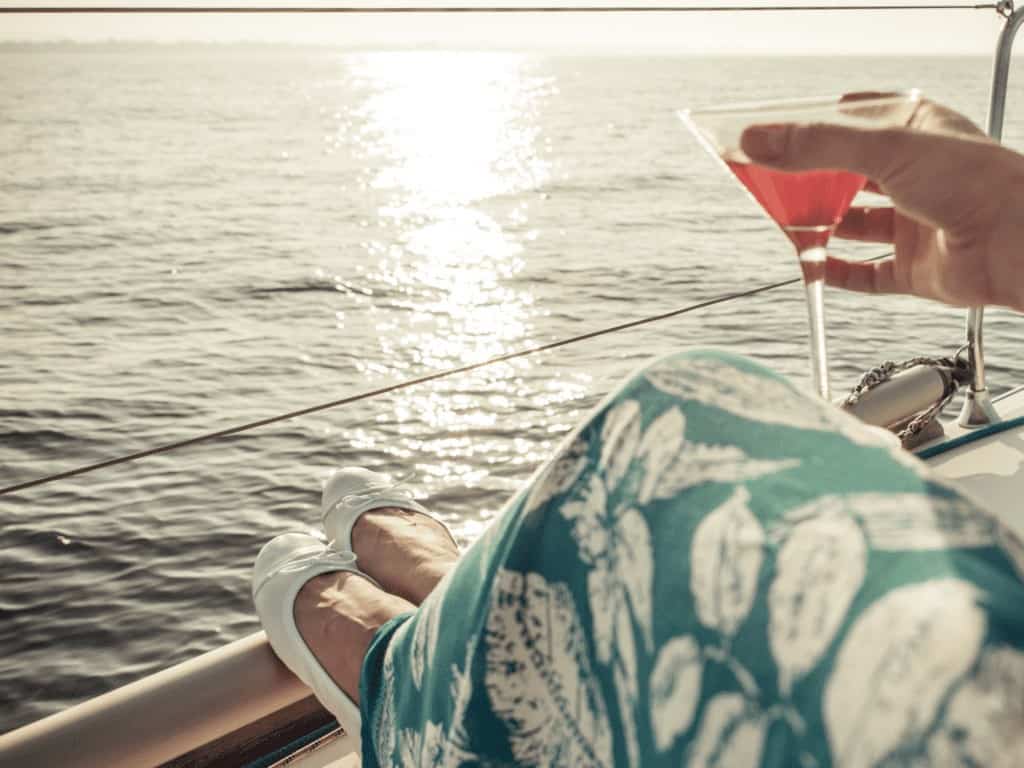 A cocktail cruise is an excellent way to see the city of Seattle from a new perspective while sipping on your favorite drink. You'll get a glimpse of seaplane landings and departures, as well as famous Seattle sites like the Space Needle, Seattle Great Wheel, Fremont Bridge, Gas Works Park, and the University of Washington. You'll also get a first-hand view of the floating homes on Lake Union, including the home from the movie 'Sleepless in Seattle'
See a Performance at 5th Avenue Theatre
The 5th Avenue Theatre has a long history in Seattle, it opened its doors to the public on December 20, 1922, and is still going strong today. The theatre is one of the best places to go in Seattle for a live performance. They offer a variety of shows for people to attend on any day, but their main attraction is the musicals. It's also worth mentioning that this theatre has an incredible history and many famous actors have played at this venue.
Ballard Locks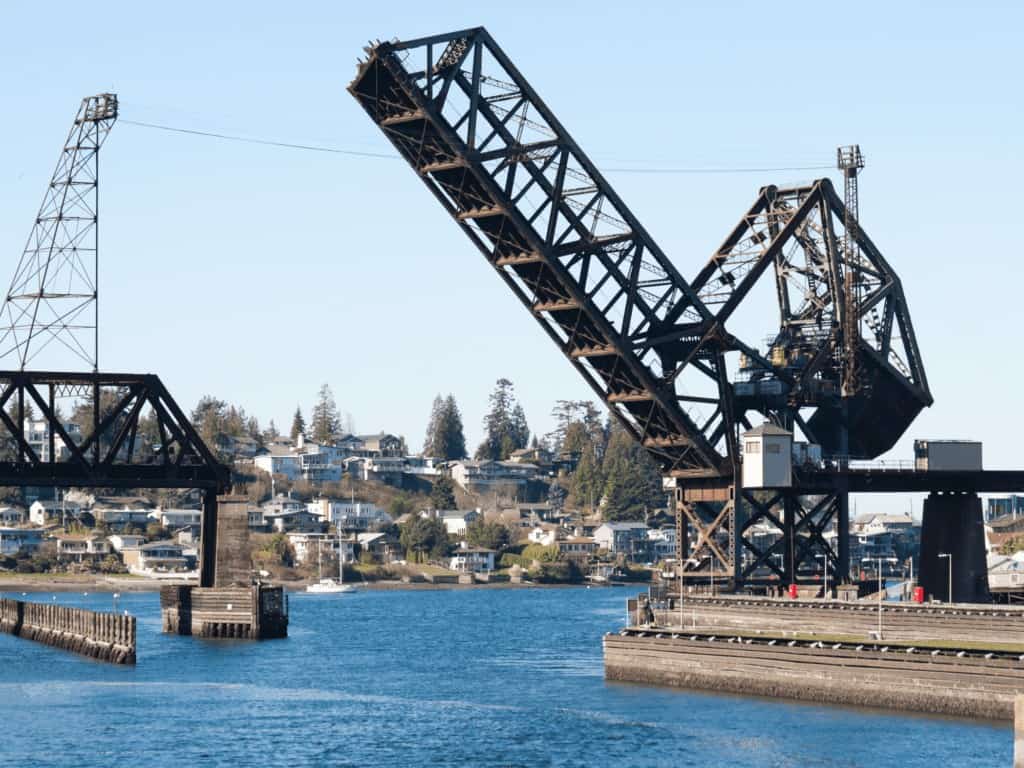 The Ballard Locks in the Lake Washington Ship Canal is a historic structure that allows boats to pass between freshwater lakes and the saltwater of Puget Sound. They were built in 1912, making them one of the oldest functioning waterway locks on the West Coast. The best way for visitors to see them is by walking on either side of the lock gates or getting a boat tour through these spectacular structures!
While at The Ballard Locks, it's also worth stopping by for the botanical garden and fish ladder for more unique and entertaining attractions.
See the Real Life Up House
Another unusual thing to do in Seattle is to see the real-life Up house! The woman who used to live in this home refused to sell it when the developers came knocking. The house is still there, and the developers built around it. The development company made a mistake when they planned construction and didn't leave any extra room around the house. Now the home has become a unique attraction for locals and tourists alike.
Take a Ride in a Seaplane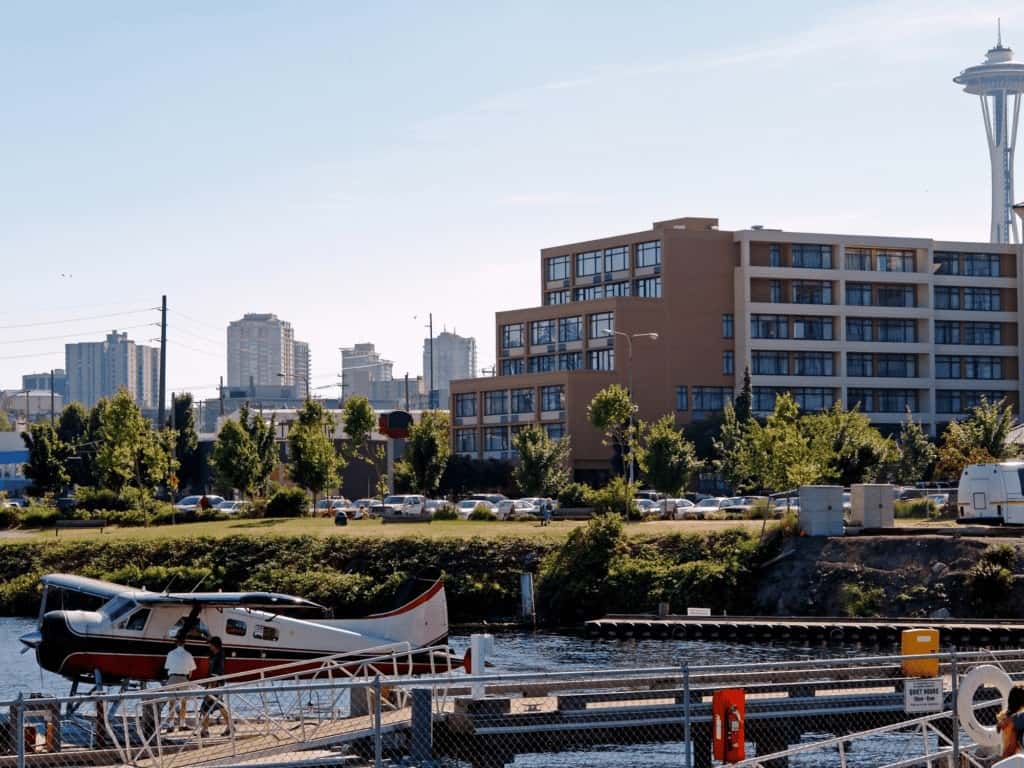 Seattle is home to many unique things, but one of the best activities in Seattle must be a ride on a seaplane. This breathtaking aircraft can take you from downtown Seattle to some of Washington's most beautiful places. It is an unforgettable experience that will leave you speechless as it flies through the Puget Sound sky.
Kenmore scenic seaplane tours depart from Lake Washington and Mercer Island. Make sure to call and book your spot in advance!
Kurt Cobain's old house
Kurt Cobain's old house is a location in Seattle turned into an attraction to honor the late musician. We found it a bit difficult to find, but much harder to see! Our GPS took us to the right area, but the house was overgrown with greenery and a wooden gate in front.
We enjoyed visiting Virettta park and the bench next to Kurt's house. It sits in a beautiful neighborhood overlooking Lake Washington. All of the messages and memorials left show that Kurt Cobain left a lasting legacy and is still very much admired today. Definitely, a must-stop if you are/were a Nirvana fan.
Sleep in a Tree House
Seattle has a lot of unique things to do, but one that is not well known is the opportunity to sleep in a treehouse. If you're looking for a unique experience, Seattle is the perfect spot for a sleepover in a treehouse. This is a one-of-a-kind experience that will leave a lasting impression! Learn more here or reserve a night in a treehouse here.
Check Out Gum Wall in Post Alley
Seattle is a little odd and has some quirky attractions, such as the Gum Wall just outside Pike Place Market's main entrance. The gum wall is an official tourist attraction and a popular photo spot.
Even though some people may find it gross, children seem to enjoy it, and anyone who walks by is free to contribute their own piece of gum to the colorful mosaic. Visiting the Gum Wall is one of those weird things to do in Seattle, but In my opinion, offbeat things to do in Seattle are often the best.
Get Your Game on at Seattle Pinball Museum
The Seattle Pinball Museum is a museum dedicated to the preservation and enjoyment of pinball's history. It features more than 50 pinball machines from 1960 to the present day. Visiting the Seattle Pinball museum may be one of those unique Seattle activities that's a "one and done" experience, but regardless it's worth a stop.
They've organized their games in chronological order to allow guests to follow the decades of American pop culture and pinball history. You get to play the games on exhibit for free, and they serve some of the best local craft brews and ciders in the area, as well as a fantastic collection of antique soda beverages.
Find a Wacky Treasure at Archie McPhee
Archie McPhee is a strange and fun little shop with some really weird things to explore, making it one of the most unique Seattle activities. Archie McPhee is stuffed to the brim with oddities, including zombie sleep masks, costumes for children or adults, hats with ears on them (if you're into that), Whoopee Cushions, and more.
Archie McPhee's offers a fantastic selection of one-of-a-kind toys, costumes, party supplies, and souvenirs. There's no shortage of gag gifts and other oddities at Seattle's wackiest store. If you're looking for a truly unique experience, stop into this iconic Seattle store and take a look at their quirky collection of items. 
Dick's Drive-In
Dick's Drive-In is a staple of Seattle, Washington. It's been around since 1954 and has remained popular ever since. Choose one of Dick's five restaurants and return to the '50s when you pull up to this fast-food restaurant. Burgers, fries, and shakes are all purchased and eaten among the crowds of people.
Burgers are always cooked the same way (no special requests accepted), and fries are consistently hot (like really hot). In addition, costs are pretty reasonable, and the place is open late. Yes, this unique Seattle restaurant has a reputation for attracting the post-bar crowd that have had a few too many potent Northwest brews, but it is also popular with families and long-time followers.
Ride In An Amphibious Vehicle (The Duck)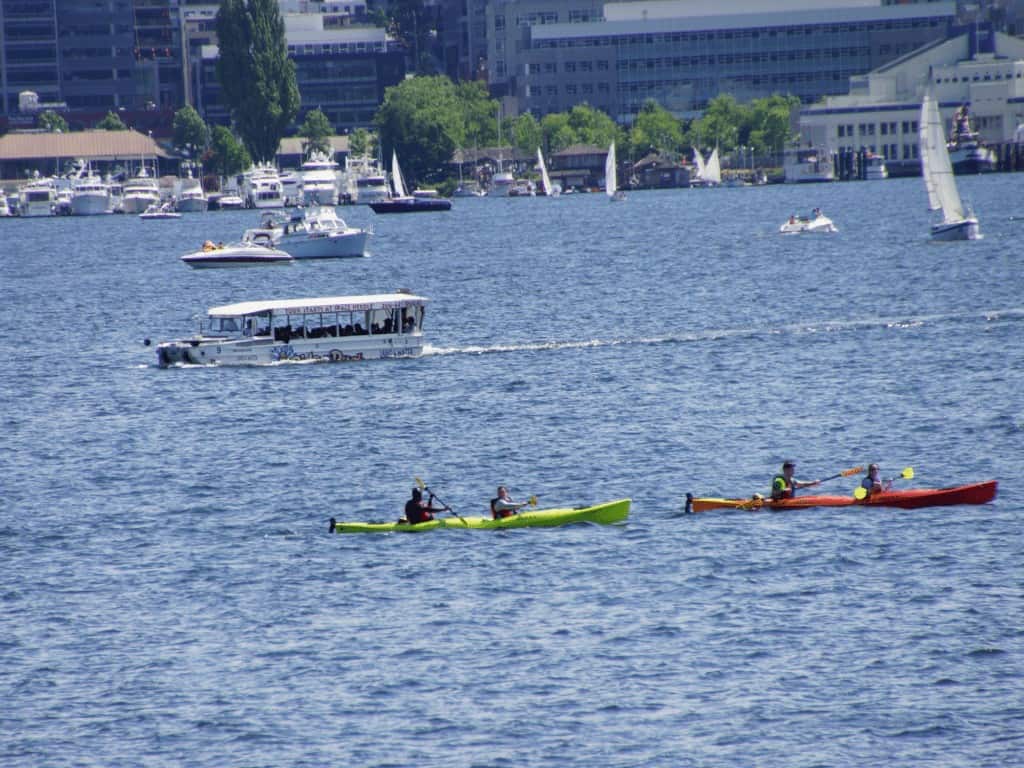 The best thing to do in Seattle is to take a day trip ride on a duck boat. This amphibious vehicle ride is a unique experience that lets you explore all of Seattle's hotspots from the comfort of your own seat. After cruising through the most popular places in Seattle, you'll make a splash into Lake Union.
Smith Tower
The Smith Tower was once the tallest building on the West Coast and had man-operated elevators. Even though both of these things are no longer true, it doesn't mean that the Smith Tower shouldn't be on your bucket list. The Smith Tower offers visitors 360-degree views over Seattle, including views of downtown, the Space Needle, Pike Place Market, Bainbridge Island, and more.
We think the Smith Tower is the best viewing spot in the city and offers one of the most unique atmospheres. If you're looking for a great place to get a cocktail while avoiding the crowds of the Space Needle, this is it!
Seattle Center and the Space Needle
Seattle Center is a great place to visit. It is the location of many cultural and entertainment activities, such as the Space Needle, Chihuly Garden and Glass, MoPop, and Bill & Melina Gates Foundation Discovery Center. The Seattle Center hosts thousands of events throughout the year, so you can spend hours walking around this one area alone!
The Space Needle is a beloved landmark in Seattle, and seeing it is one of the top things to do in the city! The tower reaches a height of 520 feet, and you can buy a ticket to go to the top to see the city views from the observation deck. Or, if you're like us, you can just visit the Seattle Center and see it from below for free.
Get the Best View of Seattle at Kerry Park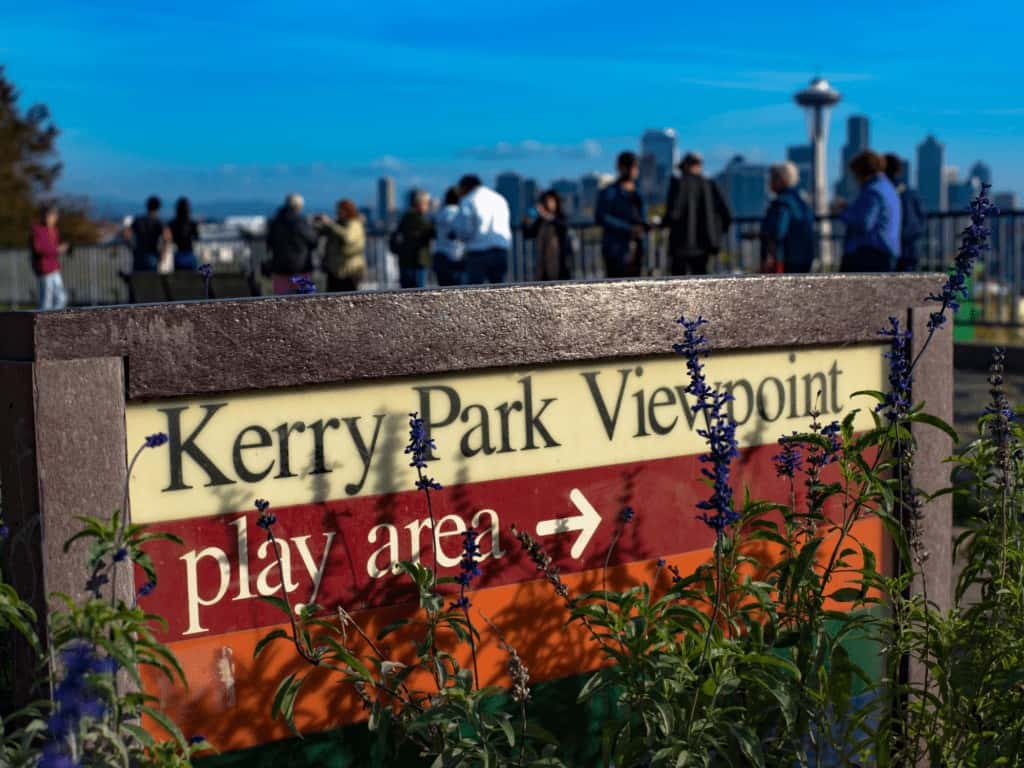 Kerry Park, located on the north end of Queen Anne Hill, offers spectacular views of Seattle. It's a great place to visit for both day and nighttime views. The scenic view at Kerry Park also makes for great picnics during warmer months or people watching when it's not too cold out!
Take the Water Taxi to West Seattle
Can't afford to do an expensive tour on the water in Seattle? Try out the very affordable ($5.75) Elliott Bay West Seattle water taxi to get an inexpensive tour of the bay. The water taxi makes your trip to West Seattle quick, convenient, and, more importantly, relaxing. People love heading over to West Seattle for recreation, shopping, dining, and spending time at Alki Beach.
And don't worry about transportation at the end of your ride — bus transfers are available for passengers headed downtown and beyond. Passengers headed to West Seattle can enjoy the free shuttle service to Alki Beach, Alaska Junction, and the Admiral District.
The taxi operates year-round, between Seacrest Dock at the edge of West Seattle's Alki Point and Pier 55 on Seattle's downtown waterfront at the foot of Spring Street. Crossing in just 12 minutes, it leaves every 30 minutes during commute time and every hour during the middle of the day.
Walk the Loop at Green Lake Park
Green Lake is a friendly Seattle neighborhood located close to Fremont and Wallingford (other popular neighborhoods in Seattle). The locals in the Green Lake area gather at Green Lake Park to run, walk, bike, and skate around the 2.8-mile path that circles the lake in the middle. You can get your caffeine on at one of the cafés in the area or enjoy a bite to eat at one of the many restaurants while soaking up the Seattle vibes.
Starbucks Reserve Roastery
The Reserve Roastery is housed in a sleek 15,000 square foot space in the trendy inner-city neighborhood of Capitol Hill. It's a unique experience with an added wow factor. This is where the greatest baristas come to experiment with coffee as an art form, aging it, infusing it, and combining it in creative and frequently surprising creations.
 The Seattle Starbucks Reserve Roastery is impressively large. There are four distinct coffee bars, a library, cafe, gift shop, and roasting facility. Starbucks Reserves are designed to showcase only the rarest and most exceptional Starbucks blends coupled with elevated brewing methods.
Take the Ferry to Bainbridge Island
The Bainbridge Island ferry is one of the most unique things to do in Seattle. The 35-minute journey allows you to see Seattle from the water and gives you a glimpse into life on the water. Once you arrive at Bainbridge, you'll find yummy bakeries, shops, restaurants, and parks.
Whether you're in the mood for breakfast on Bainbridge or plan on spending the day, it's always a fun thing to do in Seattle (And the views from the ferry are unrivaled!) Check out when and where the ferries depart here.
Seattle Monorail
Seattle Monorail is not only the fastest way to get between downtown and the Seattle Center, but it's a fun thing to do. The monorail links the most popular landmarks that Seattle offers, such as Westlake Center, Pike Place Market, The Space Needle, Pacific Science Center, Museum of Pop Culture, Children's Museum, and a variety of theatrical performances and cultural attractions.
Seattle Center Monorail departs approximately every 10 minutes from two stations:
Westlake Center Station, at 5th Avenue and Pine Street
Seattle Center Station, adjacent to the Space Needle
Stand up Paddle Board or Kayak Lake Union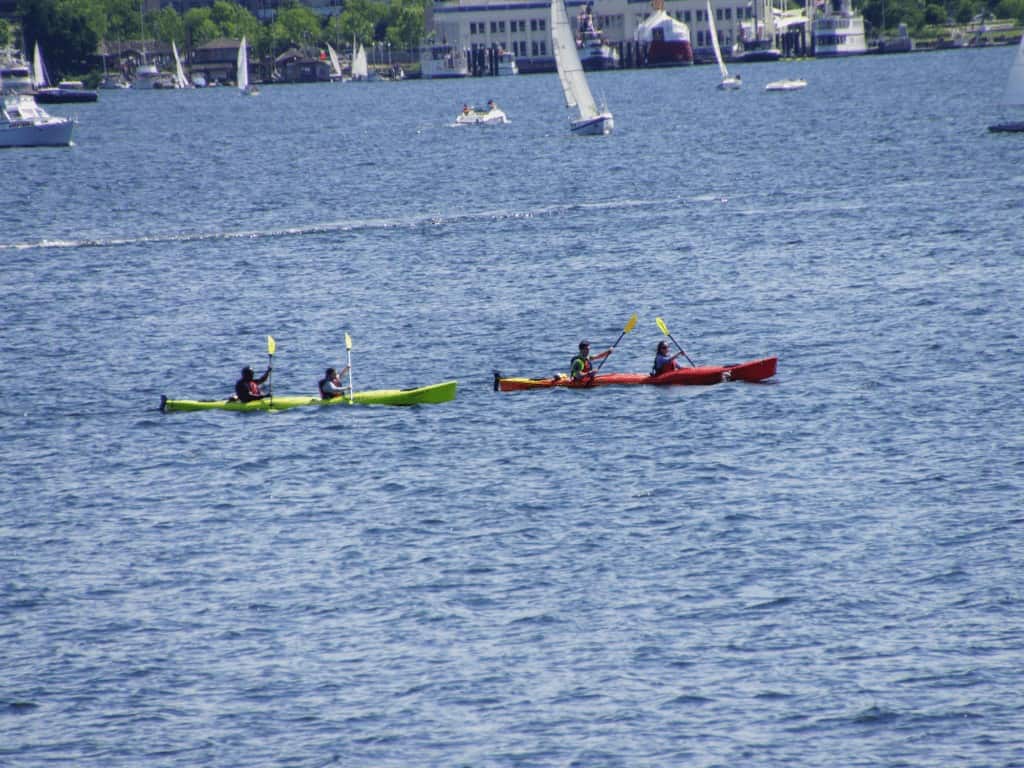 Kayaking or Stand-Up Paddleboarding is an excellent activity for those who want to have fun and exercise at the same time. The best way to enjoy these activities is by renting a kayak or SUP from one of the many local businesses in Seattle.
The best places to check out are the "Sleepless in Seattle" houseboat, fishermen's Terminal and the Ship Canal Head, the Hiram M. Chittenden Locks (Ballard Locks), and gas work park.
Visit the Beacon Food Forest
The Beacon Food Forest is a unique forest in Seattle, it is also the biggest public food forest in the United States. The Beacon Food Forest is made up of edible plants, and it was made to create a space where people can learn about sustainable practices.
What is a Food Forest?
A food forest is a gardening method or land management system that resembles a woodland ecosystem but includes edible trees, shrubs, perennials, and annuals. They work together to develop a forest garden ecosystem that can produce large amounts of food with less maintenance. Learn more about food forests at the Edible Forest Gardens website.
Have a Tide Pool Party at Golden Gardens Park
The beautiful beach of Golden Gardens is a fantastic area to discover tide pools. To view marine creatures in their natural habitat, go out on low tide toward the north end of the beach. Starfish, sea urchins, and crabs may be found under rocks and in shallow waters.
Picnic and Fly a Kite at Gasworks Park
Located on the north shore of Lake Union, Gas Works Park, which was formerly a gas plant, is a popular place for locals to gather and have a picnic or fly a kite. Gasworks Park is one of the most unusual parks we have ever seen.
Gawk at the Houseboats in the Marina
There are many unique things to do in Seattle, but few can compare with the houseboats. These floating homes offer a little taste of luxury and adventure on the water. Renting one of these houses allows you to spend time exploring Seattle's city life from an entirely different perspective!
Chihuly Garden and Glass Museum
Chihuly Garden and Glass is a museum in Seattle that showcases the work of Dale Chihuly, an American glass artist who's perhaps one of the most famous artists for blown glass. The museum features over 450 large-scale works by the artist, including glass sculptures, chandeliers, vases, bowls, and more.
Visitors can also enjoy many exhibits onsite, like the 24-hour "Cascade Room." The exhibition includes different experiences like walking through an indoor rainforest or watching a video about how to make your own handblown glassworks.
International District Seattle
The International District is a fun and exciting place to visit in Seattle. It's home to many of the most unique and enticing tourist attractions, such as Bruce Lee-themed tour, cultural festivals like Bon-Odori and Dragonfest. This exciting district is home to food markets selling fresh produce and seafood from all around the world and some of Seattle's best restaurants and bars.
There is a giant international supermarket known as Uwajimaya Village, a must-see for people visiting Seattle. Uwajimaya Village features Asian foods and is known for its food court, which has a lot of options to choose from! We love cruising the fish section at Uwajimaya to see all of the interesting sea creatures that are offered.
Snoqualmie Falls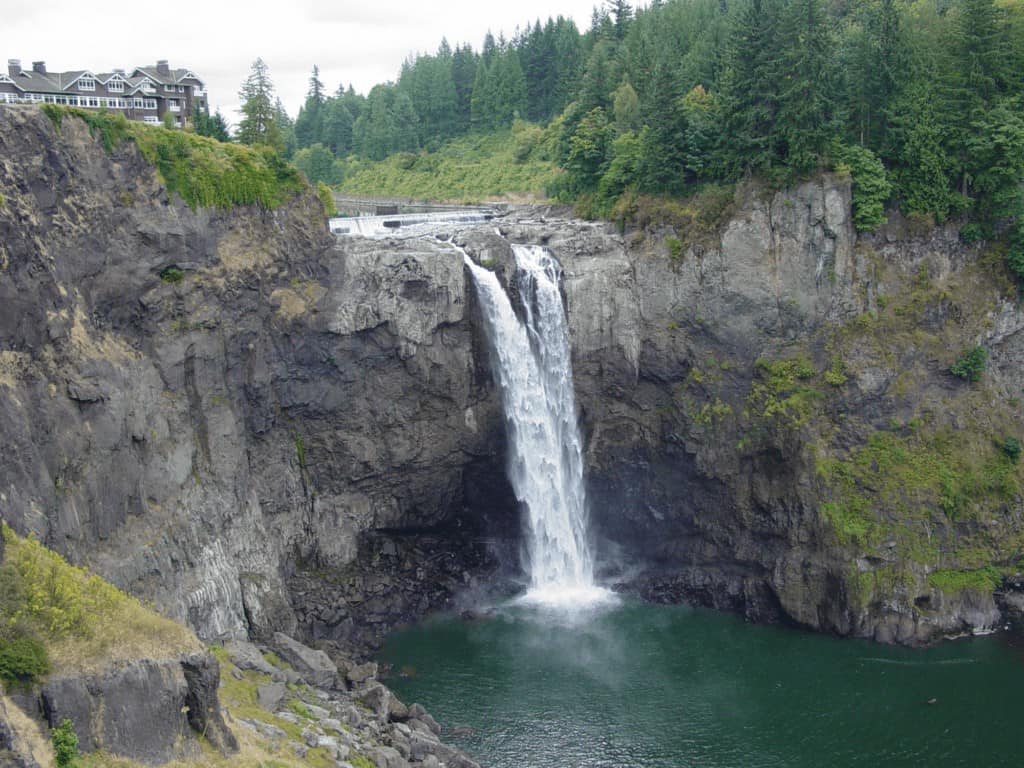 Snoqualmie Falls is a beautiful waterfall located east of Seattle on the Snoqualmie River between Snoqualmie and Fall City, Washington.
The Snoqualmie Falls, located in King County, Washington, is the state's second most popular natural attraction after Mount Rainier. It is higher than Niagara Falls by more than two times! The falls are a natural, historical, and cultural mix, they're on the National Register of Historic Places and attract people from all over the world to visit.
Bruce Lee Grave Site
Next to Volunteer Park in Seattle's Capitol Hill neighborhood is Lake View Cemetery. Bruce Lee, legendary Chinese American martial artist and film star, was laid to rest in 1973. His gravesite is not only a local Seattle attraction but also a worldwide and national pilgrimage site. Since his death, tourists have come to visit his grave. To keep visitors from trampling on other graves in the cemetery, shrubs were planted around Lee's grave to shelter it.
That's all for Unique Things to do in Seattle
I hope that you enjoyed our large list of unique things to do in Seattle. If you have any additions you think we should add please don't hesitate to leave a message below. We're always on the search for new and unique things to do.