WHAT IS THE ABSOLUTE BEST AMERICAN ROAD TRIP?
For us the best American road trips are not about the destination. They're about the people you meet, adventures you have and memories that last a lifetime – they can be found anywhere in this country.
What is your idea of the best road trip? Do you enjoy adventure, beauty, iconic destinations, or something else?
Decide what it is that you value most in a road trip, because it will make it easier to choose one of the following trips. Some people prefer to travel during the fall when things are starting to get cooler, while others prefer the heat of summer.
If you're more interested in visiting places with iconic beauty, make sure to keep September through November free, because this is when the air becomes crisp and the leaves begin to change.
If you are looking to get your adrenaline pumping, then April or May is the perfect time of year. Roads and trails will slowly begin to thaw as this season progresses into summer!
BEST ROAD TRIP TIPS TO GET YOU ON THE ROAD
For some, road trips are a new thing for some road trips are an old thing.
Regardless of your status, here are our best road trip tips to get you out and about.
1. Get a "checklist" of everything you need to pack, and try to eliminate items that are not absolutely necessary before hitting the road. Packing for your trip will be much easier this way.
2. Bring snacks for the trip, it's always a good idea to have something quick and easy on hand in case you get hungry or need some type of treat.
3. Don't forget your maps and GPS! And if you're going abroad, take precautions with your passport and other personal documents.
You can find even more Road Trip Tips HERE
---
Get into our VAULT which is full of Packing Lists, Guides, and all sorts of other printable's to help you plan that perfect trip
---
Yes You Can Road Trip Across The US On A SMALL BUDGET
There are plenty of places to explore on a budget. You just need to be smart about how you do it and plan ahead!
Consider traveling during the non-touristy times of year. Accommodations and campgrounds are cheaper during the shoulder seasons and you'll be able to find better deals at restaurants. Also realize that gas prices vary state to state so pick an area to travel that suits your budget.
Check out Road Trip Tips for help on finding FREE camping
Have You Heard of Glamping?
Glamping is an outdoorsy way to enjoy the great outdoors. It's a cross between camping and glamour, with luxury tents, bedding, furniture and amenities at your doorstep. You get the best of both worlds: a camping trip, but with all the amenities.
Spice up your time traveling by visiting some of our favorite Glamping Destinations. 
Best Road Trips Of The US
1. Arches National Park, Utah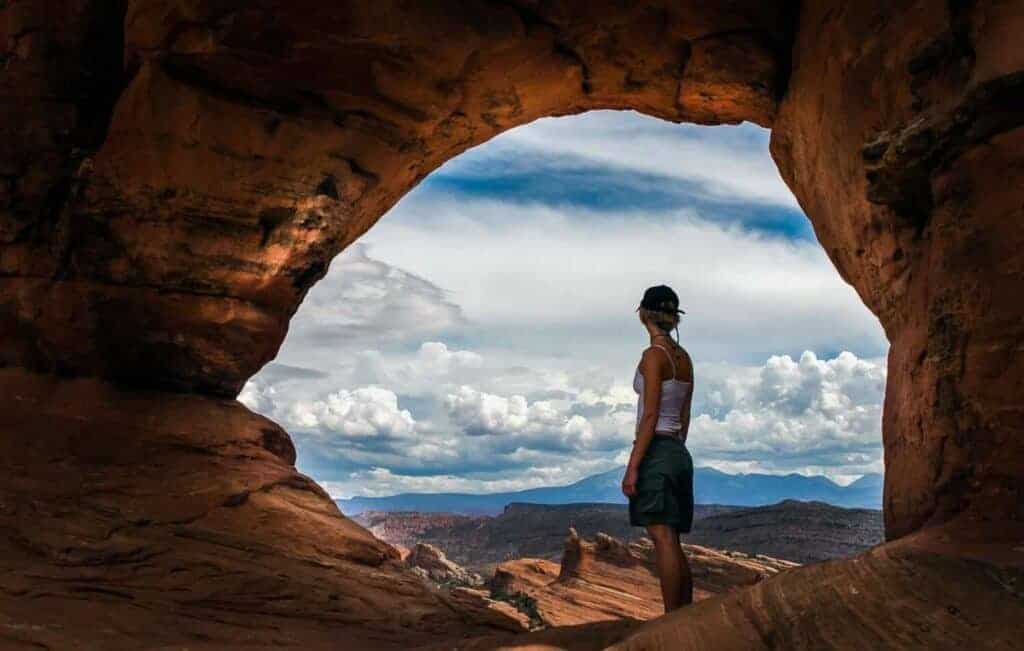 Arches National Park, famous for its delicate arch, is home to over 2,000 natural sandstone arches. The 45 mile drive through the park offers you numerous hiking stops along the way begging you for an overnight stay to take it all in.
If you do choose to camp at one of the campgrounds be sure to adventure out during the evening because that's when you can have this magnificent place to yourself. If you're feeling adventurous and and like traveling during less touristy times of the year consider skipping the crowds and checking out Arches during the winter.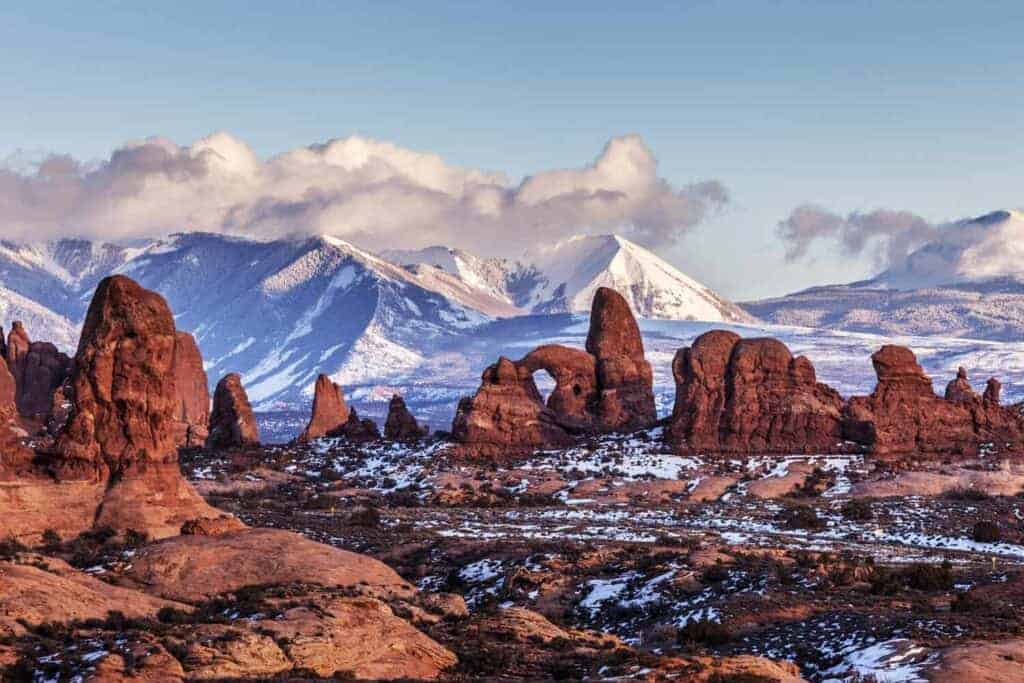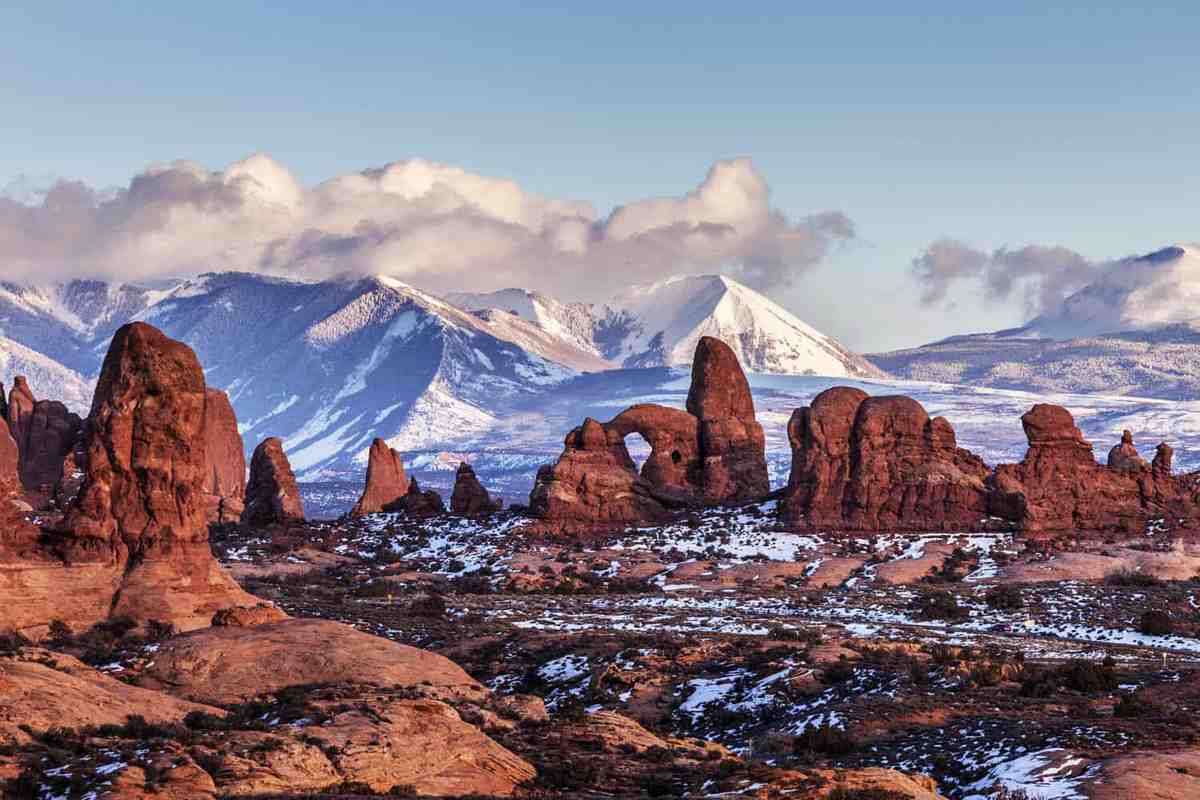 If you're thinking about visiting Arches National Park during the summer, be sure to check out our favorite 9 things to do in Moab You'll find that there are tons of fun activities for visitors like yourself!
Check out our in-depth guide on Arches National Park
2. Shi Shi Beach, Washington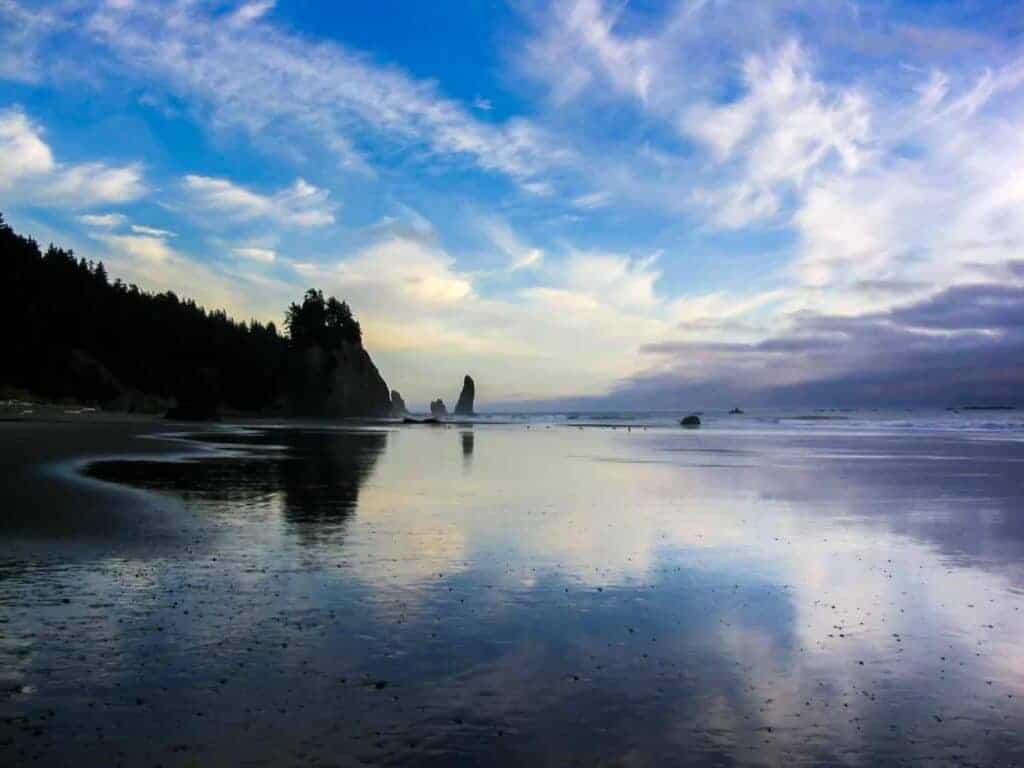 The wild and magical Shi Shi beach is located west of Neah Bay and the Makah Indian Reservation and is part of the Olympic National Park. This rugged coastline is unique in that very little of it is accessible by vehicle.
To get the full picture one must hike 3 miles to be rewarded with tremendous rock features, hidden lakes, and pristine coastline. As you listen to the waves crashing on the rocks you'll be left wanting more.
And fortunately that's possible as this remote coastline can be hiked by backpack requiring only a few nights to complete.
How To Hike From Shi Shi Beach from Ozette Trailhead
The best way to hike to see the tremendous rock features at Shi Shi beach is to start at the Ozette Trailhead. The hike is around 10 miles round trip and can be done as a long day hike or as an overnight backpack.
Visitors will need two permits: The Makah Recreation Pass, which can be purchased in Neah Bay at the General Store, Mini Mart, Marina or Museum. It costs $10 and is good for the calendar year.
You will also need an Olympic National Park wilderness permit, available at the Olympic National Park Visitor Center in Port Angeles or (when open) the South Shore Ranger Station at Lake Quinault. If you plan on camping, please realize c
Black bears are common to the Olympic Peninsula and are widespread in the Olympic National Park. Be sure to bring your own bear canister or consider renting a park-approved bear canister at the Visitor Center in Port Angeles.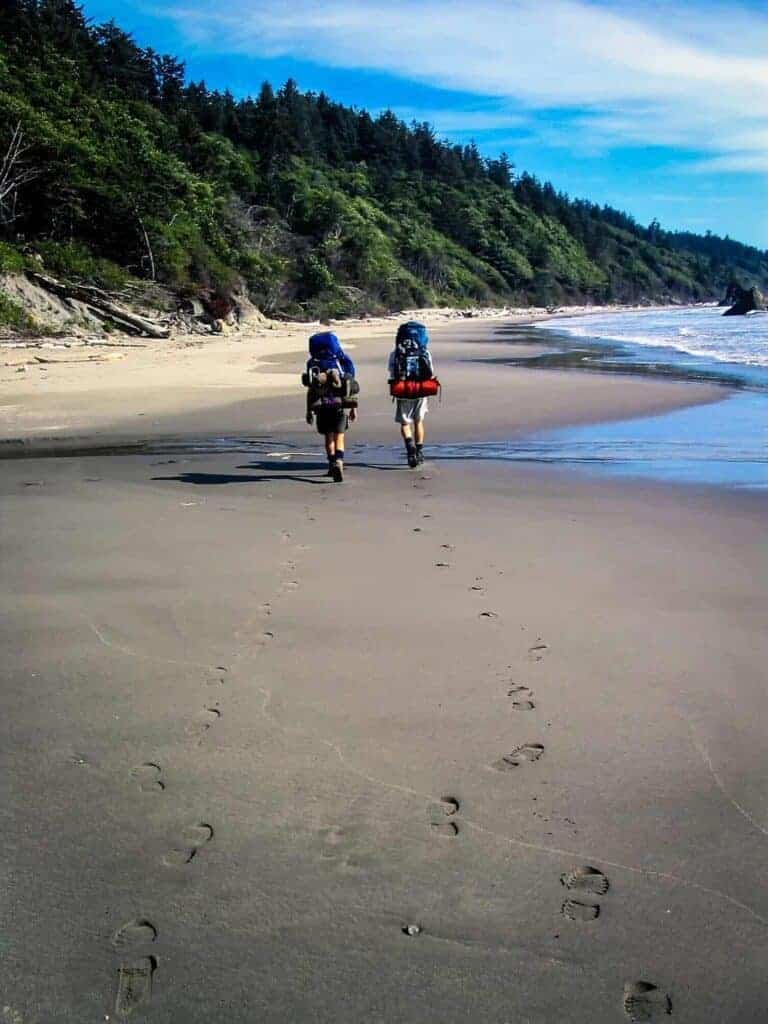 ---
Have you considered seeing the USA by train? If not, you should because train travel is back and more popular than ever.
How Train Travel Is More Affordable And Popular Than Ever
---
3. Lost Sea, Tennessee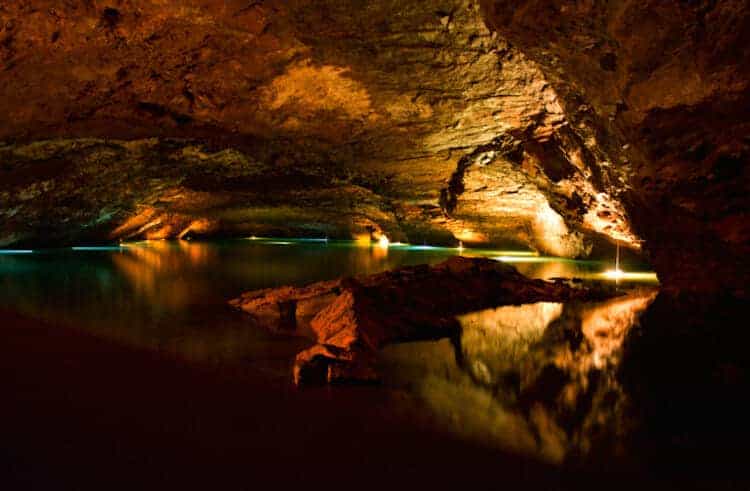 Near Sweetwater Tennessee is a remarkable body of water known as the Lost Sea. Discovered in 1905 by a thirteen-year-old boy, this is the 2nd largest underground lake in the world.
The intricate cave system is home to stunning rock formations, crystal clear water and it can be visited by boat. It's a spectacular place for anyone looking forward to some underwater exploration!
What Is The Lost Sea in Tennessee
The Lost Sea is a large, lake located in the mountains of Tennessee. The property was originally pegged as an inland sea and later discovered to be a natural sinkhole filled with water.
The Lost Sea is fed by the underground water from a spring. The lake has an average depth of about 14 feet and a maximum depth of 25 feet, making it one of the deepest lakes.
The Lost Sea is one of the most fascinating places in Tennessee and should be added to your bucket list if you're interested in visiting natural water features.
How To Get To Lost Sea in Tennessee
You can get to Lost Sea by a scenic drive on Highway 327.
Surrounded by mountains, Lost Sea is located in the Cove Creek Valley. The emerald green water and walls of rock make it a perfect place for new visitors to experience nature at its best.
At Lost Sea, you can explore the Cove Creek Valley by hiking on one of the many trails to get a closer look at nature. You'll see waterfalls, streams and other natural features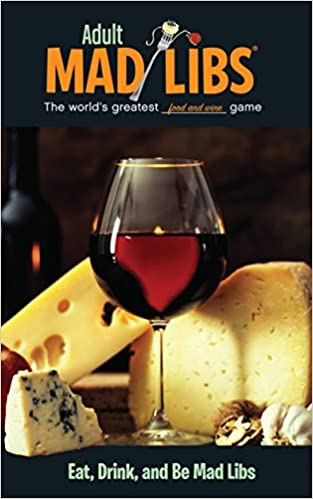 No road trip is complete without a few Mad Libs books. They are an absolute blast. Great for kids or pick up the even better adult only version!
4. Napali Coast State Park, Hawaii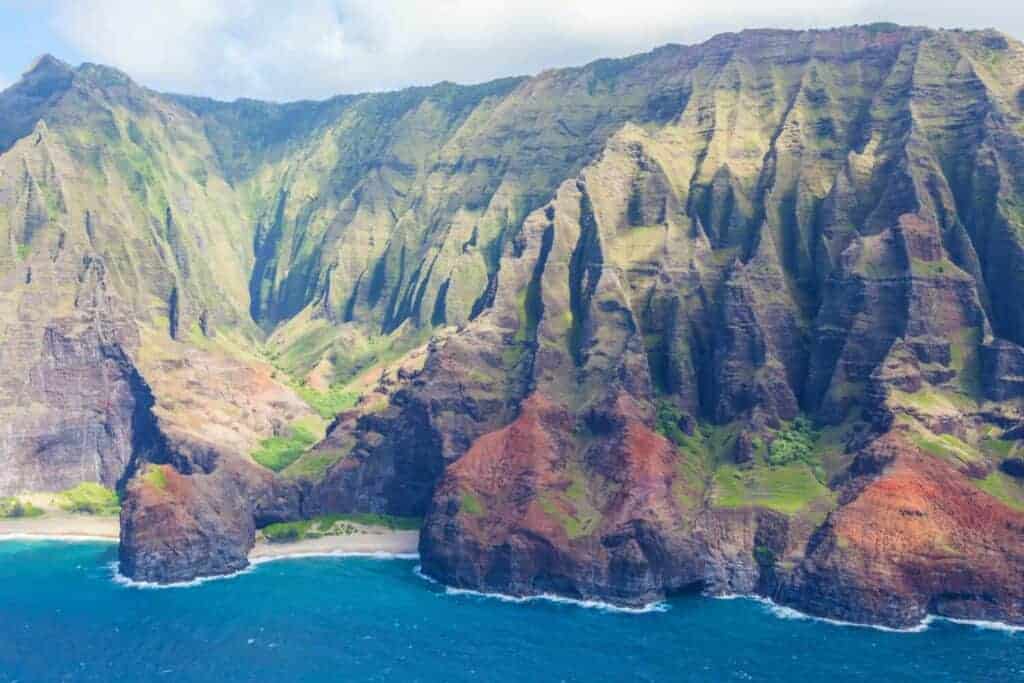 This iconic shoreline on Kauai's North Shore spans over 17 miles and is absolutely stunning. The razor sharp ridges tower above the Pacific Ocean making for some of the greatest waterfalls and secluded beaches Hawaii has to offer.
There are numerous ways to see this magical coastline but the best views can be had by helicopter or boat. If the weather's right you can explore this rugged coastline and its hidden caves by kayak
Can You Drive Napali Coast State Park, Hawaii?
Yes, there is a highway that runs along the coastline of Napali Coast State Park in Hawaii. This road does not allow vehicles to enter the park itself but rather serves as an overlook for the beauty of the park from a distance.
The highway is called Kalalau Trail and it begins at Ke'e Beach, just north of where the Napali Coast State Park ends
---
Get a Killer Deal on Restaurants and Other Attractions While Traveling
Explore new and different things while traveling by checking out Groupon.  We love Groupon because they always have great coupon deals at restaurants, city tours, spas, and best of all it's FREE to use.
---
5. Horseshoe Bend, Page Arizona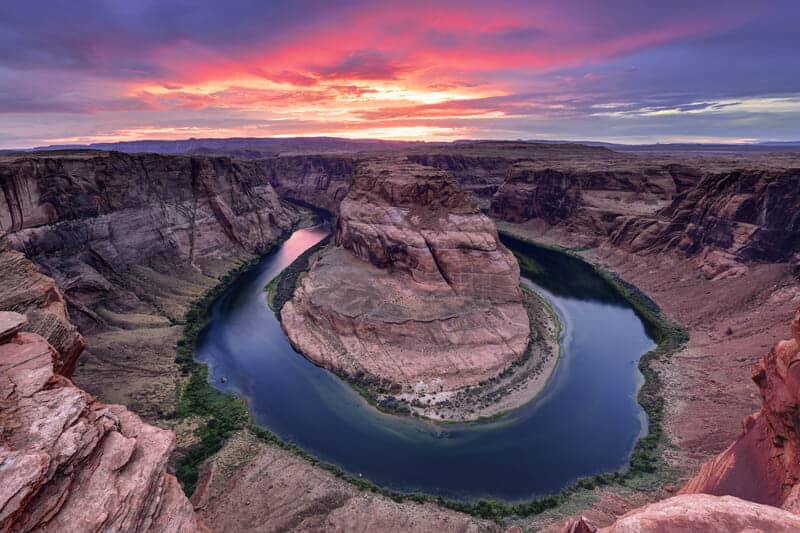 Horseshoe Bend Overlook
The Horseshoe Bend Overlook is the best place to take in one of America's most breathtaking scenes. Located on the Colorado River, this overlook reveals a view that resembles a horseshoe. It is only accessible by foot or boat, and visitors can see the magnificent view of this natural wonder from an altitude of 2,500 feet above sea level.
After a short but sandy hike, you approach the rim of the most magnificent site, Horseshoe Bend. It almost looks too good to be true, man-made perhaps. The colors and staggering height make this a must see in my book.
Horseshoe Bend Sunset
If you arrive to Horseshoe Bend in the late afternoon early evening be sure to get your camera ready for the sunsets you'll see. It's one of the most spectacular places in America to watch the sunsets.
---
---
6. Crater Lake, Oregon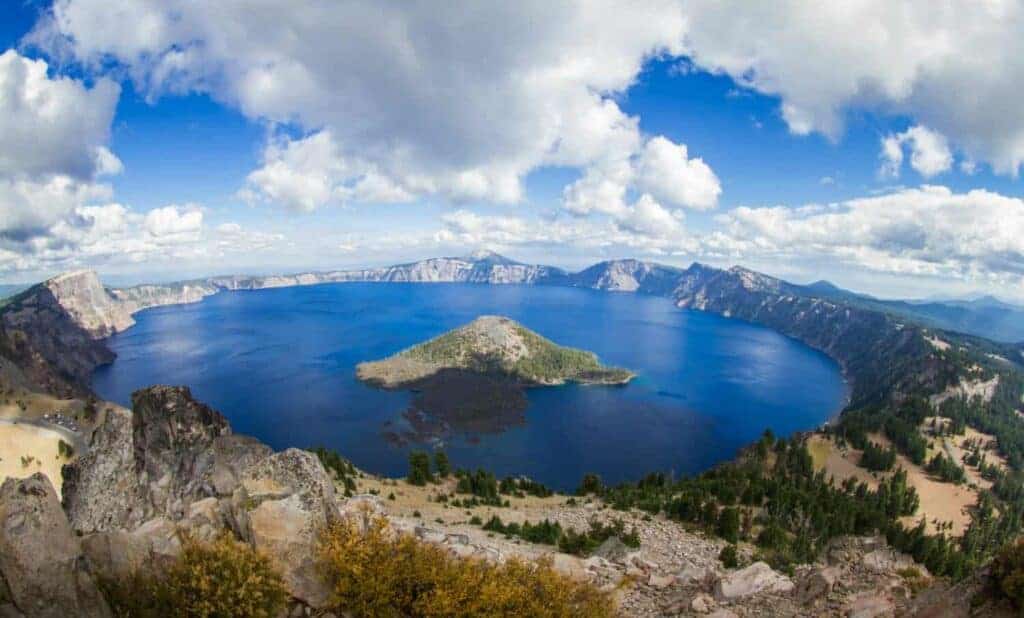 This immense lake partially fills a nearly 2,200 foot deep caldera formed by the collapse of the volcano Mount Mazama. The lake holds the record for the deepest lake in the U.S. and is unique in that there are no rivers flowing in or out of crater lake.
Where is Crater Lake?
Crater Lake is located in Southern Oregon, which is also home to the world-renowned Oregon Shakespeare Festival, and the stunning Rogue River.
What is A Caldera?
A caldera is a cauldron-like volcanic depression that forms following the emptying of magma chambers below ground. Yellowstone National Park in Wyoming, USA is home to the largest caldera in the world.
A caldera is a cauldron-like volcanic depression that forms following the emptying of magma chambers below ground. Following this definition
Crater Lake is a caldera lake in the US state of Oregon. The water from Crater Lake comes from rain and snow melt, as well as groundwater seeping into the ground. The lake was formed when the Mount Mazama volcano erupted, bringing ash and pumice to its peak.
The water in Crater Lake is often an emerald green color because of suspended mineral dust.
8. Antelope Canyon, Arizona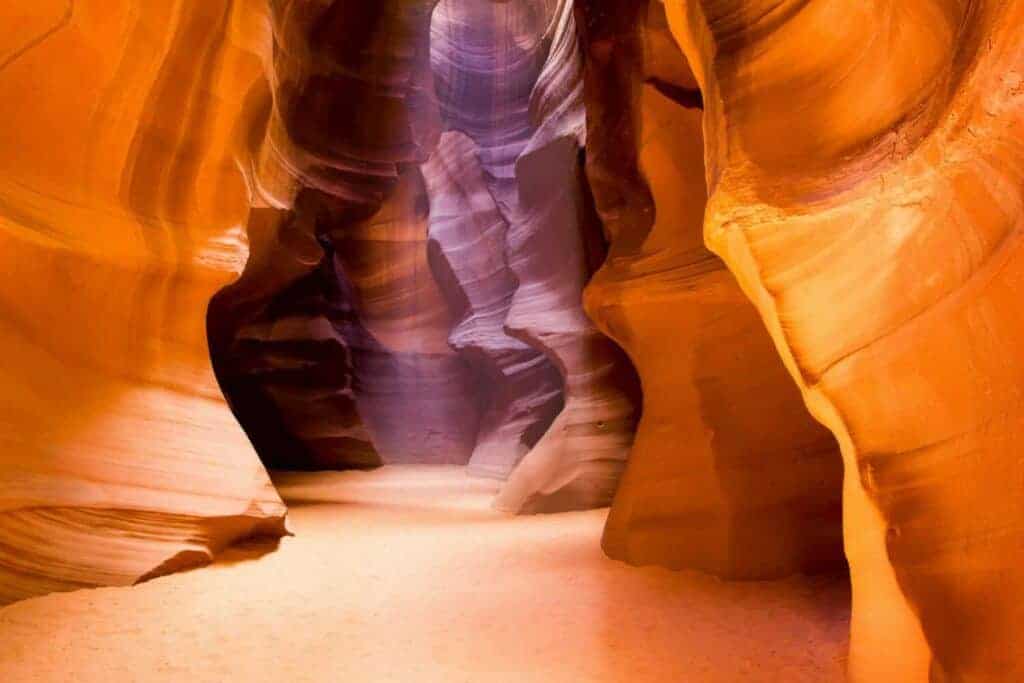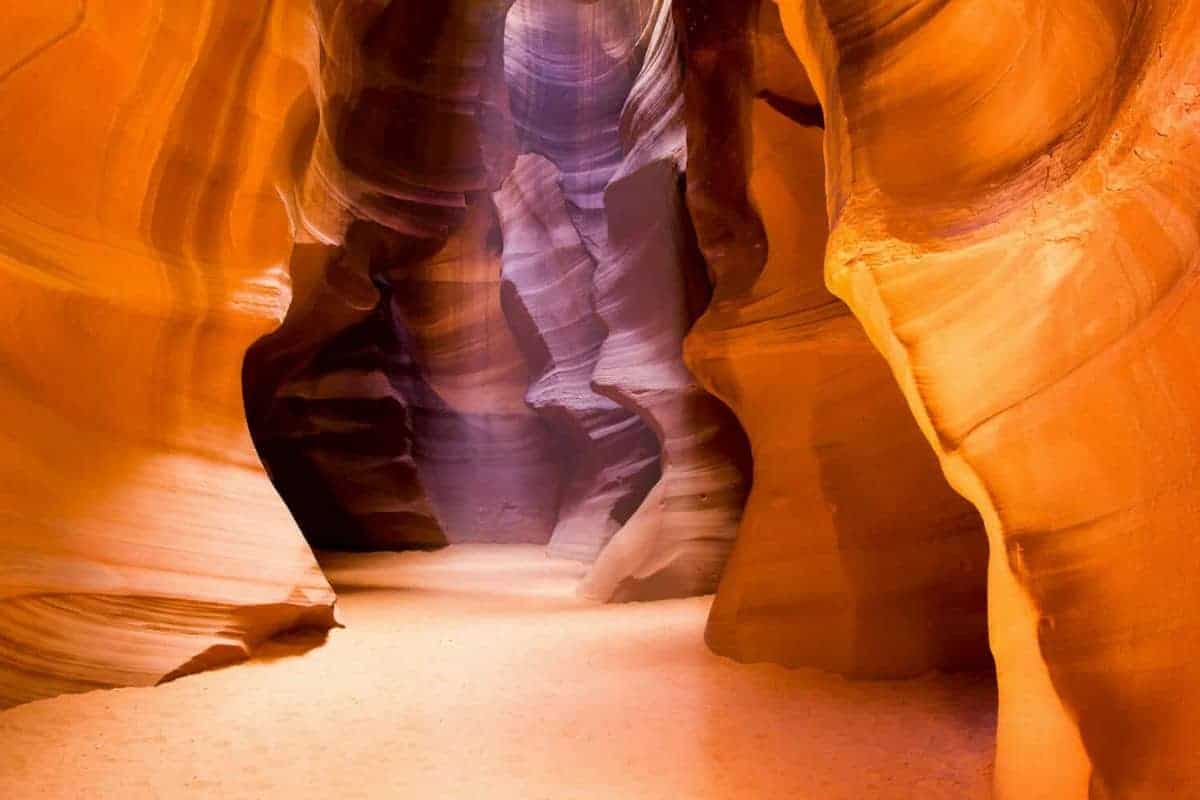 Horseshoe Bend To Antelope Canyon
If you're feeling adventurous and looking for another breathtaking stop after seeing Horseshoe Bend, Antelope Canyon is just the place for you. It's a slot canyon in Arizona and while it's close to some major cities, there is still no cell service within the canyon itself. The best time of year to visit is during the spring or fall.
There's just something about the light in Antelope Canyon. A photographers dream as it's almost difficult to take a bad picture once you find yourself immersed in this rock formation. The sandstone carved walls give way to just the right amount of sky making for an epic light show.
How Far is Antelope Canyon From Horseshoe Bend?
Just 7 Miles from Horseshoe Bend!
You wouldn't come all this way and only see one of the Natural Beauties that Northern Arizona has to offer would you? Find out why Antelope Canyon has become one of the most photographed slot canyons in the world.
Known for their incredible rock formations, colors and lights there is something wonderful waiting for you no matter which canyon you choose.
Touring Antelope Canyon
Keep in mind that unlike Horseshoe bend ANY of the Antelope Canyon Tours require a guide! These can be quite busy in the summer so plan ahead before they all book up. Below are some reputable guide services that we have used.
---
US ROAD TRIP PLANNER
Don't forget that Travel Journal folks. I wish I'd started one earlier in my life. Take a minute and read up on why I think everyone should be writing in a travel journal – How To Write A Travel Journal
---
9. Fort Jefferson, Florida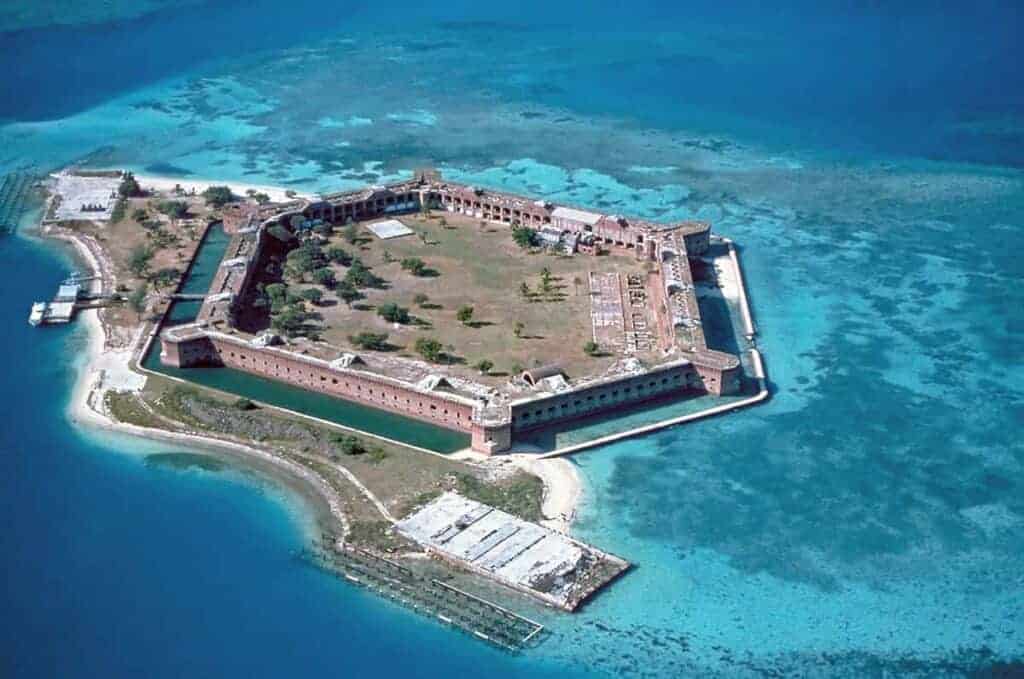 Sitting about 70 miles west of Key West, Florida sits an unfinished coastal fortress. Built from 1846-1875 and never completed, this massive fort is home to some tremendous history.
Accessible by a 70 mile ferry ride this tropical island also holds some terrific swimming and snorkeling waters amongst its massive reef.
Which Island is Fort Jefferson On?
Fort Jefferson is located within the Dry Tortugas, a group of small islands in the Gulf of Mexico. Just 70 miles due west of Key West, Florida, it's the largest masonry structure in the western hemisphere.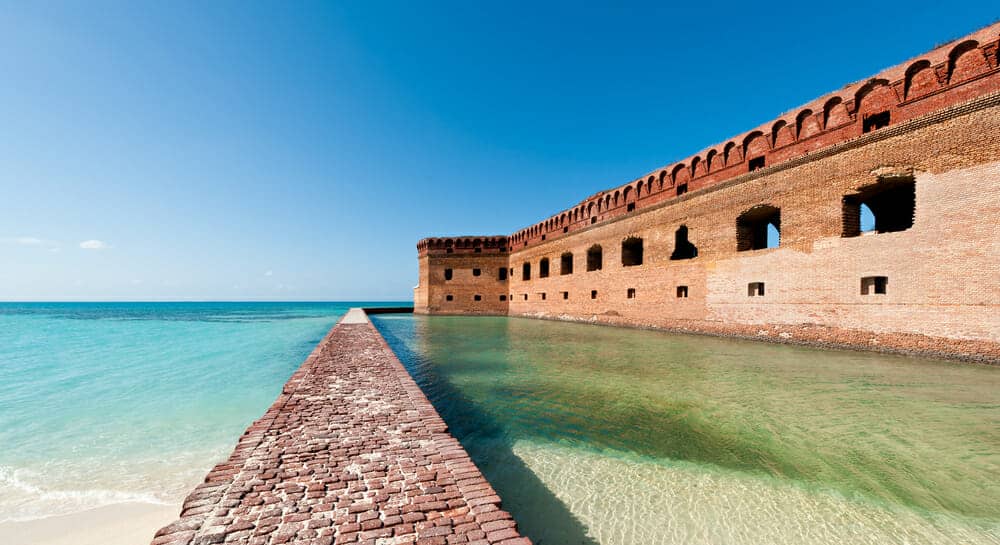 ---
Hit these bucket list destinations in style by cruising America's most scenic routes
Scenic Drives Of The U.S. You Don't Want To Miss
---
10. Mesa Verde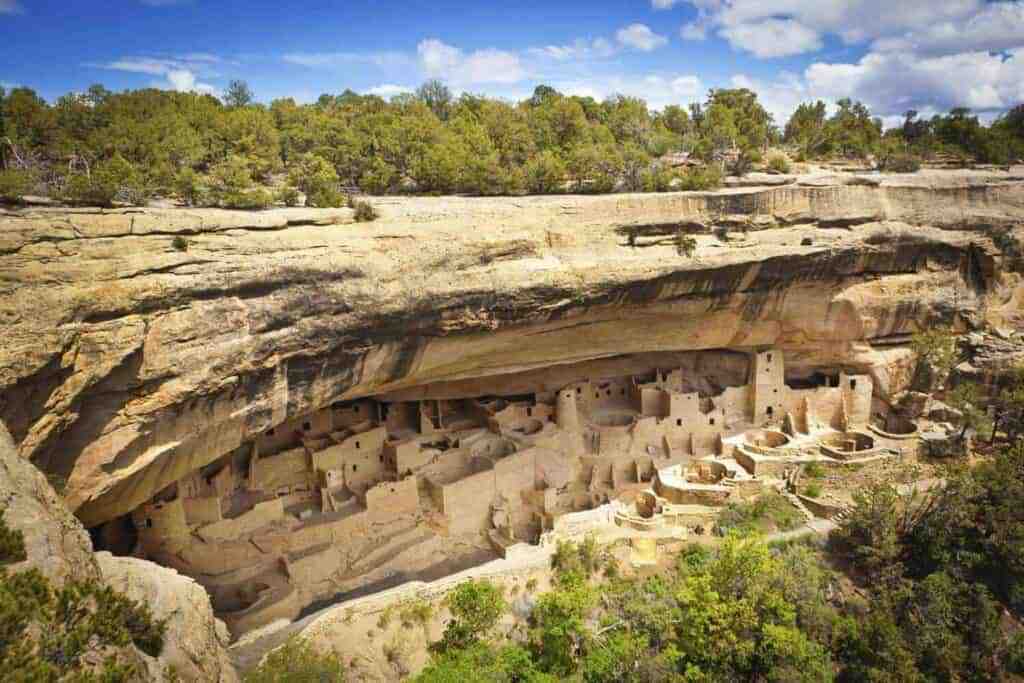 An archaeological masterpiece of Puebloen cliff dwellers who build these cliffside cities. The park is filled with many dwellings and is complete with some great hikes that reward you with petroglyphs and other hidden archaeological gems.
I love Mesa Verde National Park because it's one of those places where you can spend hours just exploring. There are cliff dwellings, trails with awesome vistas and more!
Where is Mesa Verde National Park?
Mesa Verde National Park is located in the southwest corner of Colorado. It's close to the Four Corners Monument. The park is home to the largest cliff dwellings in North America, built by Native Americans who settled there around 1 AD.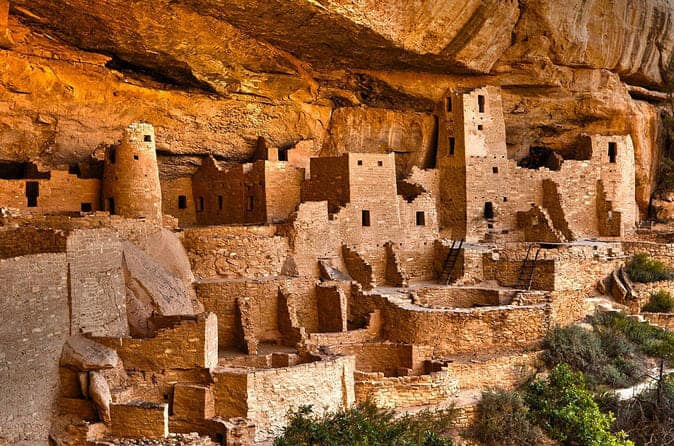 Colorado's National Parks And Monuments
Colorado has a lot of National Parks and Monuments so if you are looking for some natural beauty this is the place to go.
The National Parks and Monuments include: Red Rocks Amphitheater, Mesa Verde National Park, Black Canyon of the Gunnison National Park, Dinosaur Ridge – Morrison Quarry & Nature Preserve and the Royal Gorge.
Sequoia National Park, California

Home to the largest tree in the world at over 267 feet tall and 29 feet in diameter, this giant sized forest is a must see. We're talking 1,500 year old trees people! If that's not amazing I don't know what is.
Where Exactly Is Sequoia National Park?
Sequoia National Park is located in the southern Sierra Nevada mountain range, which means it's one of America's most scenic spots
Your Favorite US Road Trip Routes
As you can see there are so many places to explore in this beautiful country. We'd love to hear what some of your favorite Us Road ideas are.
Have you ever drove US Route 1 or what about US Route 66?
Hit reply in the comments and let us know some of your favorites.
---
As you cruise the US don't miss these 9 must see small towns of the West.
9 Not To Miss Small Towns Of The West
---
One thing for sure, there's no shortage of great places to see on a USA road trip. I hope I sparked the travel bug in you and be sure to check out some of my additional articles for more road trip USA ideas.
Be sure to read: Road trip packing lists, maintenance checks, safety tips and much more at Road Trip Tips
Happy travels!