Imagine yourself on a Utah and Arizona road trip let's get started
Dreaming of a trip across the desert? If you're looking for an excellent way to get acquainted with the Southwest, there's no better way than checking out some of the area's most beautiful landmarks. If you're currently in the planning stages of your trip, you're probably overwhelmed by all the options; so we narrowed things down for you and created a fantastic Utah and Arizona itinerary for first-timers.
From Bryce Canyon's distinctive hoodoos to Canyonlands National Park's sweeping vistas, here's how to make the most of a Utah and Arizona road trip even if you're on a tight schedule!
The Ultimate Arizona and Utah Road Trip Itinerary for National Park Lovers
Starting Point For Your Road Trip
There are a number of great road trips that can be taken in Arizona and Utah. However, travelers should consider flying into Salt Lake City or Las Vegas if they want to make the most of their time. These airports offer a variety of flights and rental car options, making it easy to get started on your road trip.
Salt Lake City Utah Starting Point
Salt Lake City is a beautiful city located in the heart of Utah. It's a great place to start your road trip through both Utah and Arizona, as it has plenty to see and do.
We only had a half-day here, but we tried to make the most of it by visiting some of the main attractions. We were able to cruise by the State Capitol Building, walk around downtown, see the Mormon Temple from afar, and grab a quick bite to eat before we began our 4-hour drive to Zion National Park. If you have more time in this city, I recommend going to Antelope Island State Park or visiting the Natural History Museum of Utah.
Las Vegas: Alternate Starting point for Your Utah Arizona Road trip
If you're looking for an alternative starting point for your Utah, Arizona road trip, consider Las Vegas. If you're renting a car, you may find that rentals are cheaper in Las Vegas than in Salt Lake City.
The drive from Las Vegas to Zion National Park is a relatively easy one, and it's along the same route as many of the Utah road trips that start in Salt Lake City.
There are plenty of things to do in Las Vegas, and it's a great city to start your road trip from. You can visit the Hoover Dam, 7 Magic Mountains, Lake Mead, and other amazing locations on your road trip.
Want to take a road trip in a campervan? Click HERE to learn everything you need to know about campervan road trips
Day 1: Zion National Park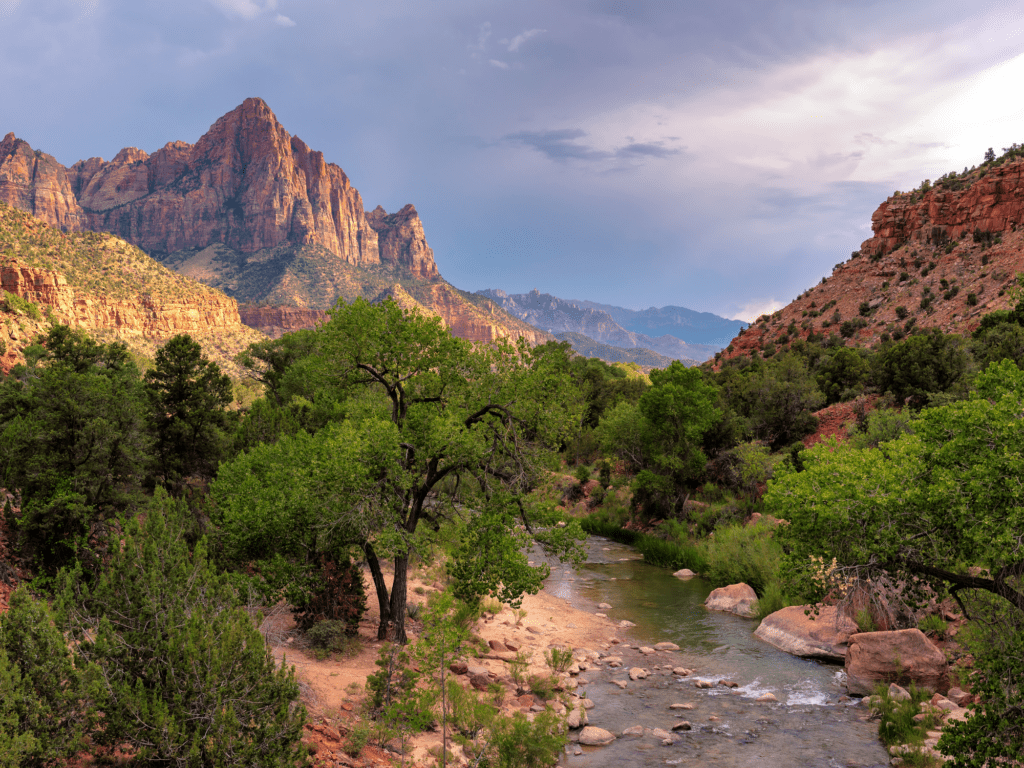 Start your day as early as possible by beginning the epic journey through Zion National Park.
Get an introduction to the National Park at the Zion Human History Museum, where you'll learn about the Paiute indigenous people who formerly lived there. The museum sits right next to some of Zion's most famous rock formations (including the Towers of the Virgin and Watchman), so you'll get two birds with one stone by visiting both!
After that, put on your hiking boots and go for a hike in the park. Many of the routes here are short, sweet, and incredibly appealing, so you can finish several hikes in just a few hours.
If you still have energy after hiking, go for a drive to Kolob Canyon, which is the less-visited section of the park and just happens to be the ideal location to watch the sunset. Hike Timber Creek Overlook at Kolob View Point for spectacular 360-degree views of the nearby rock formations and even glimpses of the North Rim of the Grand Canyon!
RELATED: Need help with Must have Road Trip Essentials? Click HERE to learn what items are must haves
Days 2 and 3: Bryce Canyon National Park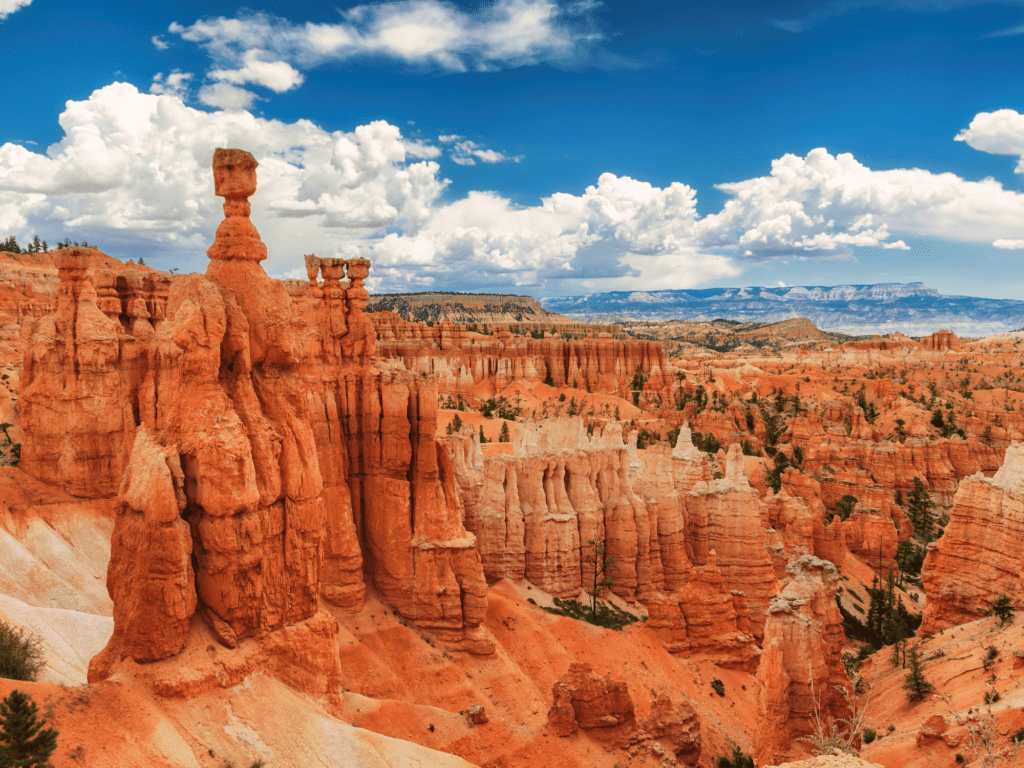 Because it is one of the nation's smallest national parks, a full day and a half is more than enough time to see the main highlights of Bryce Canyon National Park. Start as early as possible to get the most out of your first day here.
The main attraction of Bryce Canyon is the red sandstone hoodoos, so we'll start the day by packing a lunch and taking the scenic route through the park (Highway 12). Stop by some of the park's most beautiful overlooks on your drive to get an incredibly picturesque introduction to some of Bryce Canyon's finest views.
If you want to get to know the park better during the afternoon, pick from one of the numerous short hiking trails available. Head to Sunset Point for an unforgettable sunset, where you'll be able to watch the sunset from a bird's eye perspective over the amphitheater of hoodoos.
Day 3 is all about getting more close and personal with Bryce Canyon. As mentioned before, hoodoos are what makes Bryce Canyon's landscape so unique, and there's no better way to see them than by braving the Queen's Garden to Navajo Loop and Wall Street trail. As you make your way through otherwordly-looking rock tunnels and pine forests, you'll get access to the best views of the park's iconic sandstone hoodoos that will have you feeling as though you're walking on an entirely different planet!
On Day 3, you'll get closer and more personal with Bryce Canyon's scenery. Hoodoos are the key element that makes Bryce Canyon's landscape so distinctive, and there is no better way to see them than by trekking through the Queen's Garden to Navajo Loop and Wall Street trails. You'll have access to some of the park's finest views of rock tunnels and pine forests, including its famous sandstone hoodoos that will make you feel as though you're on another planet!
In the evening, drive to Capitol Reef for a good night's sleep and preparation for another day of desert adventure.
Day 4: Capitol Reef National Park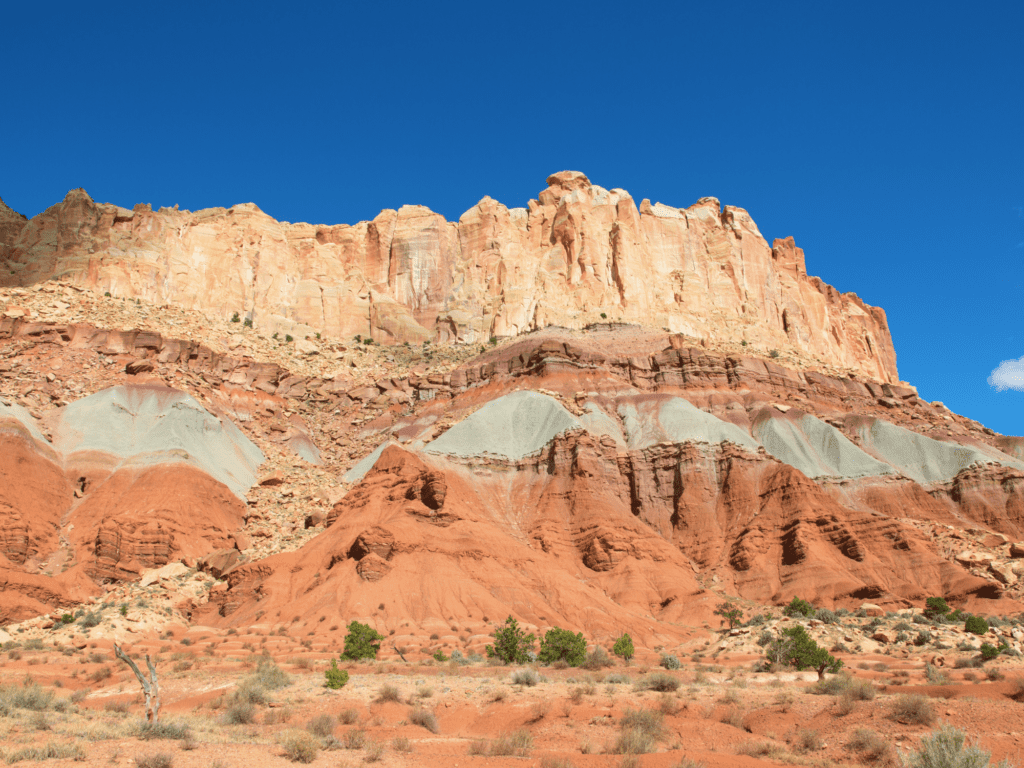 Once you've arrived in Capitol Reef, make the most of your visit by going to Hickman Bridge, which is a popular 2-mile round trip that will take you past some of the park's most famous sights. After you're finished hiking, return to your vehicle and head down Highway 24 to see the park's renowned petroglyph panels, which will provide an insight into its indigenous history.
Then continue along the stunning 8-mile route, where you'll be able to tick off some of Utah's most well-known sights. In Capitol Reef, If you have any more time or energy left over after driving, make a trek to Cassidy Arch, which is one of the park's most thrilling hikes and likely the most iconic photo spot!
Day 5: Arches National Park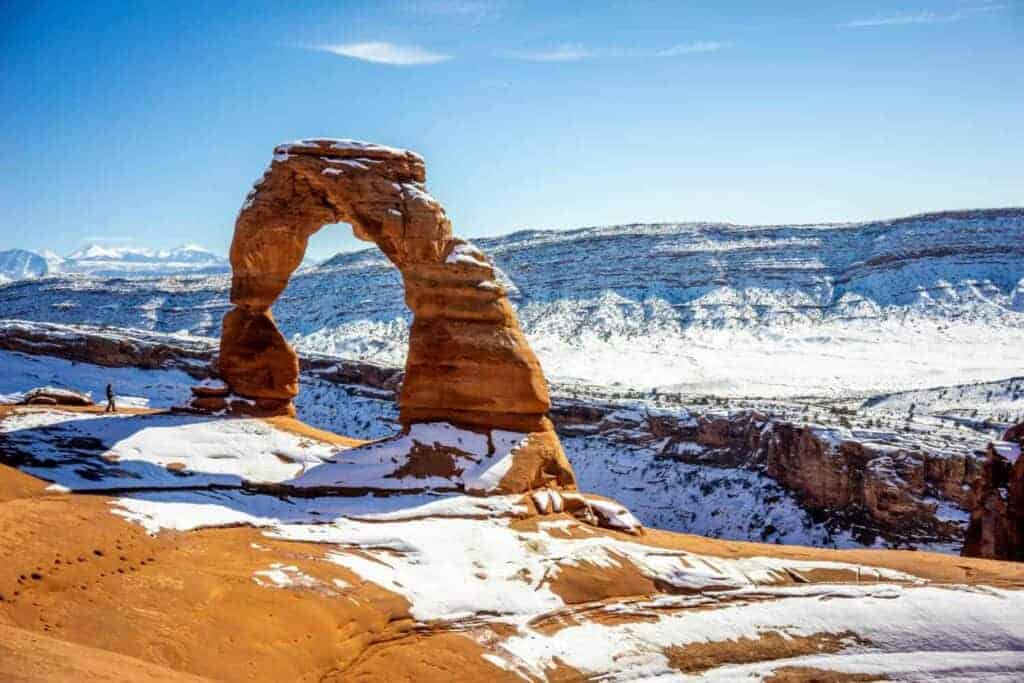 Arches National Park is small, but it isn't lacking in breathtaking activities to do, so prepare for another day of desert excursions!
Start the day by visiting Delicate Arch, perhaps the most recognized sight in Utah (that's the arch you see on their license plates!). After that, prepare for some off-roading with a side of desert exploration by hiking along the Landscape Arch route, which is America's biggest natural arch and also a must-see.
After you've seen all there is to see on foot, drive down the Arches Scenic Drive in your car, which features a variety of magnificent views where you can take in the stunning desert scenery.
Hike the Double Arch trail to see another arch before finishing at The Windows to bid goodbye to yet another fantastic day in your Utah road trip for a stunning sunset!
Days 6 and 7: Canyonlands National Park (Island in the Sky and The Needles)
The beauty of the scenery in Canyonlands National Park is so stunning that you can easily return here and never see it all. However, for first-timers, seeing what's available in the less-explored Island in the Sky section of the park is probably the wisest option.
Take in one of the most spectacular sunrises of your life by getting an early start to your day and going up to the iconic Mesa Arch. You can then get sweaty and go on a few hikes (the suggested ones are Grand View Point Trail, Upheaval Dome, and Gooseberry Canyon).
At the end of the day, watch a magnificent sunset from Green River Viewpoint, where the sun illuminates the canyon walls and causes the red rocks to come alive.
The next day, you can go back and explore more of Island in the Sky or venture deeper into Canyonlands by visiting The Needles, which has sweeping views of the canyons as well as less-popular, more difficult hikes.
Day 8: Monument Valley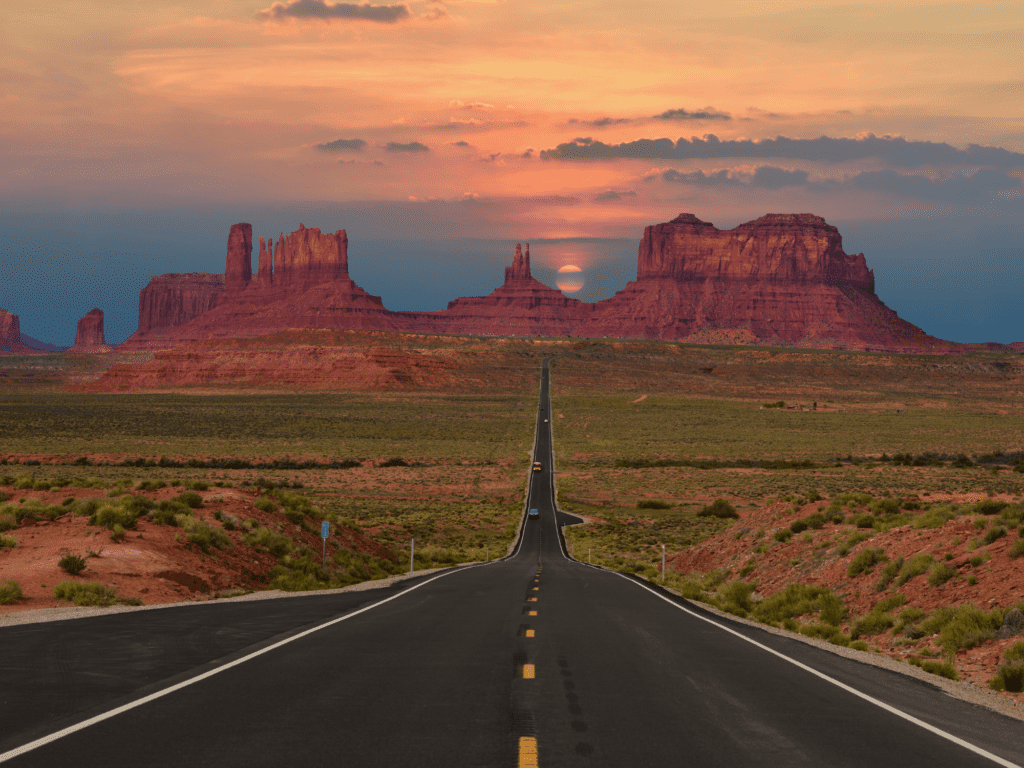 Monument Valley is a stunning area located on the border of Arizona and Utah. The landscape is made up of sandstone buttes and mesas that tower over the desert floor, making it one of the most iconic landscapes in the USA. It is a must-see destination for road trips and should be on everyone's list of places to visit.
The infamous "Forest Gump Point" is where many people stop for a photo opportunity. This insta-worthy stop is only about 20 minutes from the visitor center. There are also several overlooks in this area that provide stunning views of the valley floor and distant buttes.
Visitors can take the scenic 17-mile Tribal Park Loop AKA as Valley drive to see all that the valley has to offer, including buttes, spires, and mesas. While driving this road, keep an eye out for wildlife such as deer and coyotes.
The road ends at a parking area surrounded by the many buttes in the valley. This is a great place.
Day 9: Antelope Canyon Near Page Arizona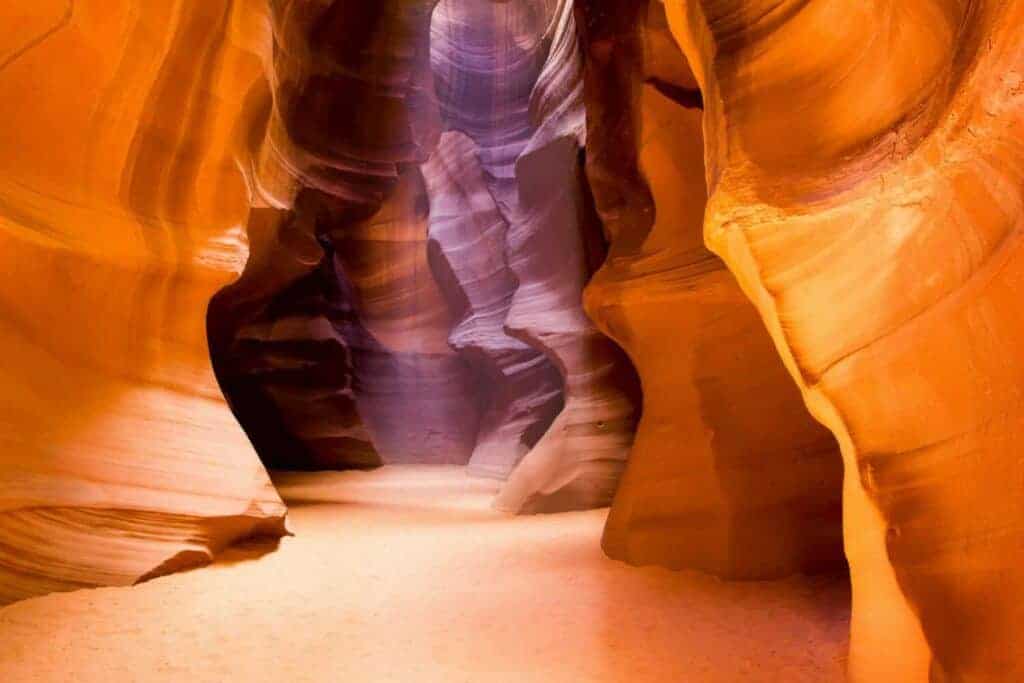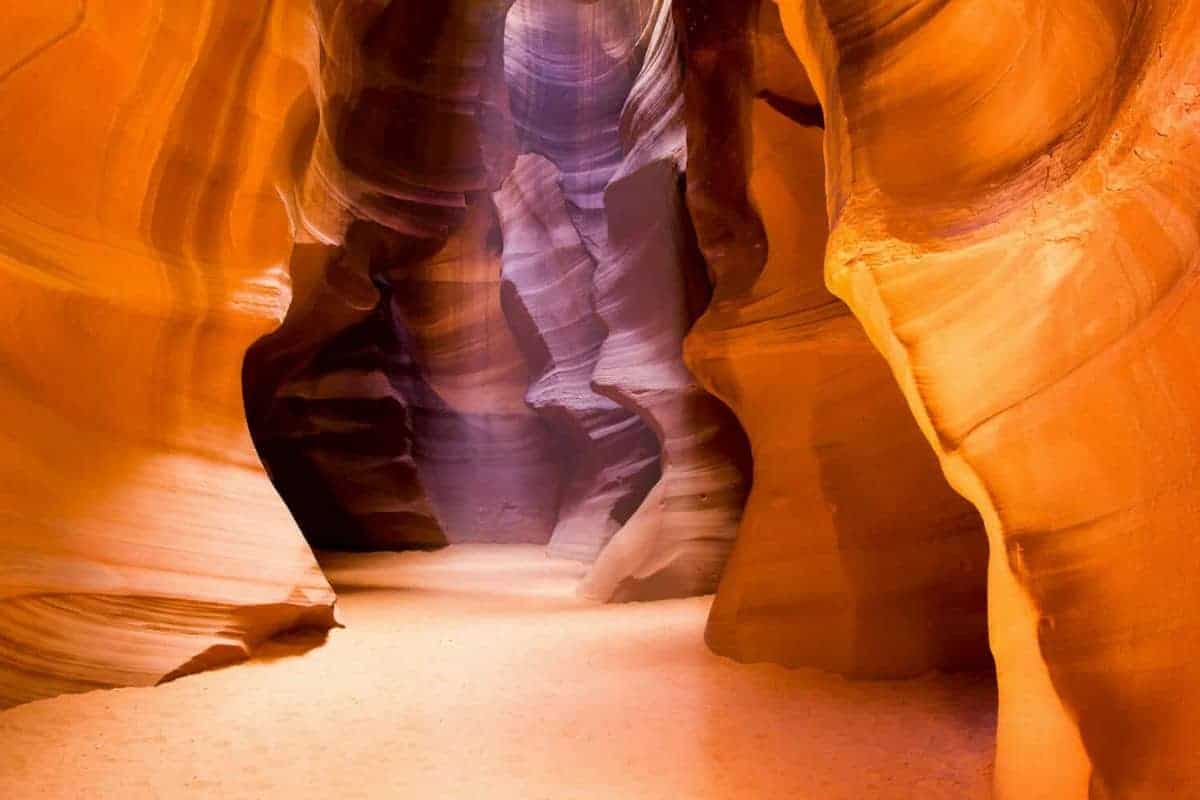 If you're driving through Arizona and Utah, be sure to make a stop at Antelope Canyon. This beautiful natural attraction is a great place to stretch your legs and take in the stunning scenery. The canyon is known for its light beams, which can be seen during certain times of the day.
Antelope Canyon is one of the most photographed slot canyons in the world. It is practically on every traveler's photographic bucket list because of its stunning and unique beauty.
Lower Antelope Canyon is a slot canyon known for its beautiful and intricate rock formations. The canyon stays lit up for longer than Upper Antelope Canyon, making it better for photos.
Tours of Antelope Canyon are relatively cheap and can be a great way to see this natural wonder.
Day 9b:Horseshoe Bend- Page Arizona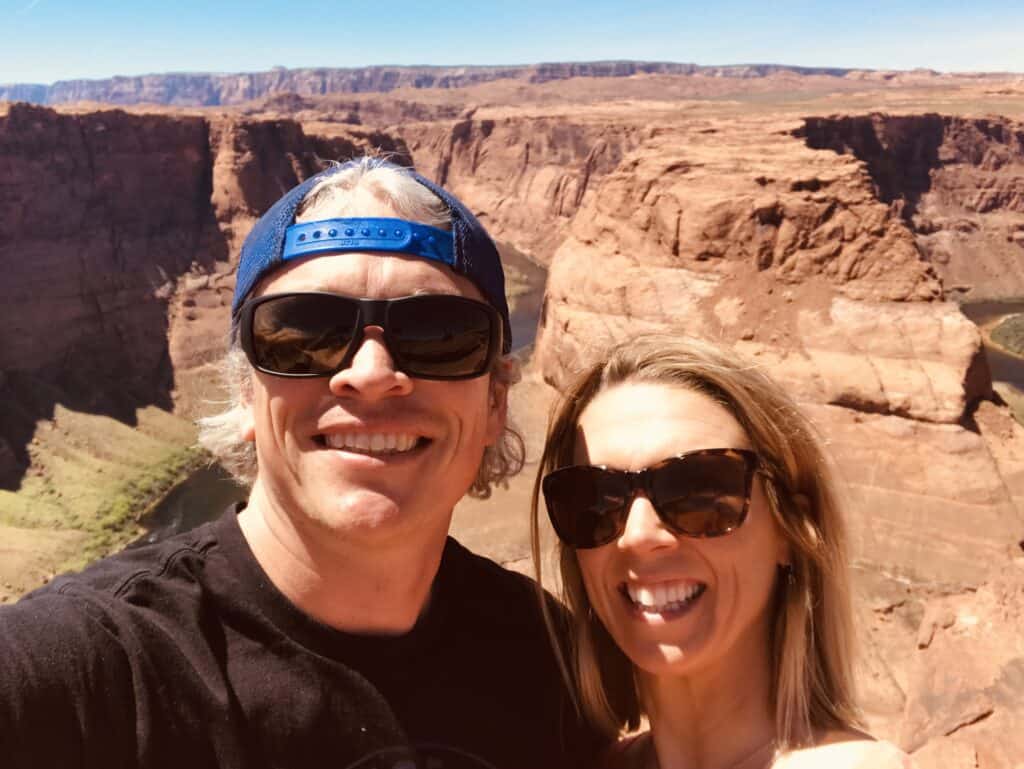 Horseshoe Bend doesn't require too much of your time and is just an 8-minute drive from Antelope Canyon, making another great stopping point on your drive from Monument Valley to the Grand Canyon.
Horseshoe Bend is a horseshoe-shaped meander of the Colorado River located in Page, Arizona. It is part of the Glen Canyon National Recreation Area and is a popular tourist destination, attracting over 1 million visitors per year.
The area is popular for its stunning sunsets and views of the surrounding landscape. It can be seen from a helicopter tour or as a quick walk from the parking lot. The sight is breathtaking and definitely worth the visit!
Day 10 and 11 Grand Canyon National Park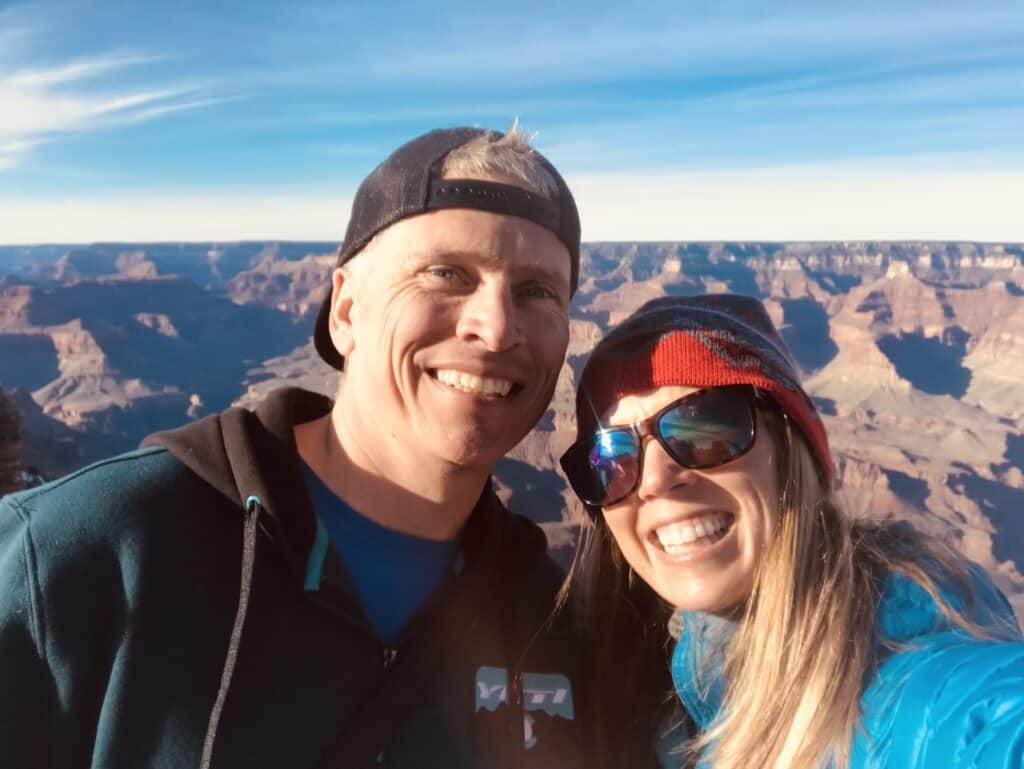 The Grand Canyon is one of the most popular tourist destinations in the United States. It's a huge park with thousands of acres of land and four different rims to visit. You can also hike below the rim, which offers some amazing views of the canyon.
The North Rim is less crowded than the South Rim, so this is a great place to visit if you're looking to get away from the crowds.The South Rim offers attractions like Mather Point, Duck On A Rock Viewpoint, and Desert View Point drawing in tourists from all over the world.
If you're up for a longer hike, try the Bright Angel Trail. It's a 10-mile round trip to Indian Gardens, and it's a great way to see the canyon.
If you're up for a longer hike, try the North Kaibab Trail. It's a 14-mile round trip to Skeleton Point, and you're sure to get your sweat on while taking in the beautiful scenery.
Get Out and Explore Utah and Arizona On a Fabulous Road Trip
I hope this National Park and popular attractions road trip through Utah and Arizona will help you to plan the perfect vacation. We absolutely love Utah and Arizona and could spend months exploring all the popular places