Are you looking to visit Utah's National Parks? If so you're in the right place because taking a road trip through Utah's Parks is an absolute must-do!
A Utah Road Trip winds you through the National Parks of Zion, Canyonlands, Arches, Capitol Reef, and Bryce Canyon. These five national parks have been dubbed the Mighty Five for a good reason with their stunning and surreal landscapes.
You'll find everything from deep valleys in the Canyonlands to slot canyons in Zion and even natural arches in Arches National Park.
If you're an outdoorsy person there is everything from biking, hiking, kayaking, climbing, camping and so much more, the possibilities are endless in Utah.
We've gathered everything you need to know along with the best route to see all the national parks in one road trip.
You don't need anything fancy to see the mighty 5. Any car will do and whether you're hoteling it or camping it the experience is guaranteed to be great.
If you've been considering renting an RV or better yet a Campervan, this would be the perfect trip to do so. Check out Outdoorsy for some great Campervan and RV rental options.
Or check out our guide to Renting A Campervan.
Check out our Road Trip Tips for a safe and successful road trip. From vehicle safety checks to packing lists it's got you covered.
THE PERFECT WAY TO SEE ALL 5 UTAH NATIONAL PARKS
HOW MANY DAYS DO I NEED TO VISIT ALL 5 PARKS?
If you want to visit all 5 National Parks in Utah, I would give yourself 7-10 days so you're not rushing through each park. If you're into hiking and exploring you'll definitely want to factor in even more time.
MOAB – ARCHES NATIONAL PARK

No Utah Road Trip is complete without visiting Moab Utah. We'll begin the mighty five National park tour in Moab where you'll find Arches National park. Moab is home to an amazing amount of outdoor activities. Whether you are into hiking, biking, jeeping, rafting, overnight camping or simply just passing through, Moab is sure to have something for you.
If you're visiting in the prime of summer you'll want to get an early start because Moab can get REALLY hot. The great thing about Arches National Park is that it's close to town so it's quick and easy to get to.
VISITING THE PARK
The park was formed by 300 million years of planetary changes resulting in unbelievable landscapes and over 2000 natural stone arches.
In addition to the amazing arches, you'll find towering spires, dramatic hoodoos, and impressive pinnacles.
Make sure to take the paved 36 mile (round trip) scenic drive through the park where you'll find several parking areas for trail access and scenic overlooks. Don't miss hiking to the Delicate Arch or these other popular hikes in Arches National Park.
If you don't anticipate doing any hikes and only have a couple of hours I recommend driving to the Windows Section where you can check out some of the park's largest arches, or drive to the Delicate Arch viewpoint and see Utah's most famous arch at a distance.
CAMPING IN THE PARK
The park has one campground, the Devils Garden Campground located 18 miles north of the visitor center on the main park road.
Facilities at Devils Garden include potable water, picnic tables, toilets, and grills (bring your own wood because it's not available for sale).
There are no showers or RV dump stations at the campground. Devils Garden has 50 individual campsites and 2 group campsites. Some sites will accommodate RVs up to 30 feet in length.
Campsite rentals cost $20 per night (up to 10 people) and can be reserved through www.recreation.gov or by calling (877) 444-6777 (reservations recommended; from November 28 through February 1, some sites are available on a first-come, first-serve basis.
If Devils Garden Campground is full, there are many other excellent campgrounds in the Moab area. Visit www.discovermoab.com to find an alternative. Or if you're like us why not do a bit of boondocking?
WHAT TO DO IN MOAB
Head over to Mill Creek waterfall for a cool water dip. This is a fantastic place to beat the summer heat and wade in some cool water all while enjoying the red rock around you.
Next, don't miss Moab Brewery where you can catch a delicious cold beer or better yet hit them up on Tuesdays when they have an awesome happy hour wing special.
Don't miss our detailed guide of 9 fun and unique things to do in Moab if you're looking for more ideas.
Because Arches and Canyonlands are within 40 minutes from each other we recommend using Moab as a home base to visit these 2 parks. For the ultimate experience book a Moab UTV tour where you get to drive explore the rugged country.
ACCOMMODATIONS IN MOAB
The brand new Hyatt Place Moab is only 2-miles from the park entrance and a short walk from downtown Moab. If you choose to stay here it will make accessing the park for sunrise and sunset super easy.
For something right in town check out the Bestwestern Plus Canyonlands Inn.
We've created a guide to visiting the Arches National Park and the 7 most popular hikes in Arches National Park check them out here:
STOP 2 – ARCHES TO CANYONLANDS
Next stop on the Utah Road Trip and another one that's close to Moab is Canyonlands National Park.
Canyonlands is Utah's largest national park where you can explore towering mesas, pinnacles, red rock cliffs, spires and deep canyons formed by the Colorado River.
Canyonlands is a great park to explore by car, but if you want to get out to stretch your legs, we like exploring Mesa Arch, White Rim Overlook, and Grand View Point.
You can get to Canyonlands from two different directions. Your first option is to head south from Moab about an hour and a half and enter the Canyonlands National Park from the south. This is where you'll find the well known Needles District.
The second way to get to Canyonlands is by heading North and entering the park from the North where you'll experience the Island in the Sky, which is the easiest area of Canyonlands to visit in a short period of time. You'll find plenty of pullouts with spectacular views along the paved scenic drive.
You could take days, or even weeks to drive around Canyonlands National Park and still not see it all.
The park is divided into 3 distinct land districts – The Island In The Sky, The Needles, and the Maze, each of these areas come with their own unique set of sites and activities.
We encourage you to explore as much as you can with as much time as you have. If you have two days, take one day to explore Island in the Sky and the other for the Needles District.
CAMPING IN CANYONLANDS NATIONAL PARK
Canyonlands has two campgrounds, one at The Needles and one at Island in the Sky. Individual sites at Island in the Sky are first-come, first-serve. You may reserve some individual sites and group sites at The Needles camping area. Read more about camping at Canyonlands here.
STOP 3 – CAPITOL REEF NATIONAL PARK
This is the least visited of the Utah national parks, so if you are looking for a chill vibe, Capitol Reef is your place.
Capitol Reef National Park has its own unique set of natural arches, petroglyphs, canyon hikes and more. If you're into exploring backroads there's plenty of dirt roads to explore here!
Years ago the Navajo called Capitol Reef the Land of the Sleeping Rainbow because of the brilliantly colored canyon walls.
When you're touring the park make sure you don't miss The Waterpocket Fold which is the major geologic feature that defines Capitol Reef.
The fold is a 100-mile buckle in the earth's surface where rocks have been pushed upward and erosion has cut through the layers, creating landscapes unlike any you have seen.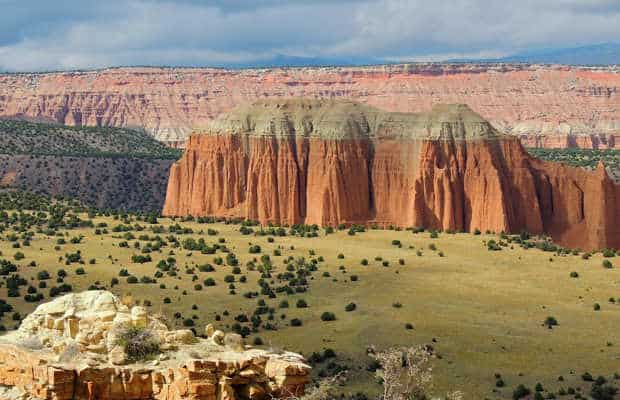 CAMPING IN CAPITOL REEF NATIONAL PARK
If you're looking to camp inside the park make sure you book in advance through the Capitol Reef website here. There's also plenty of BLM land on the park borders to spend the night if you find that the campground is full.
LODGING OPTIONS OUTSIDE OF CAPITOL REEF PARK
If you're not interested in camping there are great options for accommodations such as Capitol Reef Resort or you can head to the town of Torrey for other options.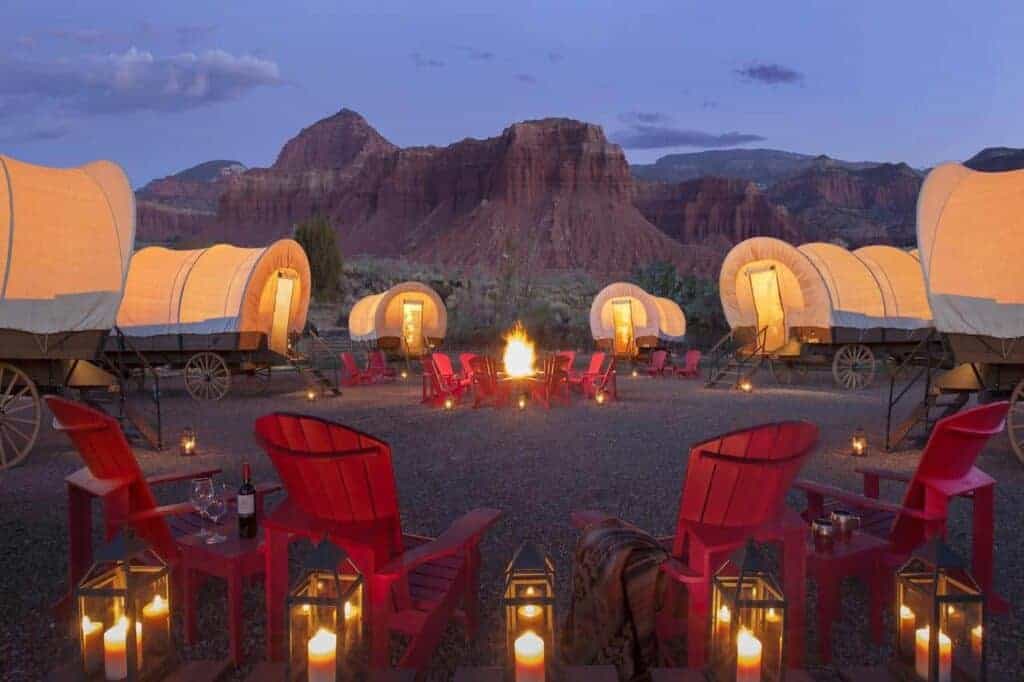 HIKING
Our favorite hikes at Capitol Reef National Park include Grand Wash, Cassidy Arch Trail, and Hickman Bridge.
STOP 4 – BRYCE CANYON NATIONAL PARK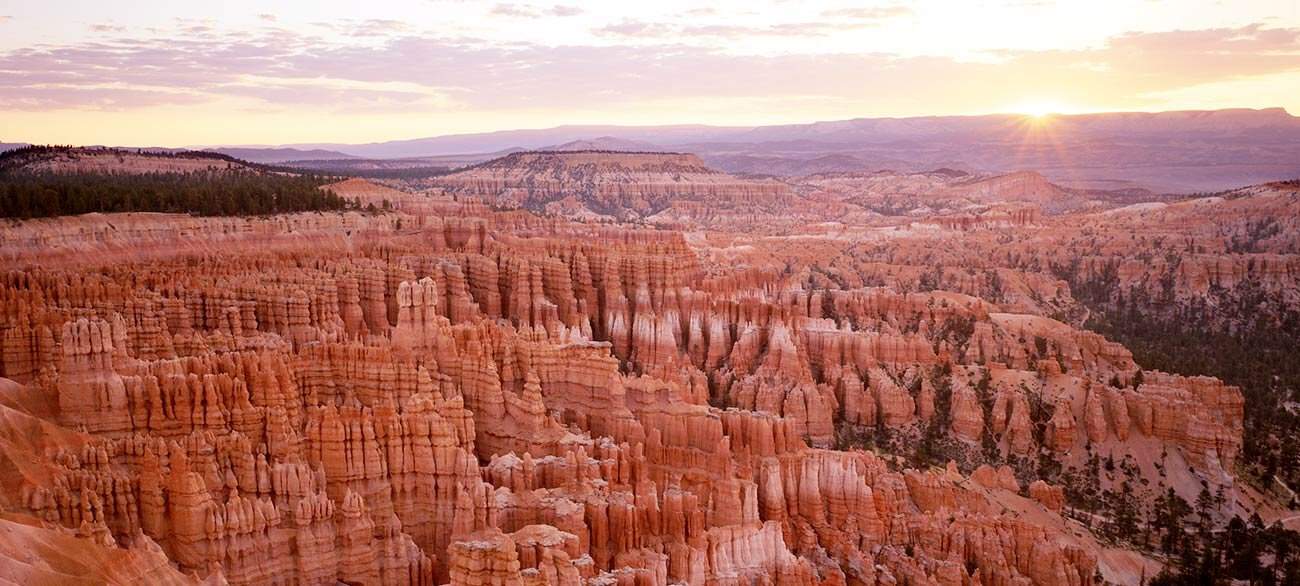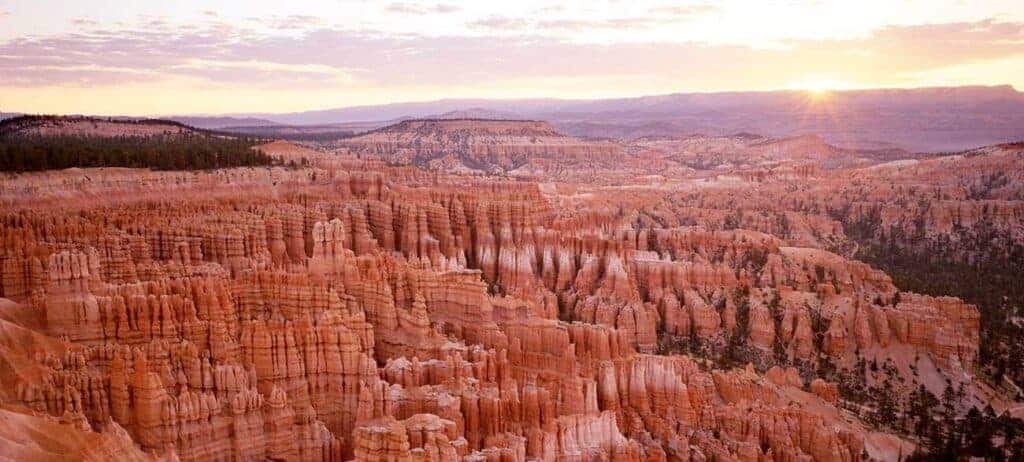 At 9,000 feet above sea level, Bryce Canyon was created by relentless natural forces including water, gravity, wind erosion, and time.
As the National Park Service explains, "in the winter, melting snow, in the form of water, seeps into the cracks and freezes at night. When water freezes it expands by almost 10 percent, bit by bit prying open cracks, making them ever wider, in the same way, a pothole forms in a paved road."
Bryce Canyon is known for having the largest collection of hoodoos in the world (natural amphitheaters sunk into cliffs and filled with craggy columns of sedimentary rock) making it an iconic stop on any Utah National Park road trip.
Be sure to take the 37-mile scenic loop to see all the historic vistas and rock formations. Please note that the park highly recommends you take the shuttle vs. driving your car. There is very limited parking throughout the park and the shuttle runs consistently.
However we lucked out with visiting the park during the off-season in October and had no trouble driving and finding parking on our own.
Because this park is at a high elevation make sure to pack warm clothes, Bryce experiences an average of 200 days per year with a good chance of freezing weather.
CAMPING
There are 2 campgrounds within the park and you'll be able to find a handful of backcountry camping sites sprinkled about.
BRYCE CANYON'S LODGE
If you're visiting the park Bryce Canyon Lodge is definitely worth checking out, we stopped in and got a toasty adult beverage to warm up while we were visiting.
The lodge has everything from dining, accommodations, a general store, and even a gift shop.
It's also the perfect location for accessing hikes and exploring the various areas of the park.
If you're looking to stay at the lodge during the busy summer season I recommend booking early because it's pretty popular and books up fast. You can click here to book your stay at the Lodge.
HIKING
There are a ton of great hikes but if you're looking for a short trail that wanders through some great rock formations take the 1.3 mile Navajo Loop trail.
STOP 5 – ZION NATIONAL PARK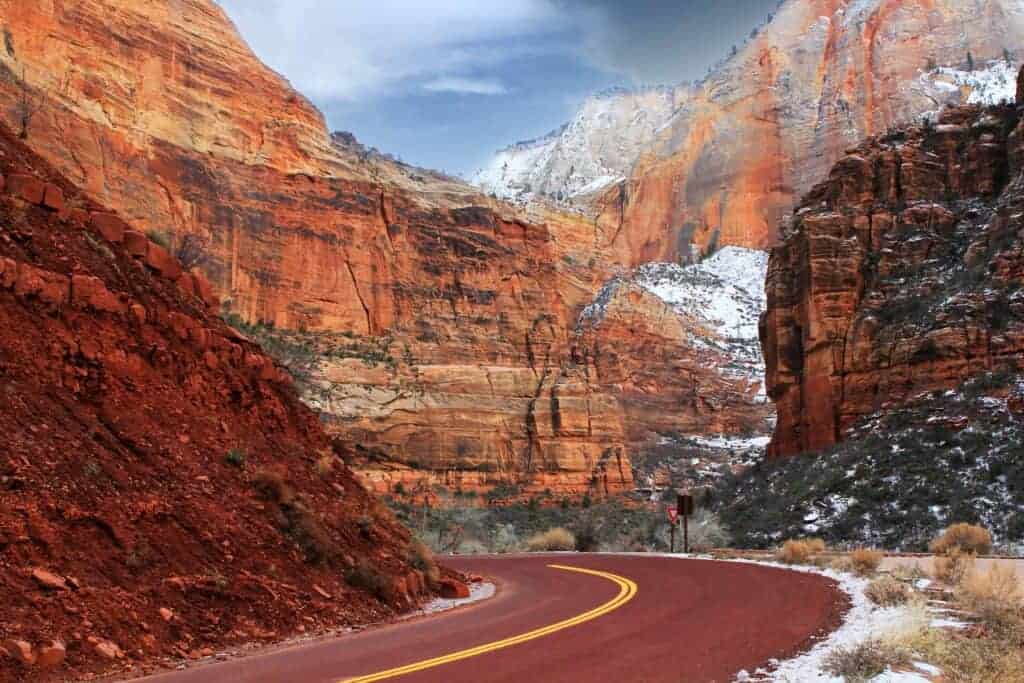 Established in 1919, Zion is the most popular and the busiest out of the five parks, so make sure to get an early start to beat the crowds. If you'd like to stay within the park or partake in the various activities the park offers you'll want to book early to save yourself from last-minute stresses and booking nightmares.
If you are looking for more solitude, be sure to visit during the off-peak months (November – March)
Once in the park, you'll notice beautiful red cliffs, slot canyons, stunning landscapes, and unforgettable hikes. Be sure to plan out your time while visiting Zion because there is a lot to do and the various activities could keep you busy for days.
If your goal is to take a drive through the canyon be sure to park at the visitor center and take the multi-passenger shuttle that stops at many tourist attractions (you don't have the option to drive your own car in the park).
CAMPING IN ZION NATIONAL PARK
There are 3 campgrounds in the park South and Watchman Campground in Zion Canyon. The Lava Point Campground is about a 1-hour drive from Zion Canyon on the Kolob Terrace Road. You can access information for the campgrounds here.
If these are booked there are several other campgrounds a short drive from the park.
LODGING OPTIONS OUTSIDE OF ZION NATIONAL PARK
There are numerous lodging options, from hotels to bed and breakfasts, in the town of Springdale or you can drive a bit further and stay in St George where you'll find accommodations for any budget.
If you're looking for a unique experience Zion Ponderosa Ranch Resort offers guests a rustic yet authentic overnight stay in a western wagon. Each wagon includes a queen bed and two twins. Don't worry they come with a locking door!
HIKES IN ZION NATIONAL PARK
2 of our favorite ways to see what Zion is all about is by hiking the 5-mile Angels landing hike or meandering through the Narrows. These are absolute classics and should not be missed.
FINAL THOUGHTS ON THIS ICONIC UTAH ROAD TRIP
With so many things to do and see in Utah's National Parks be sure to give yourself plenty of time. There's no point in rushing through these amazing places. We also recommend hitting these in the fall when the temps cool and crowds subside. Fall is our absolute favorite time to see the parks.