Whether you're a kayaker, climber, mountain biker, skier or boarder, a kiteboarder, or anything else under the sun you need a place to store that gear. Van storage can be tight so it's important to put some thought into what will work for you and your active lifestyle. Campervan garages come in all shapes and sizes, but for us, the two most important things are having a place to lie our heads AND having our favorite toys with us.
Just so we're all on the same page. Most vanlifers call the space under the bed the garage or "gearage". For adventure seekers, this is a great place to store all of the fun things! It doesn't matter whether you're searching for Sprinter van garage ideas, Ford Transit garage conversion, or Pro Master storage inspiration. These garages serve as a storage unit for everything in our lives.
Before we dive into the different campervan garages layouts, I'm going to throw out a few things to consider if your "gearage"
What to Consider in Your Campervan Garage
What toys do you want to carry in your van garage?
Do you want all of your adventure gear stored in the back storage area?
Will you have a bike rack mounted outside of your van?
Will you have a roof rack to store any of your items?
How many bikes do you plan on bringing in your van?
Are you doing garage conversion on your own or will it be hired out?
Will you have slide out drawers?
Will you have water tanks in the van garage area?
Pro Tip: Hooks are your friends when it comes to campervan storage and organization. We have hooks everywhere in the back of our van.
Is it Worth Building a Campervan?
Yes, yes, and yes if you have the time, resources, and the know-how to get it done, I say go for it! Having the ability to design the inside of your van, create a campervan garage layout, and build a van closet or cabinets that fit your specifications is worth its weight in gold to maximize space in a tiny van.
Is it Cheaper to Buy a Campervan or do a Van Conversion on Your Own?
At first, the upfront costs of building your own van are a bit of a shocker, but doing the work on your own will definitely be cheaper in the long run. Not only will it be much cheaper you get to design it to your exact specifications AND you're not waiting for months for your Mercedez sprinter van garage to be finished by one of the outfitting companies.
Our campervan garage layout has changed MULTIPLE times over the year, what we thought we wanted at first morphed into something else the next year. Yep, we have redesigned our van 3 times and each version of the van was specific to our needs a the time.
Mountain Bikes and Campervan Garages
Because mountain bikes are one of the bigger items vanlifers bring along with them on their road trips let's discuss a couple of different options for storing bikes inside/outside of the van.
How Do you Carry a Mountain Bike in a Van?
Some people use a sliding drawer or platform to store their bikes in the back of their van. Using the sliding platform allows them to easily slide the platform out to access the bikes and release the bikes from the bike racks. We have our bikes stationary mounted to the floor of our campervan via front fork mounts.
How Many Bikes Fit in a Van?
Mountain bikes versus road bikes obviously take up different amounts of space. If you're carrying mountain bikes with you, you may be able to get away with 4 if you're SUPER strategic with your van storage and organization. For me, I can't imagine having to deal with maneuvering 4 bikes in the back of the van but people do it all of the time.
How Do you Store Bikes in a Van?
It really depends on what fits your lifestyle best and how many people will be traveling/biking with you. Most people store the bikes lengthwise in the back of the van but I have seen people store them crosswise too. With our first van build, we really wanted to have a modular layout that could be easily modified to hold bigger items if necessary (we were doing a house remodel at the time).
With that van build, we had a flip-up bed and we left our front wheels on our bike. On version number two of our Ford Transit conversion, we decided to make the bed stationary and take the front wheels off our bikes.
How Do you Secure Your Bike in Your Van?
Many people use front fork bike mounts for securing their bikes in the van. When we secured our bikes in the van with the back wheel leaving the front wheel on we used something similar to this to keep the bikes upright.
What Van Has the Best Gear Garage?
Regardless of whether you have a Sprinter, Mercedez, Promaster, Ford Transit, or anything else when it comes to storage and organization we're all looking for similar things. We want to keep our belongings safe, accessible, and organized.
People have different opinions of why they choose one van over the other, if you want to read why we chose the Ford Transit over the others you can read about it here. But honestly, when it comes to storage space in the back of the van it doesn't matter if you have a sprinter van garage, a Transit, an Overlanding vehicle, or a camper it just needs to be functional for you and your lifestyle
Your Van Garage Will Get Dirty
Regardless of your campervan traveling preferences, the back of your van will get dirty. Keep this in mind, if you're storing mountain bikes, stand-up paddleboards, climbing gear, and even things to have a bonfire. A few suggestions for the garage space is to use paint and materials in darker shades because lighter colors will easily show marks, scuffs, and dirt.
Need More Van Organization & Storage Tips Check Out
Our Favorite Van Garage Layouts
Here are some of our favorite campervan garage setups. Everyone's needs will vary but these are all great starting points.
Bike Slide Out Van Garage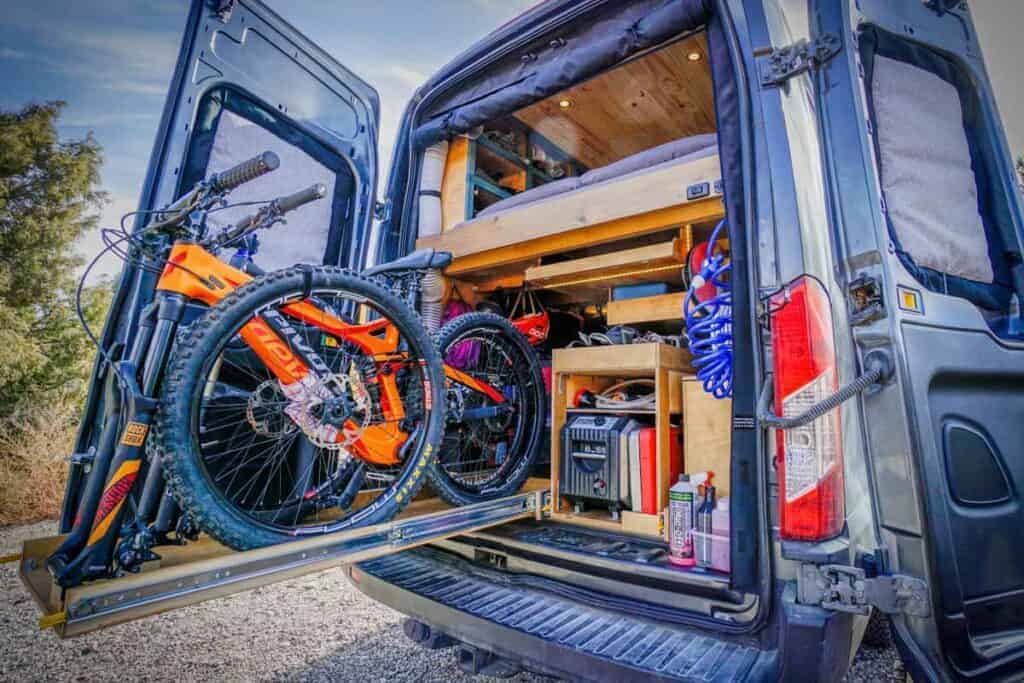 Far Out Ride did a great job with their garage. Utilizing slide-out drawers makes gaining access to everything easy.
Storage and Organization Slide Out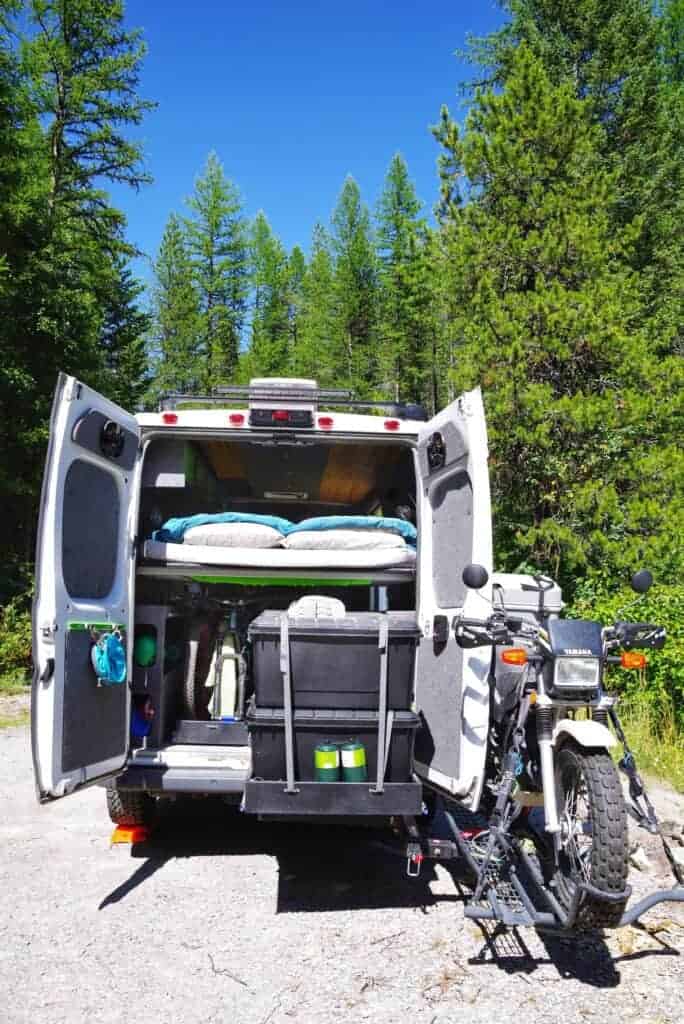 Our full-time vanlife friends Greg and Jess at Drifter Journey also utilized slide-outs for both bikes and gear. They pack an amazing amount of gear in this well-organized van garage.
Mercedez Sprinter Van Garage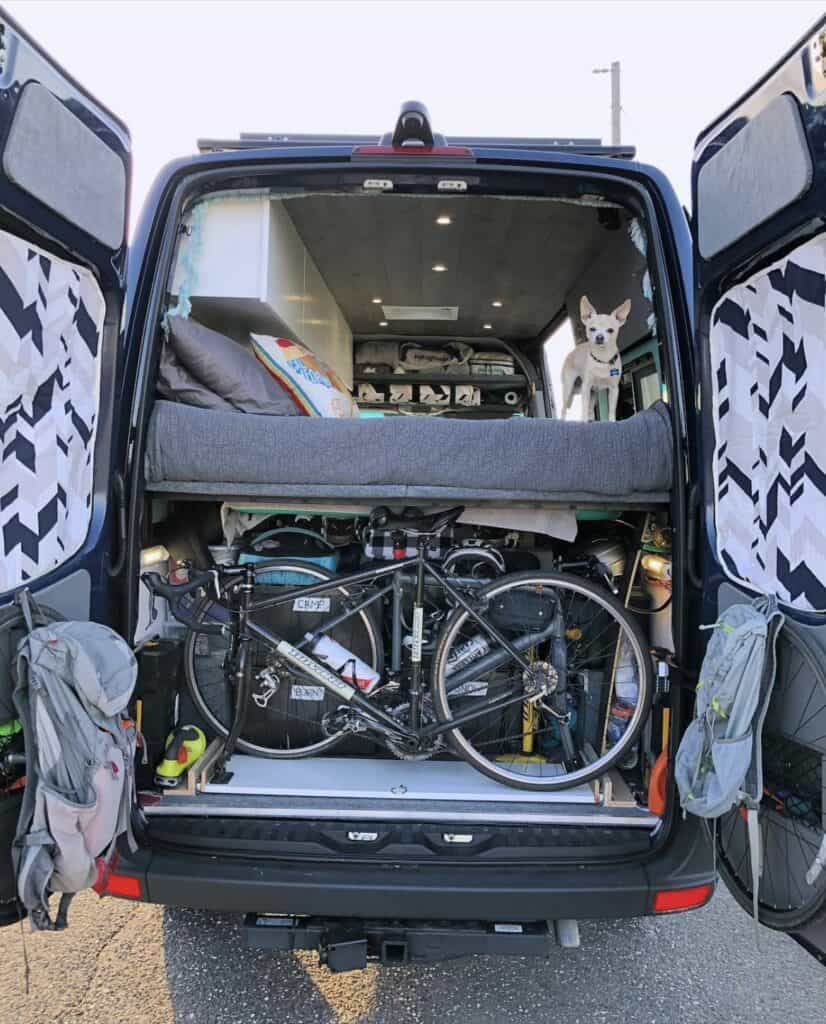 Notice how the bikes are positioned crosswise in this van layout. Mike and Jess @Van.There are able to fit two road bikes crossways in this van layout.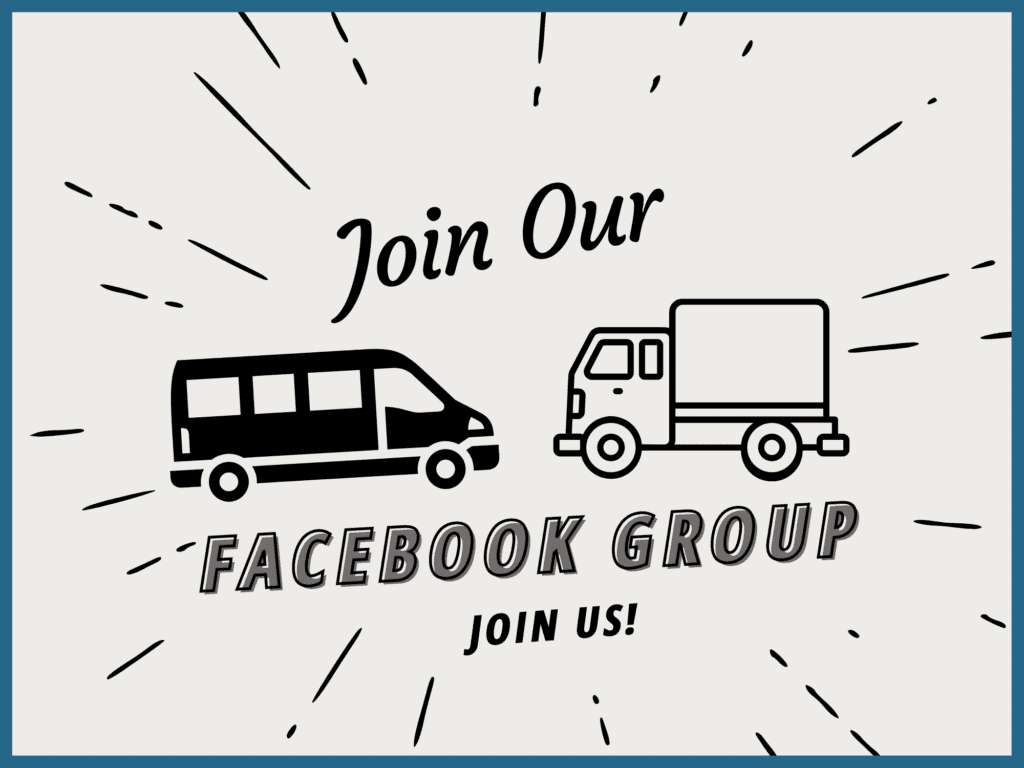 Crosswise Bike Storage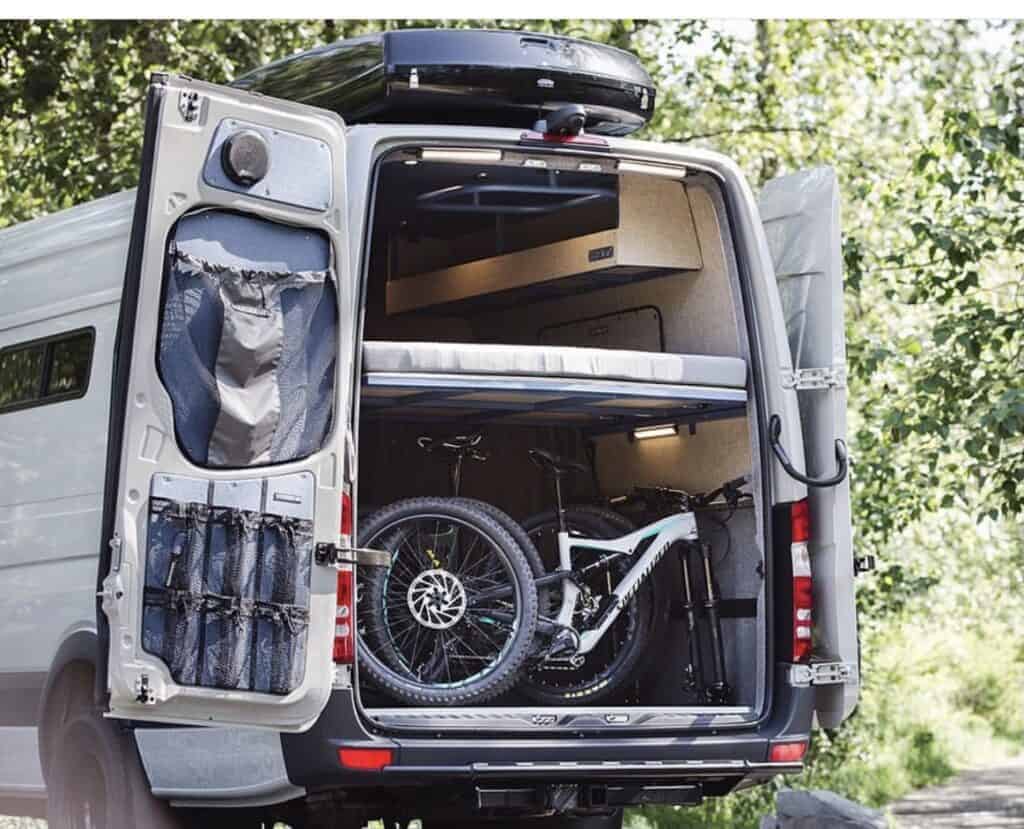 Another great option for storing bikes crosswise in the back of the van. This van also has a lot of overhead storage area above the bed
Vertical Ski Storage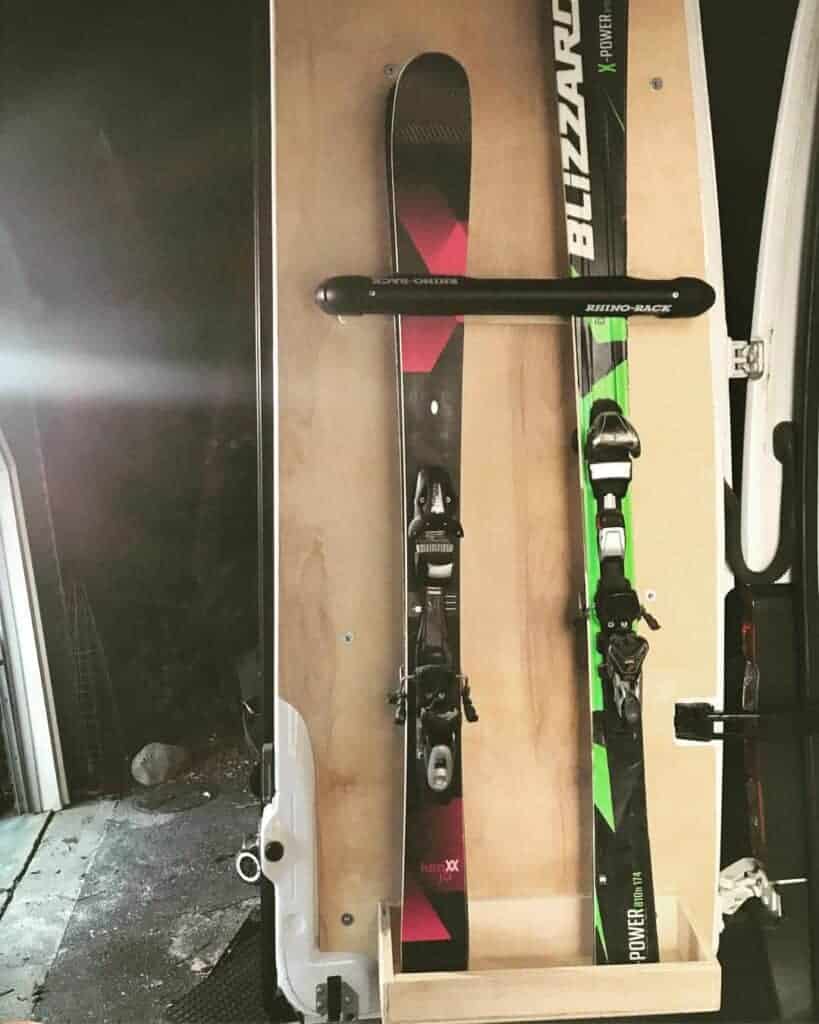 In this Sprinter van garage, they decided to mount the skis vertically on the door of the van. This is a great van organization idea because this leaves you the whole back of the van to do other things with
Enclosed Van Garage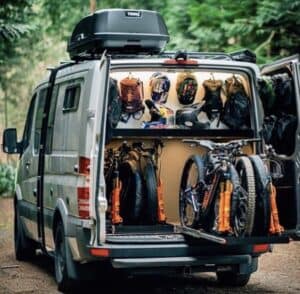 Check out this mack daddy of a van garage. I like how they have completely enclosed keeping all the dirty stuff in the back.
Vertical Ski Storage
Check out this van layout, 5 pairs of skis and a bike are in the back of this van. Looks like the perfect adventure van to me.
Storage Drawers in The Back of the Van
These van drawers are a great way to keep your belongings organized in this layout. They have a road bike on the other side of these drawers, this is a great use of space. What I like about this layout is that they still have space alongside the drawers and the wall of the van to store skinny long items..
Bike Slide Out- Van Garage
Another really clean design with a bike slideout. This one is Fitz Roy from Freedom Vans. Notice the shower/water connections on the right. Having an outside shower is an easy option and an absolute must in my opinion.
DIY Bed Flip Up Open Van Garage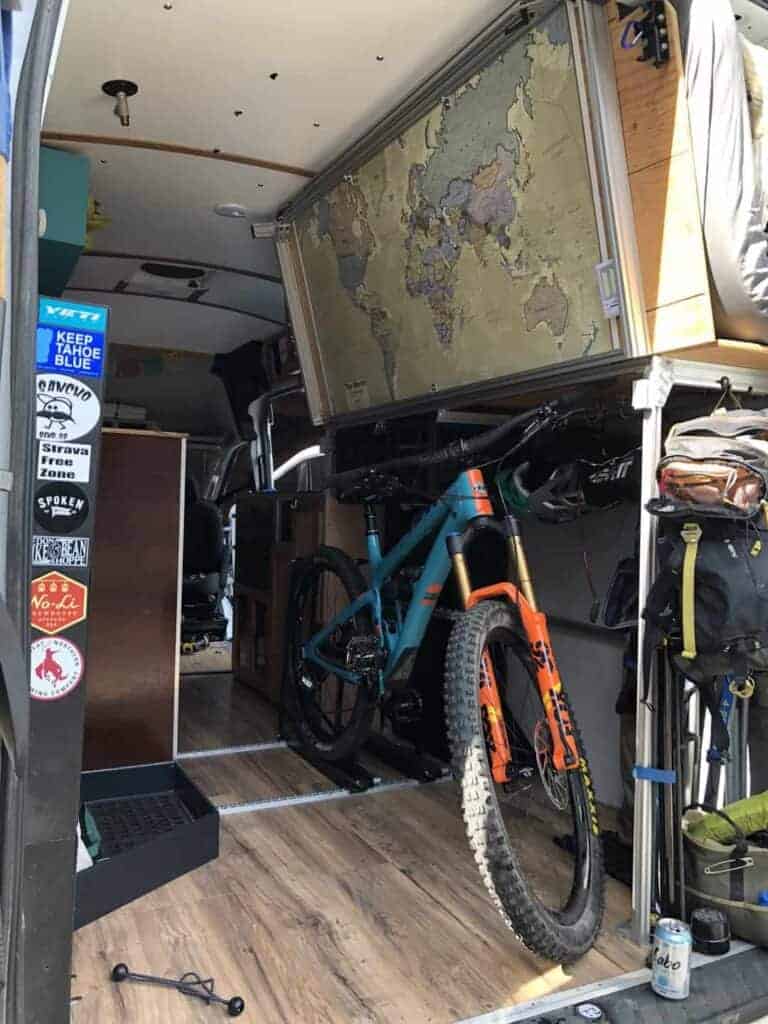 This was our Ford Transit conversion 1.0. If you see the black pan to the left, that was our convertible shower area, it also made for a great spot to store our ski boots after a long day of skiing. You can also see how we opted for a flip-up bed where we didn't need to to take the wheels off the bike.
Outfitted Bed Flip Up Van Garage
This van was outfitted by Overland Project and I really like how the countertop goes all the way to the back of the van. You can see if the organization boxes weren't on the floor this van would provide a really large living space.
All Slide Outs Van Garage
Surfing Gear Garage
Having Slide-outs for everything in the back "gearage" allows you to see everything in the back of the van or even slide the drawers out and crawl into the back to get to things that you may not be able to reach if they were stationary.
Ski and Snowboard Van Garage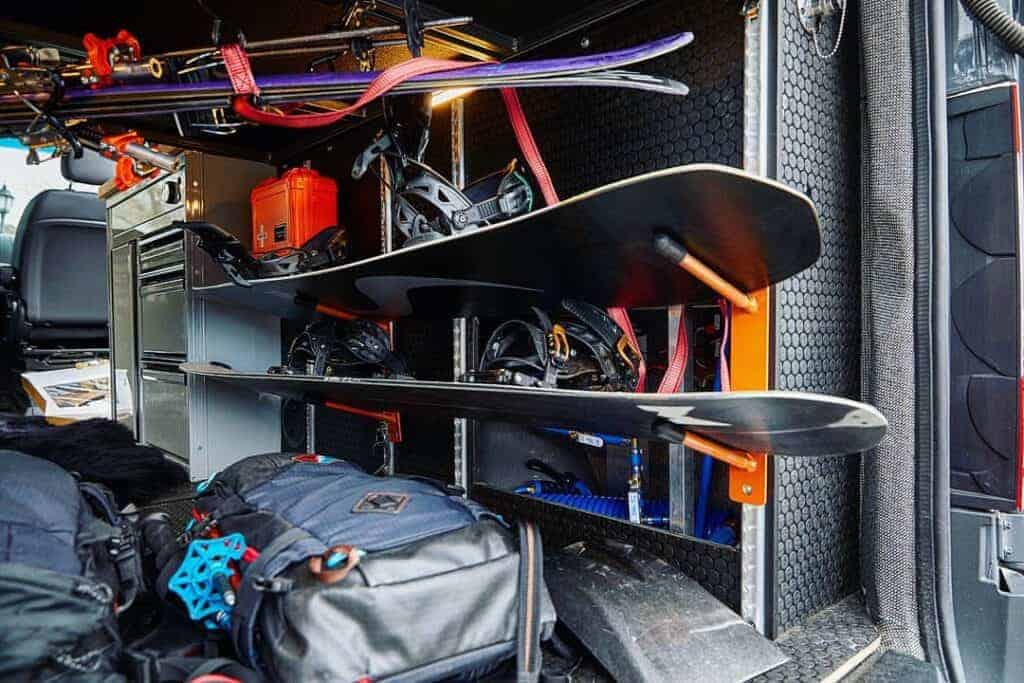 I like how this van has a great spot for snowboards as well as skis in this van layout.
Kitchen in Back of the Van and Slide Out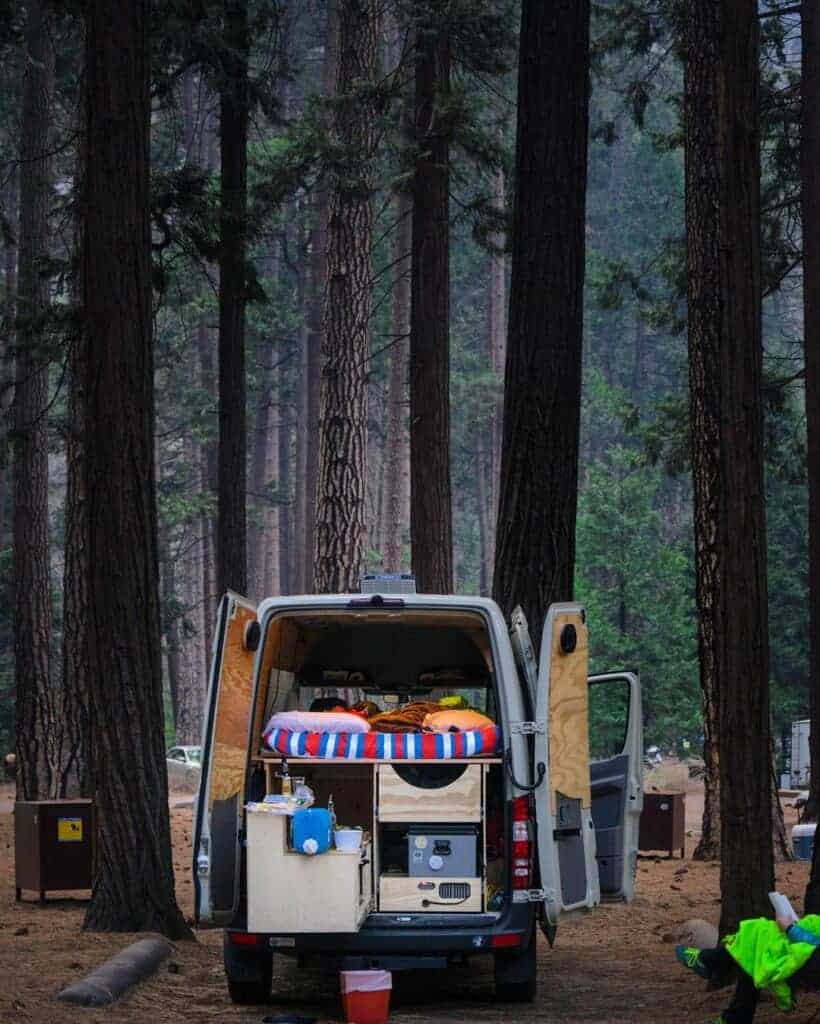 More Ideas For the Back of Your Van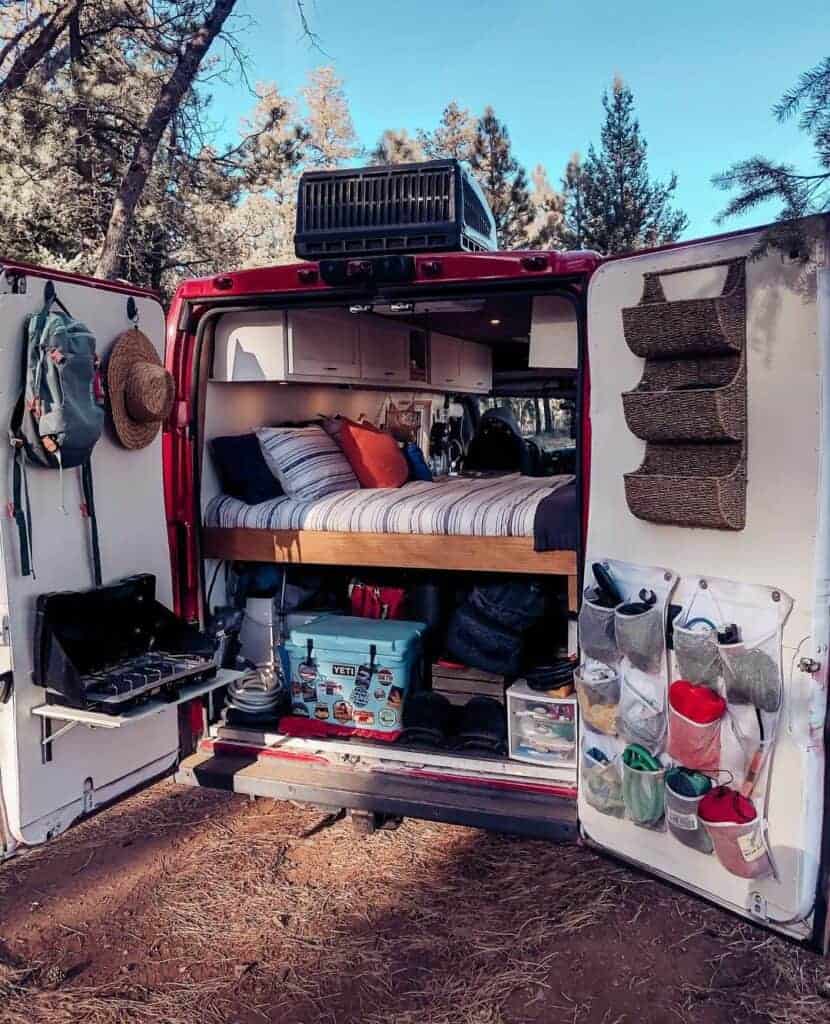 If you don't have big toys like bikes this is a great way to organize the back of your van.
Kitchen in the Back of Low Roof Van
This setup is in a smaller minivan and makes great use of its limited space. Head over to Contra-Van for more pictures and ideas.
Minimal Storage Under Bed
If you don't need a ton of garage space I really like these lower bed designs. They make the van feel more welcoming and open. If you don't mind keeping the bikes on a rack these lower beds are great.
Tail Gating Van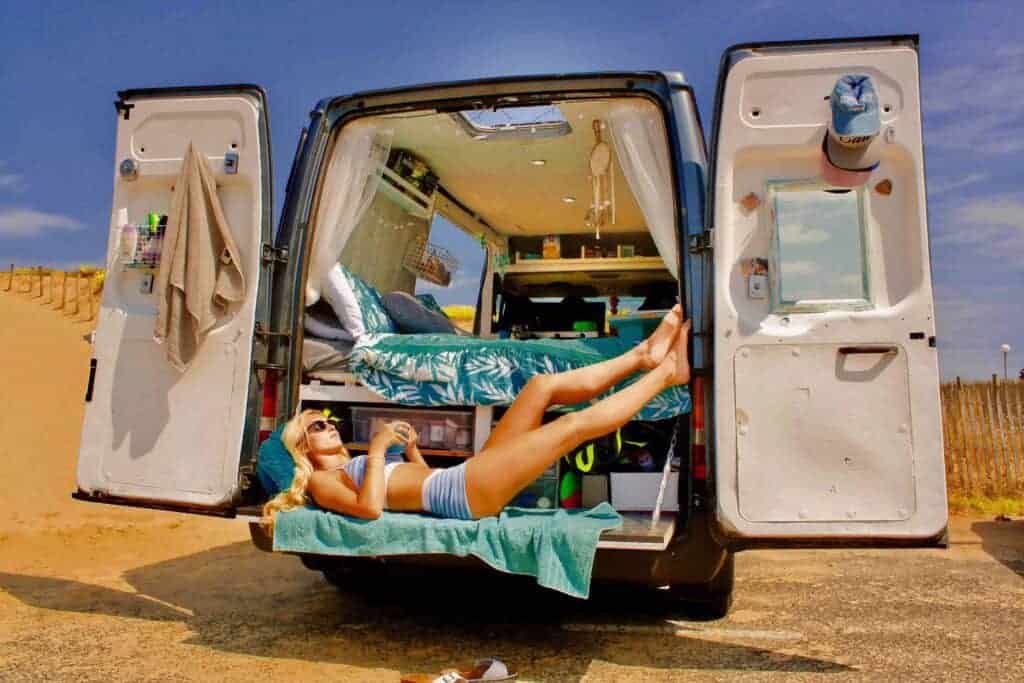 This build utilized a flip-down tailgate which I thought was an awesome idea. Gives you a little extra space when your sliding things out from your van garage.
Convertible Bed Area
If you're willing to set up your bed each night it really opens up some design options. These benches fit a lot of people and make for a comfortable hang-out spot.
Outdoor Mounted Bike Storage For Vans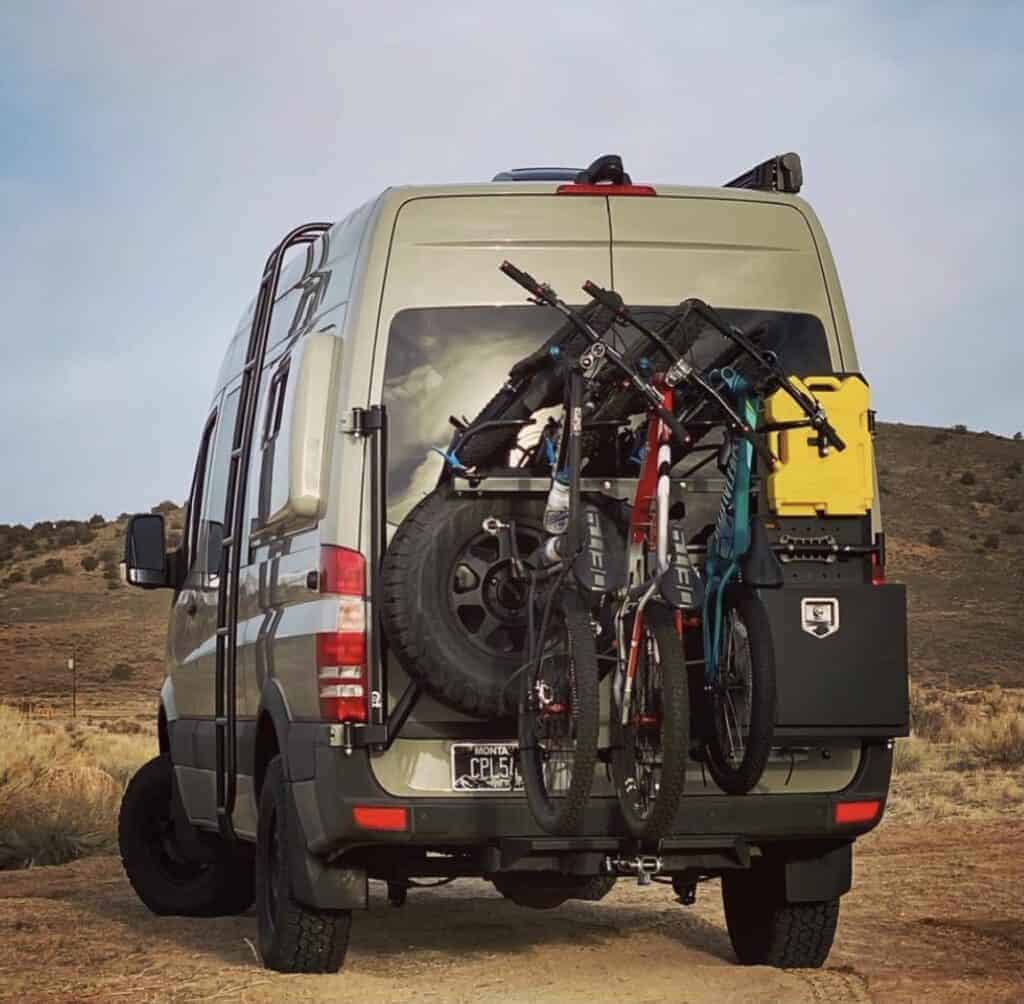 I know this isn't technically a van garage but for people who need to use every inch inside the van for other things, this is a great option for bike enthusiasts. Check out the storage box on the back of this van, the storage boxes are great for storing BBQ items, charcoal, shovels and other things you don't want inside your van.
FINDING THE VAN GARAGE THAT'S RIGHT FOR YOU
Well, I hope these campervan builds inspired some ideas for your van. Utilizing slide-out drawers is a great way to make use of all that space. Organized storage is key when it comes to everything in the van, believe me, it'll make your life so much easier. I'll be posting up an affordable DIY sliding drawer that I built for our van soon.