Van life has been gaining popularity in recent years, and it's not hard to see why. What's not to love about hitting the open road with all your belongings (and your home!) right there with you?
If you're thinking of giving vanlife a try, check out our top vanlife tips for living the vanlife.
Hitting The Open Road Is Liberating
Every time I set out for a trip in the van, I get gitty. Sometimes I'll take two days to pack the van when it could be done in only a couple of hours. I love the small, simple, and efficient space we have. Everything has its place, a perfect puzzle. Vanlife baby!
It's hard to describe the feeling when the van pulls away from the house. The stresses of life are immediately drained, and I am left with a weightless sensation.
The best part is sharing this with my wife; we are lucky to have each other. Things just wouldn't be the same any other way. If I could recommend one thing to a new couple, it would be to take a 3-week van trip together.
Here's a fun read of one such couple and how they tackled van life and relationships.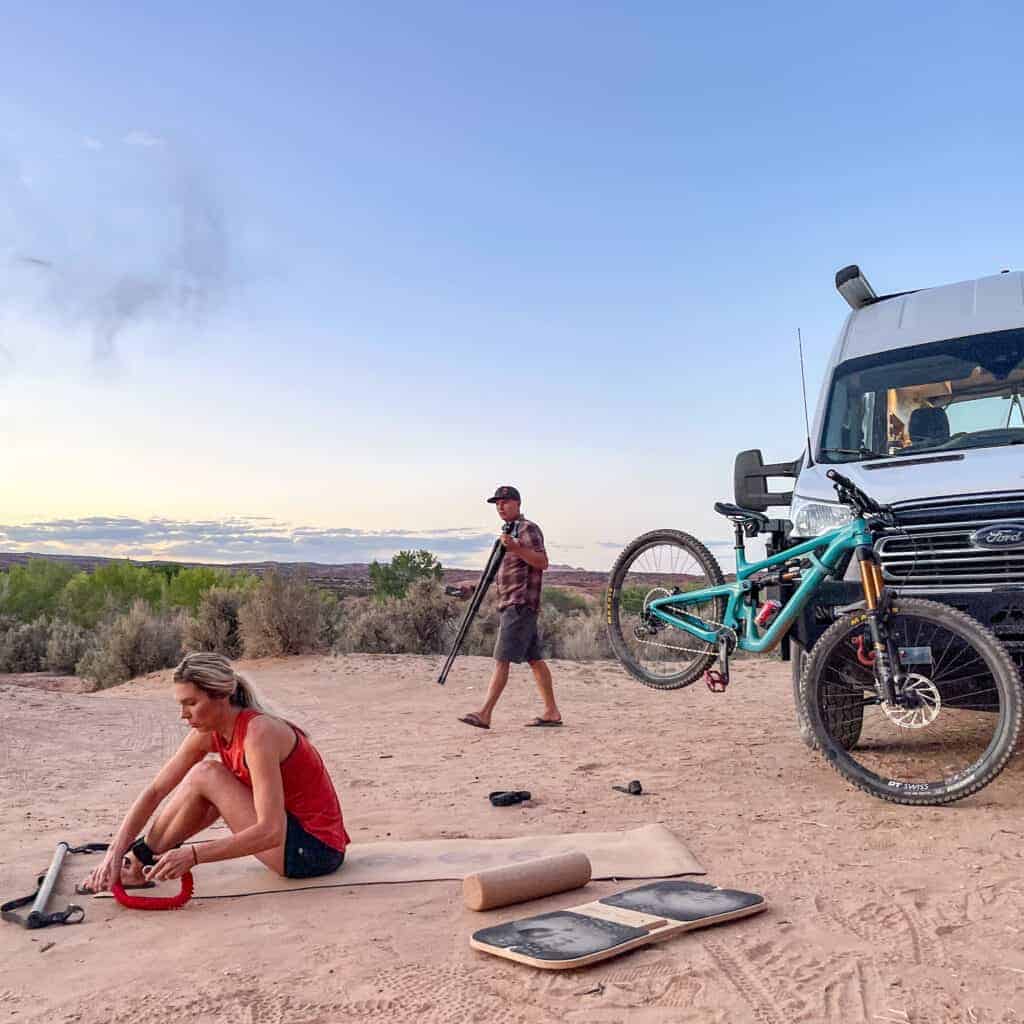 Get to know your van. Before you hit the road, make sure you get to know your van inside and out. This means taking some time to get familiar with how everything works, from the engine to the plumbing.
That way, if something goes wrong while you're on the road, you'll be able to fix it yourself.
Not sure if vanlife is your thing? No worries there are some great Van Rental Options to give the chance to try the whole vanlife things.
My Top Vanlife Tips For Living In A Van
I was recently asked what suggestions I would give to a couple new to the Van life. I've been giving it some thought, and here are a few van life tips worth sharing.
KEEP YOUR CAMPERVAN ORGANIZED AND TIDY
One of the challenges of vanlife is staying organized and keeping your living space tidy. It can be difficult to keep things clean and tidy when you're living in a small space, but it's important to try to make the most of the space you have.
Space is a prime real estate. While the simplicity of small is a plus, it can lead to conflicts. Be aware and generous with how YOU are using the space. There simply isn't room to leave things out, so be sure to put things back.
A van can get cluttered almost instantly. If you don't have the needed space, make it a point to create space. Get creative. Check out places like Pinterest for all sorts of DIY jobs. Practice decluttering techniques. I promise there is a fix. Van peeps are clever.
DRIVING DAYS CAN BE REALLY LONG….
You've got a long road ahead, so be sure to split the driving time. I don't have much experience with this as my wife doesn't like to drive much, hint hint. I will say this, take naps! Don't push it.
I'm a Firefighter, and I see firsthand how bad accidents can be. If you're tired, take a nap. You've got a bed 5 feet away, for crying out loud. Don't be stupid.
BE FLEXIBLE WITH YOUR SCHEDULE
Don't create such a rigid itinerary that all you do is stress about completing it. One of my favorite things is staying overnight in an unexpected place. Perhaps it's the neighborhood coffee shop we enjoyed, or maybe just one too many beers at the brewery.
These can be some of the best experiences filled with meeting new people and creating lasting friendships. Key Info! If a local tells you to go check something cool out, then go do it! Local beta is much better than google.
ADAPTING TO LIFE ON THE ROAD TAKES TIME
One reason why I think three weeks is the minimum for any trip is this. It takes me that long to frickin' chill! Work, email, and all the other BS just linger around. Adapting to a life full of not being connected takes time.
Some may find it weird that we want to retire early, using blogging as a source of income. Our hope is to be "connected" to all of you, not our daily work grind.
If you aren't keeping a travel journal, then start. My only regret was not starting one earlier.
But First… How To Choose The Best Vehicle For Your Vanlife Travel
The first step to having a successful vanlife is finding the right vehicle.
There are a lot of factors to consider when choosing a van, such as budget, size, and amenities. Think about your must-haves.
Do you want a bathroom and shower built into your van?
Do you need a lot of storage space?
Do you want a van that's big enough to stand up in? Do you need a full kitchen?
Do you need an office workspace in your van?
Do you need a van garage to store your gear?
Building Your Van To Your Lifestyle
Once you've found the perfect van, it's time to outfit it with everything you need to live on the road. This includes things like a bed, storage, kitchen supplies, and more.
Outfitting your van can be a fun project, and it's a great way to make your van feel like home.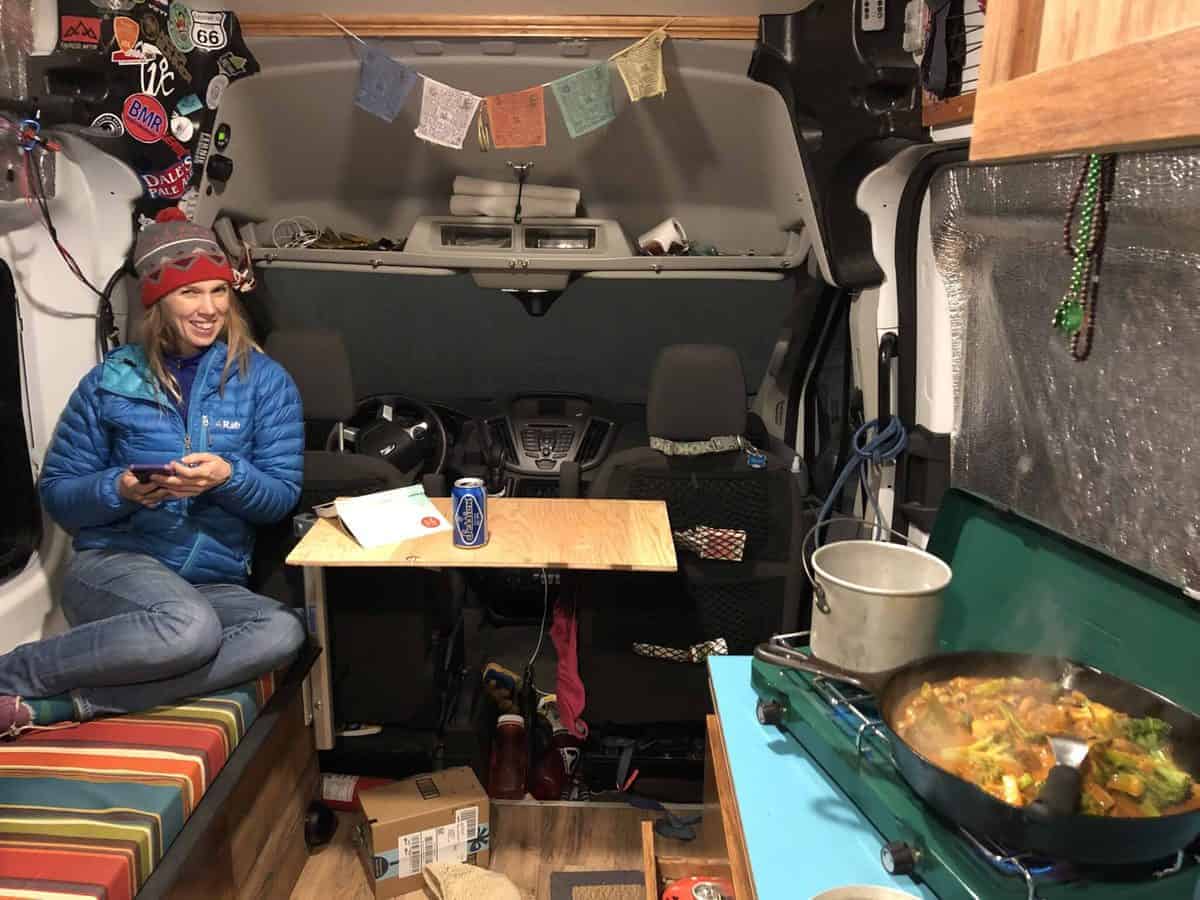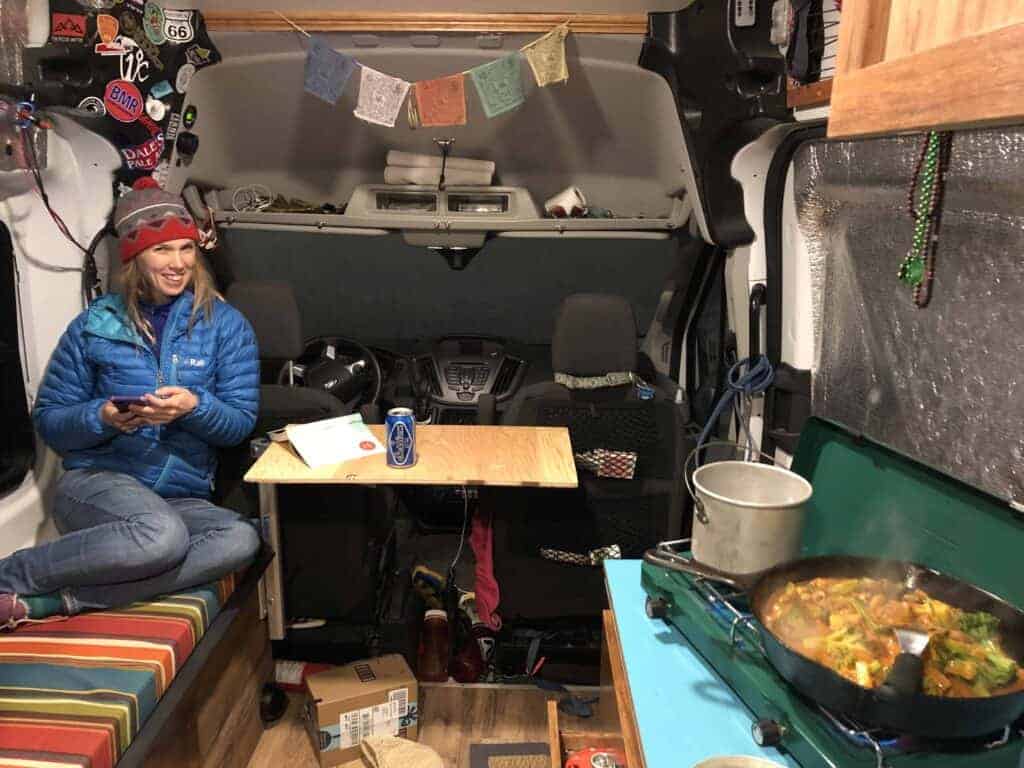 If you have the opportunity to design and build your own van, you are in for a real treat. The "What the hell are we doing" question as you stare down a steel-walled box is my personal favorite. Our build was focused around a 2015 (brand new to us) van but with a very affordable build.
We couldn't afford to hire out the build, so we did the build ourselves. Working through all the details and making things fit our specific needs was one of the more positive things about doing our own build. Dutch oven goes here and fits perfectly; bikes fit snugly under the bed, and cabinets are sized precisely for the size of plates we use. You get the idea.
Lessons learned on the build, just hear each other out. Listen to one another because the other person is right on some level, regardless of what you think. Ultimately, you will have something you can both be proud of.
Figure Out Heating And Cooling In Your Van Before Hitting The Road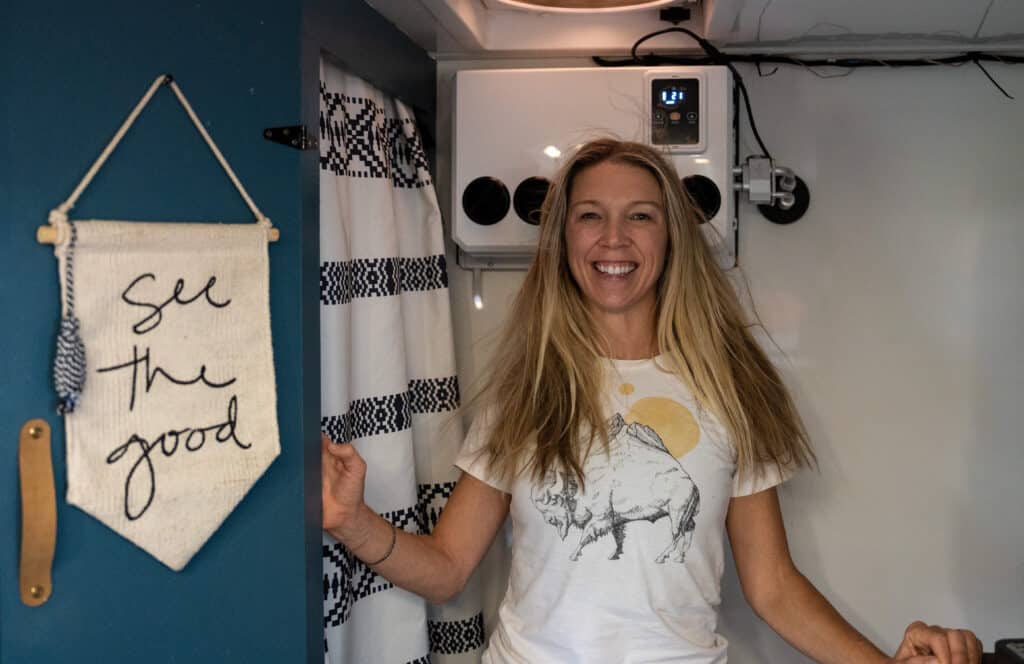 One of the challenges of living in a van is staying warm in the winter and cool in the summer. Before hitting the road, you'll need to figure out a heating and cooling solution that works for you.
There are a few different ways to heat and cool your van. You can use a portable heater or air conditioner or install a more permanent solution like a wood stove, diesel heater, or permanent air conditioner.
Whatever heating and cooling solution you choose, make sure you test it out in all kinds of weather conditions before setting off on your vanlife adventure.
Insulate Your Van
Don't forget to insulate your van! This will help keep the heat in during the winter and the cool air in during the summer.
There are various ways to insulate your van, so research and figure out what will work best for you. Not only will insulation help with climate control, but it will also help to dampen noise and make your van more comfortable overall.
How To Make Your Camper Feel Like Home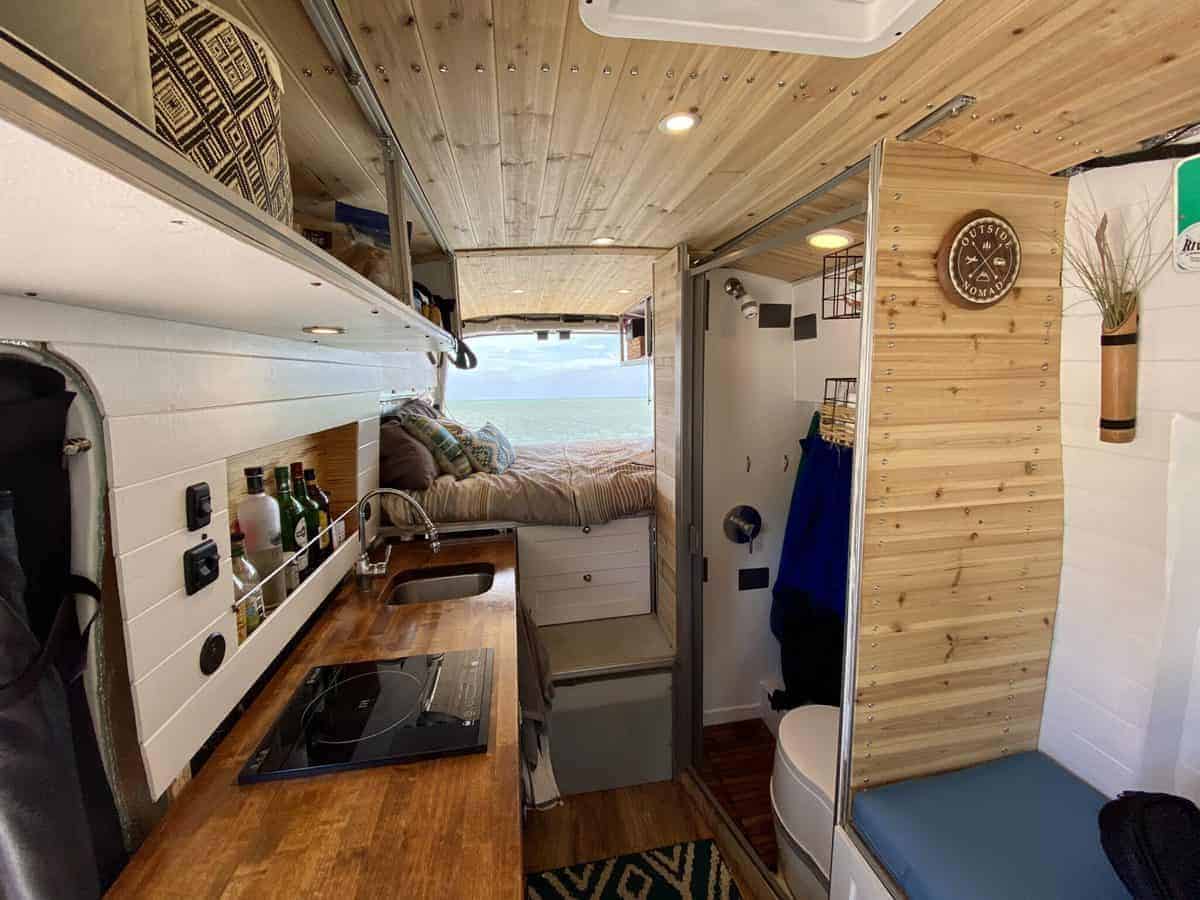 One of the best things about vanlife is that you can take your home with you wherever you go. But even though your camper is small, there are still a few things you can do to make it feel like home.
First, personalize your space with photos, artwork, and other items that make you happy. You can also add some greenery to your camper to make it feel more like home.
Another way to make your camper feel like home is to cook your favorite meals. If you're used to eating out all the time, cooking at home can be a challenge, but it's worth it when you can enjoy a home-cooked meal in your own space.
Finally, don't forget to make time for yourself. Vanlife can be overwhelming at times, so it's important to take some time for yourself to relax and recharge.
Whether you enjoy reading, hiking, or just spending time in nature, make sure you carve out some time each day to do the things you love.
Vanlife Essentials
Before hitting the road, there are some vanlife essentials that you should make sure you have packed; storage containers and bins are one of them. When you're living in a van, space is limited, so you need to be storage savvy.
Here's a small list of some of our favorite vanlife essentials
License & Registration
Insurance
Roadside Emergency Kit
Fire Extinguisher
First Aid Kit
Headlamp
Lighter
Cutting Board
Pans & Pots
Kitchen Knife
Cleaning Sponge
Cooking Oil
Kitchen Towels
Paper Towels
Brush And Dust Pan
Be Prepared To Minimize Your Belongings (Clothes And Shoes Included)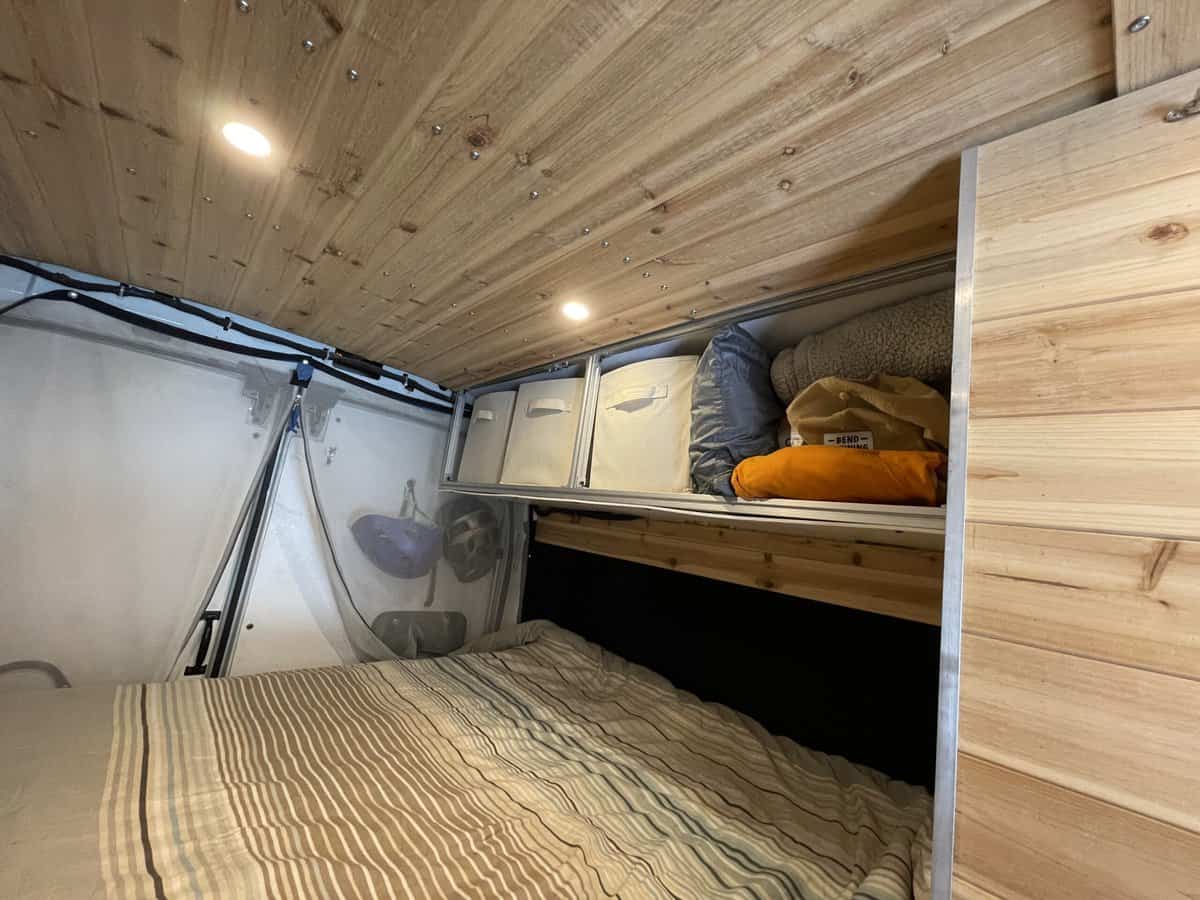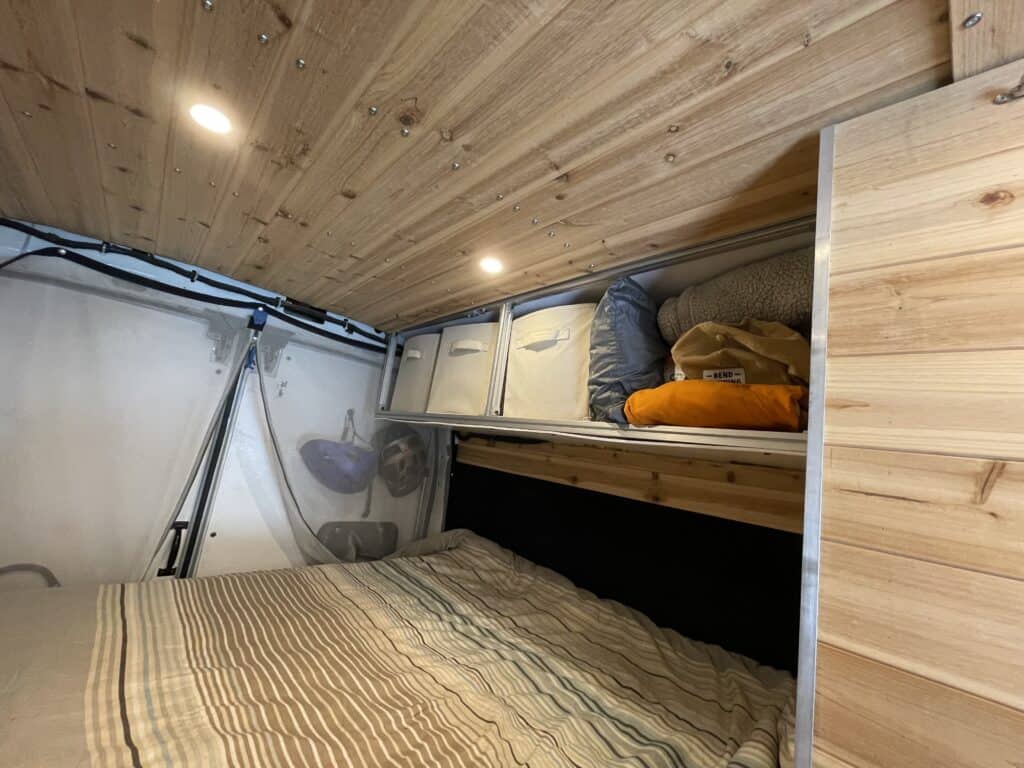 One of the biggest changes you'll have to make when transitioning to vanlife is minimizing your belongings. You simply won't have the same amount of space as you do at home, so you'll need to be selective about what you bring with you.
Start by going through all of your belongings and getting rid of anything you don't absolutely need. This includes clothes, shoes, kitchen appliances, furniture, and knick-knacks.
If you're having trouble letting go of things, consider storing them with a friend or family member.
Once you've pared down your belongings, figure out the best way to store everything in your van.
Invest in some good storage solutions, like baskets, bins, and shelves, to help keep your van organized.
And finally, don't forget to leave some empty space in your van. It will come in handy when you want to add new things to your collection or bring home souvenirs from your travels.
Vanlife Hygiene
Don't forget about your personal hygiene. Just because you're living in a van doesn't mean you can let your personal hygiene slide.
In fact, it's even more important to maintain good personal hygiene when you're living in close quarters with other people.
Vanlife Showers
Depending on your van, you may or may not have a built-in shower, so you'll need to get creative with showering.
One option is to get a gym membership at a local gym and take showers there or use public facilities like those found at campgrounds or truck stops.
Another option is to invest in a portable shower system that you can set up in your van.
Vanlife Toilet
If you're living in a van, you're going to need a toilet. The type of toilet you choose will depend on your budget, the amount of space you have in your van and your personal preferences.
The most popular vanlife toilets are composting toilets, porta potties and chemical toilets. Each option has its own pros and cons, so be sure to do your research before making a decision.
Composting toilets are the most expensive option but they're also the most efficient and eco-friendly. Porta potties are the cheapest option but they're not as efficient or easy to use as composting toilets.
Chemical toilets are a good middle ground option and are relatively easy to use.
No matter which toilet you choose, be sure to empty it regularly to avoid any unpleasant odors.
Vanlife Laundry
Laundry may not be anyone's favorite pastime, but it is a necessary part of life. If you choose to live in a van, you will probably find yourself at the laundromat more often than most people.
I recommend keeping a compressible laundry bag in your van so you can easily take your laundry with you when you need to wash it. You can also stow that bag under your bed or in a closet when it's not in use.
Before heading to the laundry, make sure you have quarters or dollar bills to pay for those washers and dryers.
Expect The Unexpected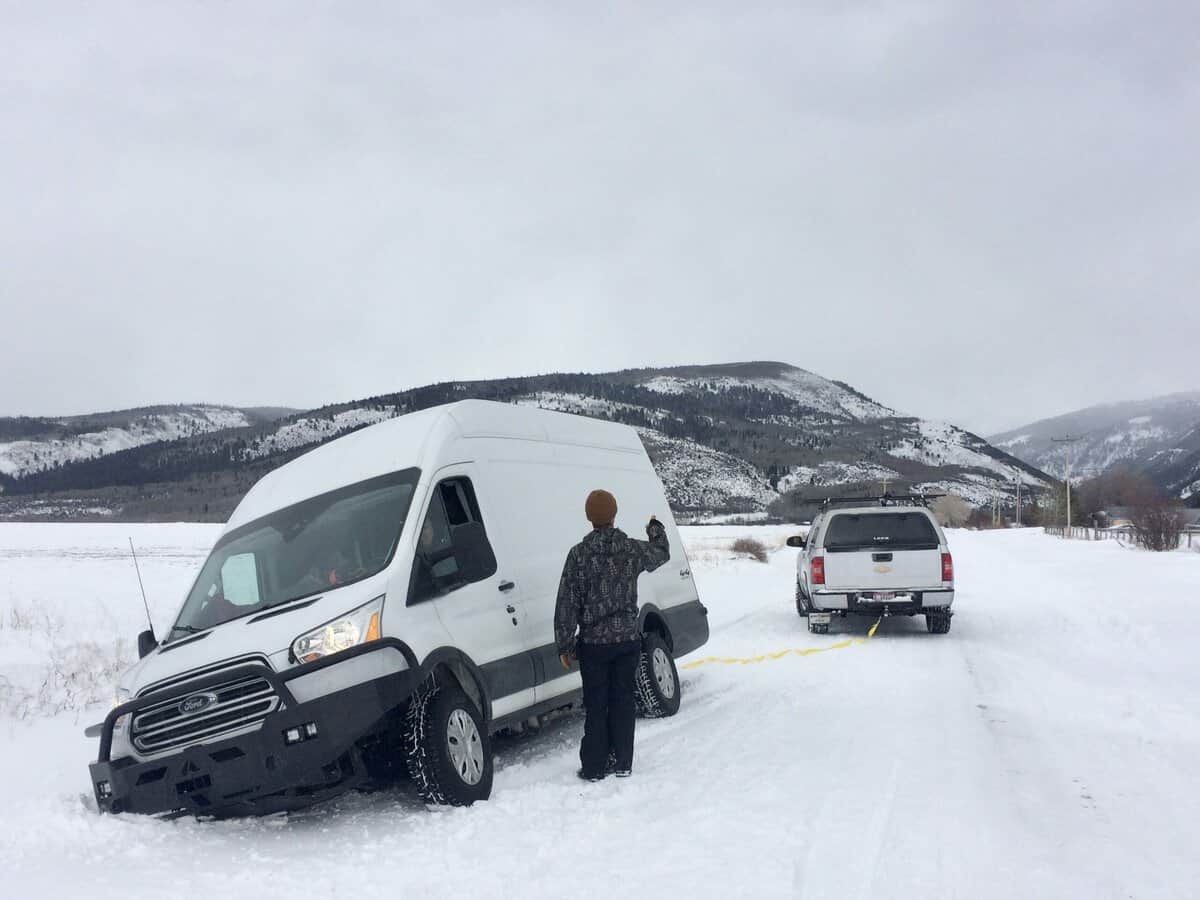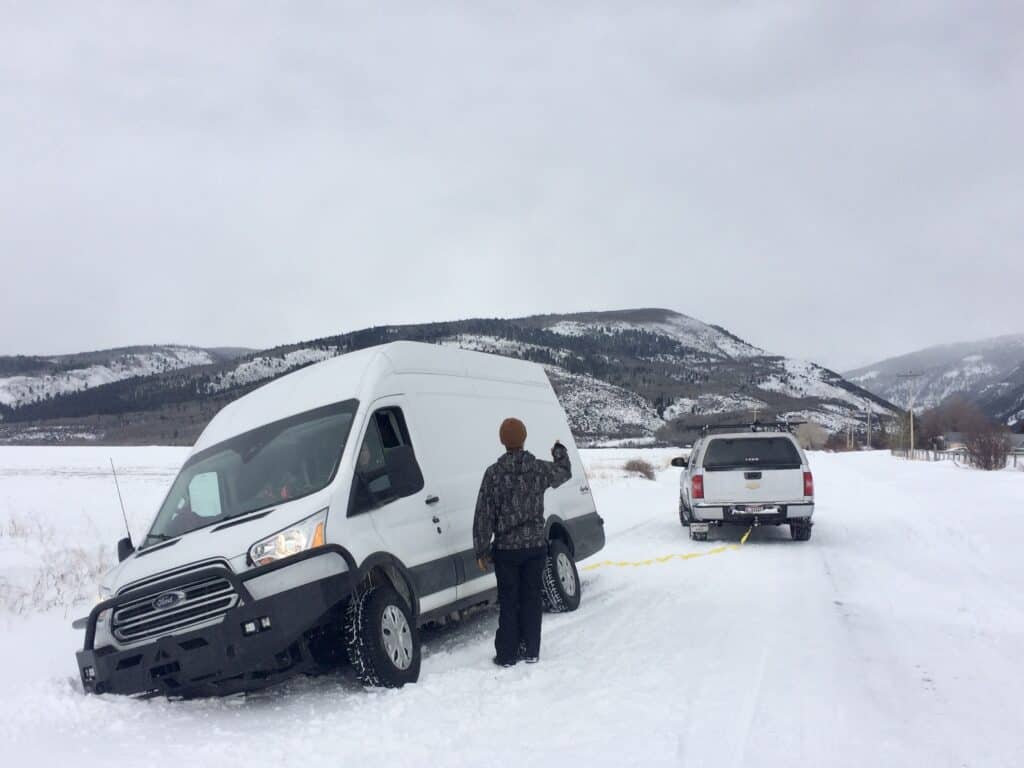 One of the best vanlife tips is to expect the unexpected and be prepared for anything. Things will go wrong; it's inevitable. But if you're prepared for it, you'll be able to handle whatever comes your way.
Keep a small stash of emergency supplies in your van, like a first-aid kit, a flashlight, and some extra food and water. That way, if you ever find yourself in a sticky situation, you'll be prepared.
And finally, don't forget to have some fun! Yes, vanlife can be challenging at times, but it's also an incredible adventure. Embrace the unpredictability of it all and enjoy the ride.
Be Prepared For Some Loneliness (But Embrace The Solitude When It Comes)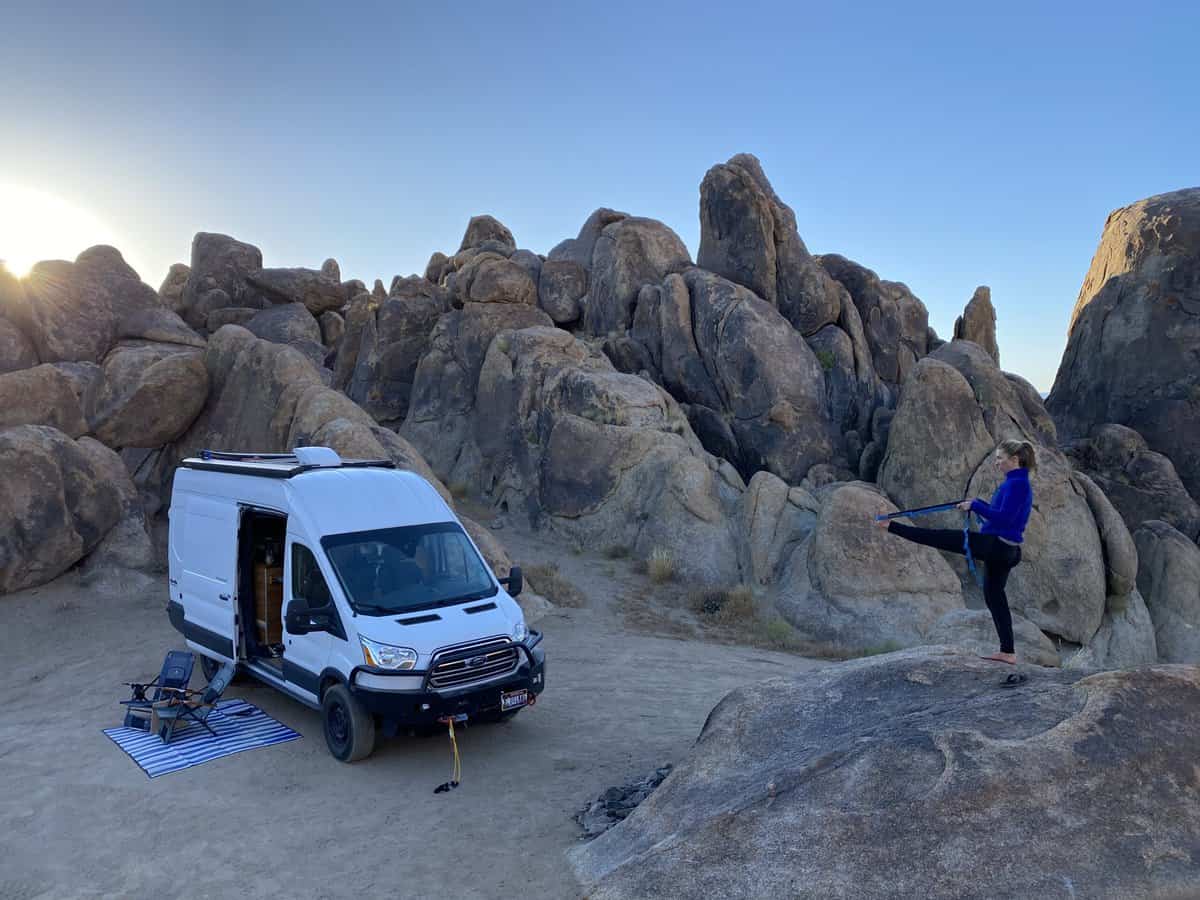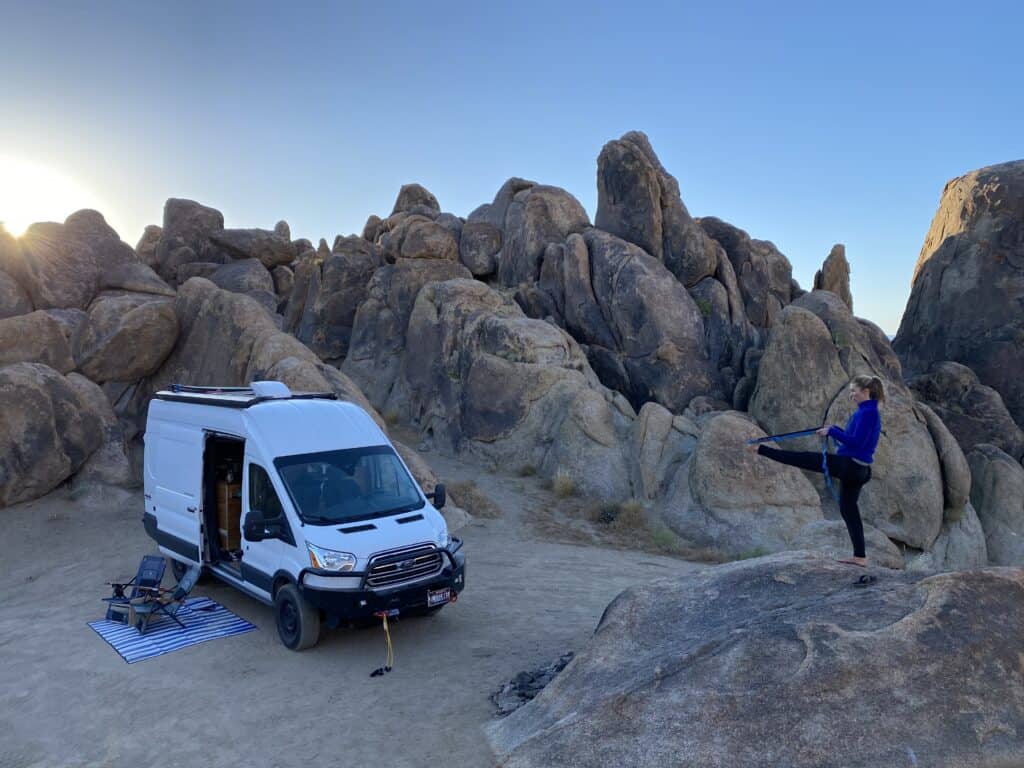 One of the downsides of vanlife is that you will likely experience some loneliness at times. When you're used to living in close proximity to other people, it can be tough to adjust to being alone for long periods of time.
That being said, there are also some upsides to loneliness. It can be nice to have some time to yourself to reflect, relax and recharge. And let's face it, sometimes it's just nice to have a break from other people.
If you're feeling lonely, try to connect with other vanlifers in your area. There are often vanlife meetups and gatherings where you can meet new people and make friends. You can also connect with people online through social media and vanlife forums.
STOP TO SMELL THE ROSES
Don't forget to take in all 5 of the senses. Sit on a rock and take the time to stare out at the horizon. Do it for hours; who cares. Just do it!
It's so easy for us to take our sense of urgency with us wherever we go. There's no hurry. I always find myself getting caught up in a rush. Don't be afraid of the elements. Go walk in the rain. It feels and smells amazing. Challenge yourself to do something new every day.
Connect And Network With Other Vanlifers
One of the best things about vanlife is the community of like-minded individuals you'll meet on the road. Connecting and networking with other vanlifers is a great way to make new friends, get advice and tips, and learn about events and meetups.
There are a few different ways to connect with other vanlifers. You can join online forums and social media groups or attend vanlife meetups and events in person.
Whichever way you choose to connect, take the time to reach out and introduce yourself. You never know who you'll meet or what friendships you'll make.
Number 1 Vanlife Tip Is To Always Consider Your Safety And Security
One of the most important vanlife tips is always to consider your safety and security. When you're living in a van, you're more susceptible to break-ins and theft.
Make sure you take steps to secure your van, like installing good-quality locks, window bars, and an alarm system.
You should also always be aware of your surroundings and trust your gut if something doesn't feel right. If you're ever in doubt, it's better to err on the side of caution and find somewhere else to stay for the night.
Be sure to keep that phone close in case of emergencies, and let people know your whereabouts when you're on the road.
Vanlife Meals And Cooking On The Road
One of the best things about vanlife is the freedom to eat whenever and wherever you want. However, this doesn't mean you should always eat out. Eating out can get expensive, and it's not always the healthiest option.
Instead, try to cook most of your meals at home in your van. This will save you money and help you eat healthier.
Of course, cooking in a van can be a bit of a challenge. But with some careful planning and the right equipment, it's definitely doable. Check out our favorite campervan meals for tips and ideas.
We make big batches of dinner that can be used for breakfast and lunch the following day. Usually, some sort of dutch oven recipe as we like to sit by the fire.
Veggies, garlic, black beans, rice, and meat. A quick and easy dinner. For breakfast, mix with some eggs, and you've got a great breakfast burrito.
Here's a list of some of our favorite dutch oven recipes we enjoy making.
Here are some of our favorite meal ideas for life on the road:
Boondocking And City Parking
So we absolutely despise formal campgrounds. Despise is a little strong; how about dislike? We prefer the incognito (stealth) style to save a few bucks. Our van has no windows yet(soon to change), making for a great incognito creeper van.
We often camp in residential areas and just do our best to lay low. We've spent many nights outside rec centers where we can buy a shower and get a quick swim in the early morning before the crowds arrive. It's all about being flexible.
And yes, we have camped in a Walmart parking lot. It's a good option in a pinch. The last time we did it, we got a crappy spot. All the other campers had nice grass for the dogs and a way better view. You've got to get there pretty early to get a good spot at Walmart. But yes, Walmart is an option; in fact, it's company policy to allow overnight camping in most states.
When in doubt, blend in. I've thought about getting some sort of magnet to stick on the side of the van. Some sort of plumbing logo, so people leave you alone.
Campgrounds And Campsites Are Expensive
If you're just getting started with vanlife, you might think that the only places you can park for the night are campgrounds and campsites.
But that's not true! Harvest Host is a favorite of many vanlifer because it offers reliable and comfortable spots to park overnight.
Van Insurance
Don't Forget To Protect Your Home On Wheels; just like a regular home, your van needs to be properly insured. Make sure you get van insurance before hitting the road. Van insurance is similar to regular auto insurance, but there are a few key differences.
For one, van insurance typically covers things like modifications and customizations, which is important if you've made any changes to your van. It's also important to get adequate coverage for your belongings.
Most regular auto insurance policies won't cover the contents of your van, so you'll need to make sure you're protected in case of theft or damage.
Finally, be sure to shop around and compare different van insurance policies before buying. There's no one-size-fits-all policy, so you'll need to find the one that's right for you and your van.
RELATED: The Best Vanlife Health Insurance Coverage for Full-Time RVers & Vanlifers
Be Prepared For Vehicle Breakdowns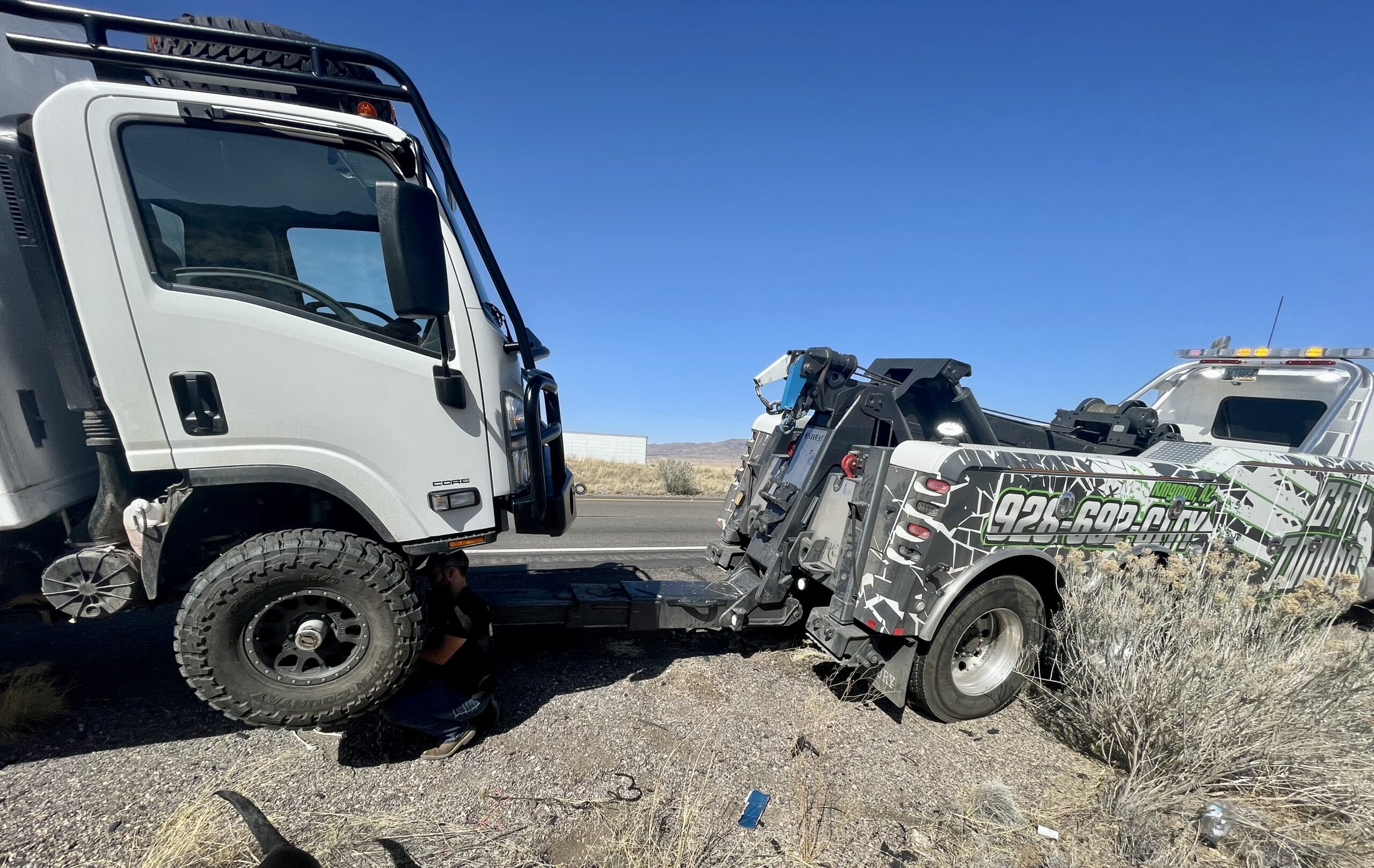 Be prepared for breakdowns. Even if you take good care of your van, there's always a chance that something could go wrong while you're on the road.
Be sure to keep basic tools and supplies on hand so that you can fix minor problems yourself and have access to help if something major happens.
Vanlife May Save You Money (Depending On Your Lifestyle)
One of the biggest benefits of vanlife is that it can save you money. You won't have to pay rent or a mortgage, and you can cook most of your meals at home instead of eating out.
Of course, some expenses come with vanlife, like fuel, maintenance, and repairs. But if you're smart about spending, you can easily save money by living in a van.
So if you're looking to save some cash, vanlife may be the right choice for you. Just be sure to factor in the cost of living on the road before making the switch.
Best Vanlife Apps
You should download a few essential vanlife apps before hitting the road. These apps will help make your vanlife experience more enjoyable, efficient, and safe.
Here are a few of the best vanlife apps:
Campendium – This app is a must-have for anyone planning to do a lot of camping in their van. It provides detailed information about campgrounds all over the United States, including reviews, amenities, and pricing.
GasBuddy – This app is essential for anyone who plans on doing a lot of driving in their van. It helps you find the cheapest gas prices near you so you can save money on fuel costs.
AllStays Camp & RV – This app is a great resource for finding campgrounds, RV parks, and other overnight accommodations. It includes detailed information about each location, including reviews, amenities, and pricing.
Roadtrippers – This app is perfect for anyone planning a road trip in their van. It helps you find interesting places to see and things to do along your route.
Ioverlander – This app is a must-have for anyone traveling in an RV or Van. It helps you find boondocking locations, stealth camping, campgrounds, water fillups, dump stations, and other amenities near you.
Related: Our Favorite Road Trip Apps
Vanlife Community, Meetups And Events
One of the best things about vanlife is the community that comes along with it. There are thousands of people all over the world who live in vans, and many of them are happy to help out fellow vanlifers.
There are also several vanlife meetups and events that take place throughout the year. These events are a great way to meet other vanlifers, learn new tips and tricks, and find out about the latest vanlife products.
If you're looking for a vanlife community, start by searching for vanlife meetups in your area. You can also join one of the many vanlife Facebook groups or follow vanlife hashtags on Instagram.
Vanlife Internet
One of the biggest challenges of vanlife is staying connected to the internet. We have run into this problem several times and have tried a few different solutions.
We now use Starlink and couldn't be happier. Before that, we had data-only plans with Verizon, followed by a grandfathered internet plan with AT&T.
If you require the internet for work or school, you'll need to find an online solution while traveling. There are various options available, including public Wi-Fi hotspots, cellular data, and mobile hotspots in addition to Starlink.
Related info you may find helpful for getting good internet on the road
Word From The Wise: Be Prepared For Vanlife In The Winter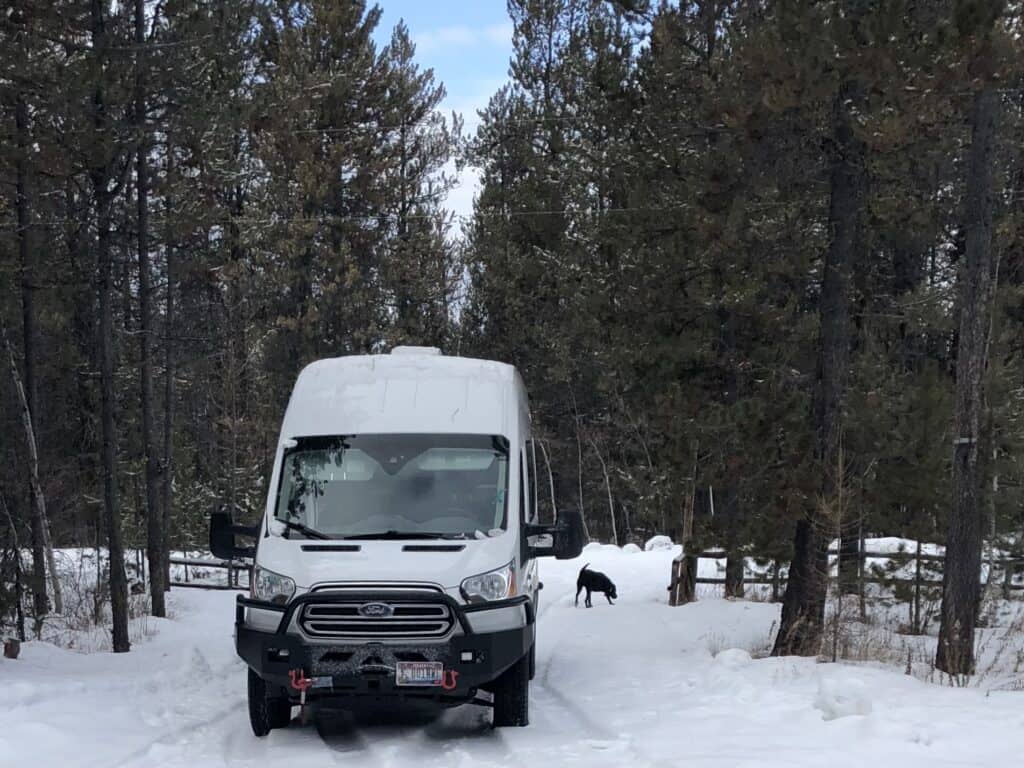 If you're planning on vanlife in the winter, there are a few things you need to keep in mind.
First, you'll need to make sure your van is properly insulated to protect against the cold weather. You can do this by installing insulation panels or using Reflectix.
You'll also need to find a way to keep your pipes from freezing. This can be done by using heat tape or making sure your pipes are well insulated.
Next, you'll need to find a way to keep yourself warm. This may mean investing in a good quality sleeping bag or blankets. You should also consider bringing along a space heater to use when needed.
Finally, you'll need to be prepared for the snow. This means having a good shovel and some ice melt on hand. You should also have a plan for where you're going to park your van during a storm.
IN SUMMARY
Be nice
Be patient
Flexibility and spontaneity rule
Don't forget the roses
When in doubt just blend in
The early camper gets the killer spots at Walmart
Always take in the Five Senses of Life
Have you heard of glamping? Well here are a few of our favorites.
Spice Up Your Road Trip: The West's Best Glamping Destinations
Expert Road Trip Tips To Make Traveling Easy
VANLIFE FAQ