I love nothing more than those last couple days of packing before leaving on a big van trip. Rich with anticipation and excitement. But van life isn't just about seeing new places or leaving the job behind. It's a liberation from ourselves. A chance to live a different way. And in my opinion, a better way.
Van life is more than just a vacation. It's not only a vacation to see great places but more importantly, it's a vacation from "the stuff."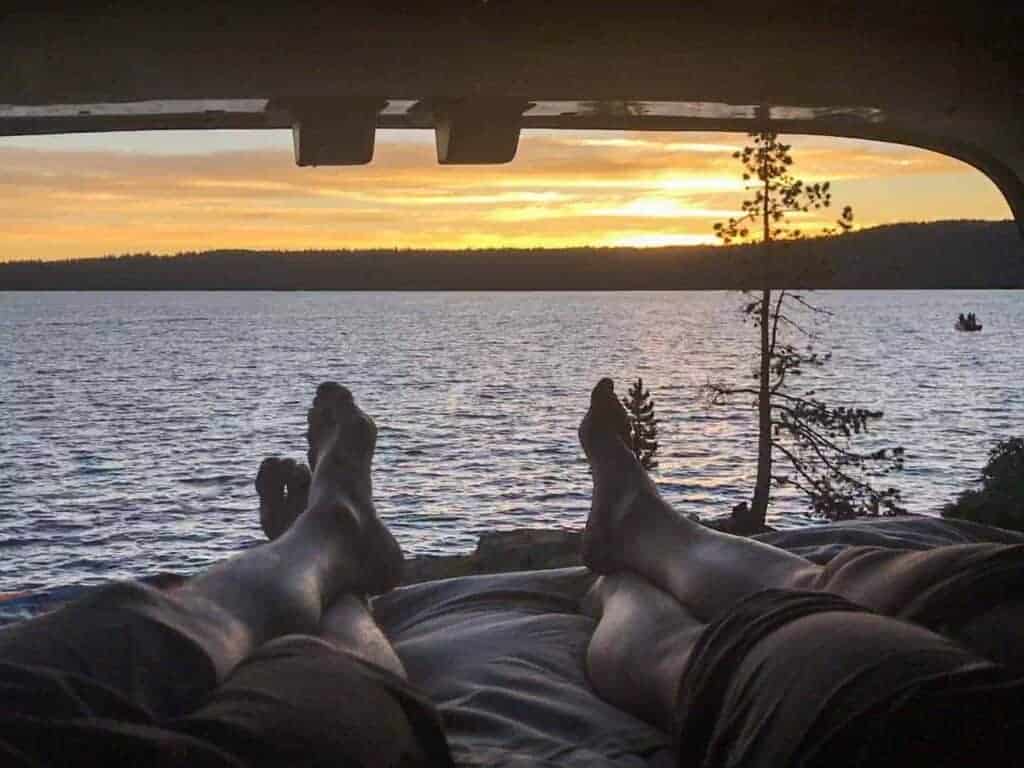 Stanley Lake, Stanley Idaho
A trip in the van is a break from our culture of excess. It forces us to reduce our daily life clutter. It begs the question, what do I really need to be happy for the next month, 6 months, or even year?
It's a good reminder of how little "stuff" we really need to be happy. Downsizing can be liberating.
The book Antifragile by Nassim Nicholas Taleb describes a pathway to happiness through "subtraction." Instead of seeking out the things that bring us happiness he argues a better route is to start by eliminating the things that make us unhappy.
Van life is a perfect opportunity to take a break from the things that bring stress and unhappiness in your day to day life.
When I talk to people about frugality, I tell them it's not about giving up things but rather focusing on the things that truly bring value to your life. Would you rather have 10 acquaintances or 3 really good friends?
Our culture does an amazing job of fooling us into thinking we need more. Essentially watering down the things that actually bring us joy. I like to think of possessions as debt. It's a vicious cycle of wanting more to be happy which then puts you deeper in debt. That brief jolt of joy from getting new stuff quickly subsides and you are stuck wanting more.
If you can free yourself from this cycle of more is better you will have more time to enjoy what you already have. Focus on those 3 good friends.
Below is a TED talk about what "freedom" is? It's worth a listen and I think you'll find it inspiring.
In a couple's guide to Van Life we took a look at the challenges of a relationship in such a small place.  There's a whole new awareness that must be developed for success in such tight quarters.
In a guest post I wrote for Personal Finance For Beginners I described my journey to early retirement and how liberating it can be to simplify your life. There couldn't be a better foundation than van life to help you break free.
Room with a view, Rossland B.C.
After living in our van for a while we are always amazed at how little we miss the stuff back home. In fact, when returning home from a trip I find I'm overtaken by stress. It's more than just the fact that the trip is ending. It's a reflection of the excess we surround ourselves with, which all contributes to stress. You won't see it till you take a break from it.
Vanlife provides an opportunity for a reset with our "excessive stuff." It's a chance to test the waters of a different approach to happiness and life. Enjoy your new found freedom and happiness.
Happy travels!