If you're looking for some of the best van organization ideas you've come to the right place. We understand how keeping a small space organized can be a never-ending project if you don't have the right tools! That's why we've come up with 20 of our favorite van organization ideas to help you get things under control in your limited living space.
1. USE WALL SPACE FOR VAN STORAGE AND ORGANIZATION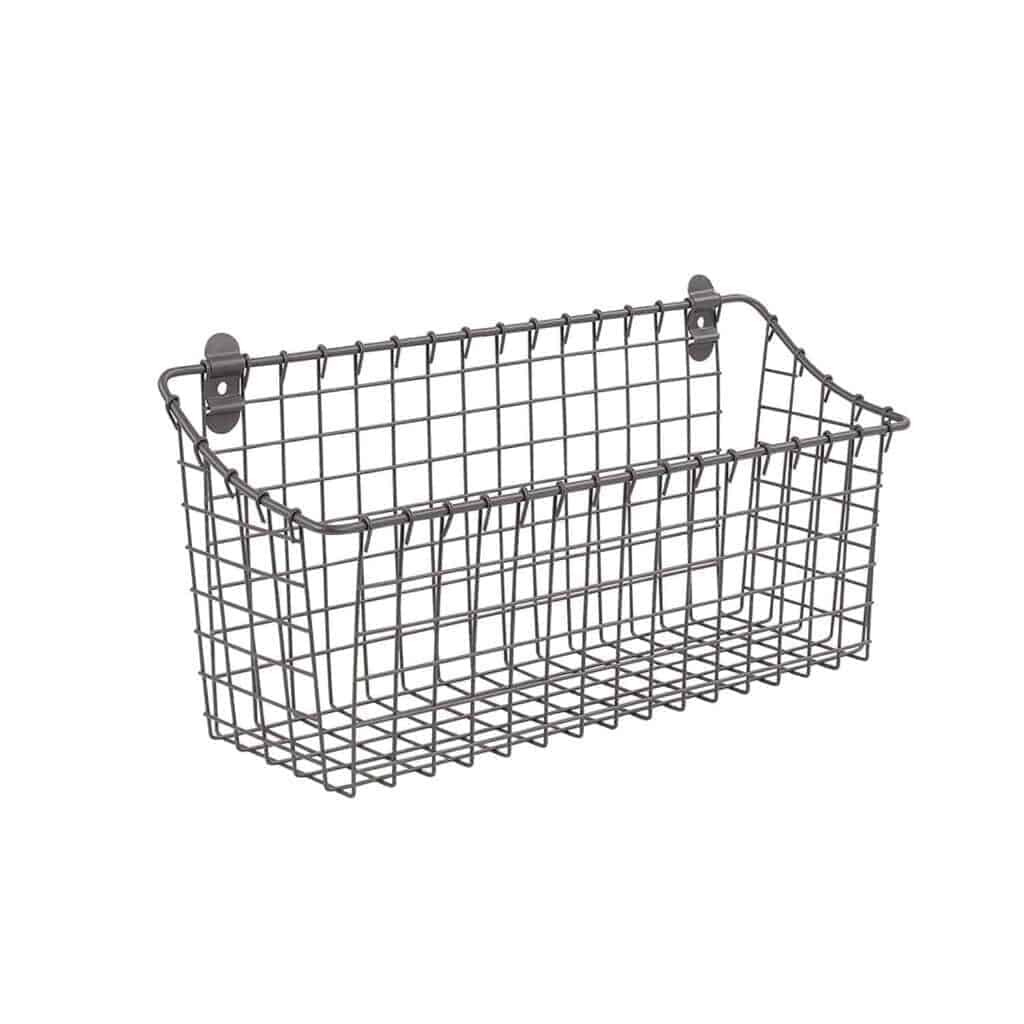 One of our personal favorite uses of wall space is to hang these wire storage units. They are great for storing produce, various cans, and you can even get a small one like this to organize all your dishwashing items.
2. OVER-THE-CABINET WASTE BASKET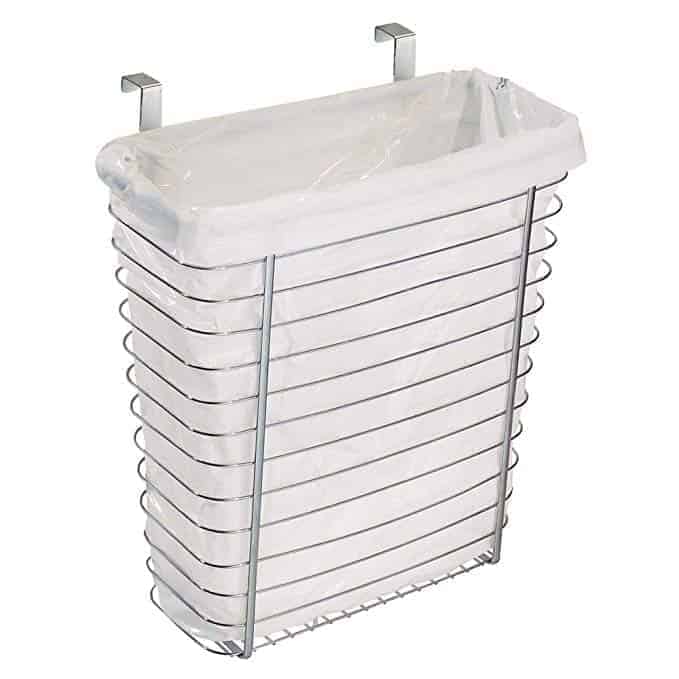 A van trash can take up a lot of precious space on the floor. We love this over-the-door trash can that saves tons of space
3. MAGNETIC SPICE HOLDER- TO ORGANIZE AND DECLUTTER YOUR VAN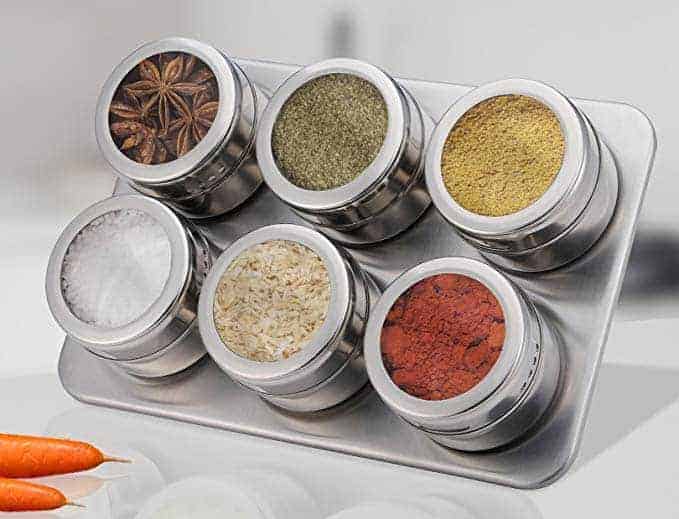 I've seen a lot of people use these magnetic spice holders in small kitchen spaces, so obviously they're popular. Personally, I get a bit nervous about the strength of the magnet to keep everything secure. The thought of paprika or curry powder sprinkled throughout our van isn't something that I want to deal with. You be the judge! They may be perfect for your van life situation. You could always secure them inside a drawer.
4. THE ANYTHING KEEPER FOR VAN ORGANIZATION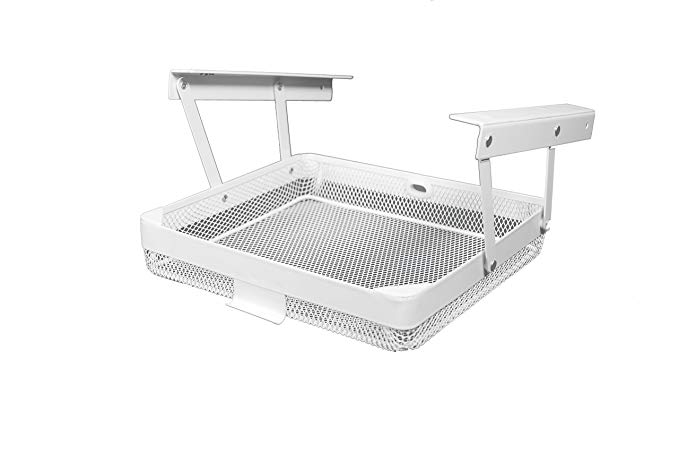 If you have limited drawer space in your van you may find this "anything keeper" to be a solution to your good ole junk drawer. It comes in either black or white, but of course, you could spray paint it to match your van decor.
5. VAN DRAWER DIVIDERS AND ORGANIZERS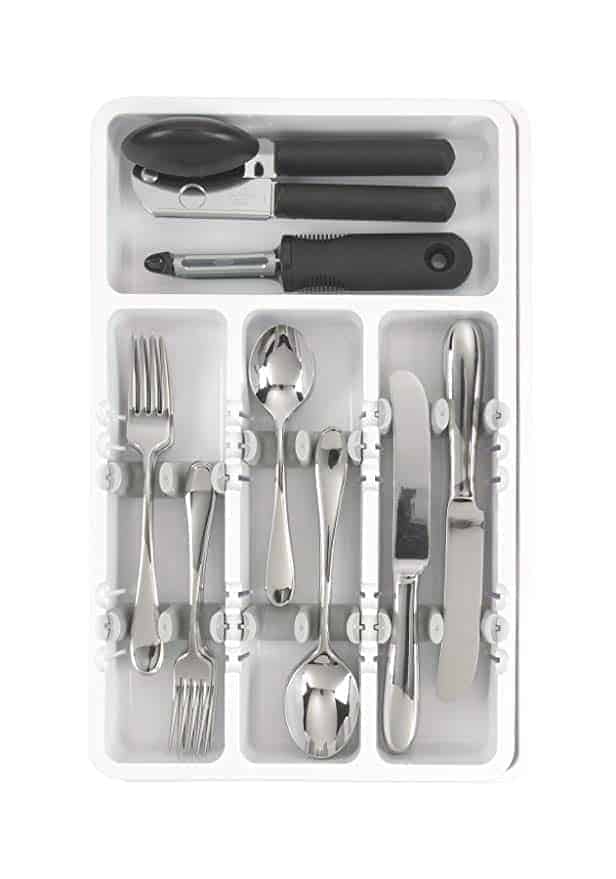 Why not give your van kitchen drawers a storage upgrade with these expandable cutlery trays? They are the perfect solution to organizing van drawers because you can expand them or compress them to fit your drawer. These drawer dividers are also a great way to utilize the space near the top of the drawer to keep them from becoming too messy.
6. PLASTIC STORAGE UNITS FOR YOUR VAN SHELVES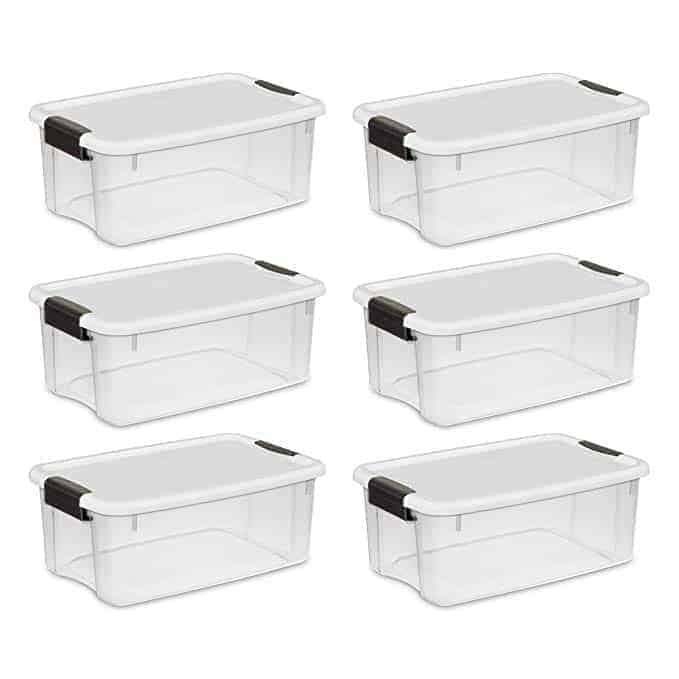 As you know van shelves can quickly become a mess if things are shifting around while you are driving. These plastic storage bins are a great way to organize any area in the van making your van feel organized and clutter-free.
7. SUCTION CUP HOOKS FOR YOUR CAMPER SHOWER OR KITCHEN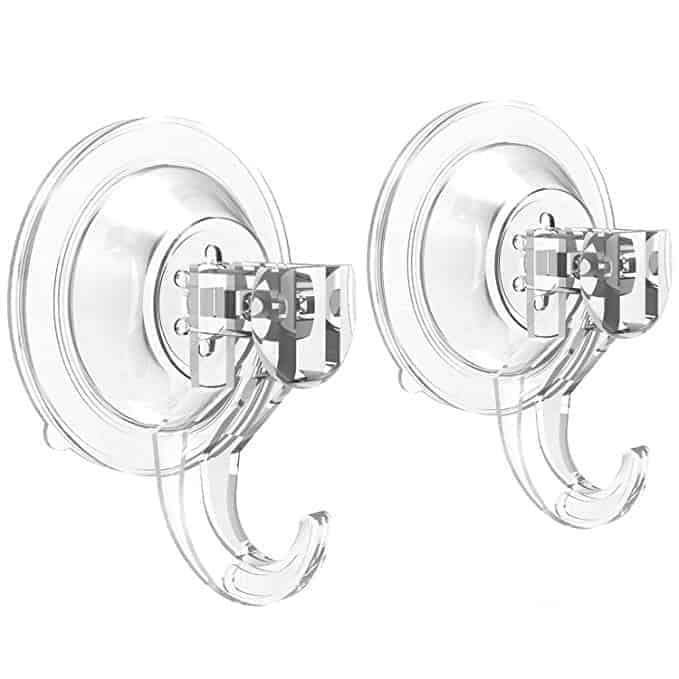 We've found that suction cup hooks work wonders when trying to keep our van clutter free. We like using them wherever possible. They also keep us from having to drill holes in our van walls which is an added bonus. You can use them on the windows throughout the van or in the bathroom and kitchen area. My favorite use for them is to use them to organize things in the bathroom and hold my clothes while showering.
8. COLLAPSIBLE LAUNDRY BASKET FOR DIRTY CLOTHES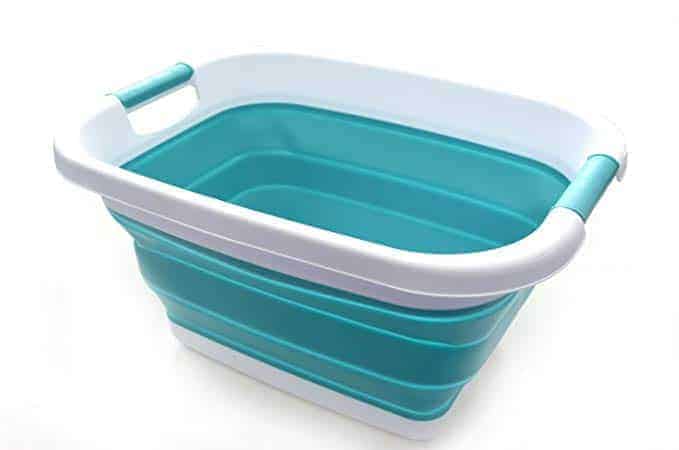 I've included 2 different options for storing your dirty clothes. At first, I was hesitant to include both of these options but they honestly provide different uses and this one above is a jack of all trades. This compressible laundry basket is great for keeping your dirty clothes separate from your clean clothes but it can also be used as a basin to wash your clothes. We also saw someone fill it full of ice to keep their beverages cold during a bbq gathering in Moab.
9. POP-UP MESH LAUNDRY HAMPER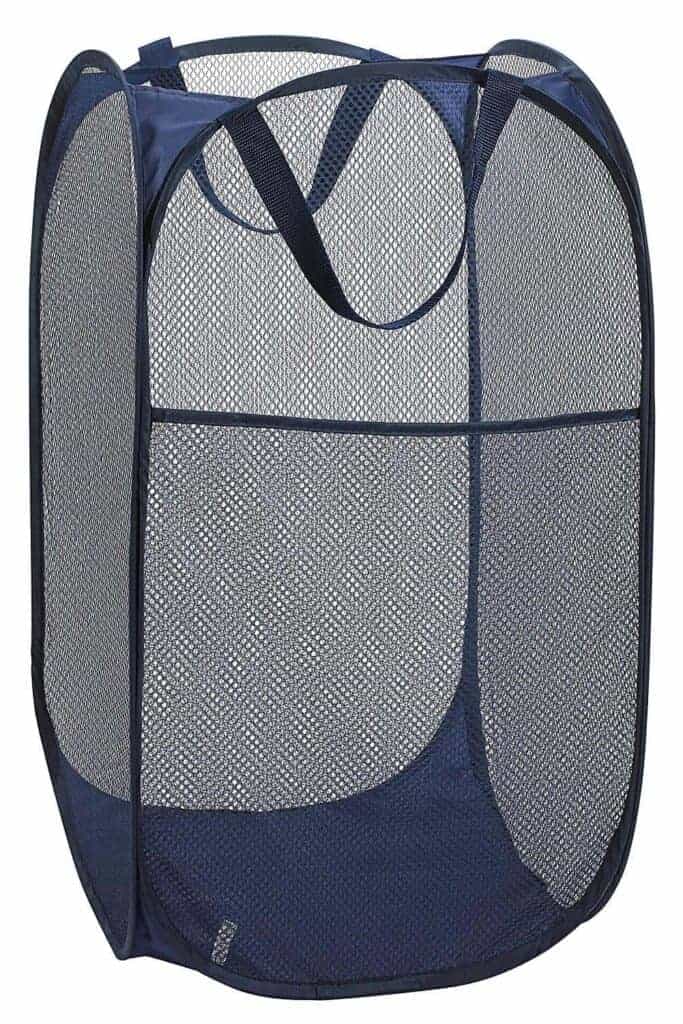 Another great way to store clothes in your van is with a pop-up mesh hamper. The great thing about this is that it can be folded up and stored when not in use. It's an easy way to carry your clothes into the laundromat or keep them separated from your clean clothes.
10. MAGNETIC KNIFE STRIP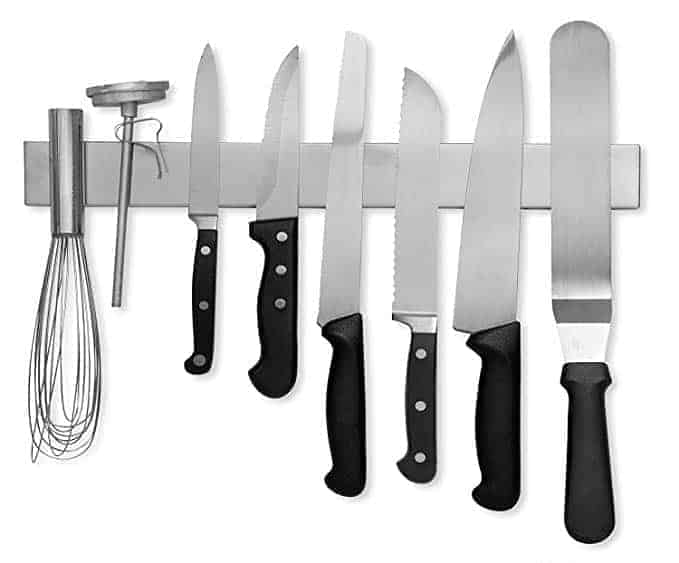 A lot of people mount a magnetic knife strip on the wall in their van kitchen. If you do this please be sure to secure it properly. Obviously, we don't want anyone having any accidents if the knives fall down while preparing dinner or partying in the van.
11. COMMAND HOOKS- VAN ORGANIZATION IDEAS THAT STICK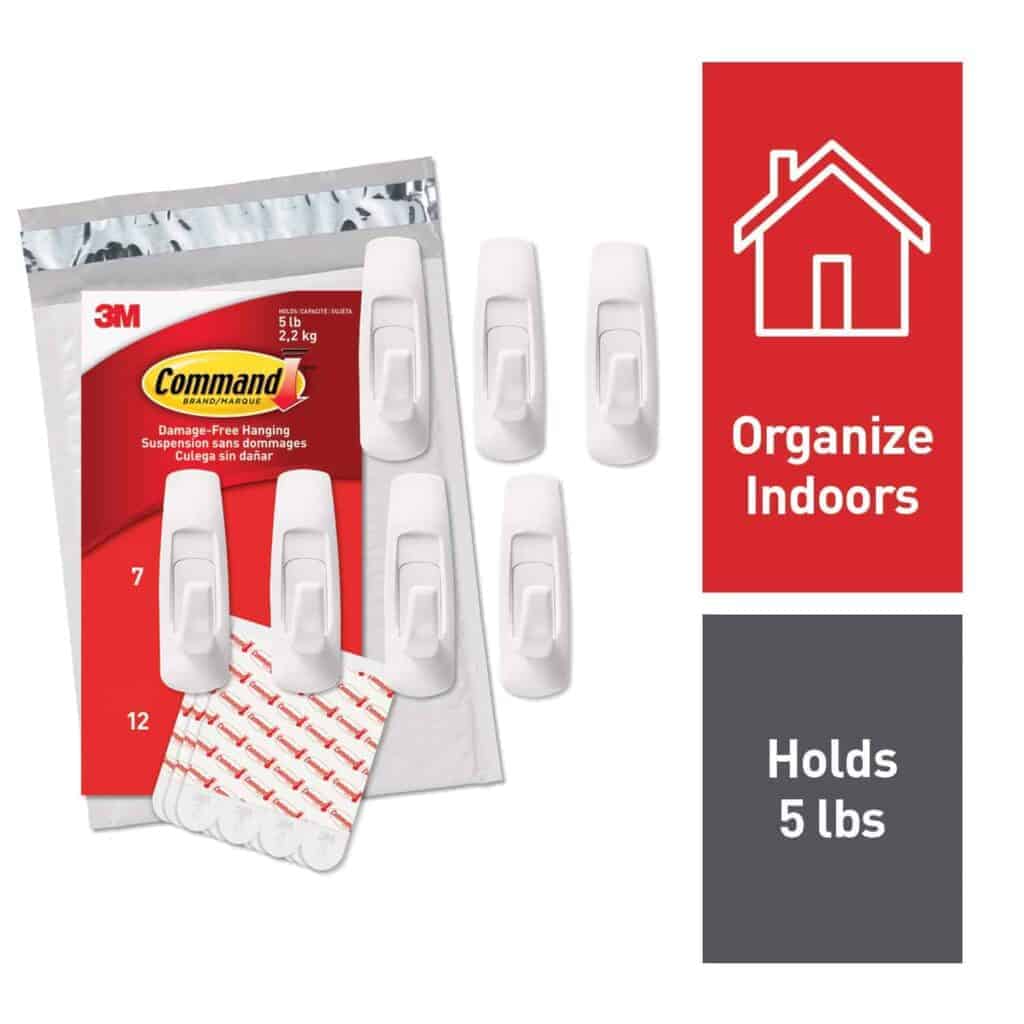 Just like suction cups command hooks are another thing you'll find super useful. We use them to hang our wire baskets and organize our coats to help keep our van living area clutter-free. We've even used them under the sink to keep a towel nice and accessible.
12. PLASTIC/ ALUMINUM WRAP AND LUNCH BAG HOLDER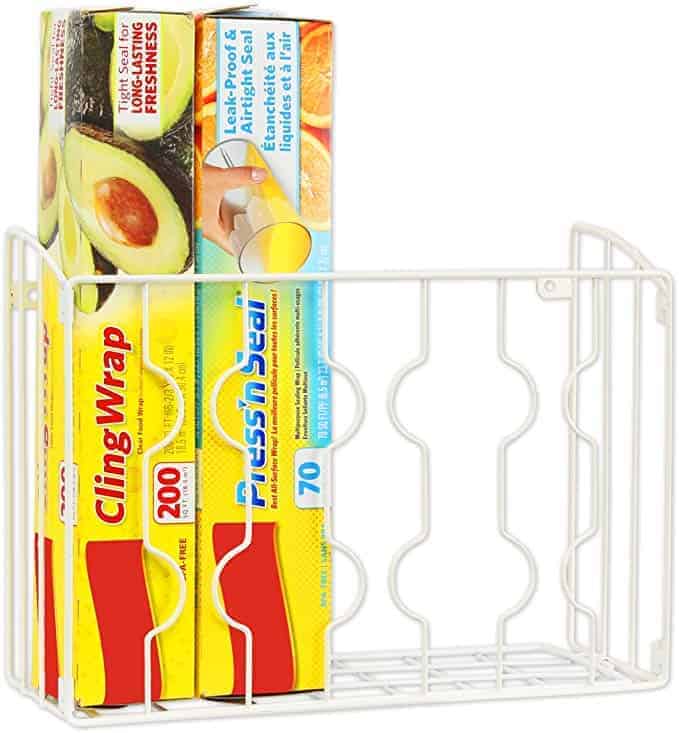 As mentioned before we try to use every bit of space possible for storing things in our van. This wall mounted storage solution can be secured to the inside of a cabinet or hung on a wall.
If you're trying to avoid putting holes in your van try using Command hooks or adhesive cable clips to hang this where you want.
13. DRAWER ORGANIZER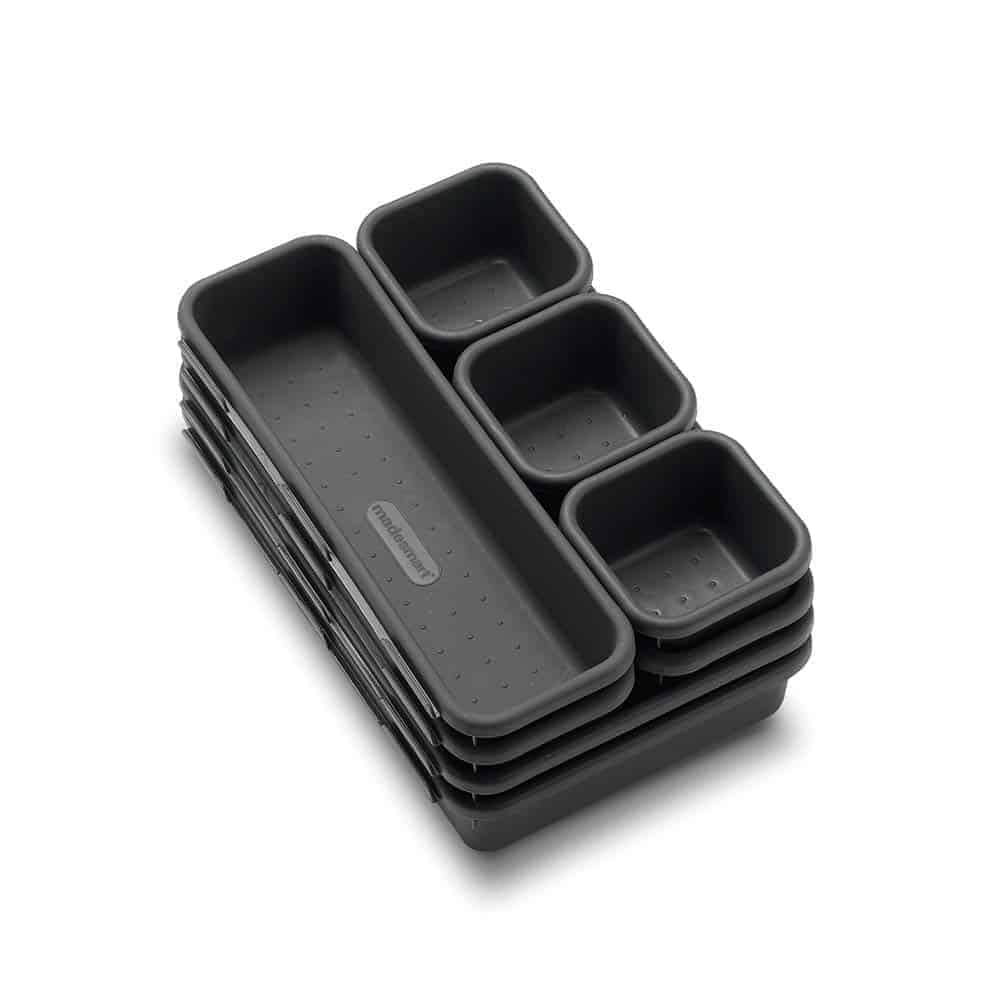 These super handy interlocking drawer organizers can be used all over your van. You can use them in the kitchen to organize condiment packets. In a drawer to tidy up everyday supplies. Or in the bathroom to organize things like floss, toothbrushes, nail clippers and other necessities.
14. UNDER SHELF BASKETS ARE GREAT FOR ADDING MORE STORAGE IN SMALL PLACES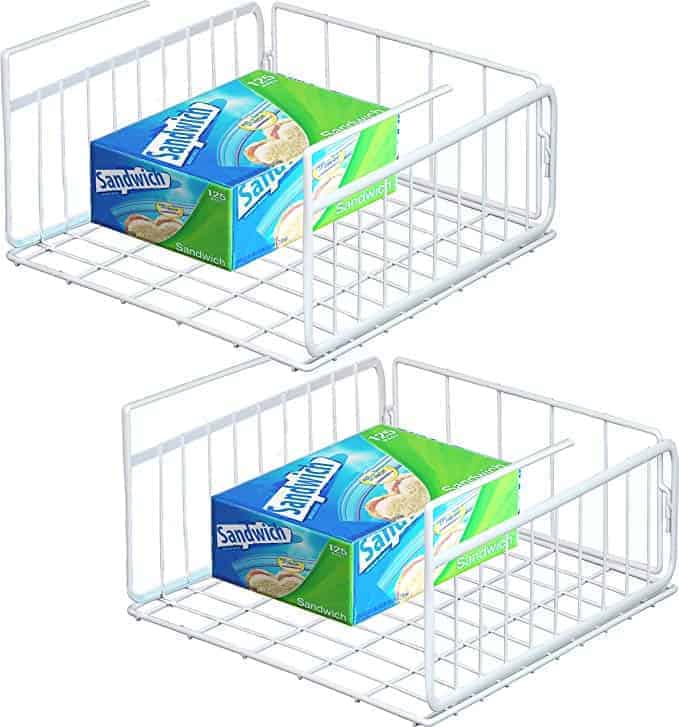 Depending on your van layout these under shelf baskets can be the perfect solution for those items that you can't seem to find a home for in your van. These shelves instantly add space to any hard surface in your kitchen or bathroom. You can even use these in your standup fridge to make organization a bit easier.
15. VACUUM BAGS FOR COMPRESSING THE BULKY STUFF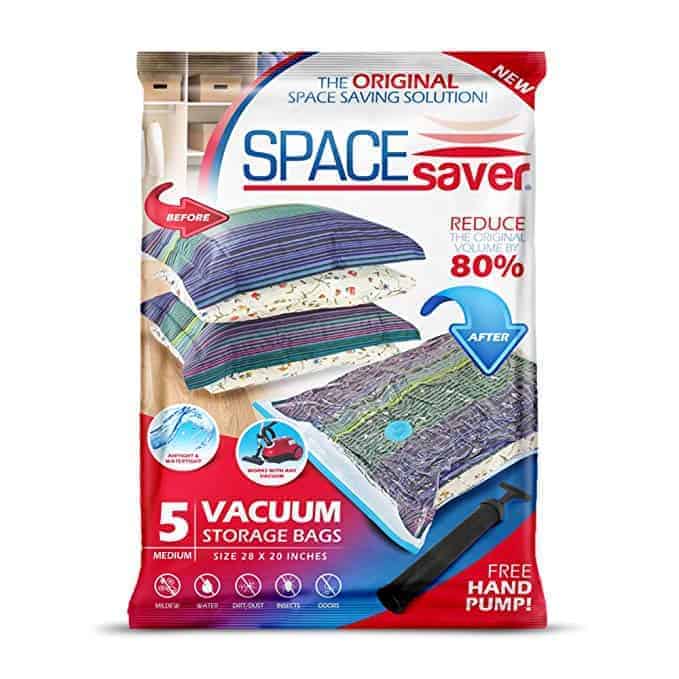 Do you live full time in your van? If so I bet you could find some good use out of these vacuum storage bags. These are a great way to store clothes that are out of season or items you don't use as often.
16. WALL-MOUNTED BATHROOM ORGANIZER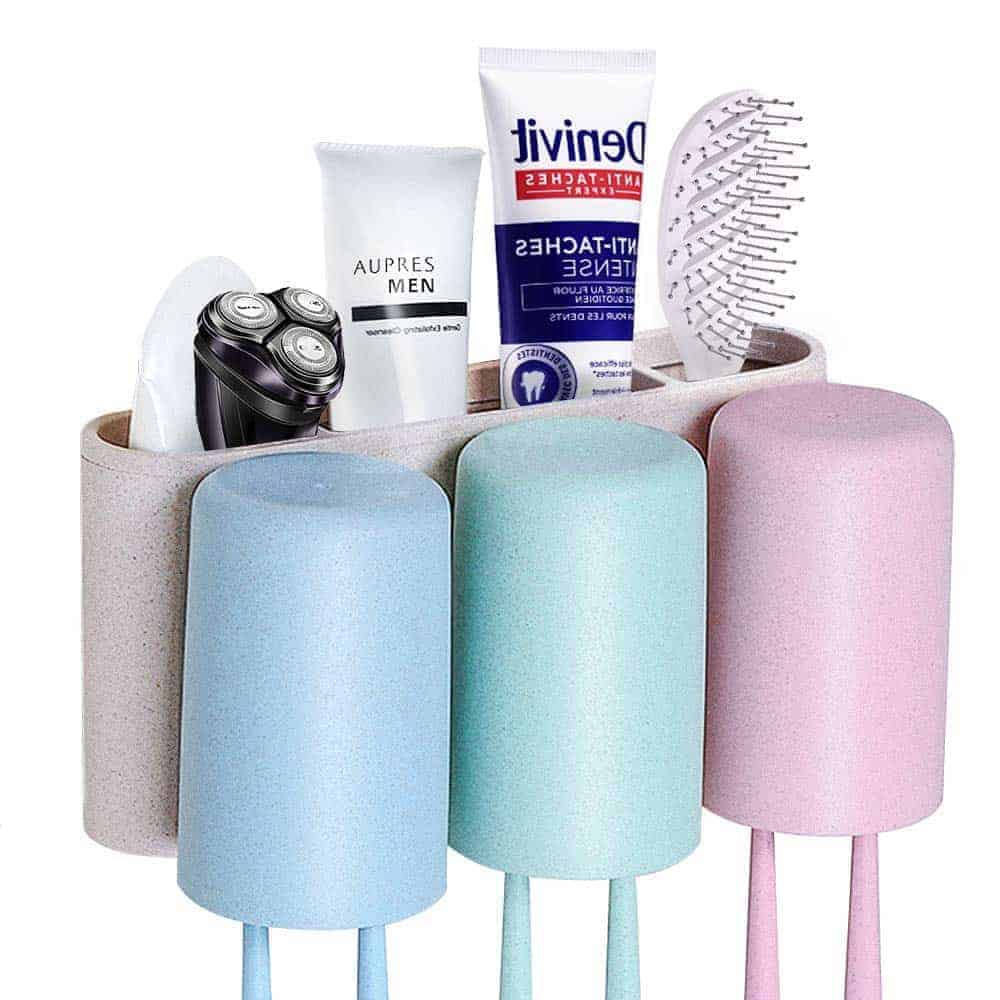 If you're lucky enough to have a bathroom in your van I can pretty much guarantee you it's a small space. So when you're looking for van organization ideas this wall-mounted bathroom organizer may be just what you need. What I like most is that it keeps your toothbrushes covered and protected from shower water.
17. CAR SEAT ORGANIZER FOR THE BACK OF YOUR VAN SEAT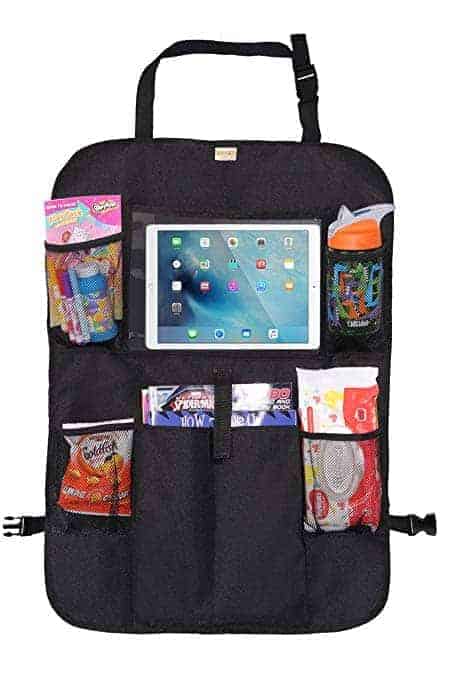 Remember above how I said we like to use all the wall space possible to keep ourselves organized? Well, look at the prime real estate you have when it comes to the back of your van seat? Don't waste space! Use this to keep books, bug spray, tablets, etc. nice and organized.
18. CLOTHING ORGANIZER FOR VAN-LIFE LIVING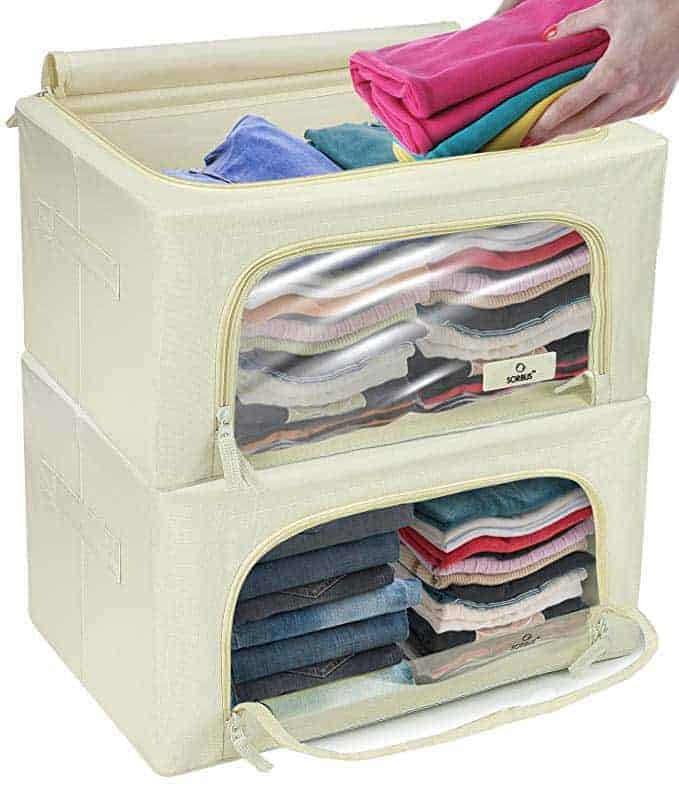 These foldable lightweight bins are the perfect way to keep your clothes organized in cabinets or drawers.
19. MAGAZINE RACK CAN ORGANIZER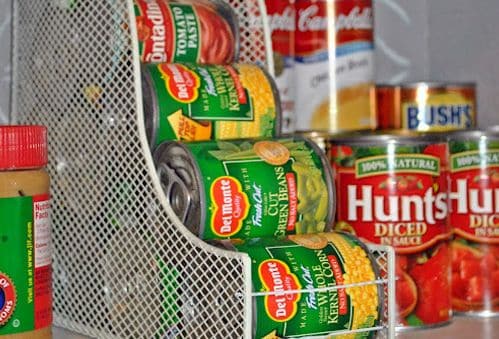 Who knew you could use a magazine rack as a great space saver in your van? This is perfect for organizing the cans in your cupboard. An added bonus is it keeps everything secure while driving around.
20. HANGING SHOWER CADDY AND BATHROOM ORGANIZER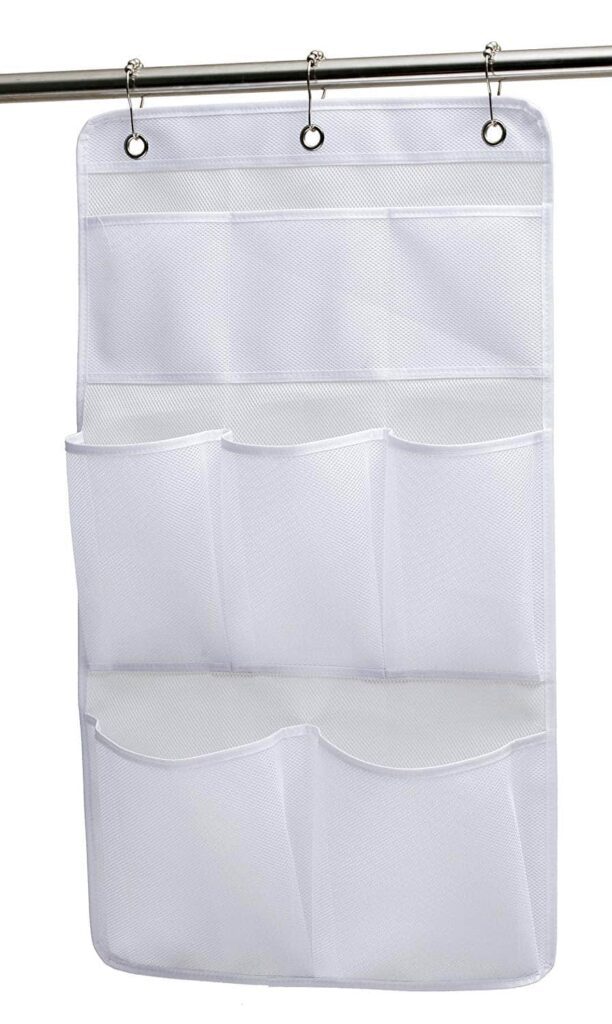 I provided you with an easy solution above for your toothbrushes and toothpaste but this hanging shower caddy is perfect for things like deodorant, razors, and shampoo and conditioner.
FINAL THOUGHTS
I really hope that you found this list of van organization ideas helpful. We're always on the lookout or happy to hear of new ideas. Keeping things organized is the best things you can do for yourself to keep your sanity when living in small quarters.
So good luck and may the organization wizards be with you!