The medieval stronghold of Blarney Castle is one of Ireland's most popular tourist destinations. This massive castle surrounded by lush gardens and vibrant grounds was definitely one of the more impressive places we visited.
At the top of the castle lies the Stone of Eloquence, better known as the Blarney Stone. This mythic stone when kissed is said to give the gift of eloquence. The only catch is you must hang upside down to reach the stone.
Being one of Ireland's top attractions you can expect some massive crowds. But rest assured, there are times when kissing the stone and visiting this unique castle doesn't have to be fraught with people.
Join us as we show you how best to visit the Blarney Castle.
The Blarney medieval stronghold is located in southern Ireland just outside of Cork or about 3 hours from Dublin.
Directions from Cork:
From Airport follow signs for City Centre
From City Centre follow signs for Limerick (N20)
Travel for 7 km; exit left (signposted Blarney)
Arrive at Blarney
HOURS OF OPERATION
Monday through Saturday
Jan-Feb – 9am to 5pm (Last admission 4pm)
Mar-Apr – 9am to 6pm (Last admission 5pm)
May – 9am to 6:30pm (Last admission 5:30pm)
June-Aug – 9am to 7pm (Last admission 6pm)
Sept – 9am to 6:30pm (Last admission 5:30pm)
Oct – 9am to 6pm (Last admission 5pm)
Nov-Dec – 9am to 5pm (Last admission 4pm)
Sundays & Holidays
Nov-Feb – 9am to 5pm (Last admission 4pm)
Mar-Oct – 9am to 6pm (Last admission 5pm)
TICKETS
Tickets can be purchased ahead of time for a discount HERE.
Adult – €16 Online (Normally €18)
Student/Seniors – €13 Online (Normally €14)
Children (8-16 years/under 8 free) – €7 Online (Normally €8)
Family (2 adults and 2 children) – €40 Online (Normally €45)
Souvenir Audio Guide – €6
VISITING THE CASTLE
In order to plan your trip it's important to understand just how Blarney Castle and the grounds are set up.
The castle itself sits amongst a massive 60 acres of gardens, wildlife sanctuaries, a river, lakes, and trails. These are all free to explore and really help to thin out the crowds.
If you wish to tour the castle, which you should, there is basically one way in and one way out. Because of the narrow hallways and staircases people must travel in one direction.
On top of the castle sits the Blarney Stone and regardless of whether you want to see the stone or not, to get to the top of the castle you must wait in the Stone line.
There are two spiral staircases that go to the top, one being up traffic and one being down traffic. So unfortunately there's no way to skip the Blarney Stone line in order to just catch a view from the top.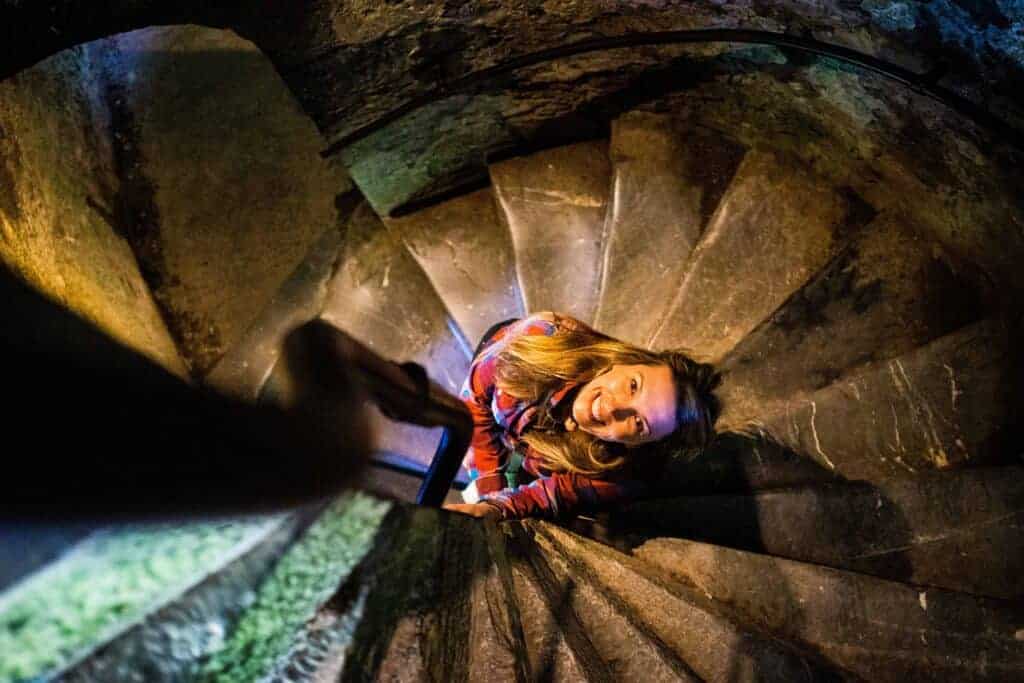 Within the castle are all sorts of rooms and artifacts that you can break off from the line to explore. It really is an amazing place.
MURDER HOLE
Jill standing above the murder hole. These were found in almost all castles. If the enemy happened to make it past the front gate they would have to walk under the murder hole.
From above the guards could toss rocks, spears, and even boiling hot oil for an easy kill.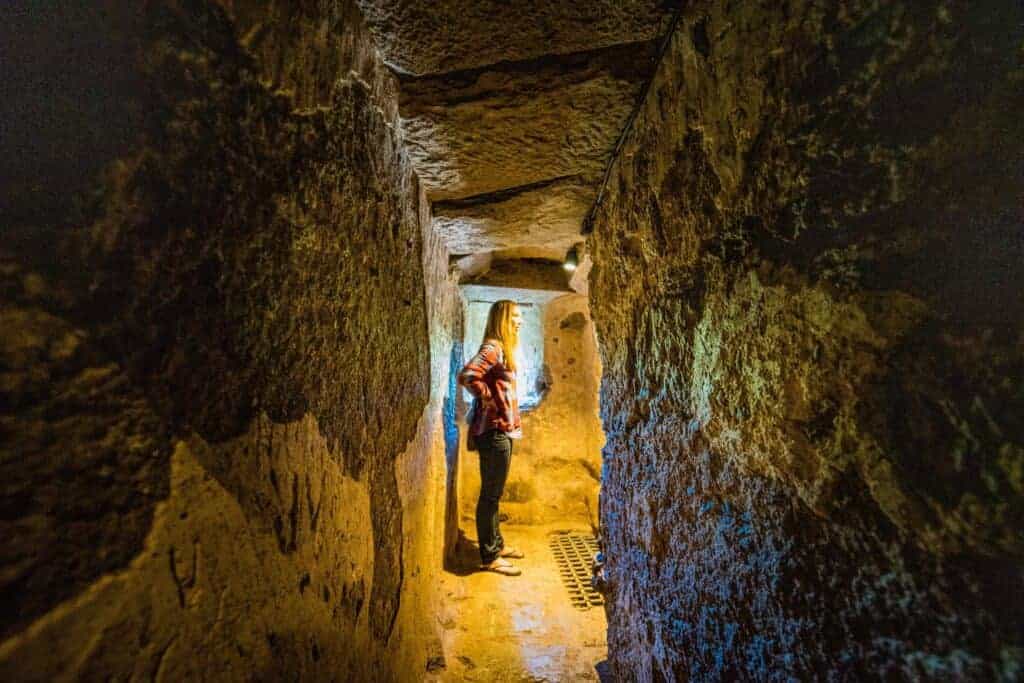 HOW TO AVOID THE CROWDS
The simple answer is to avoid the peak season from June through August. We visited in May and had almost no line. Yeah!
During busier times you can expect a 2-hour wait to get to the top! No thanks!
Consider visiting early in the morning or just before closing. This is also the best light and will make for better pictures.
I did a little digging and was able to gather their busiest times of the day and days of the week.
Their busiest times are from 12-3 and their slowest day is Wednesday.
KISSING THE BLARNEY STONE
I'll be honest, kissing the stone wasn't on my must-do list. But once I realized that that was also a visit to the top of the castle I figured since I'm already here I might as well.
We can all use a little extra eloquence right?
SO WHAT EXACTLY IS THE BLARNEY STONE?
This large block of limestone sits high in the castle and was placed there in 1446. It is believed that a kiss to the stone endows the kisser with the gift of the gab or great eloquence.
The origin of this tale is not completely understood but you can explore some possible explanations here.
To reach the stone you must lie on your back and hang precariously from the edge. Below you are several stories of nothing.
Well except for the bars that are in place so you can't actually fall to your death. Takes all the fun out of it if you ask me.
But even with the bars, it will give you a jolt of adrenaline.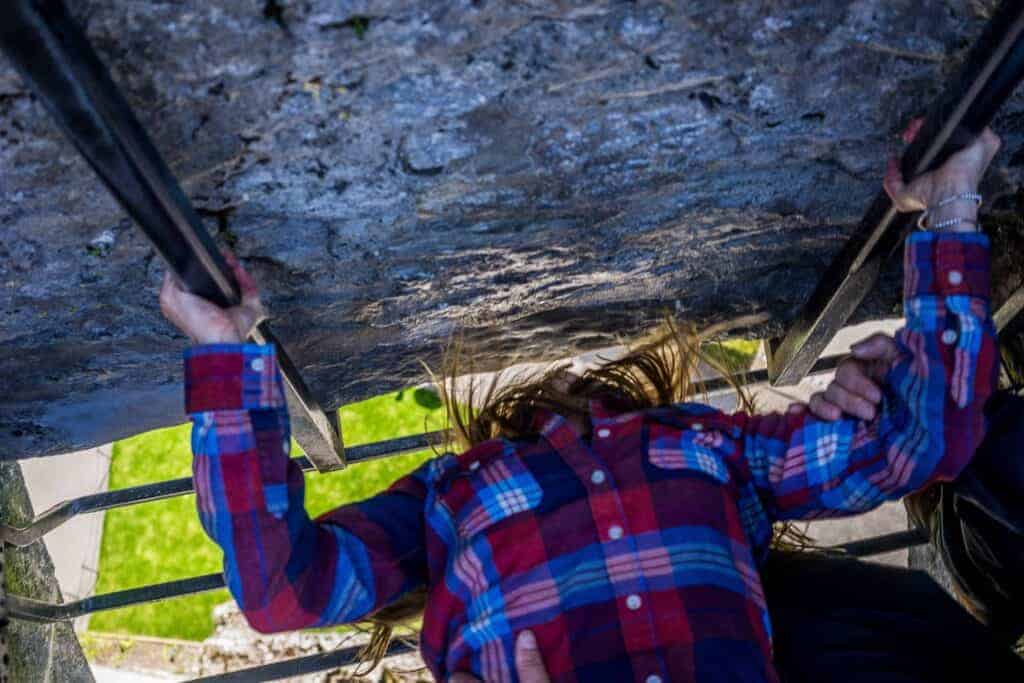 I must say it does feel a little touristy. There is staff there to help people that need it. And even a camera that snaps a shot that you can buy a print from at the gift shop.
But heck I'll try anything once.
Let's not forget that the Stone of Eloquence isn't the only thing up here. From atop the Blarney Castle are terrific views of the massive grounds and gardens.
You can also look down into the gut of the castle for a little more perspective of just how high up you are.
THE BLARNEY CASTLE GROUNDS
While the castle is the main attraction there are so many other great things to check out. Let's explore some of our favorites.
POISON GARDEN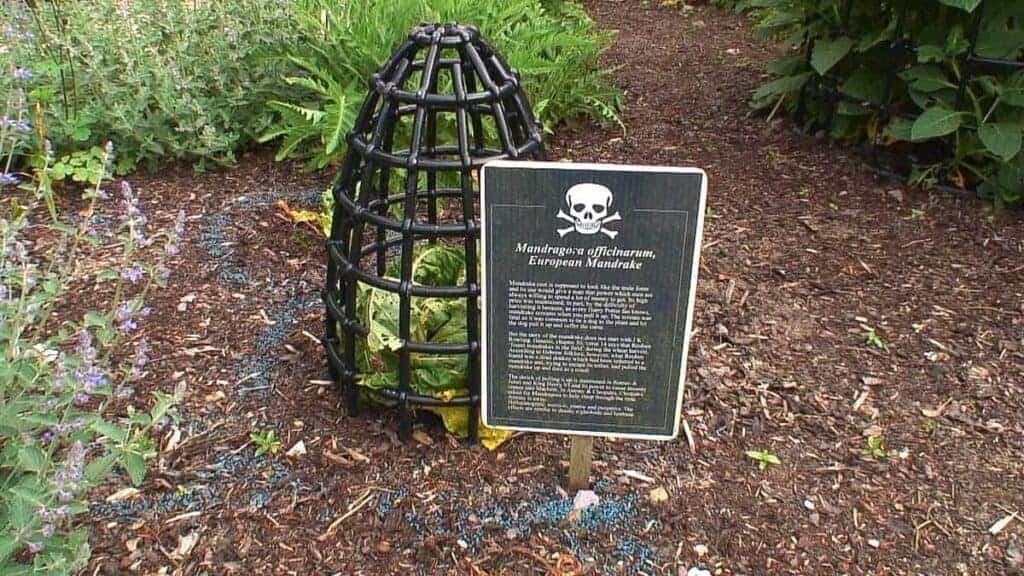 BOG GARDEN
The Bog Garden features a couple waterfalls and a pool surrounded by lush greenery. A perfect place to chill.
You'll also find a couple of yew trees that are over 600 years old, the oldest on the grounds.
BLARNEY HOUSE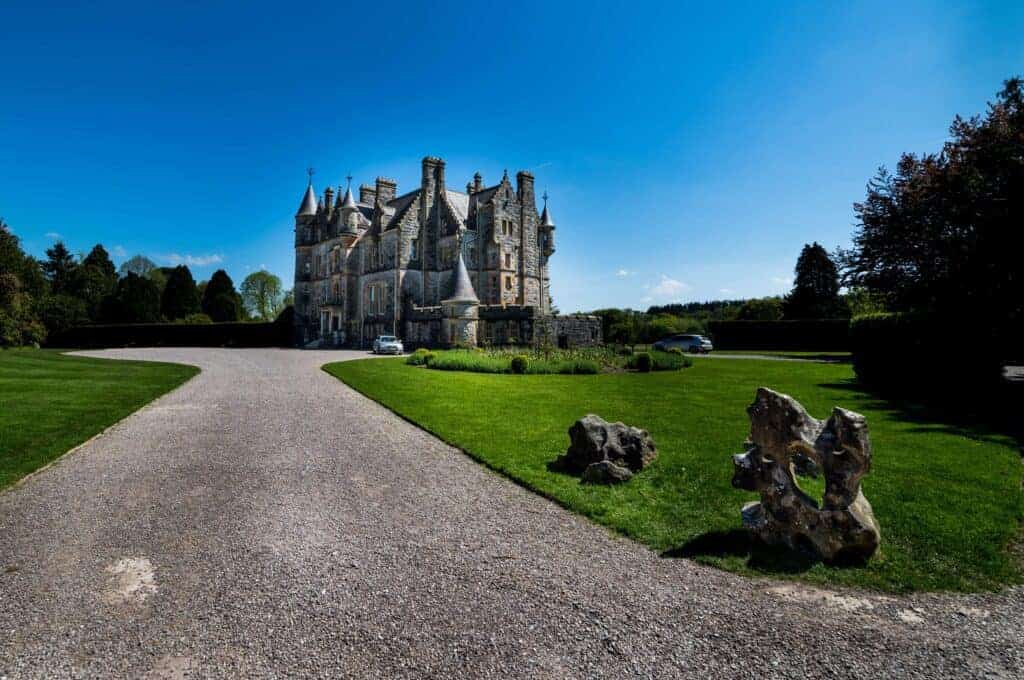 The Blarney House is a Scottish Baronial mansion designed by John Lanyon and is open to the public during the summer months. For being built in 1874 it looked in remarkably good shape.
Unfortunately it wasn't open while we were visiting…cry cry.
Nonetheless, it was still cool to see.
WOODLANDS, RIVERS, AND LAKE
Beyond the main garden are trails that wind through arboretums, lakes, and rivers. Here you can get away from the crowd since most people don't venture too far.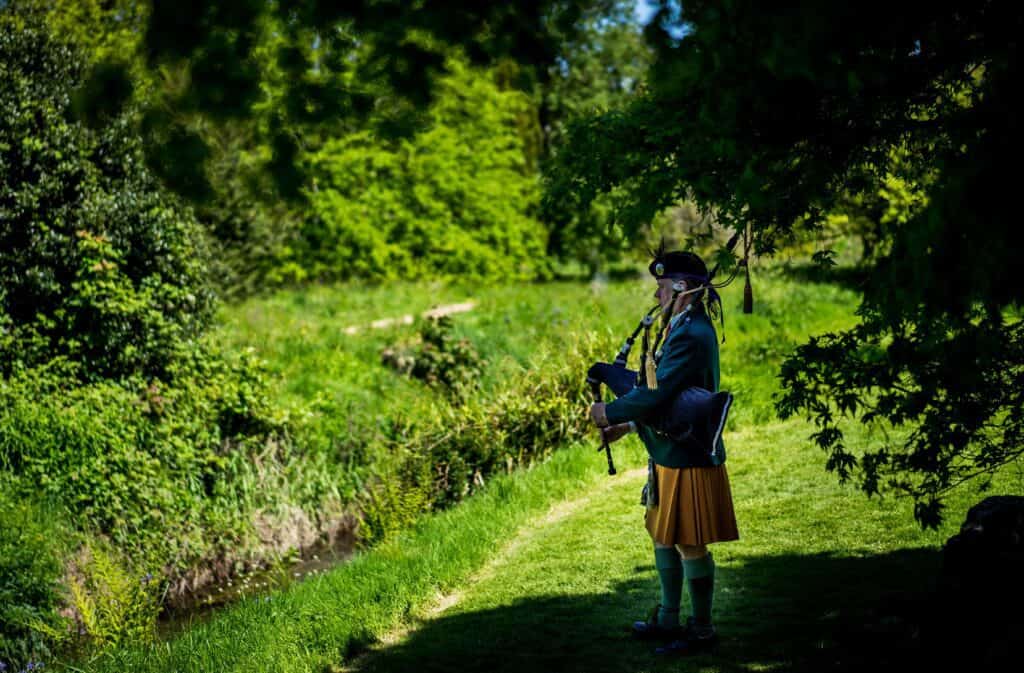 I would plan for at least an hour or two cruising the grounds. Even better, bring a sack lunch and stay for a while. Oh and don't forget to stop and smell the roses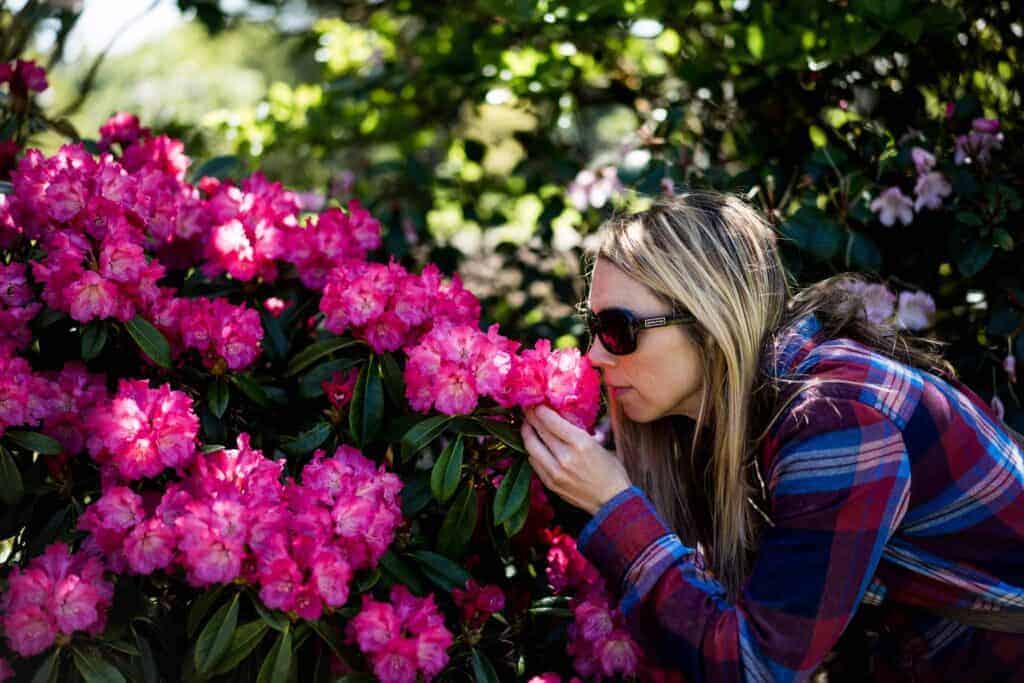 FINAL THOUGHTS
I'm always a little hesitant when visiting such a popular tourist destination. Long lines and crowds can really take a toll on you.
That's why we are such huge fans of visiting places in their shoulder or off season.
We couldn't have timed it better (mid May) for Blarney Castle. We really enjoyed our time here and especially enjoyed the minimal line for a trip to the top and a kiss of the Blarney Stone.
You tell me how my eloquence is doing. I feel as though I'm at a loss for words. Perhaps the stone didn't much care for me.
As always happy travels and let us know if you have any questions.