Weekend Getaways from Portland You Shouldn't Miss
Whether you want to take a trip to the coast or head to smaller Oregon towns such as McMinnville or Seaside, there is always something new and exciting to see when you take a weekend trip from Portland.
If you want to discover the Pacific Northwest, Portland is a great starting point. Portland is known for its close proximity to national forests, parks, and coastal communities, making it a great starting point for any vacation.
Not sure where to head this weekend? We got you. Here are some of the best places to explore outside the city of Portland. 
Tips for Planning a Weekend Getaway From Portland
Many of these drives from Portland are straightforward, making a weekend getaway easy.
Here are a few tips to keep in mind when planning your weekend getaways from Portland.
Research your Portland Weekend Getaway– Decide where you want to go first. This may seem obvious, but if you're a first-time visitor to the area or someone who's never gone on a weekend excursion away from Portland, it's important to do a bit of homework.
Plan for traffic –When determining how far away your destination is and figuring out when to leave, remember to factor in delays. If you depart at popular times like Friday or Sunday afternoons, this might add hours to your journey. Congestion areas for traffic tend to be downtown Portland, Vancouver, and Tacoma, so if you're able, I'd plan to stop for lunch or dinner in those areas to av
What to Pack for Weekend Trips From Portland
Some of these weekend trips are short getaways from Portland, but others are a bit long road trips. We have a whole article on how to pack and what to pack for a road trip, but here are some quick pointers of what to bring on your trip away from Portland:
Emergency Road Kit– I highly recommend everyone to have a roadside emergency kit in their cars at all times.
Reusable water bottle –It's important to stay hydrated when you travel, but it's also important not to waste a lot of plastic water bottles in the process.
Reusable coffee mug To reduce waste, make sure to bring your own reusable cup to fill up with your morning coffee.
Snacks –You'll avoid crashing if you keep your energy levels up with nutritious snacks like protein bars and trail mix.
Weekend Getaways From Portland
We hope that your time away from Portland is the most enjoyable it can be, so keep reading to find out which weekend getaway is perfect for you.
Bend, Oregon 
A scenic drive, breathtaking views, numerous adventure sports, and a hospitable environment, Bend is a 10/10 getaway from Portland. If you're stuck in the busy city life and need an escape to nature, a 3.5-hour drive to Bend is all you need. This thriving city is a complete package with beautiful scenery, plenty of parks, and the Deschutes River flowing right through the city. During your visit to Bend, don't miss a couple of our favorites; Smith Rock State Park and Tumalo Falls are popular attractions that every tourist should see.
Smith Rock is a world-renowned rock climbing mecca and has some of the most difficult sport climbs in the United States. Any rock climber will be left speechless as you hike along the trails that run through this park with some spectacular views of desert canyons and rivers below.
Tumalo Falls is a beautiful place to see multiple waterfalls cascading more than 200 feet into the canyon below. 
If you visit Bend in winter, head to Mt. Bachelor for downhill skiing and cross country trails. During the summer, you'll enjoy hiking, biking river sports, and exploring the quaint downtown area of Bend.
 No weekend in Bend would be complete without visiting a popular brewery or two or eating at one of the food truck pods. August's favorite food truck area is the Lot, but I really like Podski.
Don't miss reading our article about the best things to do in Bend here. You'll find all our favorites along with some tips and tricks
Mount Rainier National Park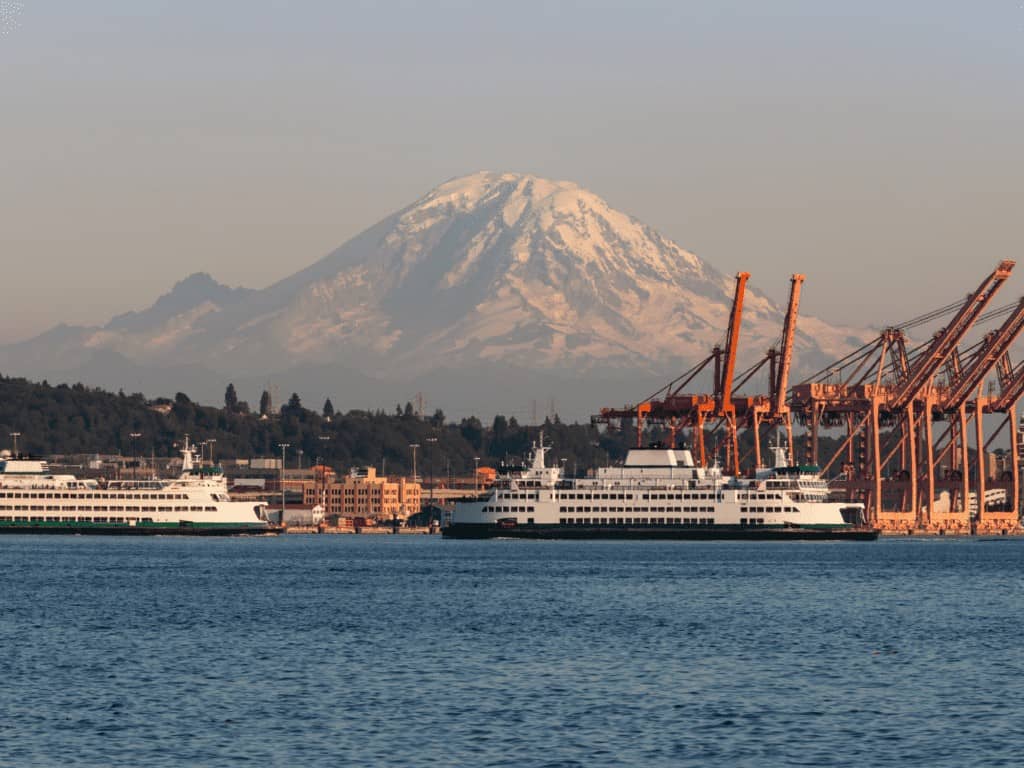 Most Seattleites think of Mount Rainier as a day trip from Seattle, but it's certainly doable from Portland too! Rainier is the highest volcanic peak in the Cascade range and is surrounded by valleys, subalpine meadows, several waterfalls, and acres upon acres of old-growth forest. A 3-hour drive from Portland will take you to this piece of heaven where nature is present in its truest form. Whether you like hiking or scenic drives through the mountains, this national park has it all.  
If you're looking for ideas for what to do once you're in the park Comet Falls, Myrtle Falls, and Christine Falls are popular spots. The 6-mile Skyline trail is a world-famous hike for nature overs and explorers. 
Hood River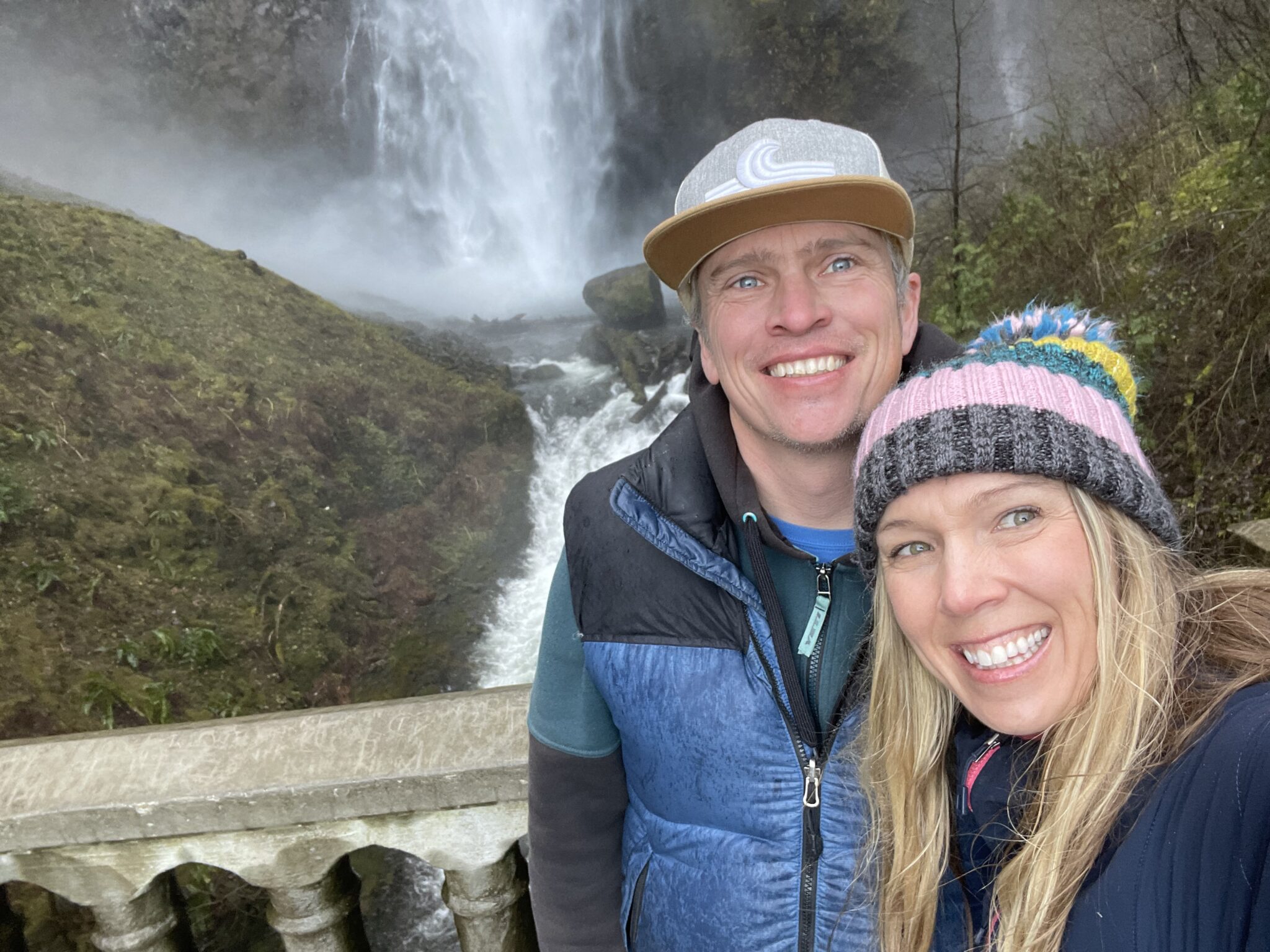 If you're planning a day trip from Portland, nothing can beat the active lifestyle of Hood River. Located just an hour away from Portland, Hood River draws you in with water sports, challenging hikes and rides, and welcoming fruit farms and wineries. If you're driving to Hood River from Portland, I highly recommend taking the Colombia Gorge Scenic Highway where you'll encounter excellent trailheads and waterfalls.
If you need something other than hiking, how about windsurfing and kiteboarding in the Gorge? The Gorge is a dream for expert windsurfers and kiteboarders because of its high winds. But if you're learning paddleboarding, kiteboarding, or surfing, you can pick a calmer side of the Gorge
Once you're done adventuring for the day, there are plenty of great places to get a beer and a bite to eat, A couple of our favorite spots are Double Mountain Brewery and Solstice Wood Fired Pizzas. 
Are you a a craft beer or cider lover? Read about the best breweries in Hood River here
Eugene
A trip from Portland to Eugene is definitely worth the effort. Eugene is located on the banks of the Willamette River and offers a dynamic mix of artistic and cultural activities and shopping and dining.
This pedestrian-friendly town is a one-stop destination for entertainment and adventures. It is home to the University of Oregon, giving it the fun and unique vibe that we love from college towns. 
You'll find that Eugene is a major destination for foodies, cyclists, and counter-culture history buffs.
Astoria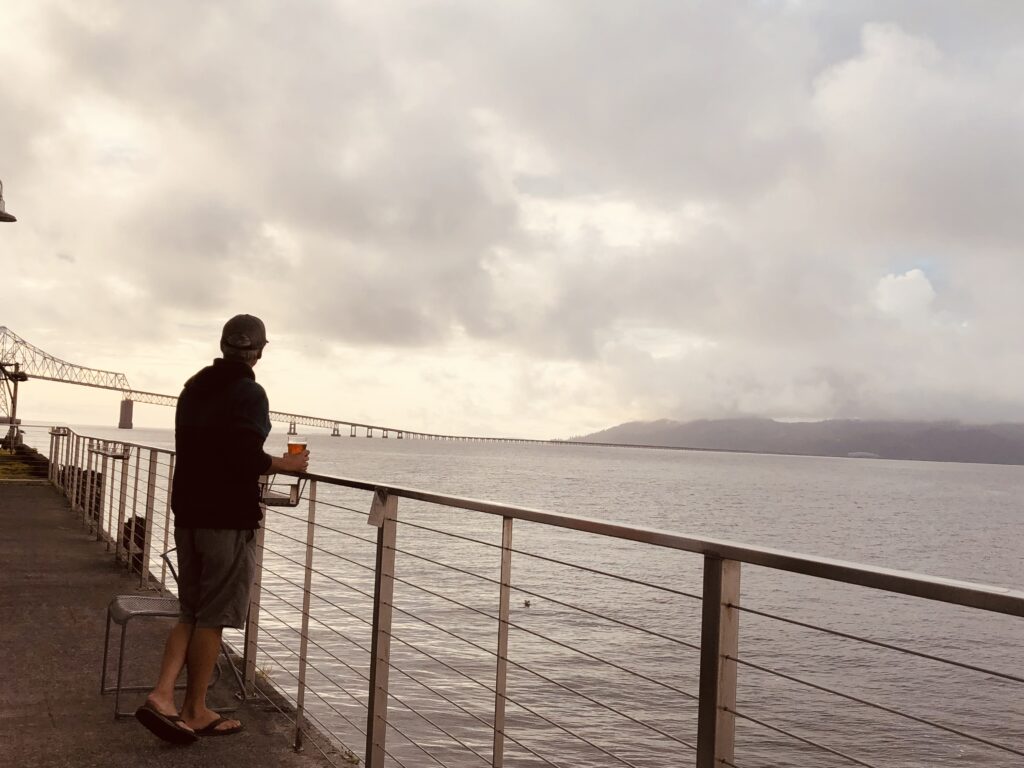 Another getaway you can take from Portland is Astoria. This town is filled with Native American culture, art, and history. Astoria is located in the northwest corner of Oregon, and it is known for its long history in the fishing and fur trade. The Columbia River borders Astoria on one side and the Pacific Ocean on the other.
When in Astoria, stop by The Astoria Riverfront, which is lined with restaurants, local canneries, and our favorite brewery Buoy that has a glass floor to view the sea lions underneath.
The hiking trails around Astoria are well worth the effort, especially the Climb to the top of Astoria Column, which offers beautiful panoramic views of the Pacific and Columbia River.
Cannon Beach- Oregon Coast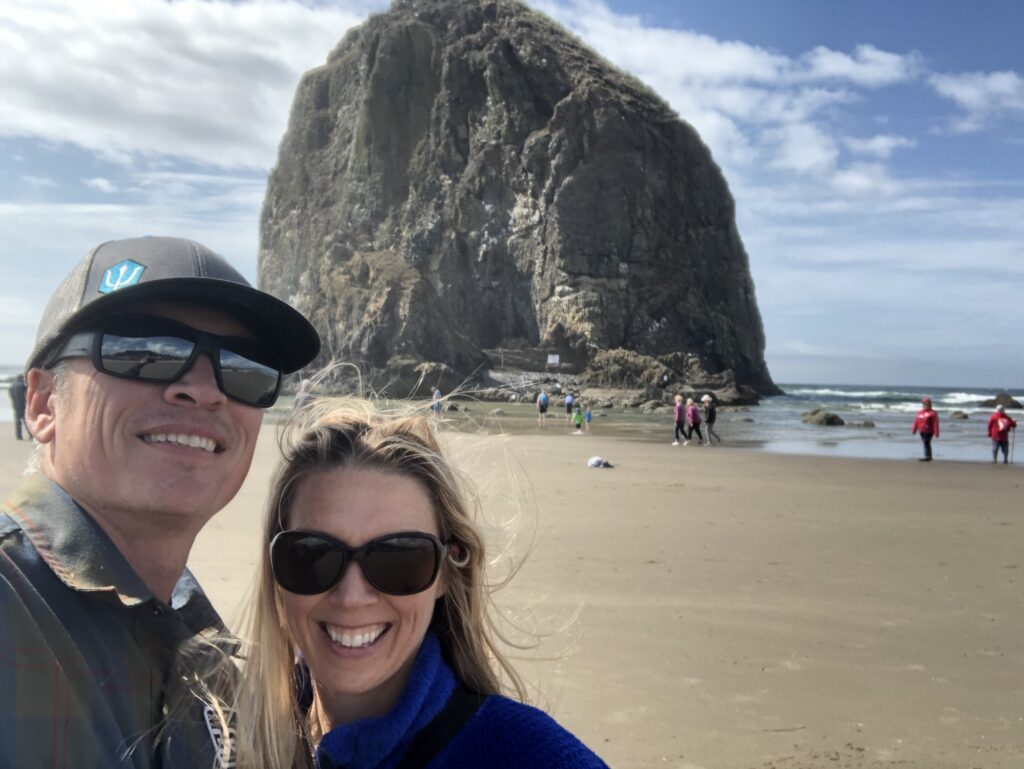 Getting away from the city and heading to the Oregon Coast, which is nestled between Astoria and Portland, is the perfect getaway. This outdoorsy little town is rich in culture with wonderful art galleries, eclectic shops, stunning views, and plenty of whale watching.
The rolling mountains and rocky cliffs make this part of the coast a favorite for hikers and photographers.
In addition to hiking, Cannon Beach offers plenty of shops and restaurants that will suit anyone's needs. The charming Cannon Beach Hotel is the perfect place to relax, eat and drink with friends. The restaurant inside serves up amazing local seafood along with burgers, pizzas, salads, and more; for those with a sweet tooth, head over to Cannon Beach Cookie Company for some of the best cookies on the coast.
A visit to Cannon Beach wouldn't be complete without seeing Haystack Rock. This large rock, located near the north end of town, juts out of the ocean, creating a unique tourist attraction. Swimmers and snorkelers love exploring this area with its rich marine life just off the coast.
Haystack sees thousands of nesting seabirds every year, including common murres, cormorants, pigeon guillemots, and tufted puffins. If you go on a low tide, you can actually walk out to the rock and get face-to-face with this Cannon Beach attraction.
Long Beach WA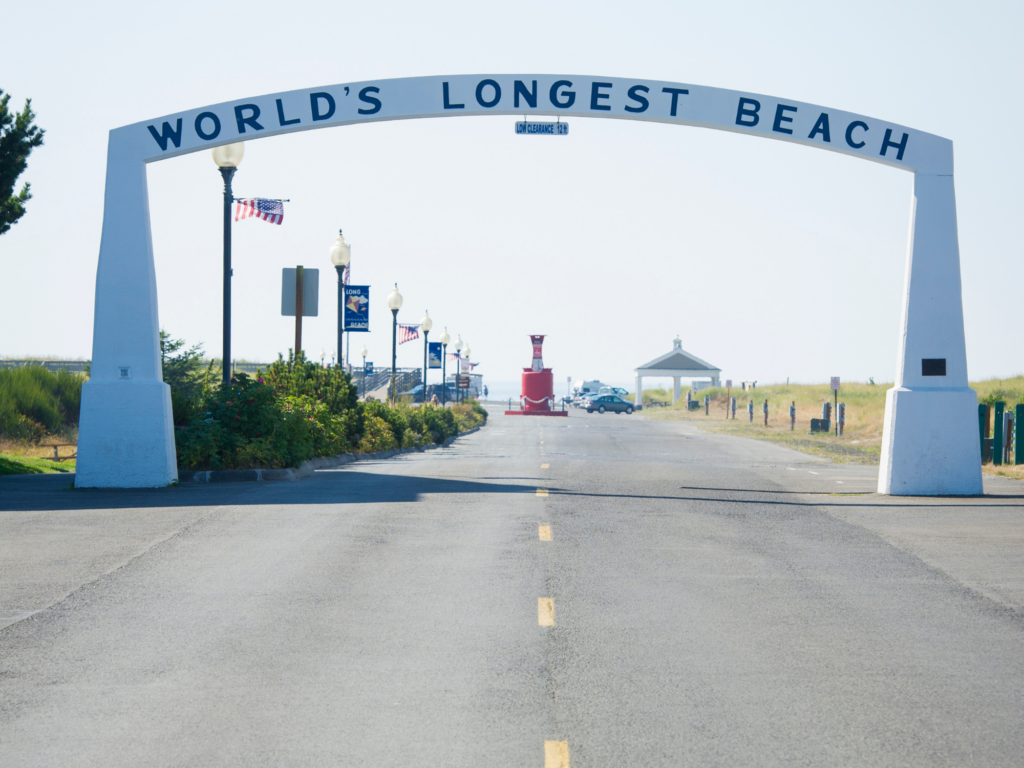 Long Beach is a nice weekend getaway from Portland or Seattle, which has a nice boardwalk that runs along the beach. You can watch people fishing and crabbing or walk along the shore collecting pretty shells and rocks. The best part about going to Long Beach is going out on a boat to see sea lions. They are very active at night! I highly recommend seeing them if you ever have the chance.
The weather usually stays around 50-60 degrees, and it doesn't rain much, which makes this place perfect for a weekend getaway, especially with how close it is to Portland and Seattle. There are tons of restaurants and little shops on the boardwalk, which is fun to explore.
The Long Beach peninsula is surrounded by water on three sides, so there are lots of places you can go that are scenic. You can also enjoy the Willapa Wildlife Refuge if you want to experience some local wildlife and views of pristine nature.
If you don't like crowds, Long Beach is the place for you. It offers miles of beach for everyone to enjoy without overcrowding. There are restaurants and shops along the main street, plenty of places to stay, and campgrounds to choose from.
Crater Lake National Park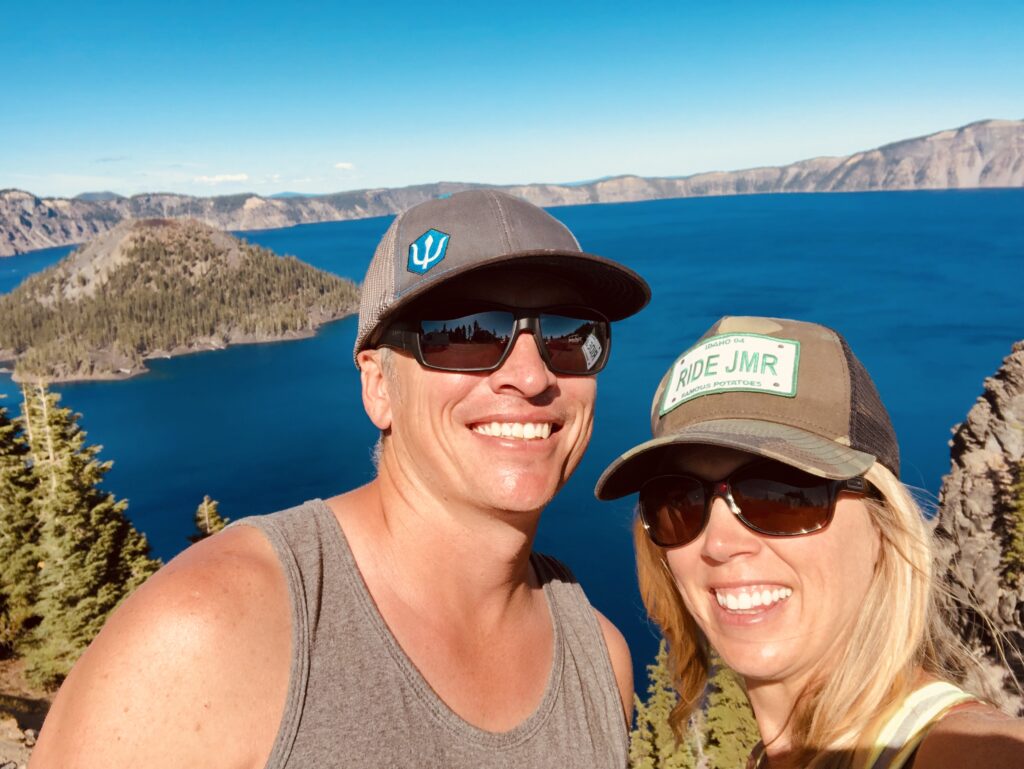 Crater Lake National Park is located southwest of Bend, OR. It's one of the longer weekend getaways from Portland at 4 hours. It's a long trip but very much worth it.
Crater Lake is one of the deepest lakes in the world and has the bluest water I've ever seen. Some great hiking trails around the crater offer stunning views. If you're into backpacking, this park is perfect for you! There are only three developed campgrounds, so it's usually not crowded at all, which is nice.
If you love nature, this park is perfect for you. Crater Lake isn't just your typical lake – it's a caldera which means it was created from the collapse of a volcano long ago. Because of its unique creation, it is the seventh deepest lake in the world.
Crater Lake National Park is open year-round, but I would recommend going in the summer or fall because of all the snow, making winter travel difficult.
You can drive to the rim of Crater Lake or hike on one of the trails that takes you down to the water. Either way, it's an amazing sight to see. The rim of Crater Lake is more than a mile above the lake, and many trails take you down to the water's edge.
You can visit many other areas and attractions around Bend, too, including Newberry National Volcanic Monument, Terwilliger Hot Springs, and Smith Rock State Park.
Seattle
If you're looking to explore city life a bit differently, head over to Seattle for a weekend. Seattle is about a 2-hour drive from Portland and offers everything you can't find in Oregon.
Seattle has some of the best seafood, especially on the waterfront, where restaurants offer outdoor seating with beautiful views of Puget Sound. This makes it popular to visit during the summer.
The Pike Place Market is a must-see when visiting Seattle. The market has been around since 1907 and is famous for its fishmongers, artisan stalls, and tasty food.
Seattle also offers festivals throughout the year, including Seafair, which is held every summer to celebrate the city's maritime history. You can see hydroplane boat races and participate in parades. Seattle offers a lot for you to do- whether going out on the town, checking out some amazing views, or live music shows – it has everything you want.
Seattle is a great place to visit for all your summer outdoor activities! There's a good reason many people from Portland decided to move to Seattle – it offers a lot more than just the city life.
The best time to visit Seattle is during the summer, but if you go in the winter, there's still plenty that you can do, like skiing or snowboarding at Crystal Mountain.
With its proximity to Portland, Seattle makes for an easy weekend.
We have tons of great ideas for things to do in Seattle here but you can read about what to do in Seattle at night here, and our favorite day trips from Seattle here.
Willamette Valley
A visit to Willamette Valley from Portland is about a 2-hour drive and offers a lot of wineries to visit.The Willamette Valley is the grape-growing region of Oregon and produces more Pinot Noir than any other place in the world.
There are several tasting rooms to visit, so it's definitely something fun to do with friends.
There is much more than just wine in Willamette Valley – it has amazing views and rolling hills that make for great cycling rides if you rent a bike from one of the local shops.
This scenic valley also offers biking trails and hiking, so there will be plenty for you to do during your visit.
If you're into fishing, Willamette Valley is a great place to do it, and several rivers flow through the valley that provides good salmon and steelhead. You can also kayak or canoe down the river, which is great for those who are experienced.
McMinnville Oregon
If you want to get away from the city life and lay back and relax, check out McMinnville, Oregon.
Located about an hour from Portland and 20 minutes outside of Salem, Oregon, this town is famous for its many wineries and has become a popular destination for wine lovers.
With so many wineries around this area, it's not surprising that this is a pretty popular weekend trip from Portland. There are even hayrides pulled by horses that take visitors around the wineries, and you can even play a round of golf.
There are nearly 200 wineries in the area, and they're open year-round. McMinnville also offers unique shopping, so if you are interested in antiques or clothes, you are sure to find something that interests you.
There are also some amazing restaurants in the area, so this is a great location to visit if you're searching for good food.
If you're looking for a more relaxed weekend away from the city, McMinnville is a nice place to go and explore because it's close enough to keep you in the loop, but it is a lot less hectic than Portland.
Seaside Oregon
Located about 90 minutes outside of Portland near Astoria, Seaside Oregon is one of my favorite places on the coast because it has so much character and beautiful views. The city itself feels like you're on vacation.
The beach is very clean, and the water is great for swimming in the summer months, but make sure to check out the tides before you go out because they can get pretty high. If you walk down the coast, some amazing rock formations make for fun cliff jumping, and there is also a rope swing that is fun to use in the summer and is even more exhilarating when it's cold out.
Seaside is unique in that it has many arcades and amusement parks for kids, so this is a popular holiday destination.
The city also has its own brewery with indoor and outdoor seating, so check out their website ahead of time if you're interested in making an afternoon stop there. If not, there are plenty of other bars and restaurants in the area that cater to tourists. Seaside can get pretty crowded during the summer months, but I would recommend going during the weekdays if you want to avoid traffic and parking issues.
Get out and Explore
So, which one of these locations resonates the most with you? Would you like hiking in Rainier National Park, or a relaxing day in Astoria is your idea of a relaxing getaway? Whichever place you decide to visit, Oregon's beauty is bound to leave you awestruck and craving for more. So, make the most out of your time in Portland and explore the nearest places to fill your weekends with some extra fun. Let us know where you are headed next!