Best Things to Do For a Weekend in Portland Oregon
Located 60 miles to the east of the Pacific Ocean, right on the Columbia and Willamette rivers, you will find Oregon's most populated city, Portland. As you set foot in the city, the first thing to grab your attention is the magnificent view of the snow-capped Mount Hood.
But, apart from that, you will also find several parks, bridges, bicycle trails, breweries, and coffeehouses in Portland that are enough for you to spend a memorable weekend.
Which parks should you visit? Which bicycle trail is the most scenic? And which coffeehouse has the most aromatic coffee? What other attractions are there in the bustling city? Before visiting Portland, you need to know all this, and I'm here to guide you through it.
So, if you're planning a getaway to Oregon's largest city, here are the best things to do for a weekend in Portland to make your visit memorable and worthwhile!
How Far Is Portland Oregon From?
Seattle: 2 hrs 45 min
Cannon Beach: 90 Minutes
Hood River: 1 Hour
Eugene: 1 Hour 40 minutes
What Is The Weather and Temperatures Like in Portland?
PORTLAND WEATHER
Things To Do To Create The Best Portland Oregon Itinerary
Regardless of whether you're a local looking to get out and enjoy the city or a tourist trying to plan a Portland, Oregon Vacation, these tips for things to do on your Portland Trip are sure to keep you busy all weekend long.
Your Guide To The Best Things To Do In Portland This Weekend
Pioneer Courthouse Square
This is the heart of downtown Portland, and it's also one of the best things to do in Portland this weekend. The Square is always bustling with activity, whether it's people enjoying a concert or just hanging out with friends. The Square is known as the "people's park" and is a great place to go for lunch, or just to relax.
The Square is also surrounded by some of the best restaurants in Portland, so if you find yourself hungry while enjoying a show, there are plenty of options.
The Pearl District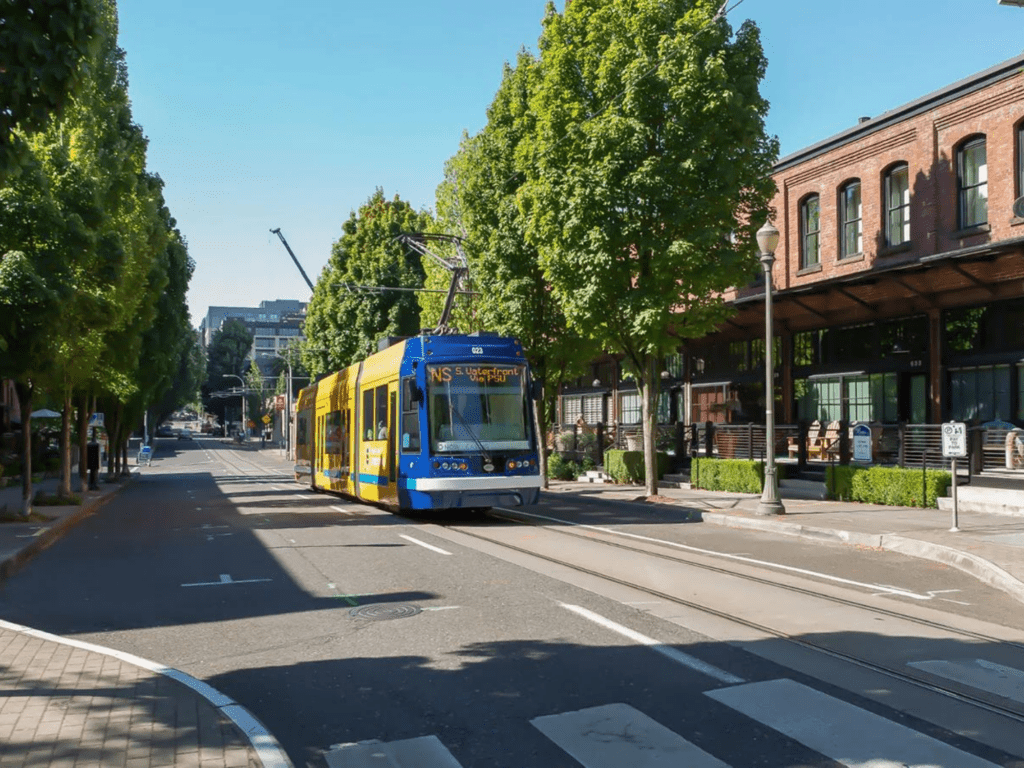 The Pearl District is a neighborhood in northwest Portland that is known for its art galleries, upscale restaurants and boutiques, and lively nightlife. There are plenty of things to do in the Pearl District, but some of our favorites include visiting the nearby Powell's City of Books, checking out the exhibits at the Portland Art Museum, and grabbing a drink at one of the many trendy bars and breweries.
Pearl District has become a popular destination for beer lovers in recent years, with several microbreweries opening up shop in the area, so if you're a fan of beer, this is the place to be.
If you want to spend an evening in the Pearl District, here are some of the best things to do in Portland this weekend.
Dining and Nightlife For The Portland Weekender
Breweries: The area is home to several microbreweries, including Von Eberts Deschutes and Backwoods Brewing Company. The area is also home to some of the city's best restaurants, including Verde Cocina a restaurant specializing in locally-sourced ingredients.
The area is also home to several nightlife options, including the Doug Fir Lounge and Bar, a popular music venue on the second floor of a historic building.
International Rose Test Garden- 30 Minute Walk From Downtown
If you're a fan of fresh blooming flowers, the first place you need to visit is the International Rose Test Garden!
A 30-minute uphill walk from Portland downtown, the rose garden has acres upon acres of roses of all shapes and sizes, something straight out of a movie! You can also go there by bus, train, and a free shuttle, but I would suggest going on foot to take in the true beauty of the place.
Visit them between April and October if you want to see the roses in full bloom. But, even if you visit off-season, you will still get to see a few varieties.
With an array of beautiful vibrant roses in all their glory, combined with the fragrant atmosphere and a spectacular view, the International Rose Test Garden is a must-visit place for anyone who visits Portland.
Tom McCall Waterfront Park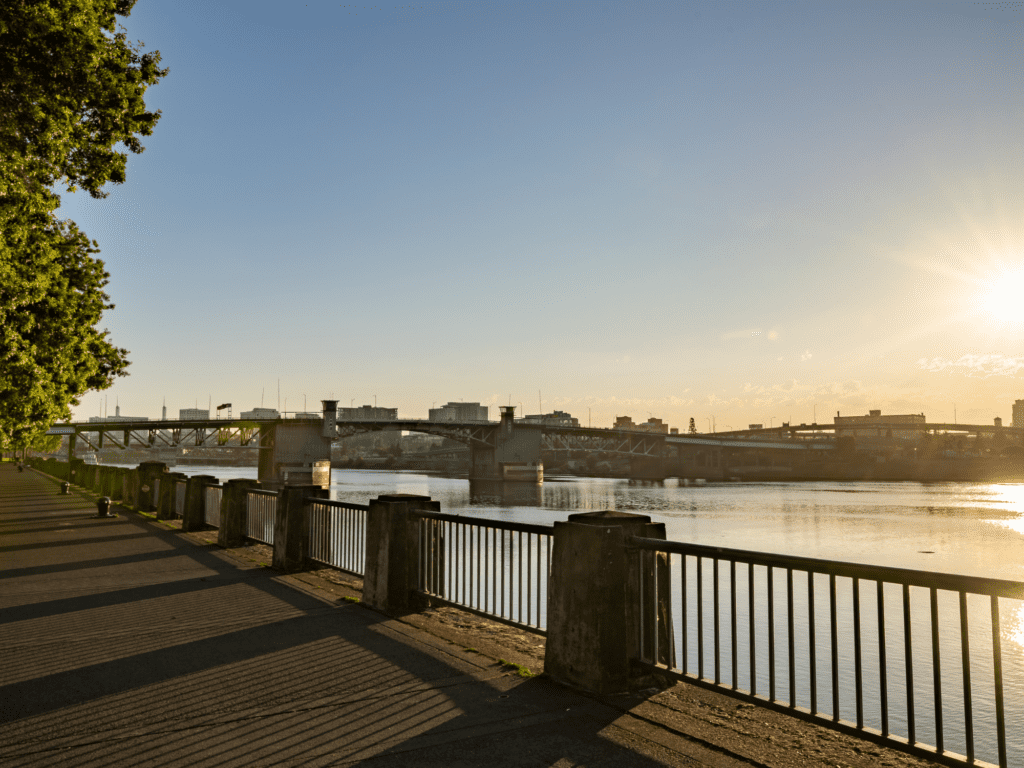 Want to have a full view of Portland? Visit the Tom McCall Waterfront Park!
Although this park is not as big as some of the other parks in the city, it has many things to do. It is located right at the riverfront and is an excellent place for a small picnic or a relaxing stroll. And, if you're in for some color, head over to the North end of the park to have a look at the Cherry Blossom trees in their pink glory.
Also, if you stroll towards the South end of the park, you'll find Salmon Street Springs, an outdoor water fountain. Interestingly, this fountain has three displays, the Bollard, the Misters, and the Wedding Cake, all of which are computer-regulated.
The blush of the Cherry Blossom trees, the amazing display of the Salmon Street Spring, and the spectacular view of Portland city from the narrow green riverfront strip while enjoying a peaceful picnic is truly a memory-making experience.
The Witch's Castle
It's not always rainbows and butterflies when you're visiting Portland; there's some spooky stuff too, like the Witch's Castle!
Legend has it that the Witch's Castle was the home of Danford Balch, where he lived with his wife and nine children back in 1850. He hired a man named Mortimer Stump to help him clear the area around the land, and during this time, Mortimer started fancying Balch's 15-year old daughter, Anna. The father was against their marriage, so the couple decided to elope.
Months later, when Mortimer and Anna returned to Portland, Balch wasted no time in shooting the man right in the face! He was, eventually, hanged to death, which marks Oregon's very first hanging!
His wife lived in that house for years after his death, and after she passed, it was taken over by the city's Parks and Recreation. It was used as a restroom for hikers and a park ranger station for many years and was eventually abandoned.
Many years later, in the 1980s, it was discovered by a bunch of high schoolers, who decided it was a cool place to crash and party; therefore, they named it the Witch's Castle. To this day, the area is used by students to hold parties every Friday, although it's practically in ruins!
The route to reach the place is a bit rocky; however, you can take the Aspen Trail to get there. If you visit Portland and miss visiting the Witch's Castle, you'll miss out on a huge chunk of the city's mysterious past!
The Entertainment Center and Soaking Pool at Kennedy School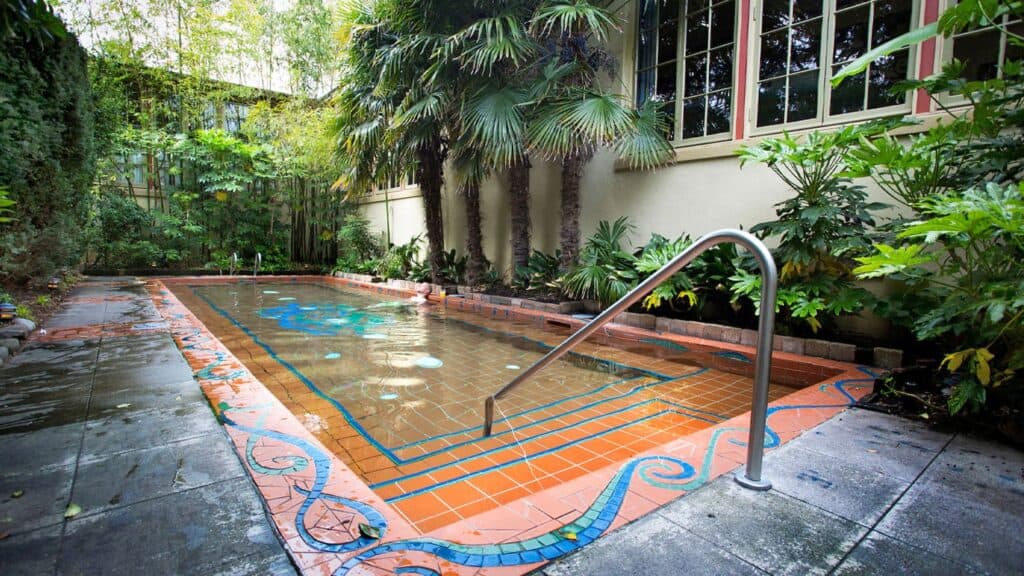 The McMenamin's Kennedy School was once an elementary school but has been turned into a full-fledged entertainment center with a hotel, several restaurants, bars, a movie theatre, and the renowned soaking pool!
That's a full package!
However, the soaking pool is the highlight of the place. If you visit Portland in the winter, you will definitely enjoy basking in the steamy outdoor pool. Away from the hustle and bustle of the city, the McMenamin's Kennedy School Soaking Pool is surrounded by serene gardens and a tranquil environment. Plus, it's cheap enough for people who're on a budget!
So, if you're looking for a relaxing couple of hours, the soaking pool is where you should go. Oh, and don't forget to pick a drink from the bar before you step into the calming warmness!
Powell's Books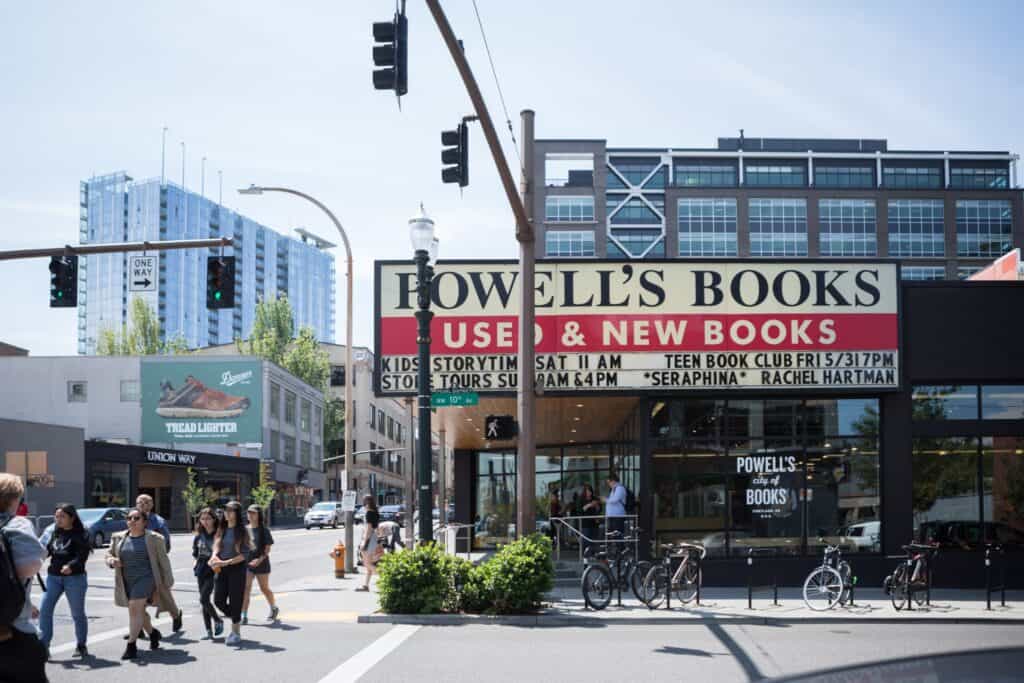 Feeling scholarly? Head over to Powell's City of Books!
What's so special about a book store, you ask?
Well, it's the largest independent book store in the whole wide world! So, visiting Portland and not checking out Powell's is like going to Orlando and not visiting Disney World!
This book store has nine color-coded rooms, 3500 different sections, and has approximately 1 million books for every genre! You can even find some books that are known to be long-lost in Powell's! Plus, many first-editions and collectible versions of books are also available.
So, if there's a book that you have been looking for and cannot find anywhere, check out Powell's City of Books. I'm sure you'll find it among the impressive collection!
Game Knight Board Game Cafe
Who doesn't like taking a break from the mobile games and trying out some good ole fashion board games, as we did back in the day? At Game Knight Board Game Cafe, you get to play all your favorite board games with your friends, complete with food and drinks.
How's that for a game night?
The cafe has around 43 different board games ranging from classic checkers to Jenga and monopoly, played in a cozy atmosphere. So, if you're looking for a bit of a traditional touch to your weekend getaway, wind down at the Game Knight Board Game Cafe.
Take a Food Tour
If you're a food lover, you would definitely love the famous food tour by the Lost Plate!
The Lost Plate is a family-run company that takes your around the city to taste different cuisines. If you ask me, that's the best part of the weekend.
From flavorful wine to handmade pasta, the best local food, desserts, and amazing beer, you get to taste various food and drinks at eateries all around Portland.
Voodoo Doughnuts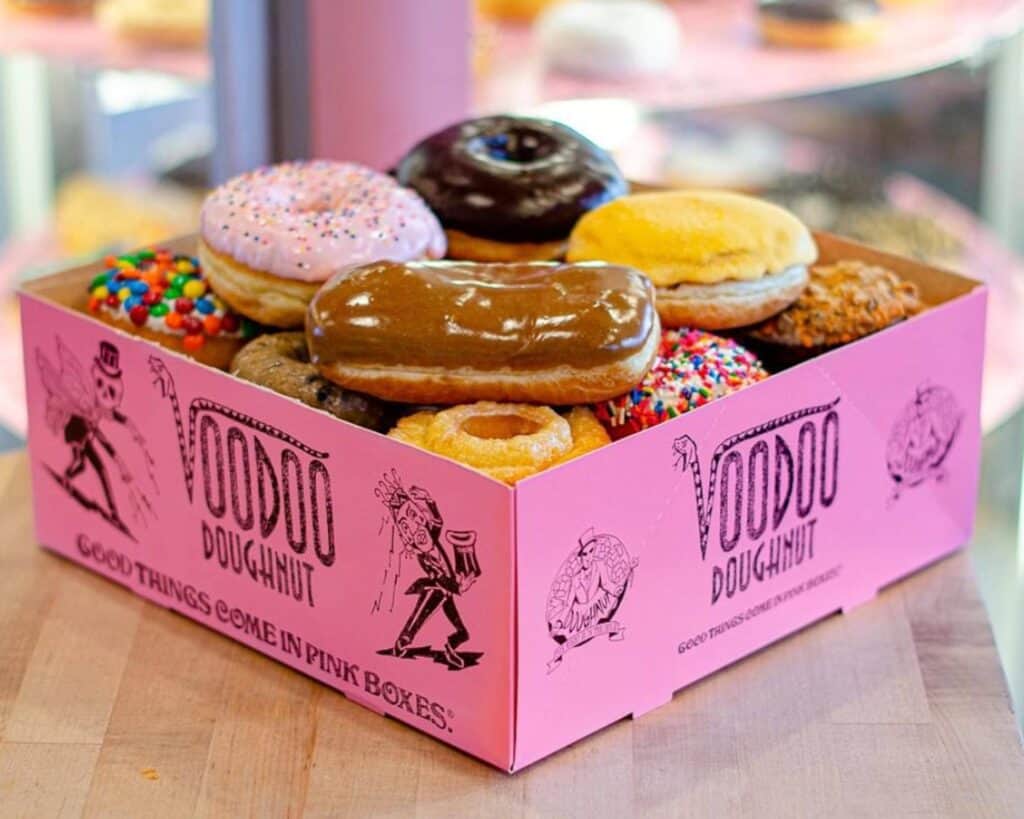 During the day, while you're touring Portland, stopping for a sweet treat isn't a bad idea! And, not just any treat, doughnuts from Voodoo Doughnuts!
The Voodoo Doughnuts is not just your typical doughnut shop! The flavors you get here are one of a kind and definitely must-haves during your day trip. Their specialties include doughnuts with unique toppings like bacon, cereal, coconut flakes, and red chili peppers, to name a few.
If you're tired of having those plain old doughnuts with the regular chocolate and sugar toppings, you must stop at Voodoo Doughnuts in downtown Portland for a sweet and sour mix!
The Seafood Tour
At this point, I'm sure you're wondering if Portland is all about food! Well, it is! Cos, who doesn't love to try out different cuisines, especially when you're on vacation!
Our next stop in Portland is the Tillamook Seafood Tour. This company takes you out to the villages on the coast of Oregon, where you get to see the fishermen in action. In fact, even you can try your luck at catching a mighty Salmon or King Crab.
Once the fish is in, the locals show you how to filet the fish, shuck an oyster, and prepare a crab for the fish market. And, the fun part is yet to come! You can cook your catches and enjoy the meal with a beer or two!
Fresh from the ocean, as they call it!
The Willamette Farm
If you're done fishing, it's time to head over to the Willamette Farm!
Here you'll have a first-hand experience of how the local farmers raise the farm animals. You can help them out by milking a cow, collecting eggs from the chicken coop, and feeding the pigs and cattle.
And, after a tiring day of farming, you can enjoy a quiet meal made entirely out of the local ingredients. A true "A day in a farmer's life" experience you'll get at the Willamette Farm tour.
I Scream for Ice Cream
Food tours, seafood tours? How about we take you for ice cream after it all?
Portland locals love great food. Heck, they even have tours for it! But as much as they like food, they have a divine taste for ice cream as well. Just like Voodoo Doughnuts has unique toppings, you'll find unique ice cream flavors at Salt & Straw as well.
Salt & Straw is an ice cream shop with delicious handmade ice cream. What sets it apart is the out-worldly yet highly demanded ice cream flavors, including pear and blue cheese, Arbequina olive oil, and strawberry honey balsamic with black pepper. Yes, these are ice cream flavors, if you're wondering!
And, the best part is that they let you taste the flavors before you order them so that you don't end up with something you don't like!
Now, we're done with the food tours. Let's get to something Portland is known for… The volcano!
Mount Tabor Park
There are almost 200 parks in Portland, but what's so special about Mount Tabor Park? It's built on top of a volcano! Not near, not around, but it sits right on top of the extinct Mount Tabor volcano!
What's more interesting is that the walkways and trails of the park are paved using cinders from the ancient lava of the volcano. Remember that when you're strolling in the park!
You will find three walking/hiking trails at the park: The 1-mile Red Trail, the 1.7-mile Green Trail, and the 3-mile Blue Trail. Once you reach the summit, you can have a spectacular view of Southeast Portland, the West hills, and the beautiful summer sunset if you're on time.
You can also have a view of the volcanic cinder cone, and if you're there on the 3rd Saturday of August, you can get a chance to see the PDX Adult Soapbox Derby, where a large number of racers zoom down Mount Tabor.
Other activities at Mount Tabor Park include a basketball court, kids playground, volleyball and tennis courts, and an outdoor amphitheater. There's also a dog park around the base of the hill, while you will find several picnic spots scattered randomly all over the park.
Columbia River Valley And Multnomah Falls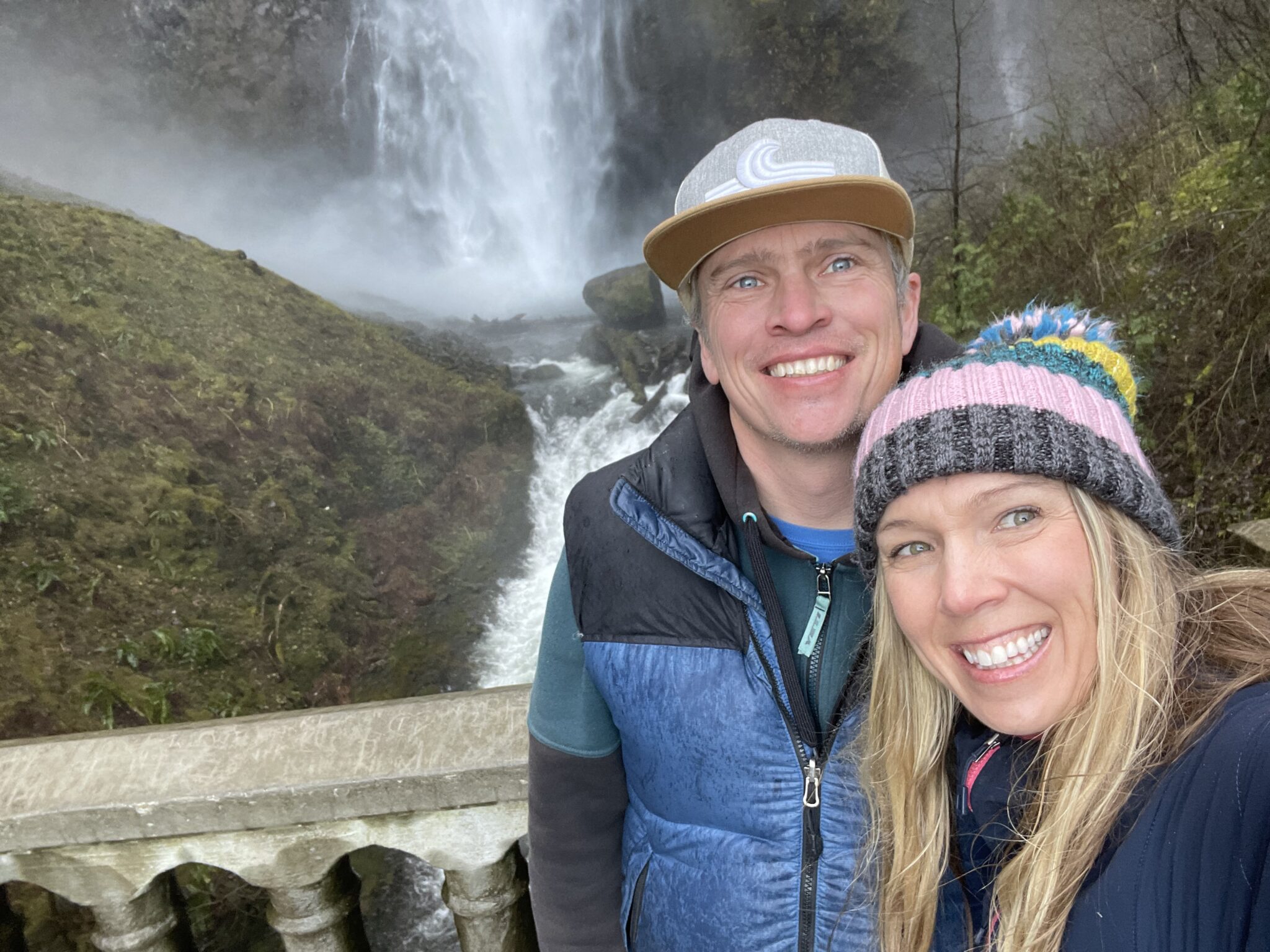 Just 25 miles east of Portland in the Columbia River Gorge, which is heaven for all nature lovers out there! Here you will find forests, hiking trails, and magnificent waterfalls. The most famous waterfalls at the Columbia River are the Multnomah Falls, Horsetail Falls, Oneonta Gorge, and Latourell Falls.
It's a perfect getaway from the fast city life; however, during the peak summer season, you'll find a lot of crowd around this area, as people love to swim in the cool pools beneath the waterfalls.
Portland Saturday Market
The Portland Saturday Market is a weekly market located in downtown Portland that takes place at Tom McCall Waterfront Park. It features hundreds of vendors selling everything from handmade jewelry to fresh produce.
Special events, performances, and live entertainment are staged on some days to liven up the already vibrant scene. The market s a great place to get a feel for the city and its culture.
Broadway Bridge
Broadway Bridge is, without a doubt, one of the most iconic landmarks in Portland. The bridge's industrial-steel architecture perfectly embodies Portland's rustic, industrial roots.
It offers a great view of the downtown Pearl District and the rest of Portland's waterfront to the north and south. On a clear day, you can see Mount Hood in the distance.
The Broadway Bridge spans the Willamette River. It is accessed from the Pearl District near Union Station and connects to the Lloyd District. The bridge has two decks for vehicular traffic and sidewalks on both sides.
Food Trucks In Portland
The food trucks are a huge part of the local culture in Portland. There are over 500 food trucks in the city, and you can find pretty much every cuisine and price point too.
If you're looking for some good food truck options, you'll want to head over to one of the many food pods (food truck lots) located on SW Fifth Ave, Third Ave, and SE 12th Ave. There, you'll find plenty of tasty options to choose from!
If you're looking for a great selection of food trucks, Cartopia (SE 12th Ave) is the place to be. This late-night pod favorite has everything from pizza to crepes and wood-fired chicken. If you're looking for something a little more exotic, head to the Guyanese stand at the Pine Street Market – it was our favorite spot!
Hawthorne Asylum opened recently and has communal fireplaces, an awning, and outdoor space for the food trucks to park. This makes it a great spot to spend your weekend!
The best way to find out what food trucks are where is to use the PDX Food Trucks app.
It's also a great time to try some of the newer food trucks in town. The Grilled Cheese Grill and Nong's Khao Man Gai are both new to Portland but have already made a name for themselves.
Pittock Mansion
The Pittock Mansion is one of Portland's most spectacular and must-see attractions. The mansion was built for Henry Pittock, a prominent Oregonian publisher, and his wife, Georgiana. The Pittocks were avid collectors of art and furniture, which is displayed throughout the mansion. The mansion is a French Renaissance-style château perched high in the West Hills with stunning views of downtown Portland and Mount Hood.
Visitors can take a tour of the home or just explore its West Hills location for natural beauty and panoramic city views.
A Long Weekend In This Pacific Northwest City ( 3 Days in Portland )
If you have three days in Portland, here are a couple of extra things to add to your itinerary
A Week In Portland, Oregon
If you have more time to spare and are looking to spend a week in Portland, Oregon, here are some other things you should consider seeing and doing.
Take a Hike in the Columbia River Gorge
Visit the Oregon Zoo
Take a ferry to Washington Coast- The Washington State Ferry offers a variety of routes that stop in Astoria, the Long Beach Peninsula, and other coastal towns.
Get a taste of Portland's food scene-Portland is known for its amazing restaurants and cafes. The Screen Door, Pok Pok, and Blue Star Donuts are just a few examples of the great places you can visit this weekend.
Get Out and Explore A Weekend In Portland
As I said, there's a lot to do in Portland, and just one weekend is not enough to visit all the places. However, I have put together some of the most popular places to visit in Portland for a weekend.
From exploring abandoned houses to sniffing your way through the prettiest rose garden and, of course, enjoying a picnic on lava cinders, you will indeed find the best things to do for a weekend in Portland in this extensive guide.
So, pack your bags, and put on some robust hiking boots, to experience all that Portland has to offer!