If you're looking for what to do in Jerome Arizona. Our list of unique attractions, places to eat, and the best things to do in Jerome Arizona can all be found here.
Continue reading and I promise you'll find that a night over or a day trip to Jerome will be well worth your time. In fact, the town was one of my favorite stops on our trip between Flagstaff and Sedona.
Just a short road trip from Sedona (27 miles), the ghostly town of Jerome is our new favorite place to stay while taking in all that the Sedona area has to offer. If you haven't visited this haunted town, it's a unique and fun town that's just down the road from Sedona.
While Sedona is the spot for mountain biking, hiking, and charging your crystals. Sedona has never been a fun place to crush an evening with friends.
Here we are tackling this ghostly town
We were stoked to stumble upon this fun town and ended up meeting some really great people.
If Jerome is a Ghost Town Then Sedona is a Cemetery
The town of Jerome is believed to be the largest ghost town in the country, and its haunted history makes it a unique stop. If you enjoy ghost town excursions, this is the place for you. The city has an interesting past and learning about it adds to the enjoyment of your visit.
Dubbed "America's most vertical city" and "largest ghost town in America," this hilly city is a unique and fun destination.
The first time we stumbled upon this hillside gem I kept thinking holy crap this place is sick. The one thing I love most about this area is how quickly the landscape can change.
In just minutes you can go from high desert coniferous forests to red rock as far as the eye can see.
While cruising the hilly countryside it was as if we'd been transported to some Mediterranean hillside town like Positano Italy. The old buildings, sidewalks, stairs, and switch-back roads felt out of this world.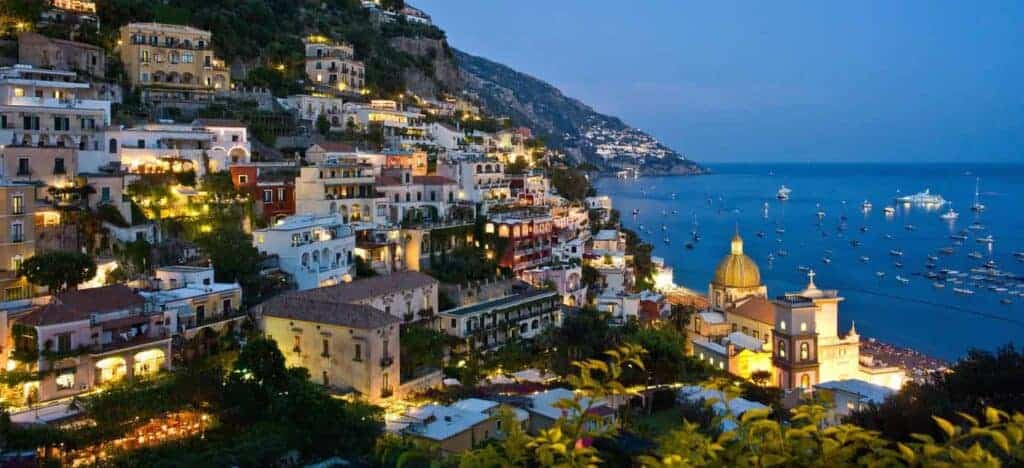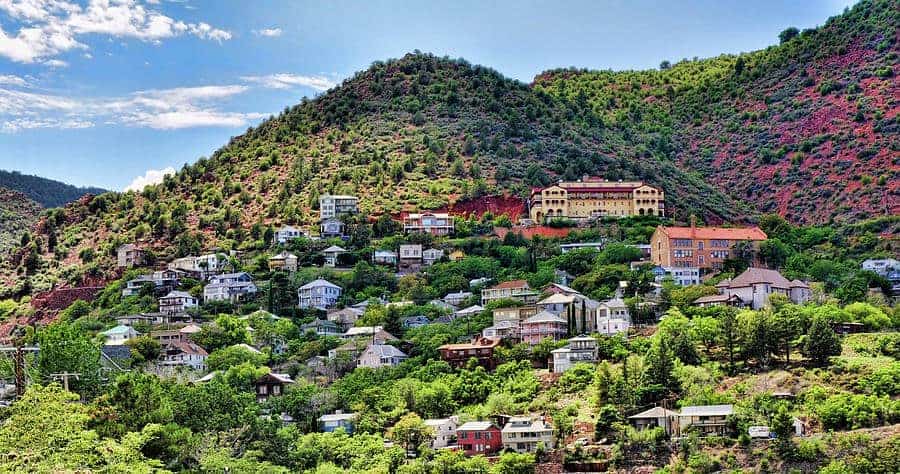 Haha alright, I suppose that's a bit of a stretch but nonetheless, this is a fun town and definitely worth a stop on your next trip.
Despite the ghostly reputation, the town was alive with people, art, and culture – as well as live music, restaurants, and taverns that felt like they had stopped in time. The relics from the earlier days were everywhere and you can't help but feel like you went back in time.
---
This scary ghost town is a perfect stop on your next U.S. Road Trip, parked along with one of America's greatest scenic highways, HWY 89.
Where is Jerome Arizona?
Jerome is located between Prescott and Sedona and is about a 40-50 minute drive from both of these places. Jerome is within very close driving distance to its neighbors of Clarkdale and Cottonwood, Arizona.
---
LOOKING FOR OTHER THINGS TO DO IN ARIZONA?
Jerome Arizona History
Perched up high on top of Cleopatra Hill (5,200 feet) between Prescott and Flagstaff sits this historic town. Founded in 1876 the once-booming copper mining town and the fourth largest city in Arizona, has now been dubbed the "largest ghost town in America."
Americans, Mexicans, Italians, Croatians, Irish, Spaniards, and Chinese made the mining camp a rich and diverse culture. This mining boomtown was the talk of the west as billions of dollars worth of copper was brought to the surface.
As people flocked to the area to get a piece of the pie an incredibly diverse and rich culture was planted on this desolate hillside.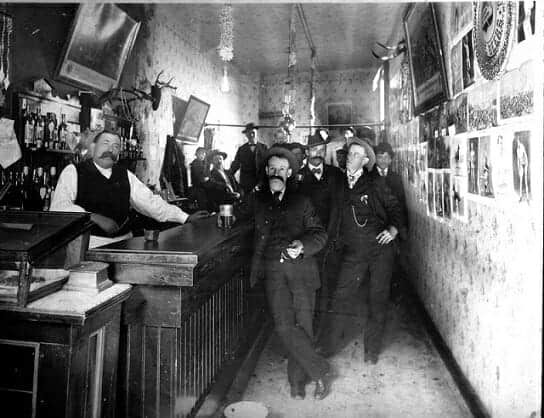 The city was plagued by massive fires that ripped through over 80 miles of tunnels under the town eventually leading to the demise of the mine.
The mine used dynamite which rattled the hills and cracked buildings. So much so that the sliding jail moved 225 ft. and now rests across the road from its original site.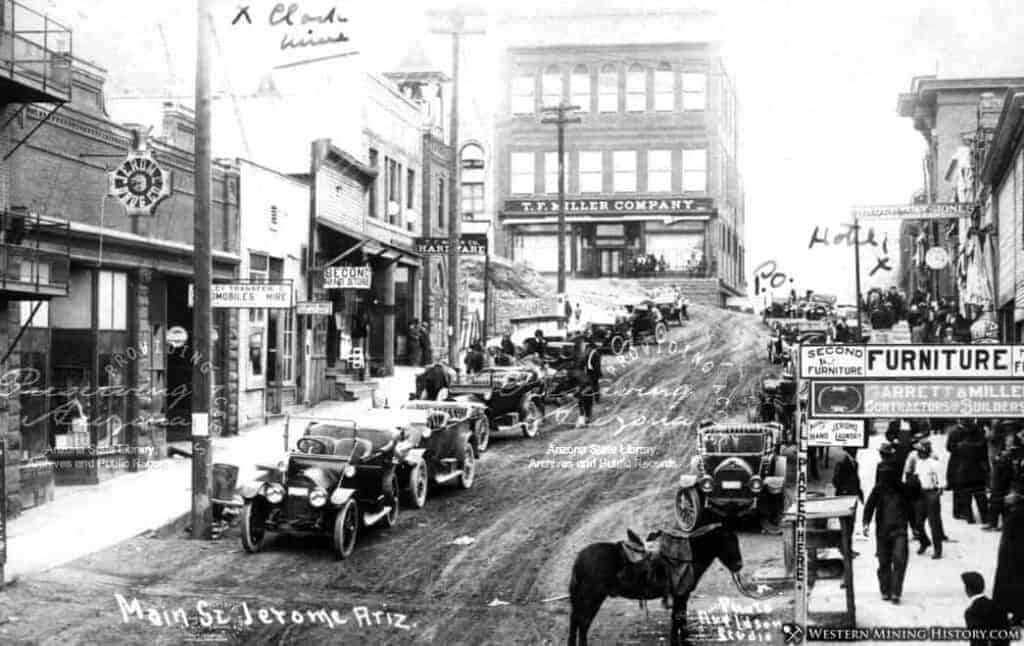 In the 1920s the mine closed and the population dropped from 15,000 to just 50 persons in the late 50's. These hardy souls remained and kept the rich history alive that we enjoy today.
Today the city is booming once again. Rich with artists, musicians, writers, and families that make up this thriving hillside community.
Want more information about Jerome's haunted history check out this book. The Authors Patricia S. Jacobson and Midge Steuber have lived in Jerome for a combined fifty-six years.
Jacobson, originally from Chicago, was the director of the Verde Valley Art Association and has conducted both historical tours and paranormal investigations in the area.
Steuber has a background in psychology, although she has worked in many fields. Originally a nonbeliever in ghosts, she now knows there's definitely something going on in Jerome.
MAP OF JEROME AZ
What Are the Best Attractions to Visit in Jerome Arizona?
In my opinion, there are so many unique things to do in Jerome a couple of our favorites are:
Walk by the Chief Surgeon House
Gold King Mine and Ghost Town
Old King Mine and Ghost Town
Walk around the main streets of Jerome
Find Bartlett Hotel
What To See And Do in Jerome Arizona
1. MAIN STREET- DISCOVER ALL THE THINGS TO DO IN JEROME AZ
I recommend beginning your trip to Jerome with a stroll down Main Street. Many local restaurants, cafés, wine bars, and boutiques are located here. After spending some time in this area, you'll have a decent feel for the city. Jerome's personality is very apparent in this area.
2. JEROME STATE HISTORIC PARK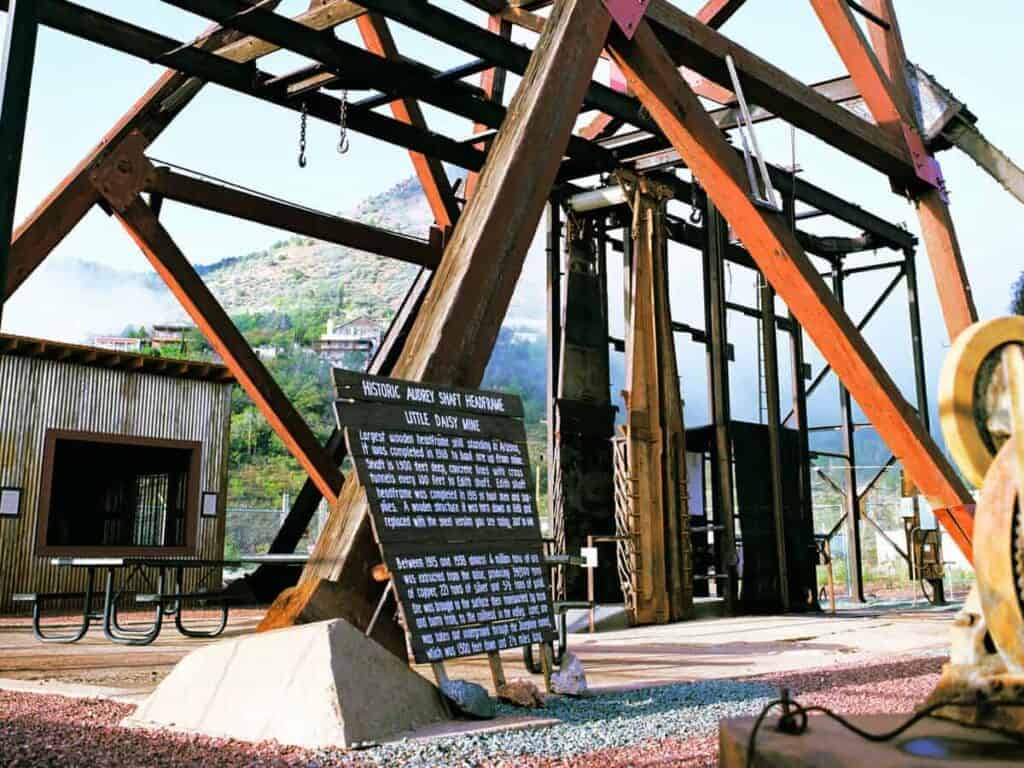 The next place is the Jerome Historic State Park, a short drive from downtown Jerome it's located inside the old Douglas Mansion. The museum is the perfect starting point to discovering the rich and complex history of the once-booming mining town.
Be sure to take in the tremendous views of the city as well as the Verde Valley that the park offers. The Douglas Mansion was built in 1916 beside the Little Daisy Mine. Views of the mine can be had from the Mansion viewpoint.
The museum features artifacts, photographs, and 3-D models of the town that show the elaborate mine tunnels that sit beneath.
Just outside the mansion be sure to visit the Audrey Headframe Park. Open from 8-5, you can stand on a glass floor above the massive 1,900 foot shaft where miners descended daily for their day of work.
In addition to all of the above, you'll also get to enjoy the beautiful views of the Verde Valley from the grounds of the hilltop mansion.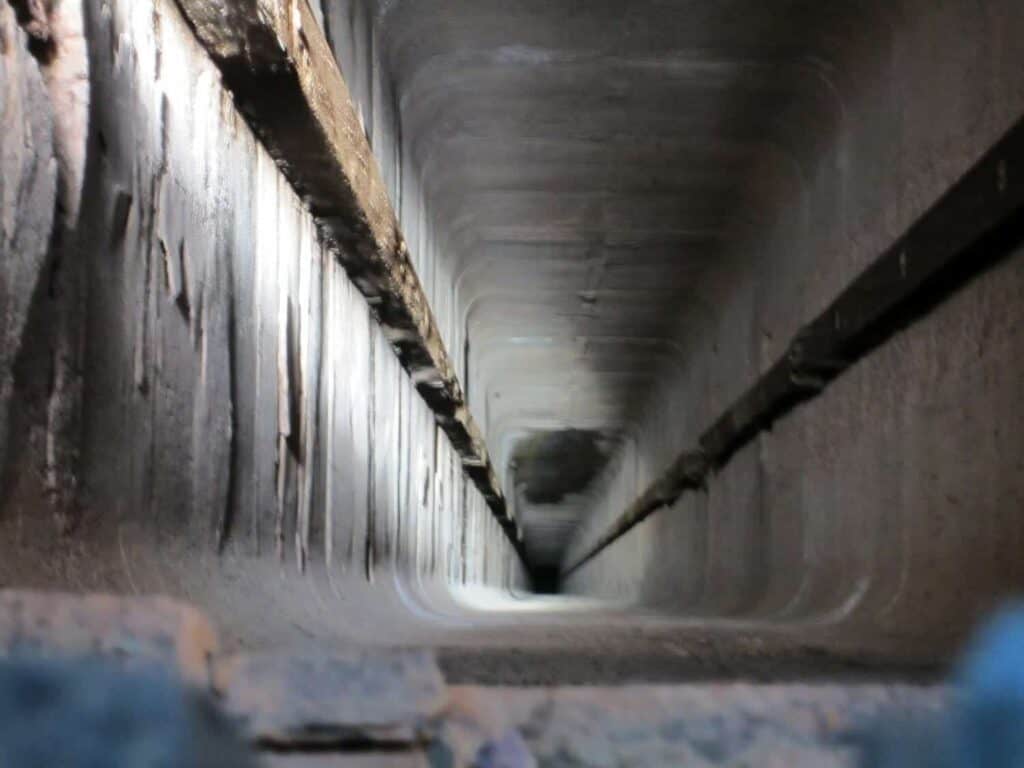 3. CLEOPATRA HILL LOOKOUT- ONE OF THE BEST ATTRACTIONS IN JEROME AZ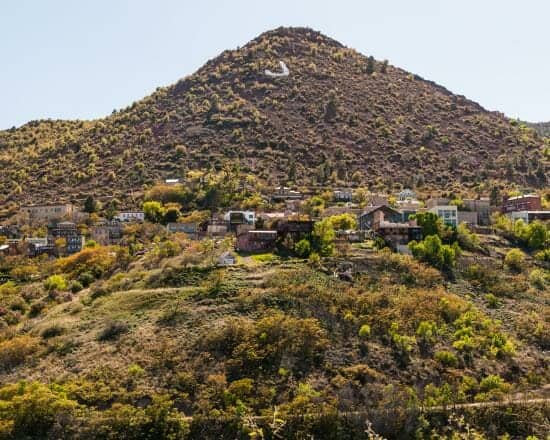 The town is situated on Cleopatra Hill and after a short hike up you'll be rewarded with some amazing views of Verde Valley. The lookout point is right next to the State Park so be sure to check this out before heading over to the other side.
Make sure to check out Groupon to see if there are any deals during your visit to Jerome. We love using Groupon for last-minute deals and discounts.
4. JEROME HISTORICAL SOCIETY AND MINE MUSEUM
Make a trip to the Jerome Historical Society on Main Street to get a genuine feel of what life was like in Jerome's early days.
The museum displays relics from the history of Jerome, dating from the past through the present day. Gambling games from old bars, as well as antique miners' equipment, are on display. You'll see hand-forged miners' candlesticks, carbide lamps, cages, and drills.
The Jerome Historical Society and Mine Museum are open daily from 9:00 a.m. to 5:00 p.m. Adult admission is $2.
5. JEROME GHOST TOWN TOURS
If you're visiting Jerome, I highly recommend taking a local tour. The ghost tour walks are pretty entertaining, to say the least but the Wild West tour and the Jerome History walk are definitely worthwhile too.
Jerome is an interesting place, so if ever there was a place to join any AZ ghost tours, it's here. I've included a few recommendations below.
Jerome Ghost Walk: This hour and fifteen minute tour takes you to all of Jerome's most famous haunted destinations.
Wild Wild West Tour of Jerome: This is a really interesting 90 minute tour all about the suggestive history of Jerome's wild west days.
Jerome History Walk: This is a one hour tour focused on the history of Jerome from its origins as a tent city to a booming mine town.
Whether you take a tour or not, don't miss out on learning more about the history of Jerome as you explore the town. Knowing about the town's history will make your visit here more fun and give you a sense of what Jerome is all about.
6. NELLIE BLY KALEIDOSCOPES- PERFECT THING TO DO WITH KIDS IN JEROME ARIZONA
Kaleidoscopes aren't just for kids anymore. Nellie Bly Kaleidoscopes is the largest Kaleidoscope store in the world featuring hundreds of artists and a large selection of hand-made marbles and dichroic jewelry.
Nelly Bly Kaleidoscopes is a "please touch" store. The courteous employees are delighted to show you how to use the various varieties of kaleidoscopes. And don't leave without having your kaleidoscope selfie photo taken!
7. CHIEF SURGEON HOUSE
No longer the Chief Surgeons house this historic beauty has been transformed into a charming bed and breakfast surrounded by lush, restful gardens and ponds.
The Chief surgeons house is perched high on the mountainside overlooking the Verde Valley and the mystical Red Rock cliffs of Sedona, Arizona and has been listed on the National Historic Registry since 1966
8. BARTLETT HOTEL
Jerome is best seen on foot and the Bartlett Hotel in the heart of downtown is the perfect starting point. There is plenty of parking just across the street to leave the car for the rest of the day.
The original hotel that occupied this spot was the Grandview Hotel which was built in 1895. This high-society club and dancehall was destroyed in a massive city fire of 1898.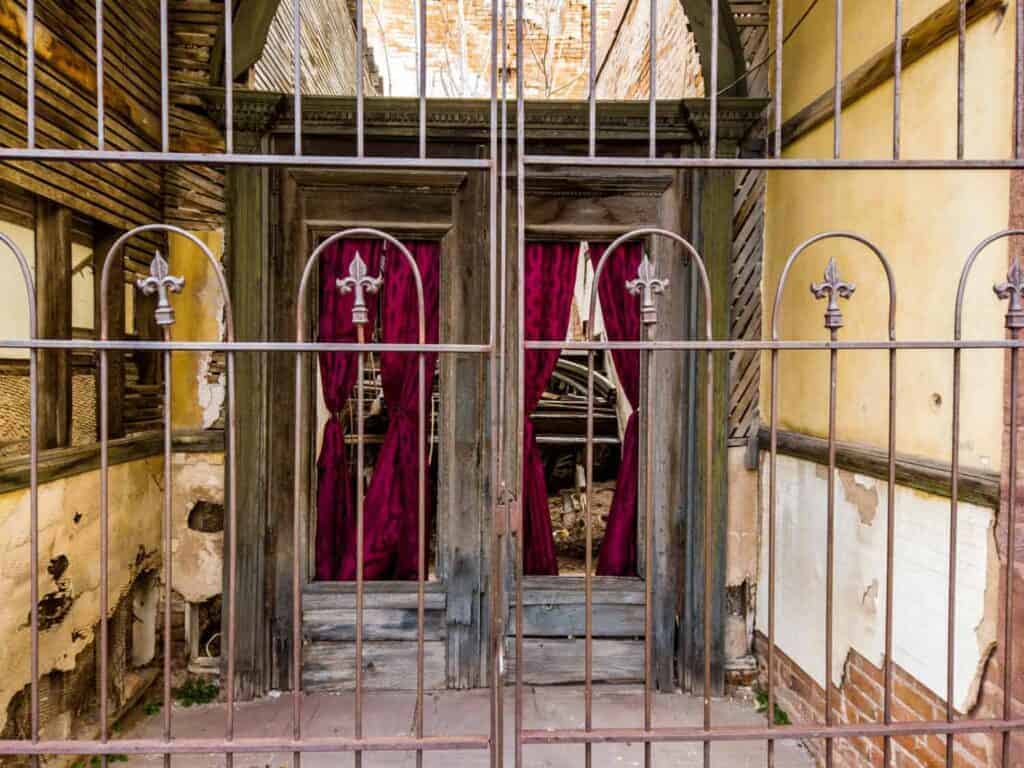 The Bartlett Hotel was rebuilt in 1901 and was the town's premier luxury hotel. The building became unstable in the 1940s and was shut down. Today all that stands is the skeleton of the once-mighty Bartlett Hotel.
Within the hallowed grounds of the abandoned hotel are remnants of what once was. A little ghostly, spooky, or perhaps even haunted. You'll have to see for yourself.
9. SPIRIT ROOM AT HOTEL CONNOR- UNIQUE JEROME ATTRACTION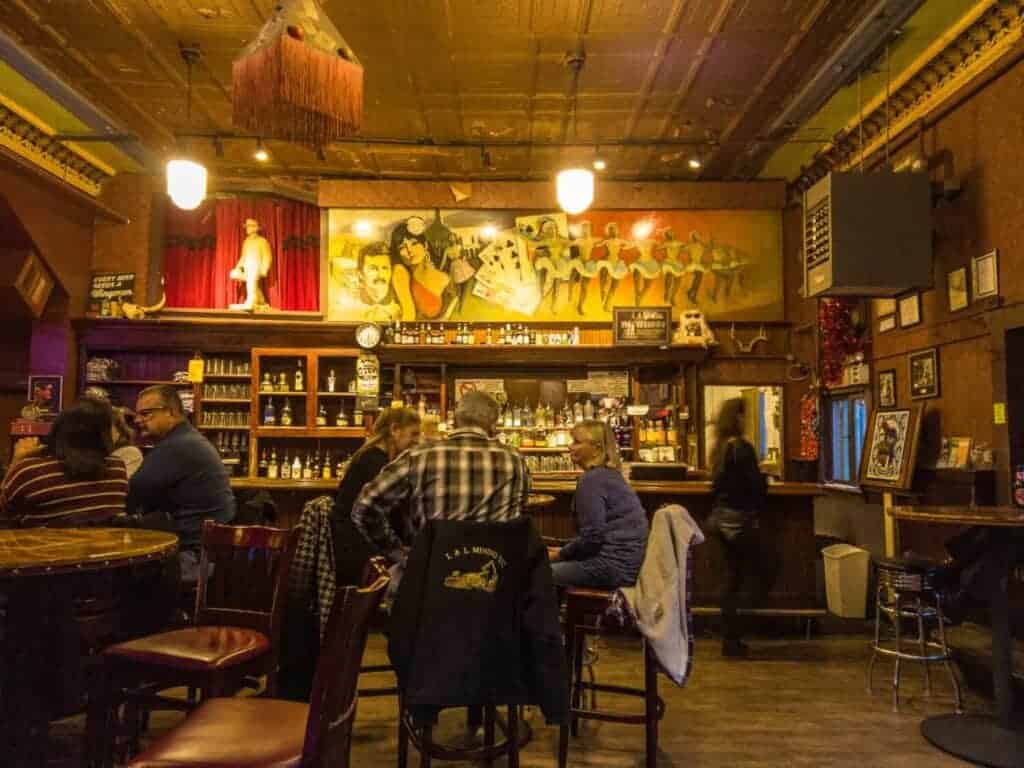 Just down the road, you'll find the iconic Hotel Connor and its lively Spirit Room. Like most places in town, Hotel Connor also fell victim to one of the city's many fires.
Hotel Connor was fortunate enough to have insurance so it was one of the first buildings to be rebuilt. As the mines began to run dry Hotel Connor closed its doors in 1931.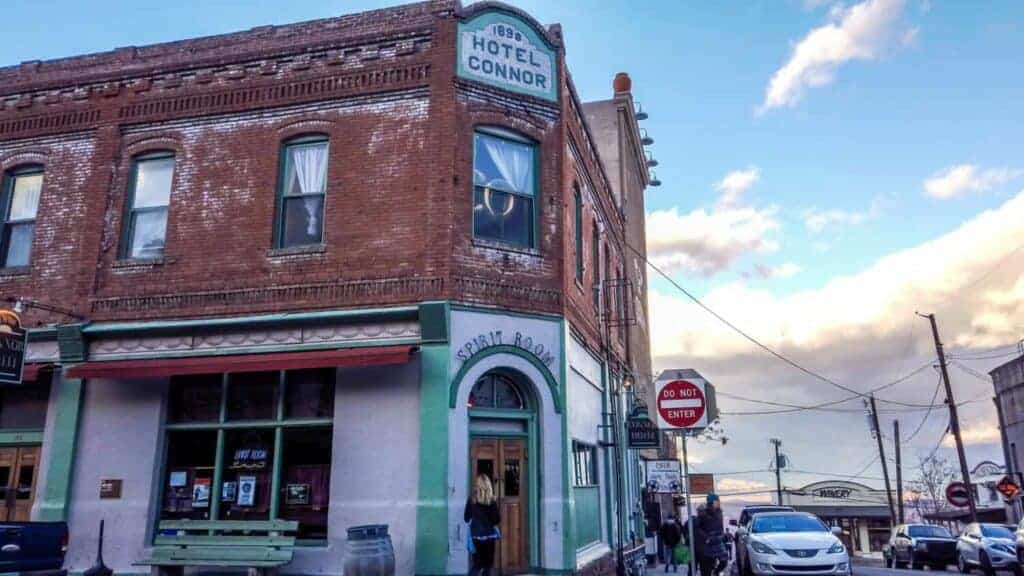 In the late 1960s with the aid of the tourism boom, the hotel was able to open its doors once again.
When we got to town the Spirit Room was overflowing with people as a live band churned out some country-western music. We couldn't help ourselves and ended up closing out the night there. It was a blast.
---
Don't miss these other must-see Small Towns of The West
---
10. WINDOW SHOPPING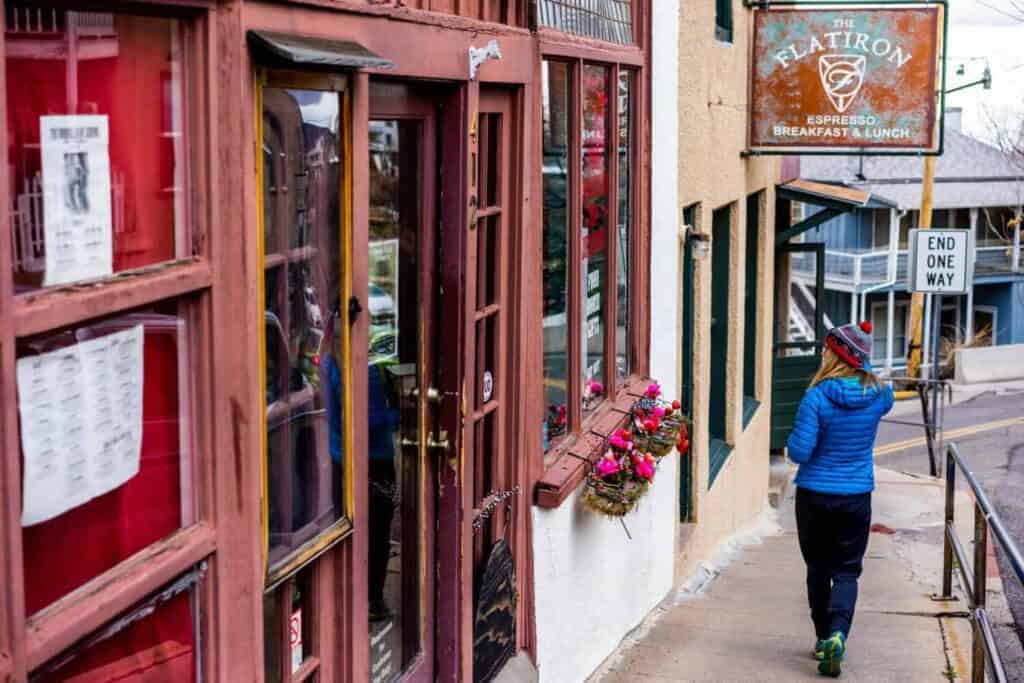 The city begs to be explored and is the perfect place to just get out and walk. There's no shortage of window shopping opportunities or hole-in-the-wall shops. From artwork and crafts to their very own hot sauce shop. They even have a kaleidoscope store that is like nothing we've ever seen.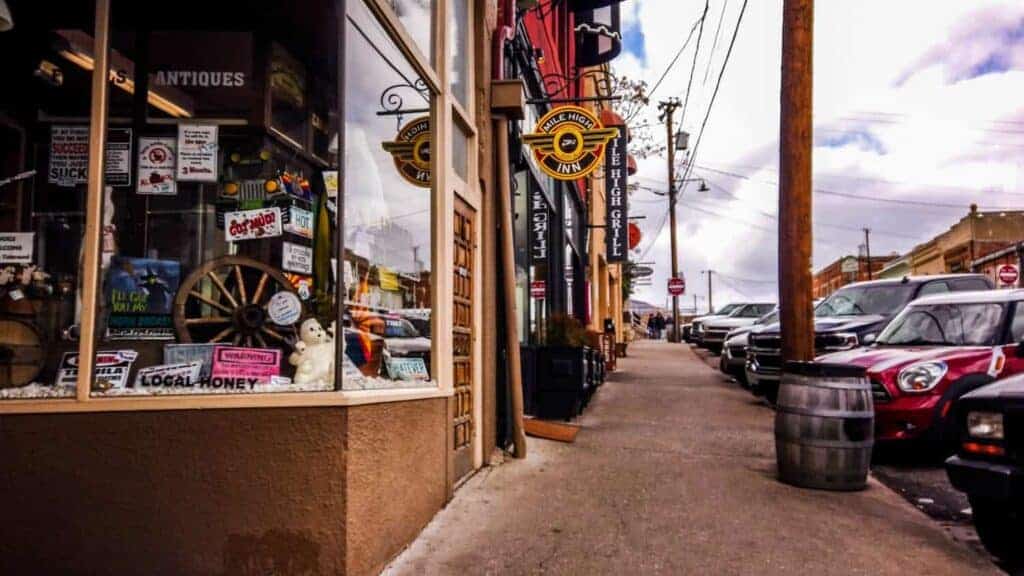 11. WICKED CITY TAP HOUSE
Wicked City was a solid watering hole with good people and good drinks. The atmosphere and decor were spot on. The bar tender was great and happy to talk about his family history here. They have a plethora of local beers on tap as well as wine and sangria.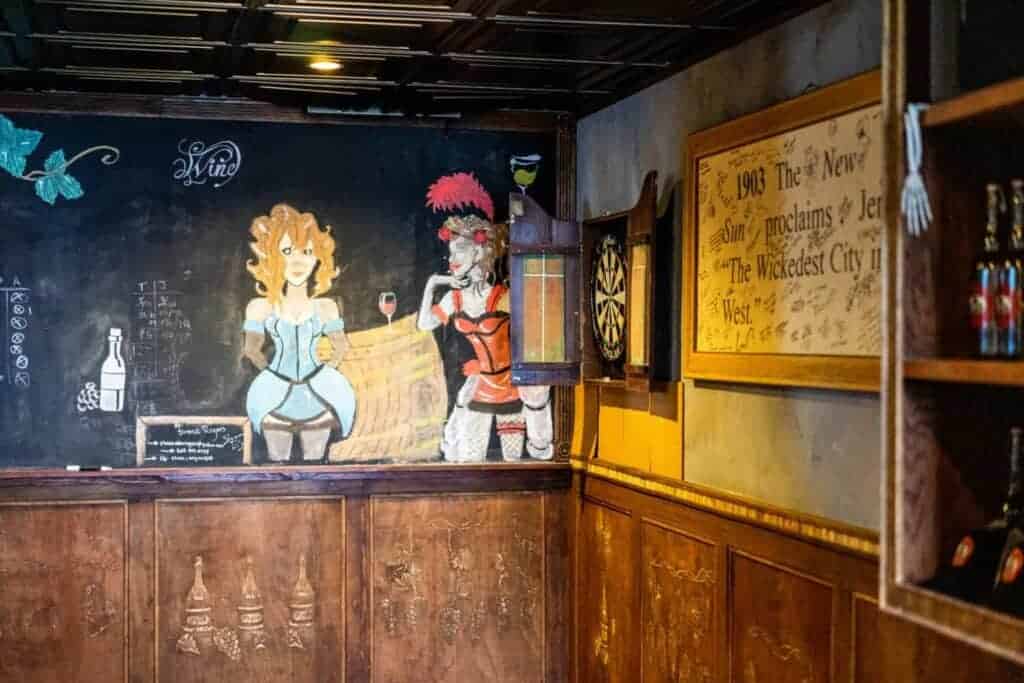 There's a good assortment of board games and we highly recommend playing Disturbed Friends, especially with a table full of strangers.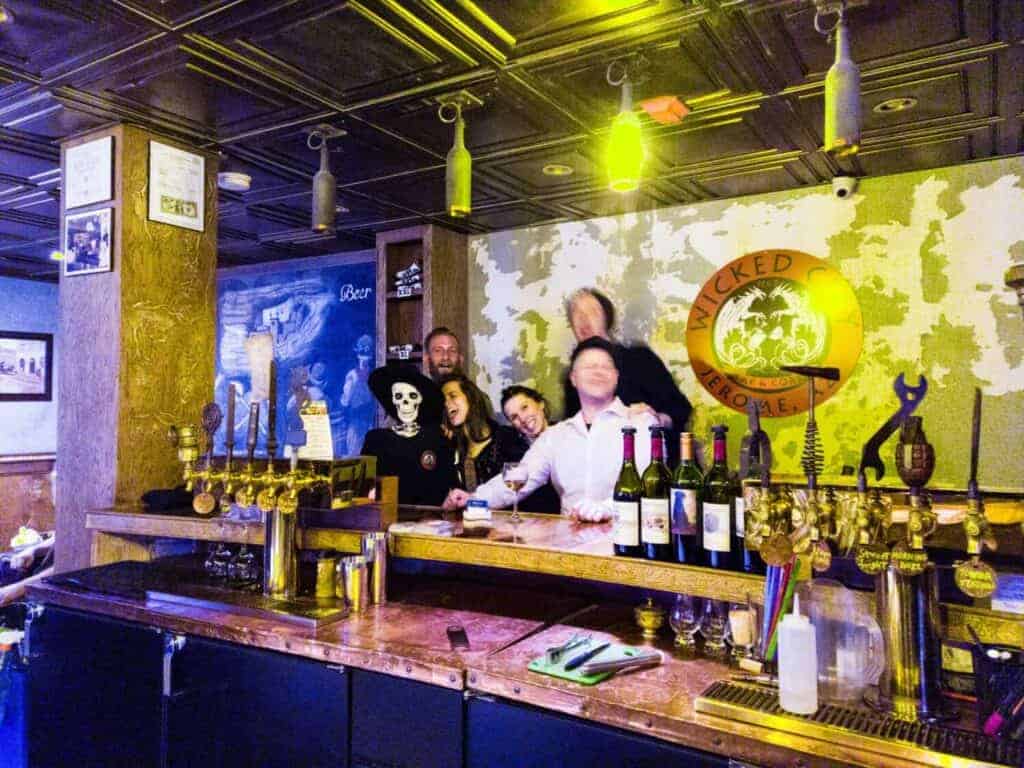 We enjoyed the vibe and easily met some fellow travelers to hang out with for the rest of the night. This is the kind of place that Sedona lacks and why we prefer to stay in Jerome when mountain biking Sedona's trails.
---
On a road trip? Don't miss our comprehensive guide to Arches National Park and Grand Canyon National Park
---
12. WINE TASTING
If drinking beer isn't your thing you're in luck because Jerome Arizona has 3 different wineries/tasting rooms you can visit right in town. Wine lovers may be surprised to learn that Jerome is actually part of the Verde Valley wine region.
Every time we've been to Jerome all of the tasting rooms have been packed so be prepared to wait for a seat to open up to experience the amazing wines of the Verde Valley region
Here are the wineries you can visit in Jerome:
The hours for each individual tasting room are different. I suggest stopping by while you're in town, or you can always call ahead.
13. JEROME ARTISTS COOPERATIVE
The Jerome Artists Cooperative is a local gallery that features work by area artists. You'll find a variety of works on display, including paintings, photographs, and sculptures, as well as pottery and other arts and crafts.
This co-op gallery has been a vital source of inspiration for the town's cultural vitality and social interaction. The art gallery has been an important element of the town's tightly woven artistic community, regularly hosting galas, workshops, and social gatherings.
The museum currently has approximately 33 participating artists who display a broad range of themes and media. Make sure to stop by the artist's cooperative gallery and pick up a few things to take home.
14. ASYLUM RESTAURANT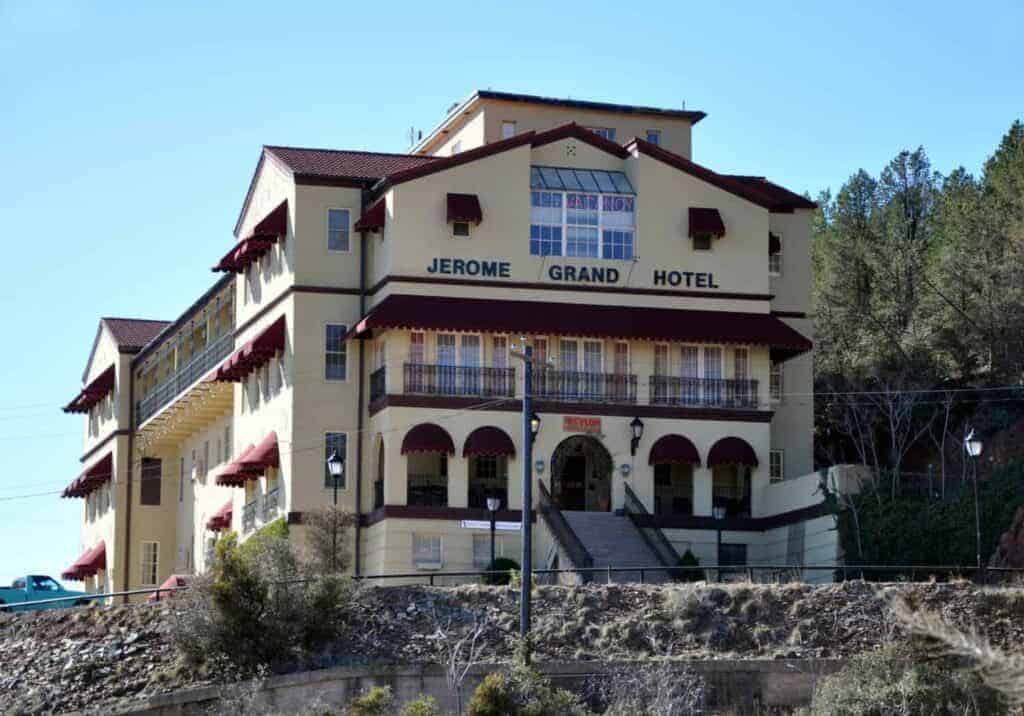 As you're facing the Wicked City pub, to your left you'll see the narrow cobblestone Hill Street that takes you up to the Jerome Grand Hotel.
Inside you'll find the award-winning Asylum Restaurant and bar that serve up tasty cocktails and delicious food. And the view is amazing.
On your way up the hill, you'll pass by the Surgeons House. Built in 1916 for Jerome's Chief Surgeon, this nurse's residence supported the dangerous work of mining.
15. AUDREY HEADFRAME PARK
The Audrey Shaft Headframe Park is located next to Jerome State Historic Park and is open daily from 8 a.m. – 5 p.m. Visitors to the Headframe park can walk on the glass above a 1,900-foot mining shaft and peer down. A headframe is the hulking structure positioned above a mine shaft that supports the pulleys and all other equipment needed for the cables to raise and lower elevators or ore cars.
Around the headframe, a variety of mining equipment can be found, including ore cars, timber cars, and drills. An actual man-cage is also on display, having been utilized to lift and lower miners down the shafts.
An array of other mining artifacts surround the headframe, including ore cars, timber cars, and drills. Informational plaques describe the purpose of each item. There is also an authentic man-cage on display, once used to raise and lower miners through the shafts. Visitors are welcome to get inside the cage. Take a pause while posing for photographs to consider riding one of these about 2,000 feet below ground every day. Suddenly, your career may seem a bit more appealing.
16. GOLD KING MINE AND GHOST TOWN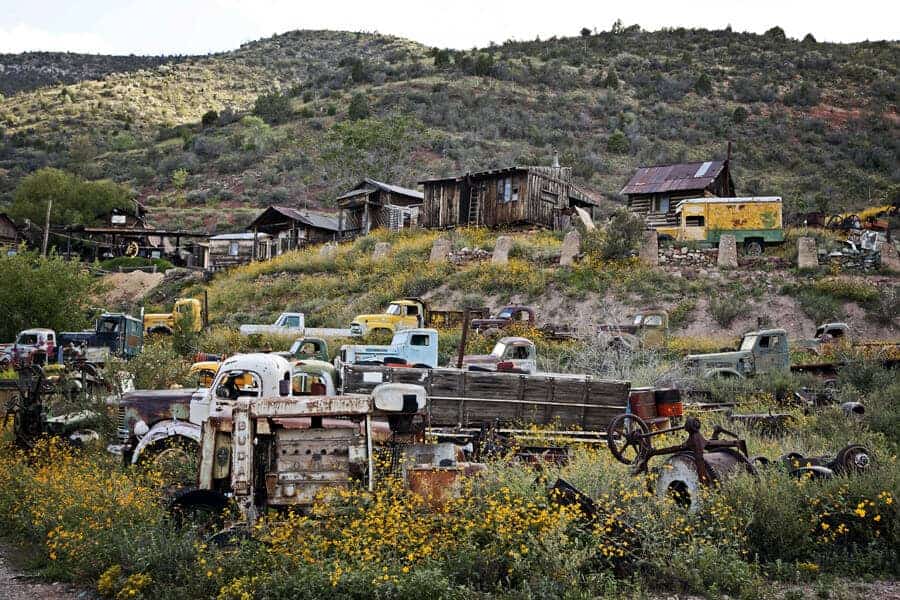 Right in the heart of town next to the Fire Station, you'll notice a road that is well signed for Gold King Mine. About a mile down the road you'll find the historic ghost town of this once active mine.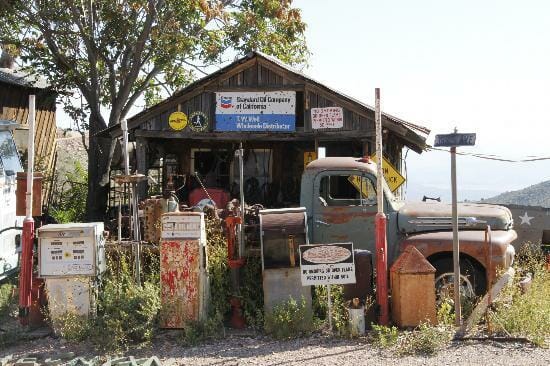 The town is littered with old machinery, cars, and tons of other antiques making this a must-see destination. Hours are 9-5 daily.
17. THE SLIDING JAIL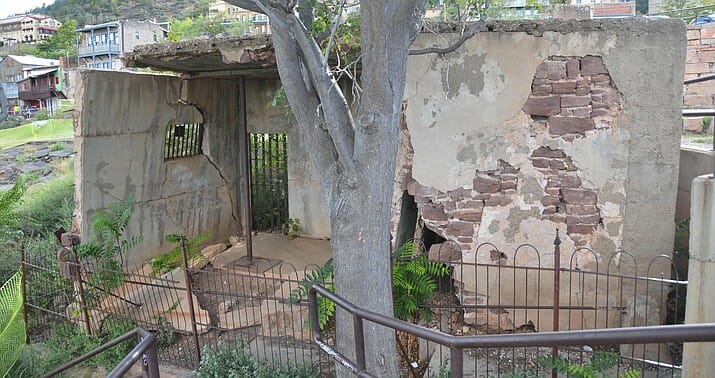 The Sliding Jail got its name from the simple fact that it slid down the hill. As the ground was literally shaking daily from the dynamite being used below the city, the Jail crept its way down the hill over 200 feet from where it once stood.
When the town was booming with over 15,000 people, mixed with booze and the rough crowd of miners, this jail was a busy spot.
Ghosts Towns of the West is filled with photographs, maps, history, and detailed directions to find the best ghost towns to linger in the wake of the Old West.
Ghost Towns of the West blazes a trail through the dusty crossroads and mossy cemeteries of the American West, including one-time boomtowns in Arizona, California, Colorado, Idaho, Montana, Nevada, New Mexico, Oregon, Utah, Washington, and Wyoming. The book reveals the little-known stories of long-dead soldiers, indigenous peoples, settlers, farmers, and miners.
Perfect for planning a road trip, each section covers a geographic area and town entries are arranged by location to make this the most user-friendly book on ghost towns west of the Mississippi.
THE BEST RESTAURANTS IN JEROME ARIZONA
An awesome town is nothing without great food right! Luckily terrific food has become the norm here. From quick bites to fine dining you won't be disappointed.
HAUNTED HAMBURGER
Haunted Hamburger is a fun and good place to grab a bite to eat. With plenty of outdoor seating and tremendous views, it's a fun place any time of the day. If you're in the market for a souvenir they have all sorts of popular haunted burger apparel.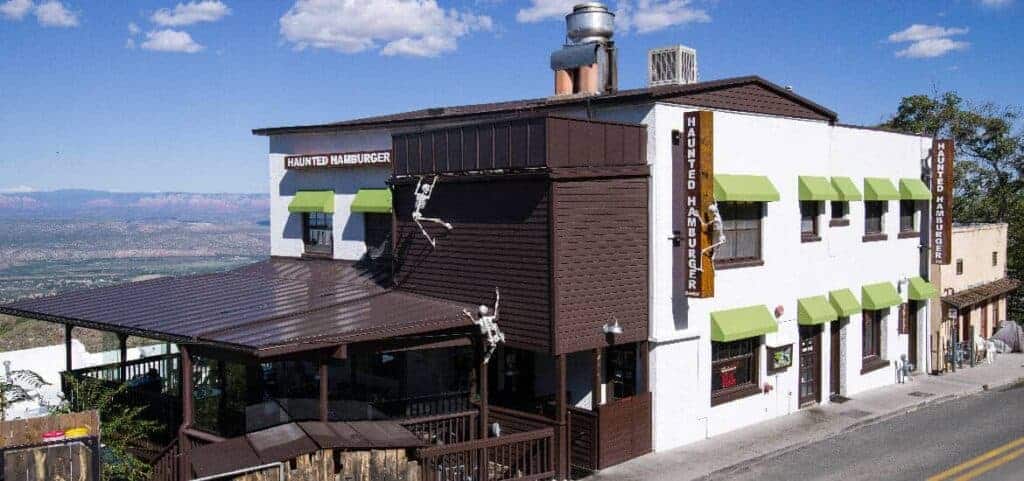 GRAPES RESTAURANT AND BAR
Grapes Restaurant is a favorite in town and serves up healthy Mediterranean-style foods. They have a plentiful selection of local wines that will pair perfectly with any one of their cheese and meat plates.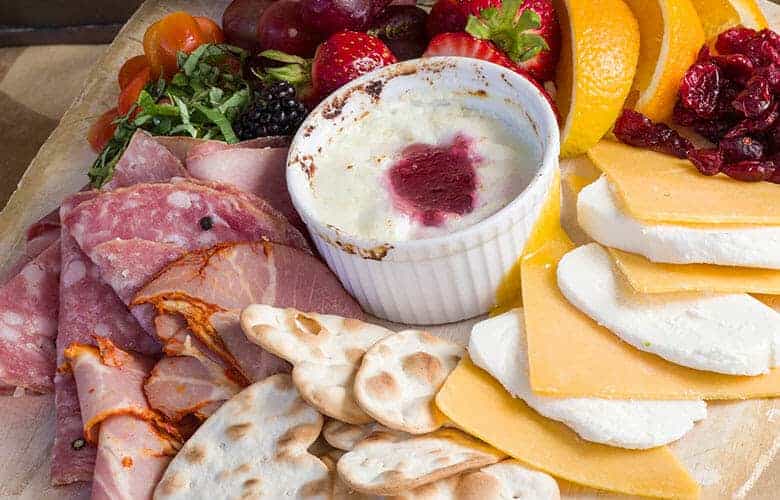 MILE HIGH GRILL AND INN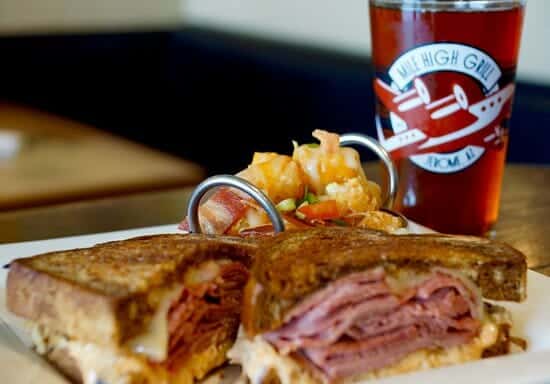 Breakfast, lunch, and dinner are served at the Mile High Grill. Their menu has one of the best selections in town so you should have no trouble finding the right meal for a big group. Perfect for a family with picky eaters.
BOBBY D'S BBQ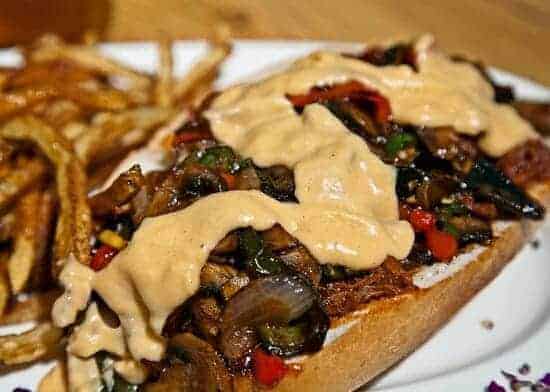 All I can say is yum. Bobby D's serves up some terrific BBQ with some fun variations I've never seen. You can't go wrong here. Do yourself a favor and at the very least grab a small bite for a snack.
WHERE TO STAY IN JEROME ARIZONA
Like I mentioned earlier, Jerome is our new favorite place to stay when visiting the Sedona area. We found the town more lively and interesting here. In addition, the cost of hotels is a lot more affordable than Sedona. Here are some fun options to add even more character to this funky hillside town.
BEST HOTELS
Booking.com has some great options in town so be sure to check them out. Very reasonably priced and in some really cool hotels that just might be a little haunted. Here are a couple of our favorites.
CONNOR HOTEL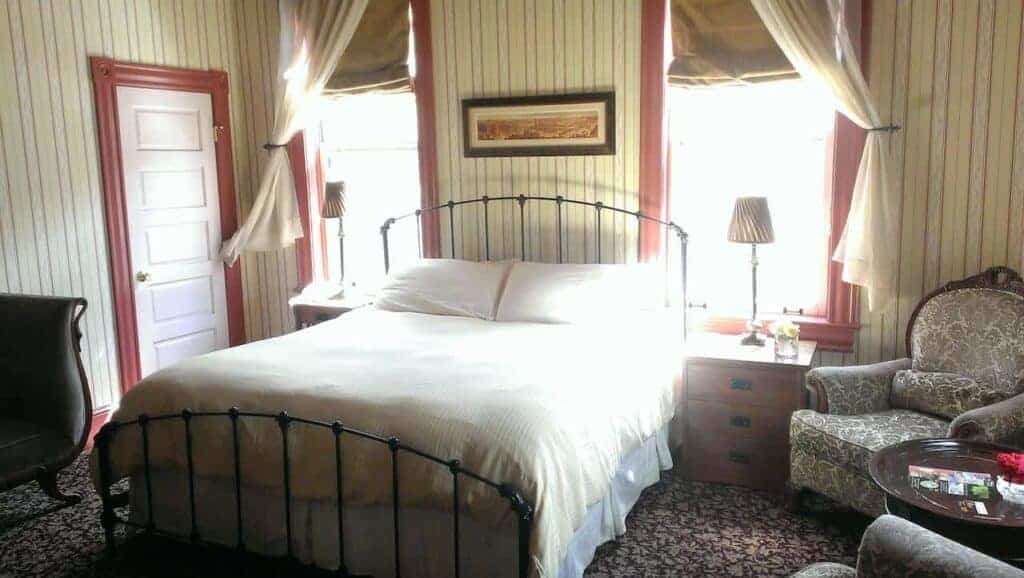 The classy yet antique feel of the Hotel Connor is a great way to immerse yourself in the rich history this hotel and town have to offer. As you walk the narrow hallways you'll be thinking, "if only these walls could talk."
MILE HIGH INN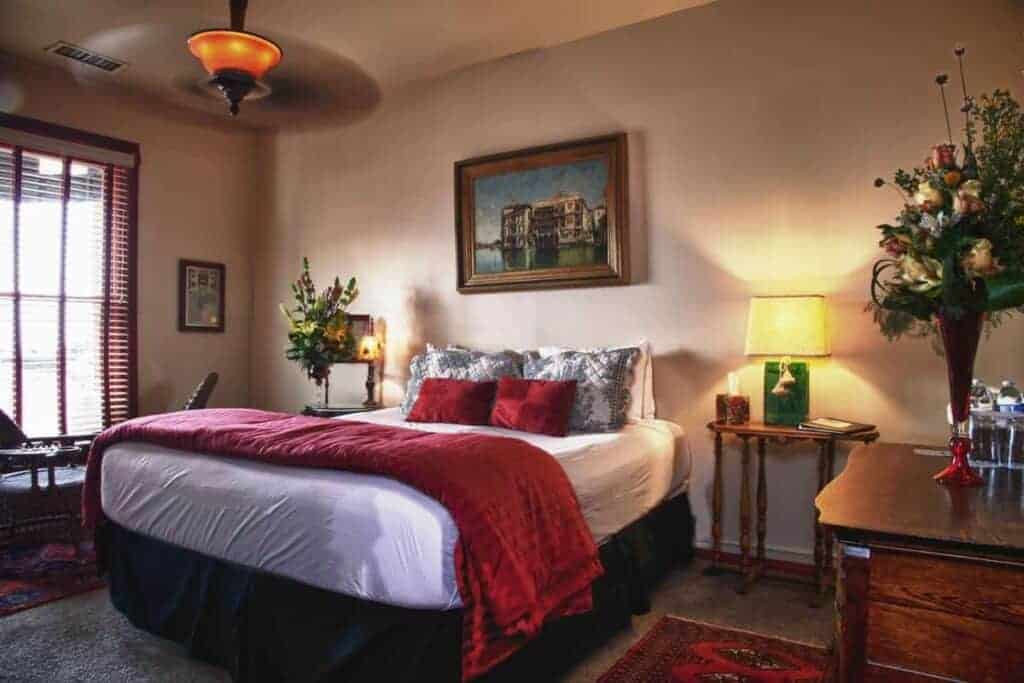 For a less haunted option, the elegantly decorated and air-conditioned rooms of Mile High are a solid choice. There's also a great bar/restaurant below that I believe even serves breakfast.
GHOST CITY INN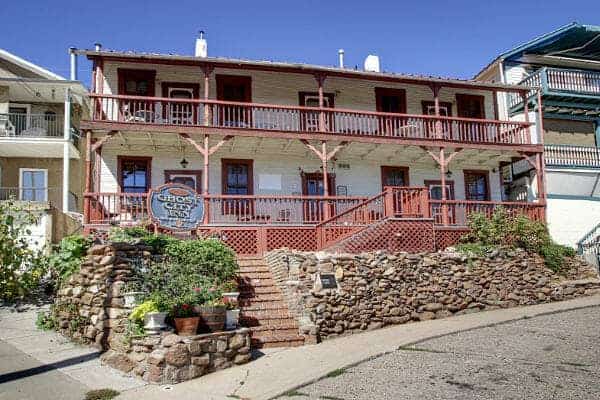 Enjoy the terrific view from your deck at the classic western-style Ghost City Inn. Each room is uniquely decorated so be sure to have a look and snag the room style of your choice.
JEROME GRAND HOTEL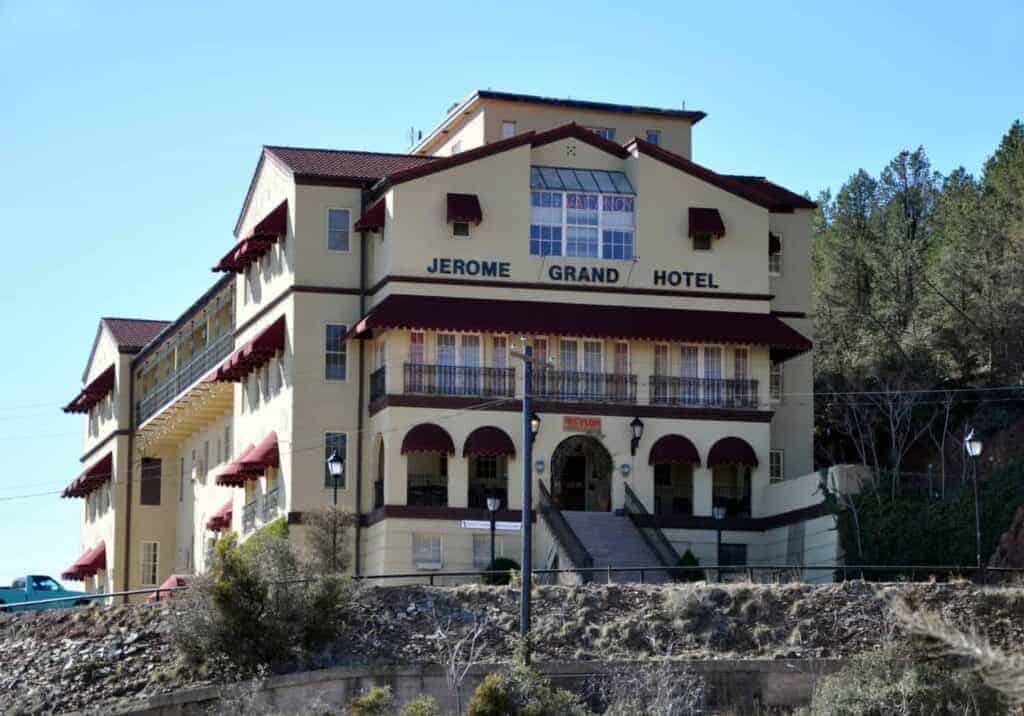 Sitting above all others is the massive Grand Hotel. It's large and in charge all while serving up just the right amount of style, history, and oh I almost forgot, it's haunted!
VAN PARKING
We visited in the off-season, dead of winter, and were able to park right in town in the public parking area. While there were "no overnight parking" signs, the locals said not to worry in the off-season.
I can only imagine how cramped this town must get come peak season and there's no doubt you couldn't get away with it as we did.
Towards the Gold King Mine, they advertise tour bus parking which might be a viable option for a van. But don't quote me on that one. Well I hope we've tempted you to visit this great city. Whether just for the day or overnight, I promise you it's worth your time.
Happy travels!
JEROME ARIZONA FAQ
How far is Jerome Arizona from Sedona?
Jerome is 27 miles from Sedona along one of Americas most scenic drives, HWY 89
What did they mine in Jerome Arizona?
The 80 miles of mine tunnels that sit under Jerome were for mining copper.  The mine produced over 3 million pounds per month worth billions of dollars.
What's the history of Jerome AZ Ghost town?
Founded in 1876, Jerome was Arizona's 4th largest city.  At its peak in the 1920s over 15,000 people called Jerome home.
What's the best Arizona road trip? Our favorite places to visit on our road trips in Arizona are:
1. The Grand Canyon 
2. Sedona
3. Flagstaff
4. Tombstone
5. Bisbee
Are there free things to do in Jerome?
Absolutely, there are plenty of free things to do in Jerome! All of the sites around town are free to see and meandering the different streets is a ton of fun! Window shopping is free and there's a lot to see in the various shops around Jerome.
Is Jerome AZ worth visiting?
Absolutely! We love Jerome it's one of our absolute favorite ghost towns we've ever been to
What did they mine in Jerome?
Jerome Az has a rich history of copper, zinc, gold, and silver ore mining