The Beginners Guide To Winter Hiking and Camping: Clothes, Gear, Safety, and More
We know it can all seem overwhelming if you're new to winter hiking, snowshoeing, and camping to get started. But don't worry – we've got you covered. To make sure you're prepared for your winter hike or snowshoe, I'll go over everything you need to know, from what clothes and gear to bring to how to stay safe in the cold weather.
I'll also share some good trails for winter hiking or snowshoeing.
First Things First: Why Hike In The Winter?
For starters, winter is a great time to enjoy the peace and quiet of nature. If you're used to hiking in the summer, you'll be surprised at how different the experience is when there's a layer of snow on the ground. Winter hiking can also be a great workout, as you'll be working a bit harder to trudge through the snow.
Of course, winter hiking does come with some additional challenges – namely, cold weather and potentially dangerous conditions. But as long as you're prepared, there's no reason why you can't enjoy a winter hike. So what are you waiting for? Let's get started!
What Are The Best Times Of Year To Snowshoe?
Most people find that the best time of year to snowshoe is shortly after a fresh snowfall when the snow is still powdery. The ideal snow depth for snowshoeing is around 6 to 12 inches.
What Are The Best Times Of Year To Do A Winter Hike?
The best time of year to do a winter hike is typically in the late fall or early winter before the snow gets too deep. Once the snow starts to accumulate, it can make hiking more difficult and dangerous.
What Are The Best Clothes To Wear While Hiking, Snowshoeing, And Winter Camping?
When hiking and camping in winter, it's important to dress in layers. You'll want a base layer made of wool or synthetic material (not cotton!) to wick away sweat and keep you warm.
On top of that, add a mid-layer of insulation (fleece is a good option) and a waterproof outer layer.
For your feet, make sure to wear socks made of wool or synthetic material to prevent blisters. Waterproof hiking boots are a must, and you may also want to invest in some crampons or traction devices for icy conditions.
For your head and hands, you'll want to have a warm hat and gloves or mittens. A scarf or neck gaiter can also help keep the cold air out.
What Gear Is Essential For Winter Hiking And Camping?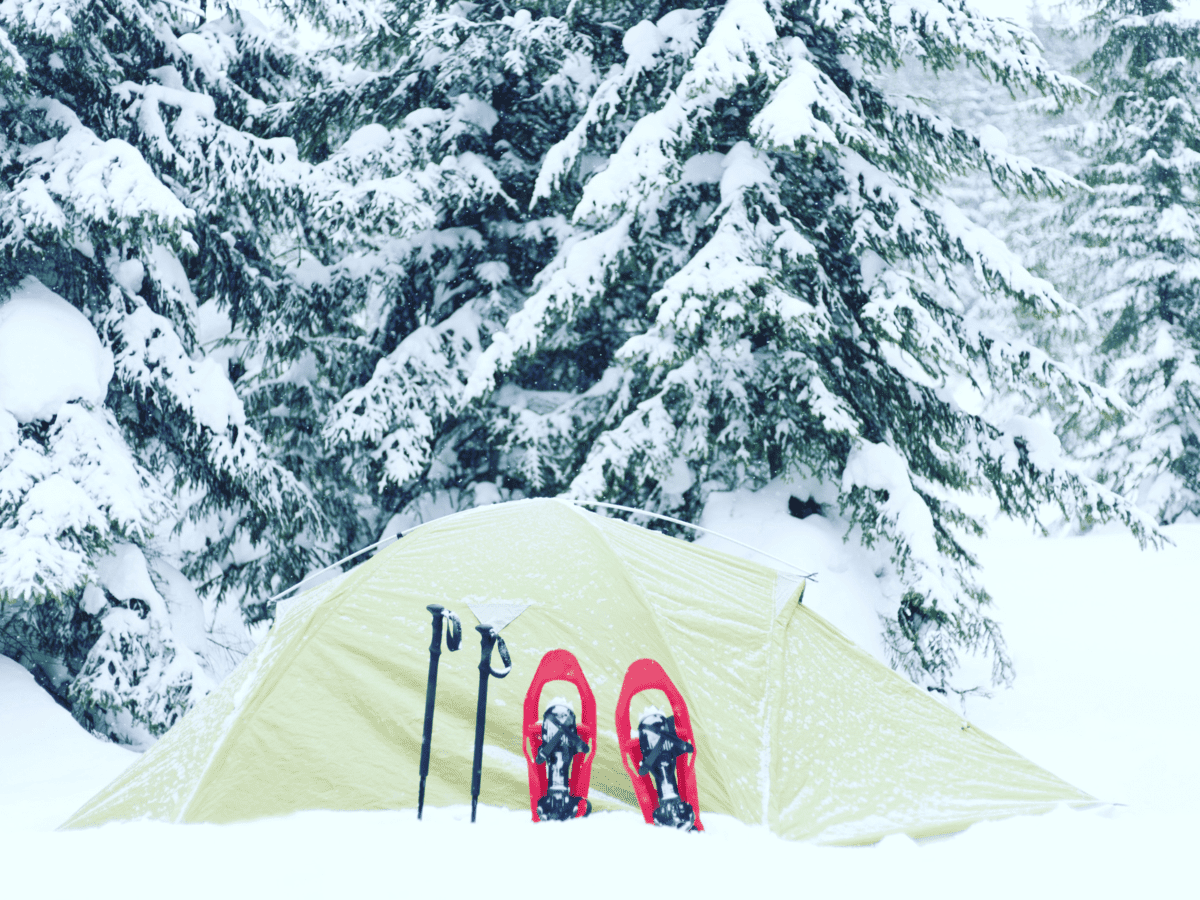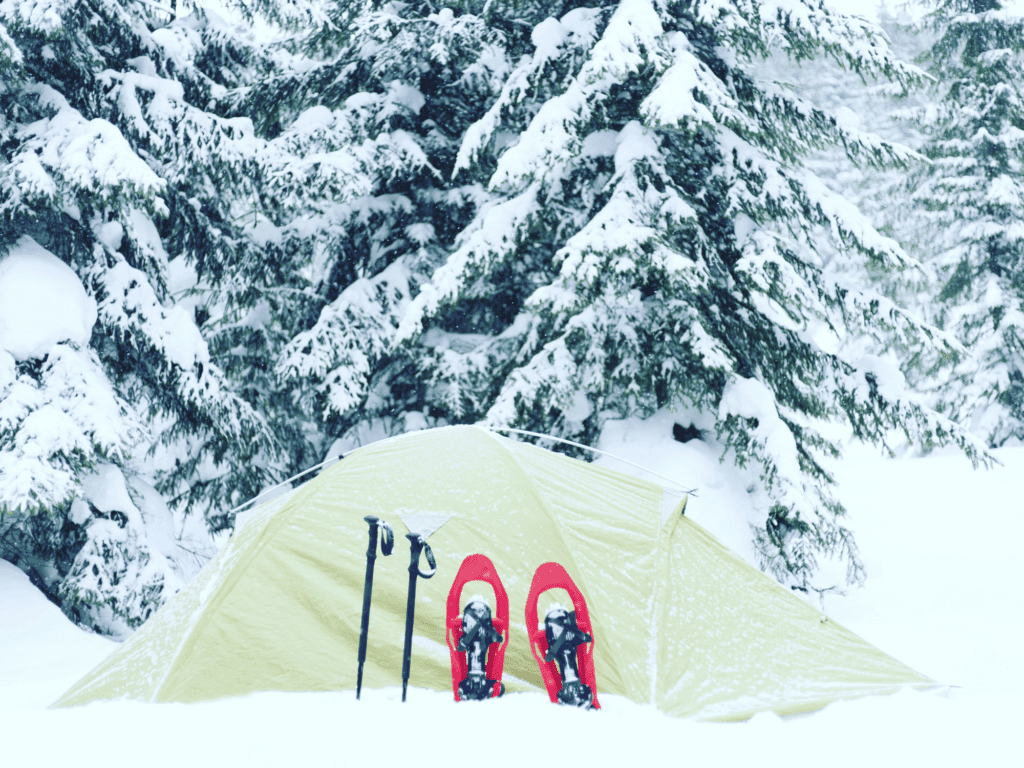 As for your gear, you'll want to make sure you have a good winter sleeping bag and a tent that can withstand freezing temps and high winds.
An inflatable sleeping pad will also help keep you warm at night. You'll want to make sure you have a backpack that's big enough to fit all of your gear, including extra clothes, food, water, and a first-aid kit.
What Are Some Safety Tips To Keep In Mind While Hiking And Camping In Winter?
When it comes to safety, the most important thing is to check the weather forecast before heading out.
Be prepared for whatever Mother Nature throws your way, and always let someone know where you're going and when you expect to be back.
Finally, it is always a good idea to bring a first-aid kit and a cell phone in case of an emergency.
Be aware that your cellphone may not have service in some areas, so it's always good to have a backup plan.
For instance, you may want to bring a paper map and compass or download offline maps of the area before you go.
What Are Some Common Mistakes People Make When Hiking And Camping In Winter?
One of the most common mistakes people make when hiking and camping in winter is not dressing appropriately for the conditions. This means not having enough warm clothes or the right gear.
Another mistake is not being prepared with enough food and water.
Finally, people often underestimate how difficult it can be to hike in snow and ice, which can lead to dangerous situations.
Know The Signs of Frostbite And Hypothermia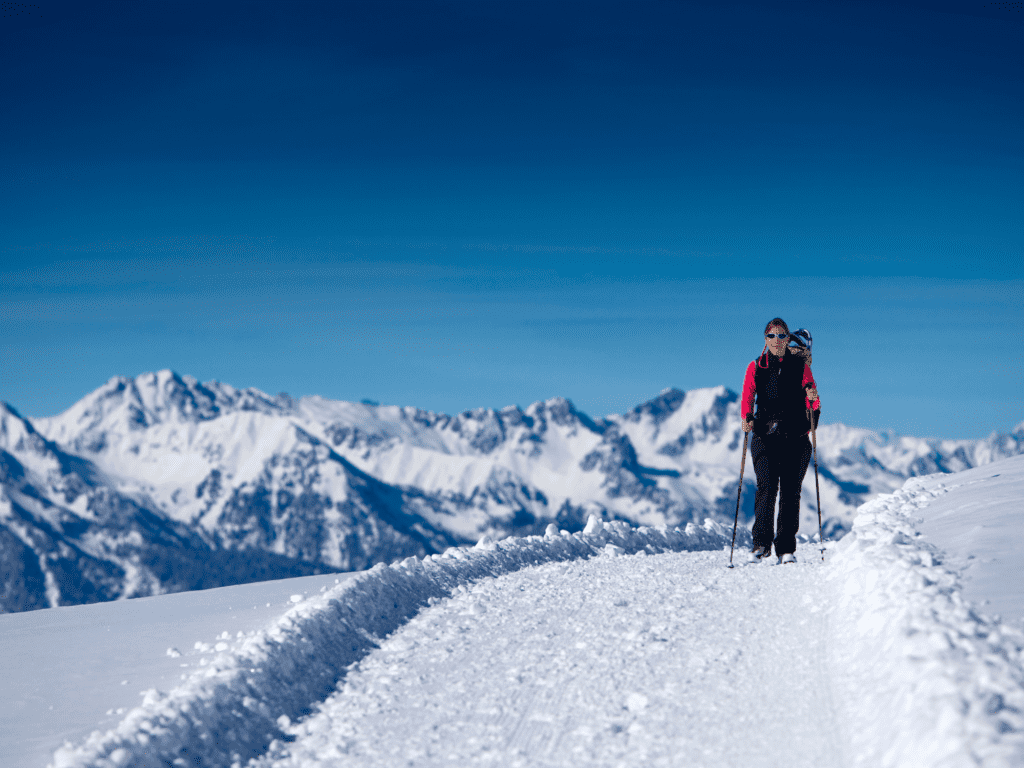 Frostbite is a condition that occurs when the skin and tissues freeze. The most common symptoms of frostbite are numbness, prickling, or stinging sensations in the affected area. Frostbite can occur quickly in extremely cold conditions.
Hypothermia is a condition that occurs when the body loses heat faster than it can produce it. The most common symptoms of hypothermia are shivering, confusion, and drowsiness. Hypothermia can be deadly if not treated immediately.
If you suspect someone has frostbite or hypothermia, it is important to seek medical help immediately.
Layering Basics for Winter Hiking
There are a few things you need to keep in mind when it comes to layers:
You want to make sure you have a base layer that will wick away sweat and help keep you dry.
You will want an insulating layer to trap heat and keep you warm.
You need a waterproof and windproof layer to protect you from the elements.
You may want a fourth layer for extra warmth, such as a down jacket.
My top advice for packing clothes for hiking is to bring spares of anything that could get wet, like socks, gloves, and a base layer shirt.
For ladies specifically, it's also important to pack an extra sports bra. This way, if any of your clothing gets wet while you're out exploring, you can always put on something dry.
You May Be Interested in:
How To Stay Warm On A Winter Hike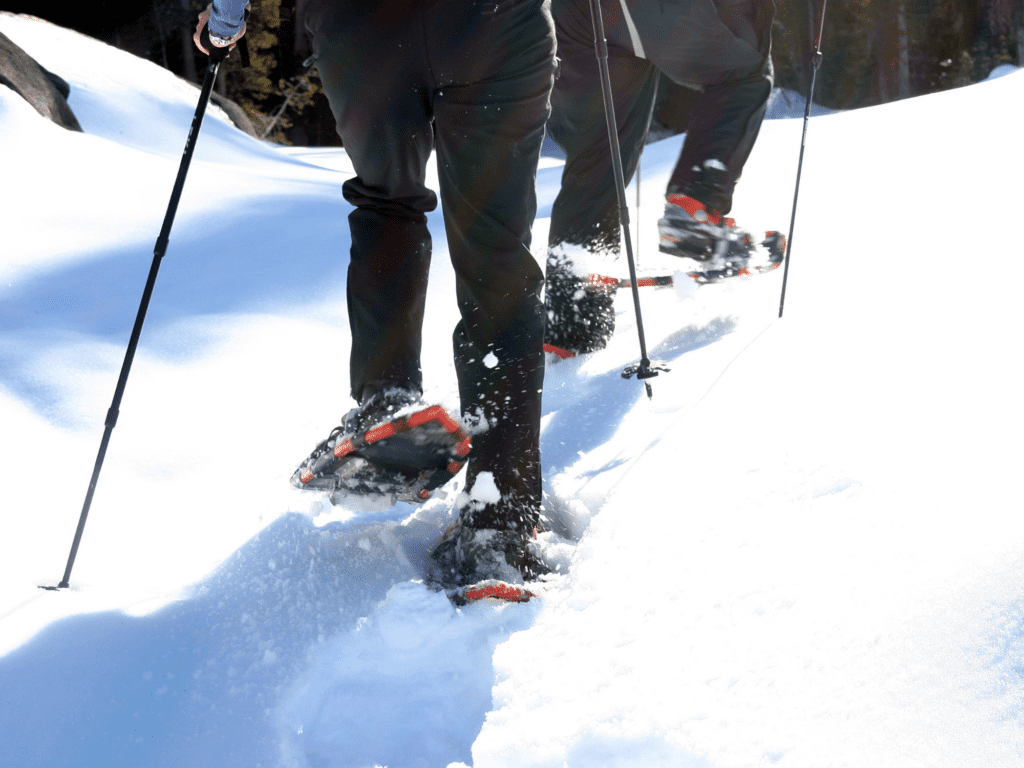 There are a few things you can do to stay warm on a winter hike:
Dress in layers. This will trap heat and help keep you warm.
Make sure you are drinking plenty of water. Dehydration can cause your body temperature to drop.
Eat high-energy foods that will help fuel your body and keep you warm.
Carry something warm to drink.
Many years ago, a friend told me to always carry a warm beverage like hot tea or broth in a thermos, just in case I need to warm up quickly. This has been a lifesaver and something that I now routinely do.
What Not To Wear While Winter Hiking
There are a few things you should avoid wearing while winter hiking. First, avoid cotton clothing. Cotton will absorb sweat and moisture, leading to chafing and discomfort.
Second, avoid anything too tight or constricting. Tight clothing can limit your range of motion and make it difficult to stay warm.
Finally, avoid any clothing that is not durable. You want to make sure your clothing can withstand the rigors of hiking, so avoid anything that is delicate or fragile.
What To Bring On A Winter Hike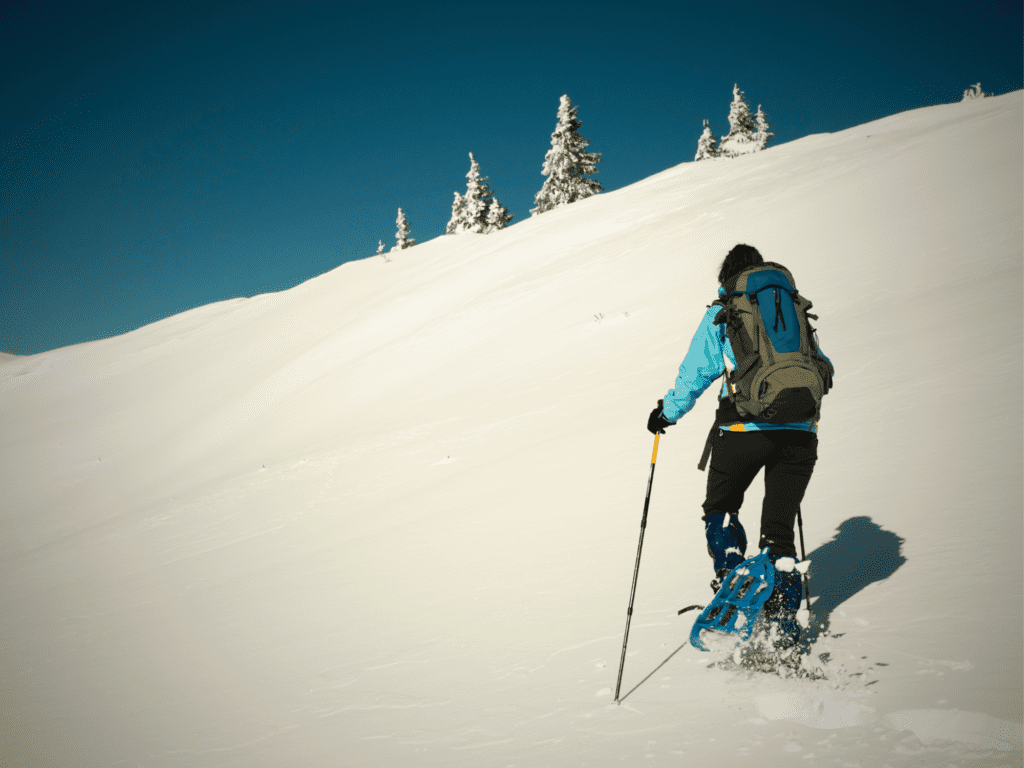 In addition to dressing appropriately and packing the proper clothing, you should bring a few other things on a winter hike.
Bring traction, especially when hiking on packed or icy trails
Bring a dry pair of mittens for keeping hands warm on all parts of the hike
Emergency whistle
Wear sunscreen, even on cloudy days
Hiking poles can be helpful when trekking through deep snow
Carry extra food and water in case you get lost or stranded on the trail
Make sure your cellphone is fully charged before you head out
Bring winter hiking safety essentials, such as a first-aid kit
Cold Winter Temperatures Can Deplete Your Phone Battery (Be Prepared)
Be aware that your phone battery will die quicker in the cold, so make sure it is fully charged before you leave, and bring a backup power source, just in case.
Pack extra batteries for any electronic devices you bring with you. If you have a GPS device, make sure the batteries are fully charged before you leave.
In addition to a GPS device, it's always a good idea to bring a paper map and know how to use them.
Wondering How to Choose a Winter Hike?
There are a few things to consider when choosing a winter hike:
You need to consider the level of difficulty. If you are a beginner, choosing a trail that is not too challenging is important.
You need to think about the length of the hike. It is important to make sure you are prepared for a longer hike by packing enough food and water.
You should consider the weather conditions and make sure you have dressed appropriately for the conditions.
Our Favorite Places To Snowshoe or Hike in the West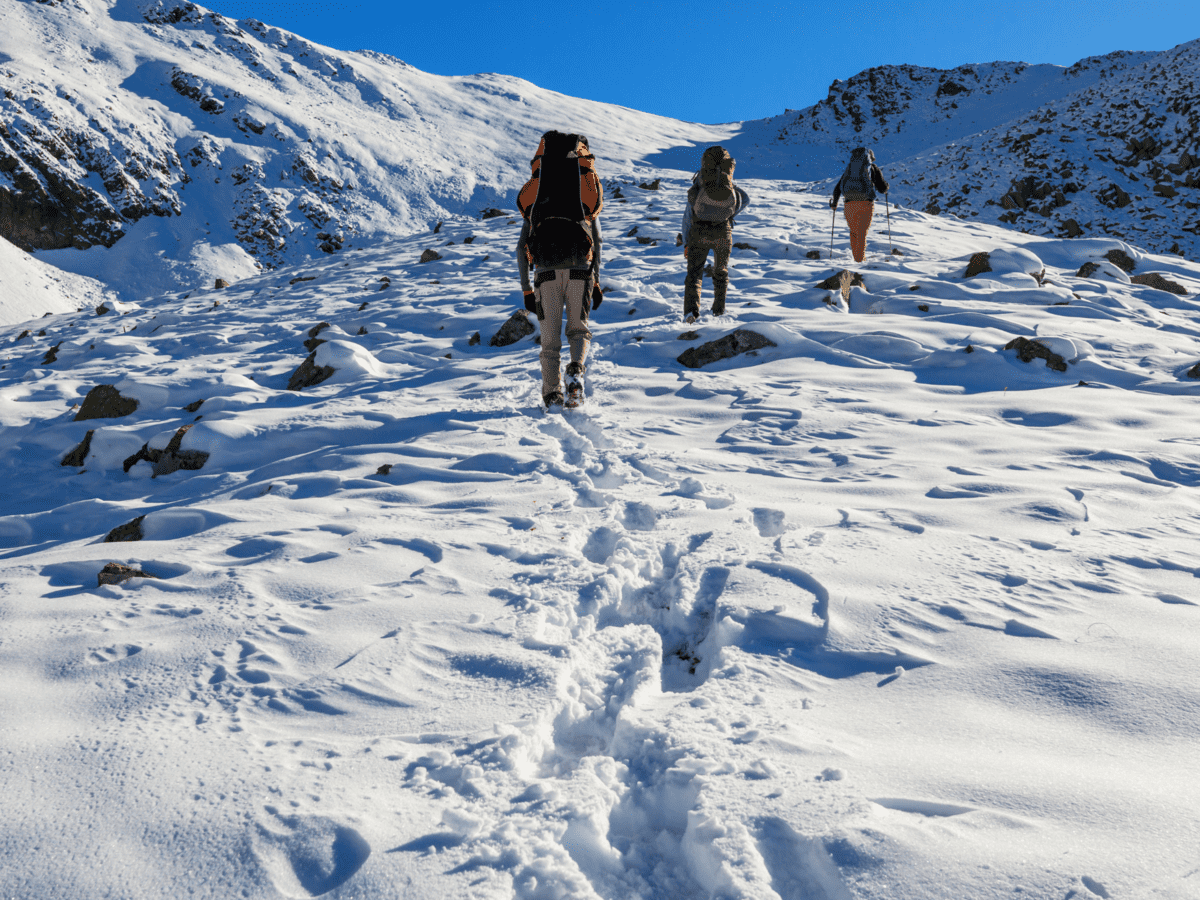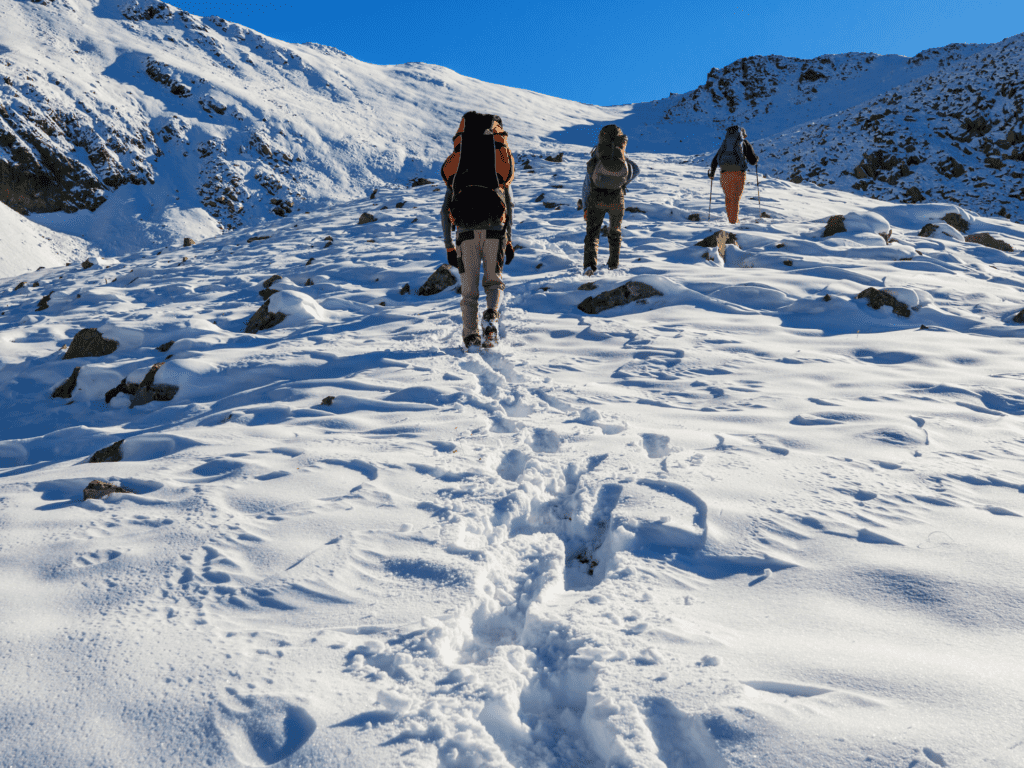 Bryce Canyon National Park (Utah)
Bryce Canyon National Park is a great place to snowshoe or hike in the winter. With its red rock hoodoos and incredible views, Bryce Canyon is a truly unique destination.
Most of the day-hiking trails in the park require snowshoes after a big snowfall, but as melting continues and more people hike on them, they become so packed down with ice that snowshoes are no longer effective.
This is when traction devices for your hiking shoes or boots are recommended, especially in parking lots and other paved areas, to avoid injuries from slipping and falling.
You are welcome to snowshoe on any trail throughout the park! Just keep in mind that though snowshoes will help you through deep powder, it is still a physically demanding activity. Some of our most popular trails for snowshoers include the Rim Trail, Bristlecone Loop, Fairyland Road, and Paria Road.
Jug Mountain Ranch (McCallI Idaho)
Jug Mountain Ranch offers an awesome snowshoeing excursion to a private yurt.
Jug Mountain Ranch has a lot of trails that are perfect for snowshoeing. They offer an awesome excursion to a private yurt that is only accessible by snowshoe.
The views from the yurt are incredible, and it's a great place to stay overnight if you're looking for a true backcountry experience. There are also plenty of other trails to explore on the ranch, so you can make your snowshoeing trip as long or short as you want.
Mt Ranier
In winter, the mountain's landscape is transformed. Its subalpine meadows and old-growth forests are covered in snow for most of the year, making them appear more colorful.
The glaciers, which sometimes look dusty, are freshly covered in white. The snow-covered roofs of the historic buildings have icicles around them, making a scene that looks like it's straight out of a postcard.
Click Here to learn more about hiking at Mt Rainier
Yellowstone National Park (Wyoming)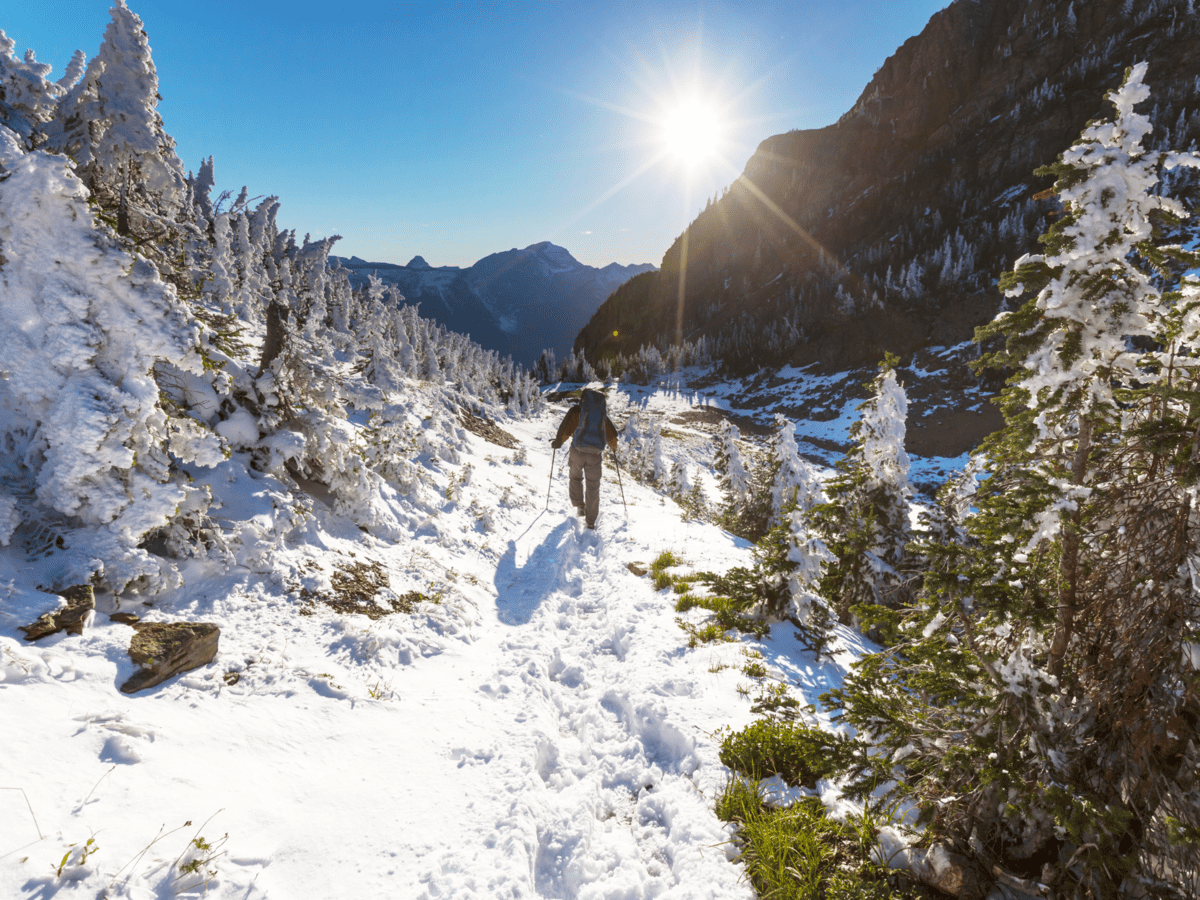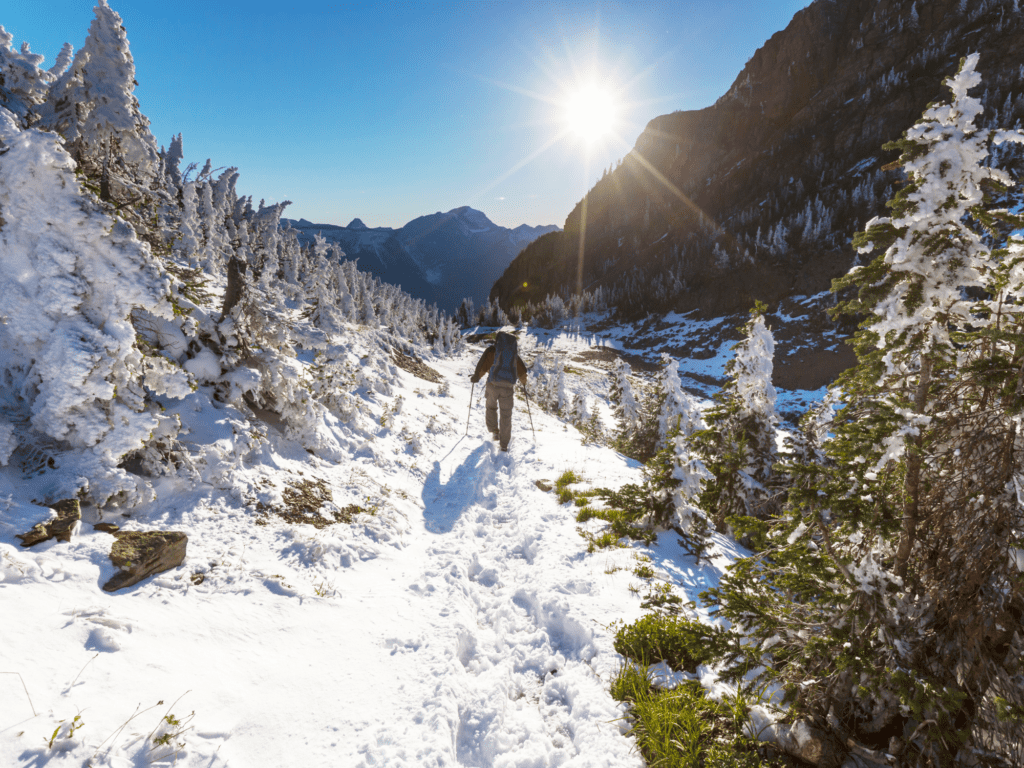 When winter comes to Yellowstone, the tourist numbers dwindle, temperatures drop significantly, and geyser basins remain steaming.
Snowy weather conditions mean that skis, snowshoes, snow coaches, and snowmobiles become the best modes of transportation, as most park roads are closed due to either being frozen or covered in deep snow drifts.
Click here to learn more about hiking or snowshoeing at Yellowstone National Park.
Arches National Park, Utah
With over two thousand natural archways and otherworldly rock formations, hiking through Utah's desert will make you feel like you've landed on Mars.
Despite the chilly weather, visiting Arches National Park in the winter is an absolute treat. You'll never forget a snowy, red rock desert fantasyland.
If you thought Arches National Park was packed during the summer and fall, winter sees a whole different crowd: or rather, lack thereof. Visit in winter to experience peace and tranquility among the arches and get some of the best views to yourself.
Recommended hike in Arches National Park: The Devil's Garden Loop is the longest trail in the park (7.8 miles) and a must-do if you want to cover as much ground as possible during your visit. Hiking offers breathtaking views of a few unforgettable arches in the national park, as well as unbelievable landscapes that look like they belong on another planet.
Telluride, Colorado
Although most people think of Telluride for its snow, this mountain town boasts 300 days of sunshine every year. With jagged peaks and lush valleys, it's easy to see why hikers from all over the world come to Colorado to explore Telluride's trails.
Although some hiking trails close during the winter because of avalanche concerns, others are safe to hike all year round.
Not only will you get a great workout hiking, but you can also take in the stunning downtown area of Telluride. If skiing is more your style, there is plenty of fresh powder to be found on the slopes as well. And after all that activity, what could be better than soaking in one of the hot springs nearby?
​​Recommended hike in Telluride: The Jud Wiebe Trail, a three-mile-long trail close enough to town to get a bird's eye view of its quintessential beauty!
Rocky Mountain National Park
In the winter, Rocky Mountain National Park sees a lot of snowfall west of the Continental Divide. However, there is less accumulation on the park's east side, so some trails remain open for hiking. For those who don't want to use skis or snowshoes, there are still plenty of options below 8700 feet (2700 m).
Click here to learn what trails are open and available to winter visitors.
Although Rocky Mountain is usually bustling with visitors during the summer, don't write off this gorgeous national park as a winter destination.
The scenery of the mountains is always spectacular, but it's especially beautiful in the winter when the snow-capped peaks are blanketed in a layer of fresh snow. The best part is the cold weather has also scared away all of the fair-weather tourists.
Before heading out, make sure to pack some extra layers in case it gets cold, snowshoes in case there is too much snow, microspikes for traction, and water, so you don't get dehydrated.
Recommended hike in Rocky Mountain National Park: The Emerald Lake Hike is a simple, short (3 miles) hike that will take you to three of the park's most famous lakes: Emerald Lake, Nymph Lake, and Dream Lake. Usually, the hike is packed with people, but during the winter, everything changes.
The view becomes magical—snowy mountains and frozen lakes as far as the eye can see. Plus, there's barely anyone around, so you can appreciate nature in all its glory without the crowds.
Death Valley National Park, California
Hiking in Death Valley is no easy feat, especially during the summer months when temperatures are known to soar above 100 degrees.
On the other hand, winter brings chilly temperatures and a wonderful opportunity to enjoy the desert magic of this beautiful park.
Although its name might sound a bit dark, Death Valley is actually full of life and color.
This unique landscape is home to eerie-looking trees, hills, and rocks splashed with colors and enormous salt flats that stretch for as far as the eye can see.
Recommended hike in Death Valley: The Golden Canyon and Gower Gulch Loop is a classic for first-timers to get an introduction to this unique place.
Hiking through the golden sandstone canyon, you'll find the badlands of the Amargosa mountains, tight canyon walls, and landscapes so extraordinary they'll make you second-guess if you're really on Earth!
Sequoia National Park, California
Sequoia National Park is located in the Sierra Nevada Mountains of California and is home to the world's largest living trees, sequoias. While visiting this lovely park all year is breathtaking, viewing the contrast of the snow against brilliant red sequoia bark is something truly magnificent.
Recommended hike in Sequoia National Park: The Big Tree Trail, which is a relatively short 1.3-mile loop that will mesmerize you with views of enormous sequoia trees dusted in fluffy white snow.
Another must-do is snowshoeing the Congress Trail, where you'll see the world's third-largest tree.
Snowshoeing the Congress Trail is another must-do while you're in Sequoia National Park. Along the way, you'll have to chance to see the third-largest tree in the world as well as a massive grove of sequoias called The Senate (this is an epic spot for photos!)
Have you visited any of these incredible hiking destinations in the USA? We'd love to know more about your experience as well as what your favorite winter trails are, so make sure you drop them in the comments section below.
What Are The Benefits of Snowshoeing Or Hiking In Winter?
There are many benefits to snowshoeing or hiking in winter, including the following:
It is a great workout for your legs, heart, and lungs.
Snowshoeing is low impact, so it is easy on your joints.
It is a great way to get out and enjoy the winter scenery.
You can go at your own pace and take in the fresh air.
Snowshoeing is a great way to spend time with family and friends.