There are two sorts of travelers: those who flee the cold and those who enjoy it. If you're a seasoned skier, there's no better time to hit the slopes than during winter. Skiing excursions, snow-capped mountains, and evenings spent by the fire? Sounds like paradise to us!
Here are the best winter wonderland vacations in the USA if you're wondering where to head next this winter.
Cozy Up By A Fire At A Winter Lodge In Vail, Colorado
Vail is, without a doubt, the most quintessential of winter towns. While there are lots to do in Colorado's mountainous northern region all year, it's definitely the most unique time of year to visit this alpine jewel.
If you're looking for a world-class mountain resort with everything you could ask for, look no further than Vail. Nestled beneath the Gore Range, Vail offers winter sports, outstanding restaurants, and luxurious accommodations.
During the winter months, Vail is bustling with skiers and snowboarders from all over the world. The town is home to some of the best ski slopes in the country and a variety of other winter activities.
If you're not into skiing or snowboarding, don't worry – there's still plenty to do. You can go ice skating, dog sledding, snowmobiling, or even take a scenic gondola ride to the top of the mountain.
And when you're ready to thaw out, there are plenty of cozy fireplaces and après-ski bars to enjoy.
Take A Cozy Mountain Getaway To Park City, Utah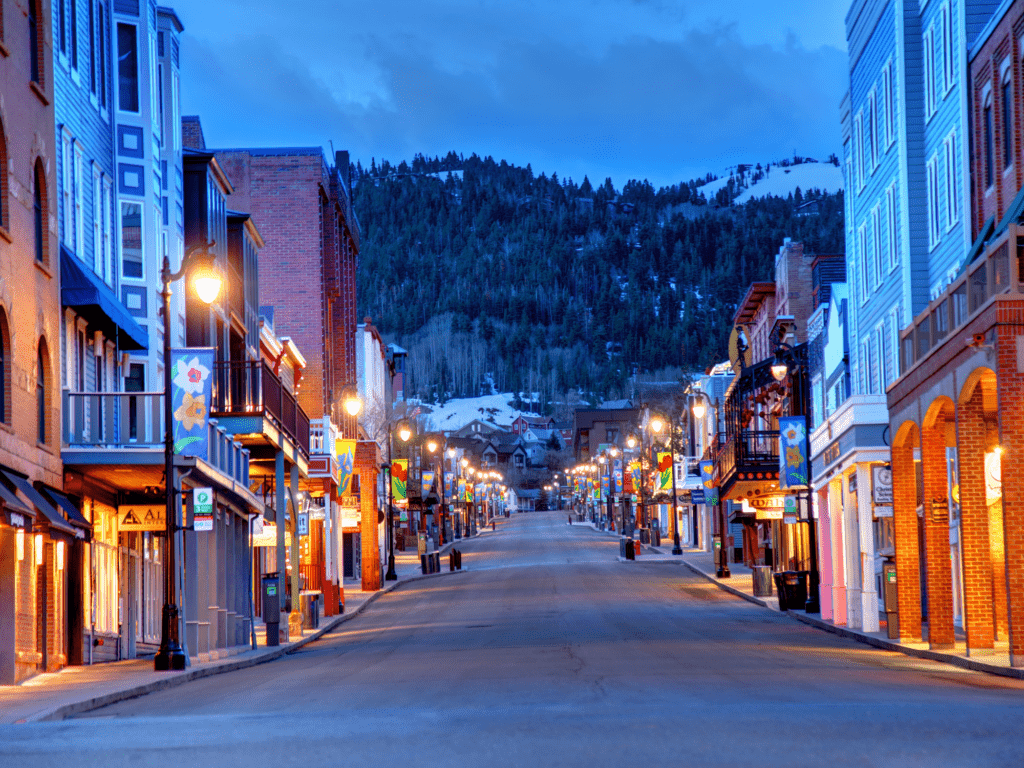 Known for its world-class ski resorts and unbeatable winter sports (think activities like wild snowmobiling, dog sledding, and ice skating). Park City in Utah offers a (mountain) range of things to do that you've got to experience at least once in your life.
Walking through this quaint little town will make you feel like you're wandering inside a real-life snow globe as you gawk at the century-old buildings and mansions that line the valleys.
Tip: January hosts the town's annual Sundance Film Festival, which is THE place to be if you want the chance to see some of your favorite celebrities (hey, you might even run across them at your hotel!).
Enjoy A Snow Retreat In Telluride, Colorado
Known for its snowy peaks and scenic beauty that will have your jaw dropping to the ground, Telluride is one of Colorado's most picturesque mountain towns and a must-visit if what you're after is winter outdoor adventures galore.
While in Telluride, don't miss out on exploring a few of its hiking trails (make sure to check the weather conditions before you venture in), getting those Instagram vibes on at Hotel Madeline's ice-skating rinks, and sledding down the San Juan Mountains.
If you're up for some serious mountain adventure, you can try your hand at ice climbing (yes, it's a thing!) or venture deep into the mountains in a cross-country ski adventure.
If you'd rather not break a sweat and would much prefer a relaxing vacay (or a combo of adventure and luxury), Telluride's surroundings host plenty of insanely beautiful hot springs where to can relax your muscles after a day of snowy adventures!
Whitefish Mountain Resort- One Of Our Favorite Winter Wonderland Vacations
Whitefish is a charming town located in northwestern Montana, surrounded by the Rocky Mountains. The Whitefish Mountain Resort is one of the state's top ski destinations and it's perfect for all levels, from beginners to experts.
With 3,000 acres of skiable terrain and 300 inches of snowfall each year, Whitefish offers something for everyone with its myriad of activities, from skiing and snowboarding to dog sledding and ice skating.
Camden, Maine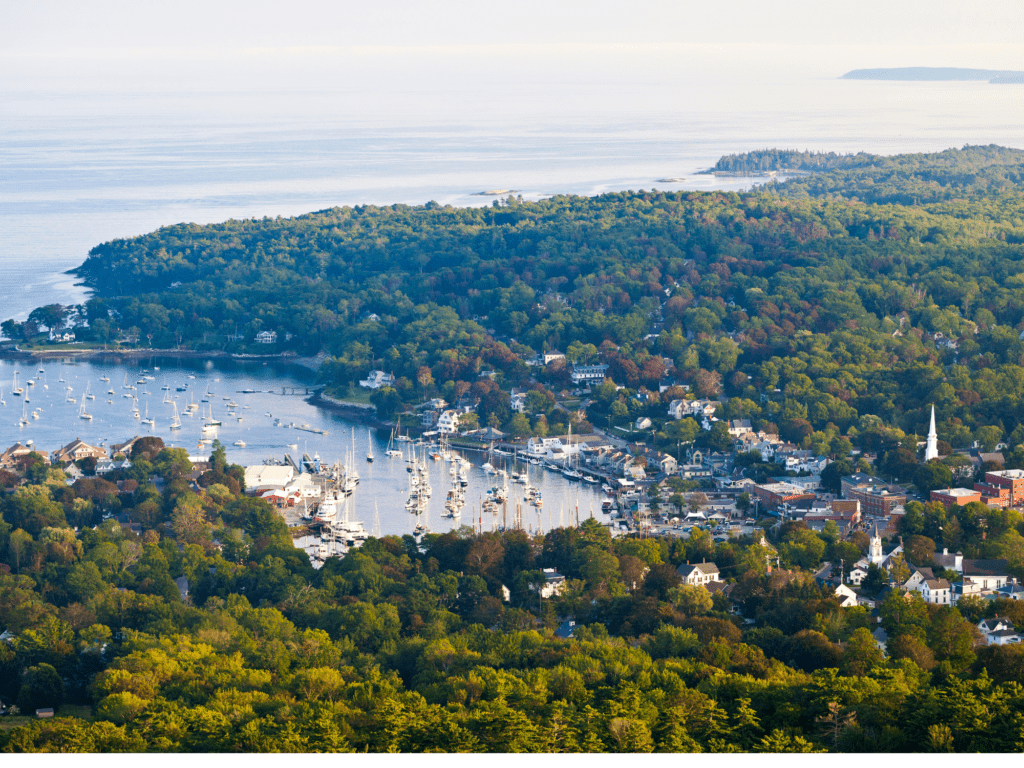 There's something incredibly charming about New England in winter, and Camden is the king of winter wonderlands in the area. Located on the charming Penibscto Bay, Camden Harbor feels like it came straight out of a Thomas Kinkade painting.
While visiting, make sure you book a unique ski adventure at Camden Snow Bowl, where you'll get to get your shred on with the views of the ocean backdropping your every move.
Another must is to search for all the lighthouses in the area, which look as though they came straight out of a fairytale when dusted by white snow!
Find A Getaway Mountain Lodge In Ouray Colorado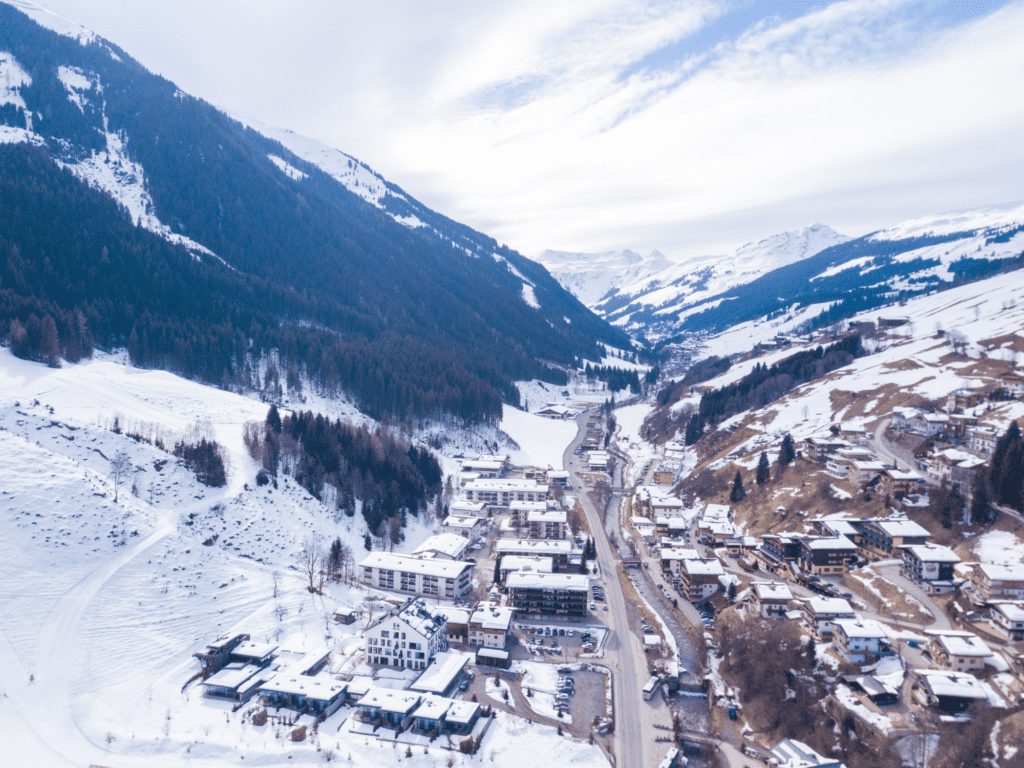 Nestled in the San Juan Mountains, Ouray in Colorado is your go-to if you want to feel as though you're walking around in Europe rather than the USA. Popularly dubbed the "Switzerland of America", Ouray is the perfect place to head to for some serious wintery vibes and that fairytale feeling deep in the mountains.
Aside from its endless array of outdoor mountain adventures (and hot springs galore to relax your muscles in!), Ouray knows how to make the most out of the colder months with events like the Ouray Ice Festival and San Juan Skijoring, both of which celebrate winter sports and the importance they have on this gorgeous little town in the heart of the Colorado mountains.
Yellowstone National Park, Wyoming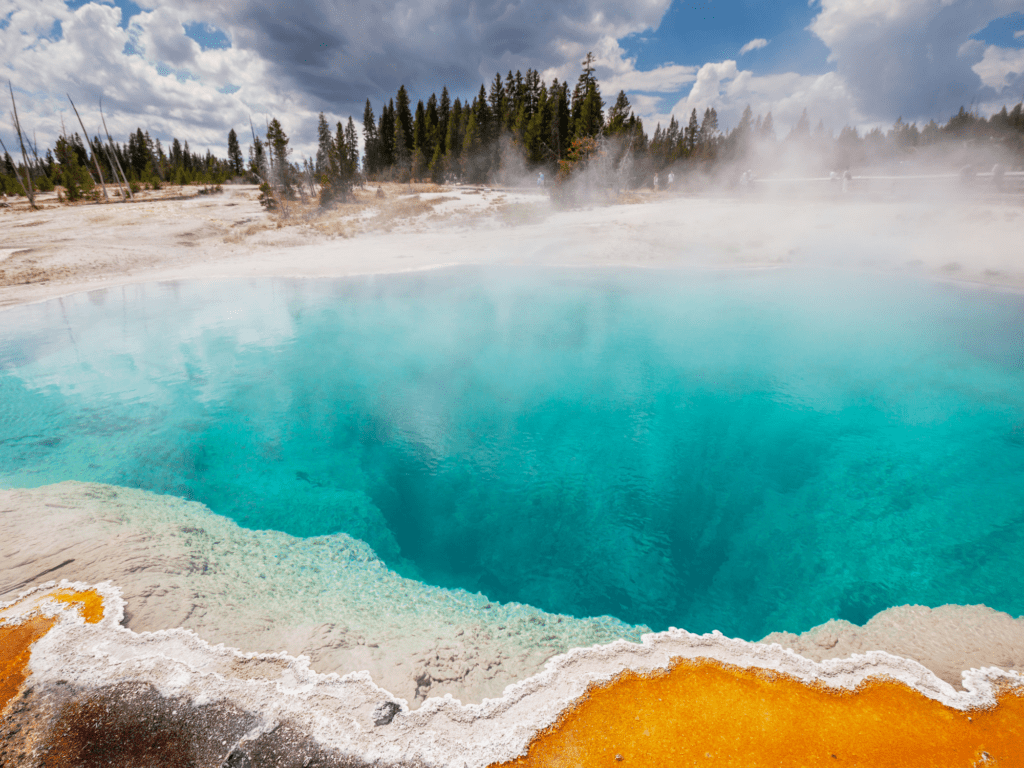 Yellowstone National Park is a gem of a place any time of the year, but during the winter months, it becomes a mecca for those in search of a snowy utopia. Think snow-capped landscapes, forests dusted in snow, frozen lakes, and steaming geysers that make the landscapes look out of this world.
Another thing that makes this national park worth the trek? Yellowstone is set right next to Jackstone Hole, which means you can combine your visit to the national park with some serious après-ski scenes and luxury stays to relax in after a day spent adventuring!
If you're an outdoor enthusiast or looking for some excitement, consider taking a snowmobile tour of the park. If staying warm is more your style, but you want to see attractions like Old Faithful, then a snow coach tour is perfect for you if you want to explore the park on your own. Drive over to Mammoth Hot Springs!
This section of Yellowstone is open all year (weather permitting) and has unique thermal features and food and lodgings.
Gatlinburg & The Great Smoky Mountains, Tennessee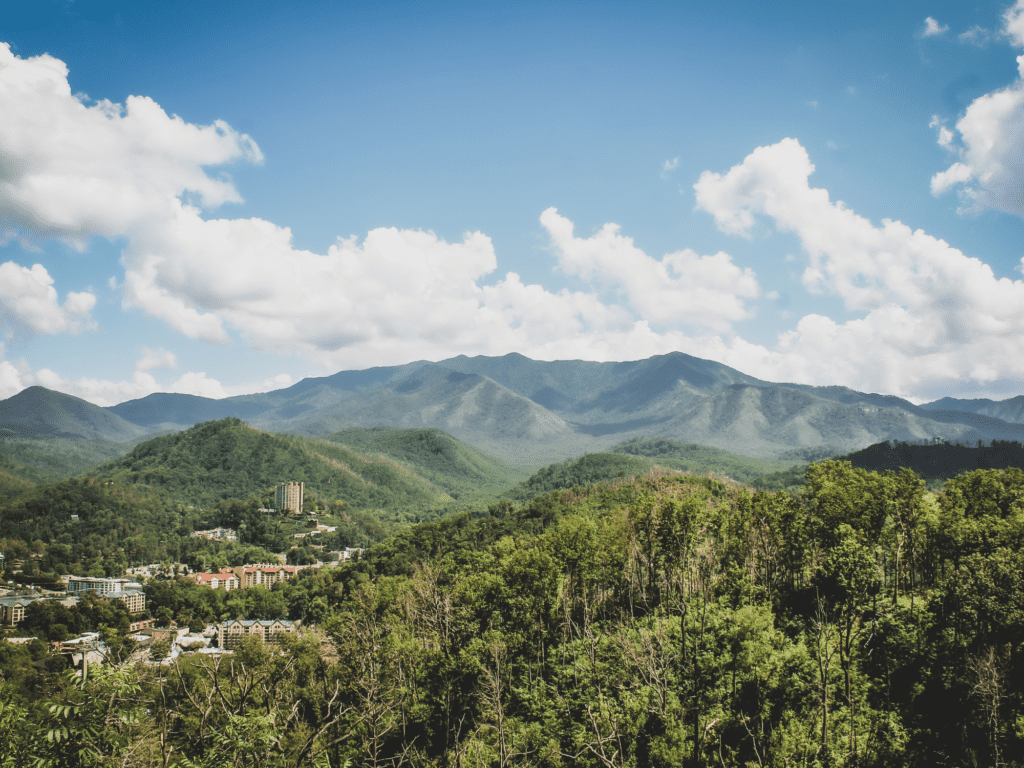 More popularly known for being the base to explore the Great Smoky Mountains, Gatlinburg in Tennessee has a ton more to offer for those who linger a while at this quintessential mountain town.
Aside from its classic alpine vibes, countless theme parks, and incredible food scene. Gatlinburg burst to life with several winter festivities, such as the Anakeesta's Enchanted Winter festival, where you'll find twinkling lights every step you take and delicious food to help you beat the winter blues.
Once you're done exploring Gatlinburg, head into the Great Smoky Mountains National Park, where you'll find an array of winter sports to choose from and cozy cabins and chalets to experience winter in the middle of nature. Seriously, it doesn't get more magical than waking up and having a hot cup of cocoa in the middle of nowhere!
Shenandoah National Park
Although Shenandoah National Park is beautiful any time of year, it really comes alive in the winter. With its rolling hills and valleys blanketed in snow, the park looks like something out of a postcard.
If you're looking for a winter wonderland that's not too far from home, look no further. Just a few hours from Washington D.C., this national park is teeming with wildlife and offers incredible views of the Appalachian Mountains.
There are over 500 miles of trails to explore, and many of them are perfect for cross-country. There are also a number of ranger-led programs offered during the winter months, so you can learn more about the park and its wildlife.
Crested Butte Colorado
Crested Butte, Colorado, is a quaint small town located in the Rocky Mountains. This town is well known for its excellent skiing and snowboarding and charming Victorian downtown area.
Crested Butte is the perfect place for you if you're looking for a winter adventure vacation with plenty of outdoor activities. In addition to skiing and snowboarding, you can also go snowshoeing, ice skating, and dog sledding.
And if you need a break from all the outdoor activities, be sure to check out Crested Butte's charming downtown area. This district is home to many unique shops and restaurants, as well as a few art galleries.
McCall Idaho
McCall, Idaho has two large ski resorts within 45 minutes of downtown. These resorts offer a variety of slopes for skiers and snowboarders of all levels. You can also participate in many other winter activities such as tubing, cross-country skiing, and ice skating.
If you're looking for an adrenaline rush, snowmobiling is a popular thing to do in McCall. There are many different companies that offer tours of the surrounding area. This is a great way to see the beautiful scenery of McCall while getting your heart pumping. We absolutely love heading out to Burgdorf hot springs on our snowmobiles. If you do choose to head out to Burgdorf, be sure to reserve your tickets in advance because Burgdorf now operates off of a reservation system.
McCall is still a great choice if you're looking for a more low-key winter vacation. This charming small town is on Payette Lake, making it the perfect place to go for a scenic walk or snowshoeing. And when you're ready to warm up, head to one of McCall's many breweries or coffee shops.
Insider Tip: When visiting McCall be sure to take Hwy 55 also known as the Payette River Scenic Byway it's a beautiful drive along the river.
Take A Trip To Leavenworth Washington
Leavenworth, Washington has two ski resorts within an hour's drive. It is considered the outdoor recreation mecca of the Pacific Northwest. There are cross-country and downhill skiing, snowboarding, sledding, tubing, sleigh rides and snowmobiling opportunities. The town has a Bavarian theme, with nutcrackers, gingerbread houses, and hot spiced wine with making it a popular destination for visitors worldwide.
The Cascade Mountains provide a beautiful backdrop for all the outdoor winter activities available in Leavenworth. If you're looking for a winter wonderland vacation with plenty of outdoor activities, Leavenworth is the perfect place!
Grand Teton National Park
There's no better place to enjoy the great outdoors than Grand Teton National Park. The views are simply breathtaking, and there's so much to do! From cross-country skiing and snowmobiling to ice fishing and dog sledding, you'll never get bored. Just be sure to pack your warmest clothes!
With its glacial lakes, alpine meadows, and towering mountains, Grand Teton National Park is an outdoor paradise all year round. But in winter, the park really comes alive. The snow-covered landscapes make for some of the most beautiful scenery in the country. And with plenty of trails to explore, it'
Take A Winter Trip To See The Northern Lights
There's nothing quite like seeing the Northern Lights in person. These natural phenomena are truly a sight to behold, and there's no better place to see them than Alaska.
Head to Denali National Park for some of the best views in the state. You can also try your luck in Fairbanks, where you have a higher chance of seeing the lights since it's located under the "aurora oval."
Lake Placid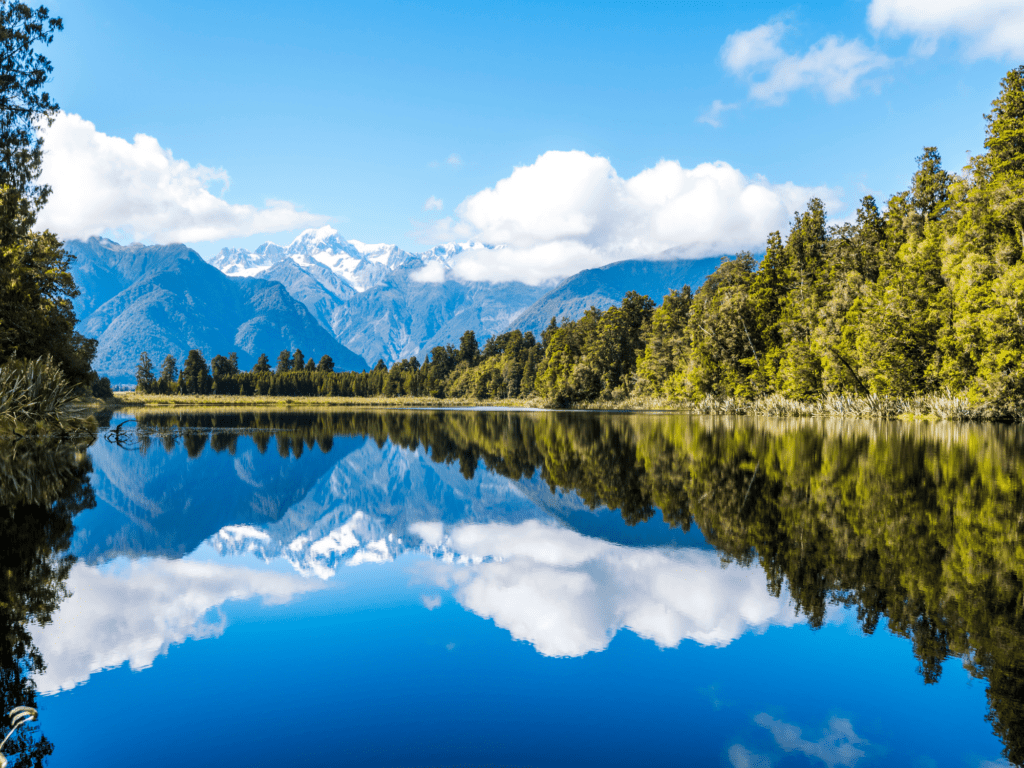 Lake Placid is a popular tourist destination in upstate New York, and for good reason. This picturesque small town is located in the Adirondack Mountains and is a great place to enjoy all kinds of outdoor activities. The town is home to the 1980 Winter Olympics and many other winter sports facilities.
In addition to skiing and snowboarding, you can also go ice climbing, dogsledding, and cross-country skiing. And when you're ready to warm up, head into town for some shopping or to enjoy a meal at one of the many restaurants.
If you're looking for a winter wonderland vacation with plenty of opportunities to try new things, Lake Placid is the perfect place!
Take An Adventure Trip To Lake Tahoe
Lake Tahoe is a popular tourist destination in California and Nevada, and for a good reason. This large lake is located in the Sierra Nevada Mountains and is a great place to enjoy all kinds of outdoor activities.
In addition to skiing and snowboarding, you can also go ice skating, sledding, and cross-country skiing. And when you're ready to warm up, head into one of the many towns that surround the lake for some shopping or to enjoy a meal at a restaurant.
If you're looking for a winter wonderland vacation with plenty of opportunities to try new things, Lake Tahoe is the perfect place!
Yosemite National Park
Although most National Parks close during the winter months due to dangerous conditions, Yosemite National Park stays open all year round. This is good news for those of us who love to hike and explore in the snow!
One of the best things to do in Yosemite in winter is to go cross-country skiing or snowshoeing . There are miles of trails to explore, and you might even spot some wildlife along the way.
Get Out And Explore The Best Winter Wonderlands
I hope that this list of places to explore has inspired you to get out and enjoy the winter wonderlands that are waiting for you! No matter where you go, you're sure to create memories that will last a lifetime.