Visiting Zion in March
When is the Best Time Time of The Year to Visit Zion National Park?
The best time to visit Zion National Park depends on what you want to do and see. Generally speaking, the park is busiest from May to October, so visit outside of these months if you're looking for a quieter experience.
Spring is a great time to visit because the temperatures are mild, and there are usually fewer crowds than in summer. Fall is also a great time to visit, with beautiful colors and cooler temperatures.
Why is March a Great Time to Visit Zion National Park?
March is a great time to visit Zion National Park because the temperatures are mild perhaps even cold at night, and the park is not as crowded as it is during the summer months. The park generally has good weather this time of year, with some occasional showers. Also the days are getting longer, and the weather is warming up. You can enjoy the freshness of winter turning into spring.
Where is Zion National Park and What is It Known For?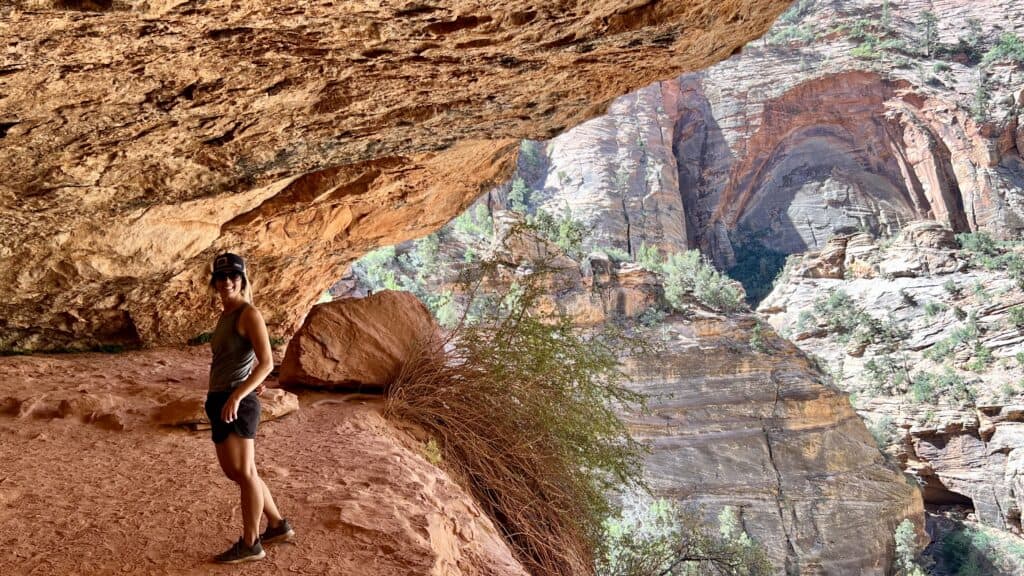 Zion National Park is a United States National Park located in Springdale, Utah, and is open all year round. It is known for its steep red cliffs and the Virgin River, which runs through the park. The park was established in 1919 and is a beautiful nature experience.
Benefits of Visiting Zion in March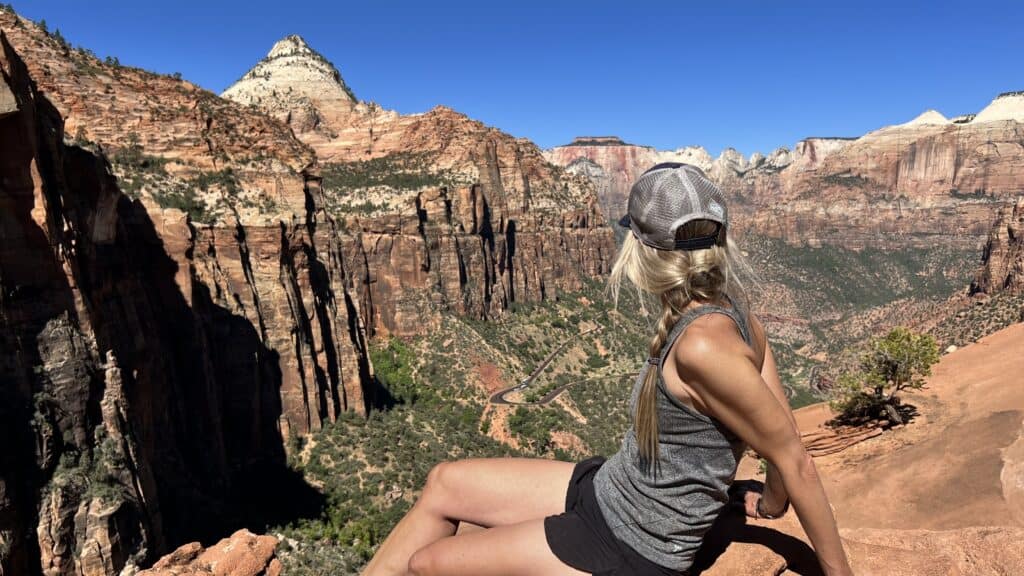 The scenery in Zion National Park is absolutely breathtaking in March. The snow typically starts melting as the season progresses, but it's still possible to see fantastic winter sunrise photography at this time of year.
One of the most significant benefits of visiting Zion National Park in March is that the park is much less crowded than during other times of the year.
The shuttle bus starts running in March, which takes visitors to popular trailheads in the canyon, and the scenery is beautiful at higher elevations in March.
Drawbacks of Visiting in March
Visiting in March will allow you to enjoy Zion's beauty and solitude, but there are some drawbacks. The weather can be unpredictable, and some trails may be closed due to snow and ice. Check the current conditions before planning your trip to ensure that you have a safe visit.
Be aware that higher elevation trails may be inaccessible in March without having the proper winter gear. Also if you plan on hiking expect to experience snow, ice, slush and puddles on various hikes.
Higher altitude trails like Angels Landing and West and East Rim trail will most likely have ice remaining from the winter months, especially in the shaded areas of the trai.
Trails Without Snow Or Ice in March
Overlook
Emerald Trails
Riverside Walk
The Narrows (dry suit a must)
Essential Tips For Visiting Zion in March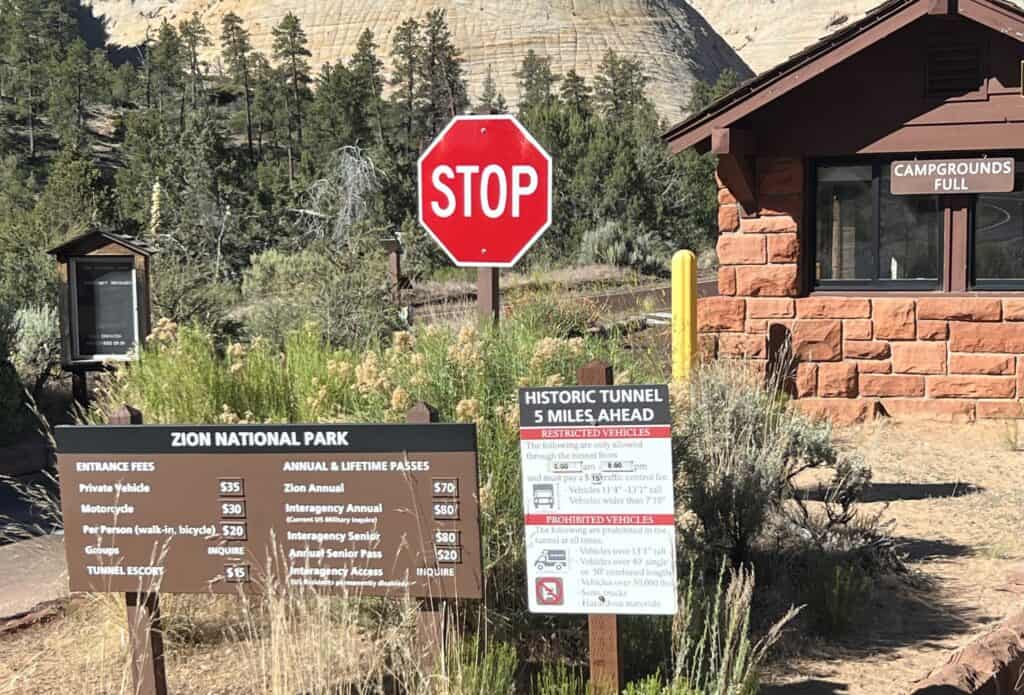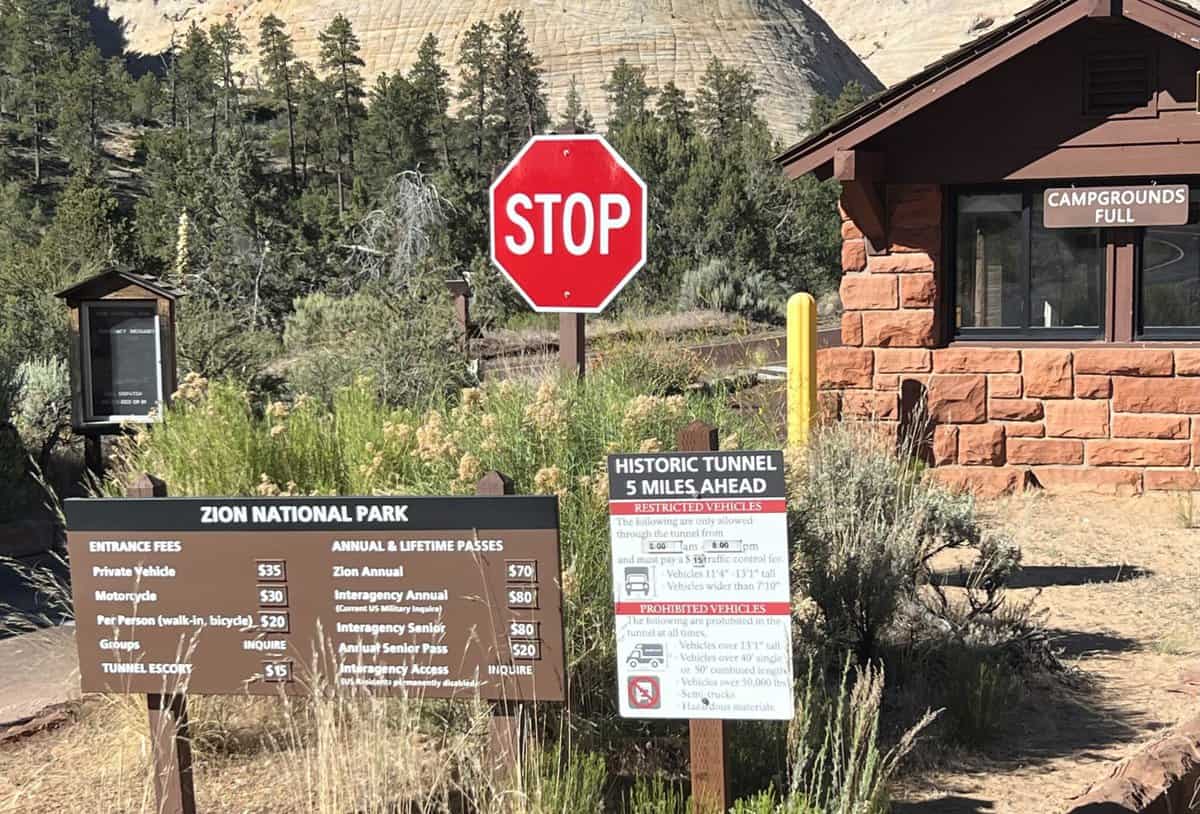 Entrance Fee: Zion National Park has entrance fees of $35 for private vehicles up to seven days and $20 per person for seven days, if you enter by foot or on bike. The American the Beautiful pass is a good idea if you want to save money and time at the gate.
Be Prepared for Crowds: Zion is the most popular of all Utah's national parks, and it's also the United States' fifth busiest. It may feel as if you're at Disneyland during peak season. Simply go in with appropriate expectations and realize that every nook and cranny of the park has its own charm.
Hiking is Popular: Zion National Park is a great place for backpacking, but be sure to start early as many trails become crowded later in the day. If you're looking for a less popular hike, try Kolob Canyons or explore some of the sights off-the-beaten-path.
The Mount Carmel Tunnel: If you're entering the park from the East on Hwy 9 you'll pass through a tunnel. Vehicles that are larger than the following dimensions (7 feet 10 inches (2.4 meters) in width and/or 11 feet 4 inches (3.4 meters) in height or larger) will be required to pay tunnel permit fee of $15. Your $15 tunnel permit is good for two trips through the tunnel for the same vehicle within seven days of purchase. You can learn more here.
Shuttle System: Between March and November, the park's major roads are closed to passenger cars- you cannot drive yourself. You can only go into the park using one of the free shuttles. This reduces noise and traffic in the canyon while also protecting the environment. To discover more about Zion National Park's Shuttle System, click here.
Our #1 Reason To Visit Zion National Park in March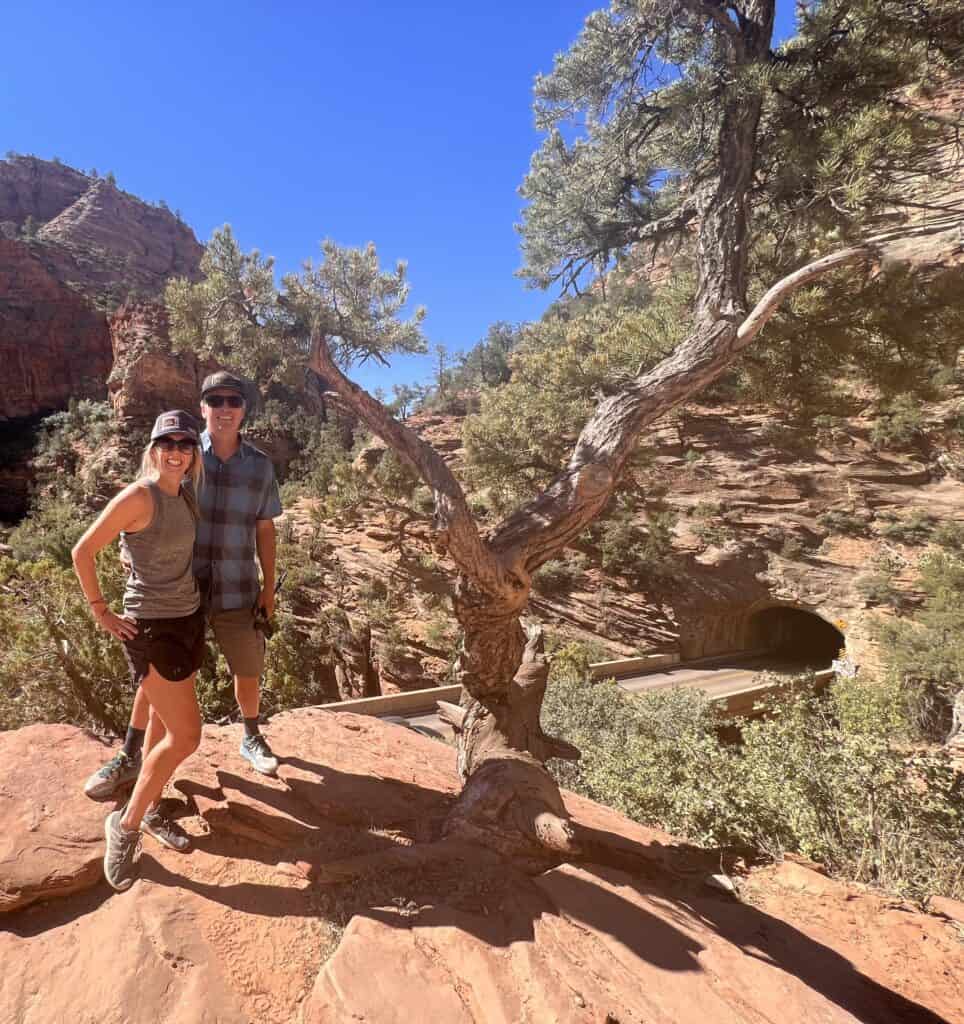 The melting snowpack in the region provides plenty of water for the falls and rivers in Zion National Park. If you like photographing waterfalls and rivers, then March is definitely the time to visit!
In addition, hiking is a popular activity in Zion National Park. And since the lower elevation of Zion canyon experiences much more mild weather than other areas in the United States, it's a great time to hike there.
The Best Months to Visit Zion National Park for Good Weather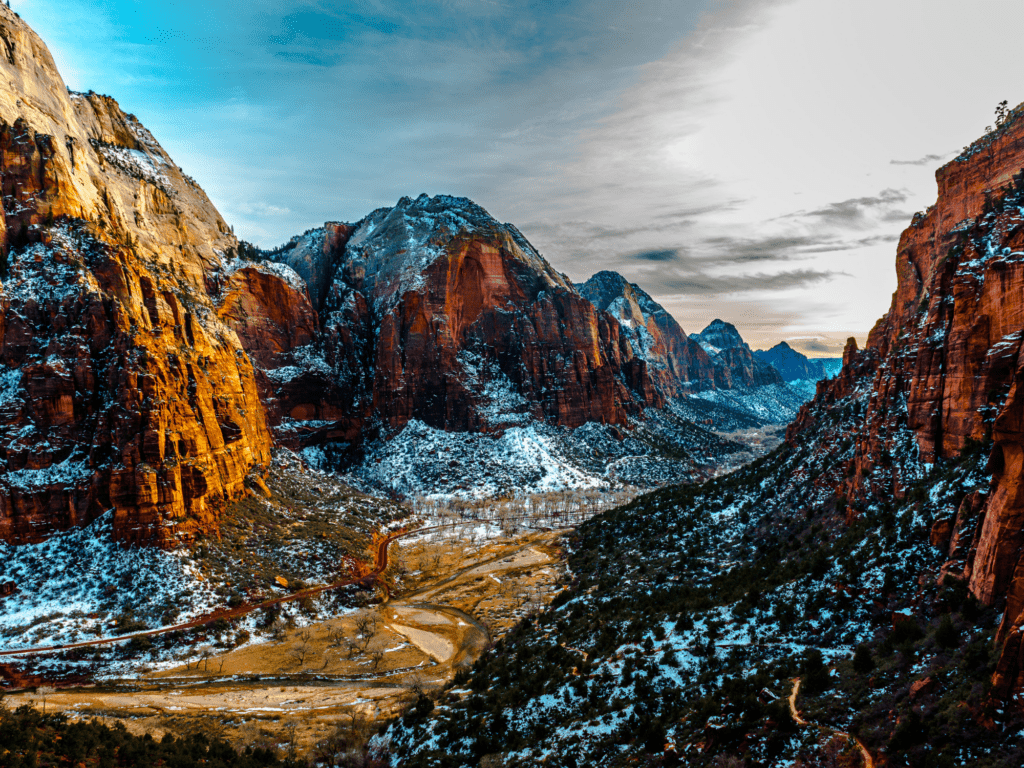 If you are looking for good hiking conditions, then I would recommend visiting Zion National Park in the spring or fall. The temperature can start to change towards winter, but the fall colors can be stunning. Remember that thunderstorms are more common in July, and the winter months see the most precipitation, including snow.
The Worst Time to Visit Zion National Park
The worst time to visit Zion National Park is during the summer, which is the most popular. With so many people trying to visit, the park can be pretty crowded, and it may be challenging to find a place to park or hike. The temperatures are also very hot and dry, making it uncomfortable for visitors.
The Best Time to Visit Zion National Park for Avoiding the Crowds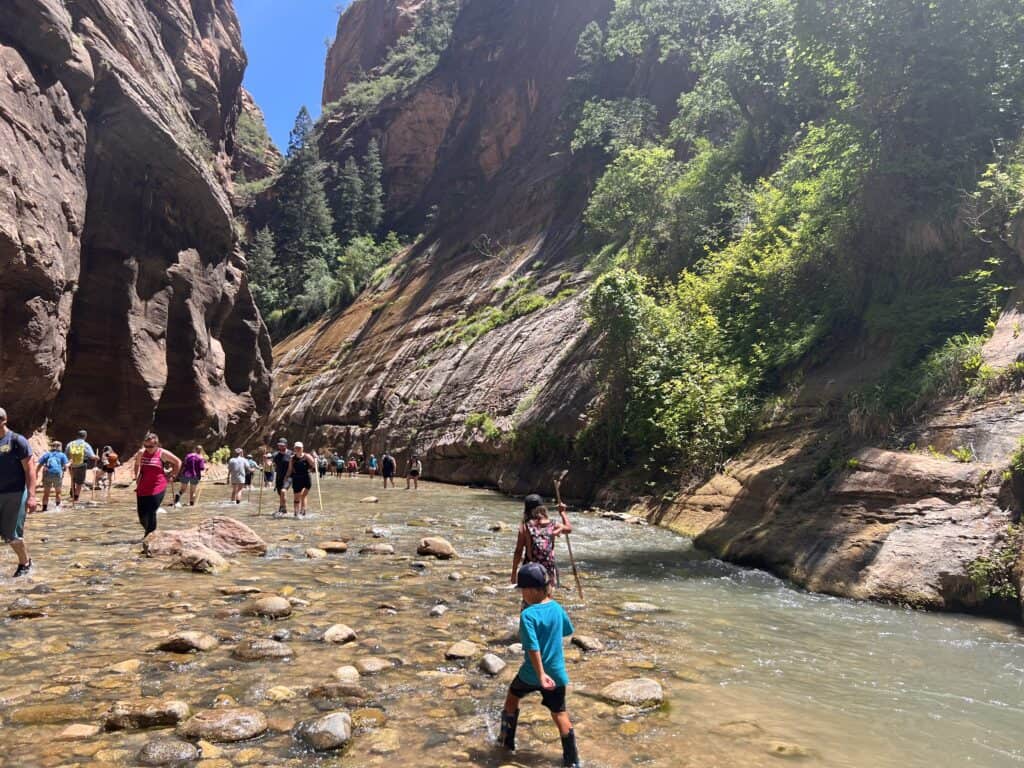 Keep in mind that fall colors can be beautiful at Zion National Park, and many people choose this time of year to visit. The weather is generally cooler for hiking. However, spring is the best time to visit because of the blooming wildflowers.
Fall holidays like Labor Day and Columbus Day can be just as crowded as summer holidays like Memorial Day. And while the Virgin River remains cold in winter, it's a great time to explore the Narrows without worrying about dodging selfie sticks and view-blocking crowds!
What to Pack For a Zion National Park Trip In March
When packing for a trip to a National Park, it is important to remember that the weather can be unpredictable. It is possible to experience all four seasons in the springtime in one day. Make sure you are prepared for rain, snow, wind, and sun by packing the proper clothing and gear.
Some things you might want to pack for a National Park trip in the spring are sunscreen, hats, water bottles, insect repellent, snacks, a first-aid kit, a map of the park, and a backpack to carry all of your supplies.
10 Essentials For Every Season in Zion National Park
Sunscreen
Sun Hat
Bug Spray
First Aid Kit
Bags to pack out trash
A walking stick or trekking poles
Hydration Pack/Camelbak
Jacket/Raincoat
Sturdy Shoes/Hiking Boots
Multi-Tool Knife
Camera
Warm clothes, such as a fleece jacket or insulated jacket
Socks that breathe and prevent blisters (Darn Tough socks are recommended)
What You Should Know Before Going to Zion NP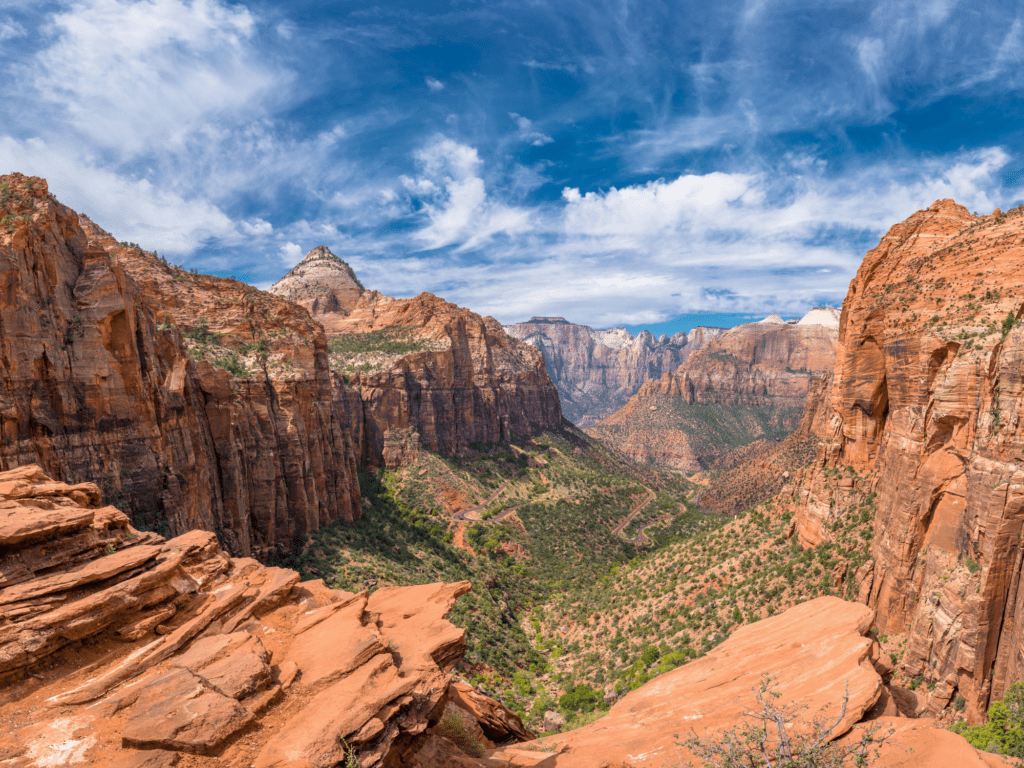 Zion National Park is a beautiful park that offers a variety of activities for visitors to enjoy. There are many hiking trails, and the Zion Canyon Scenic Drive provides excellent views. Visitors can also enjoy horseback riding, biking (through designated areas and the main roads), and walking during all four seasons.
Zion National Park is a popular destination for visitors, and it can be crowded on weekends and during summer months when temperatures can reach 100 degrees Fahrenheit or more. Visitors should avoid doing strenuous activities on the weekends and during the summer months when temperatures can reach 100 degrees Fahrenheit or more.
Does the Shuttle Run in March?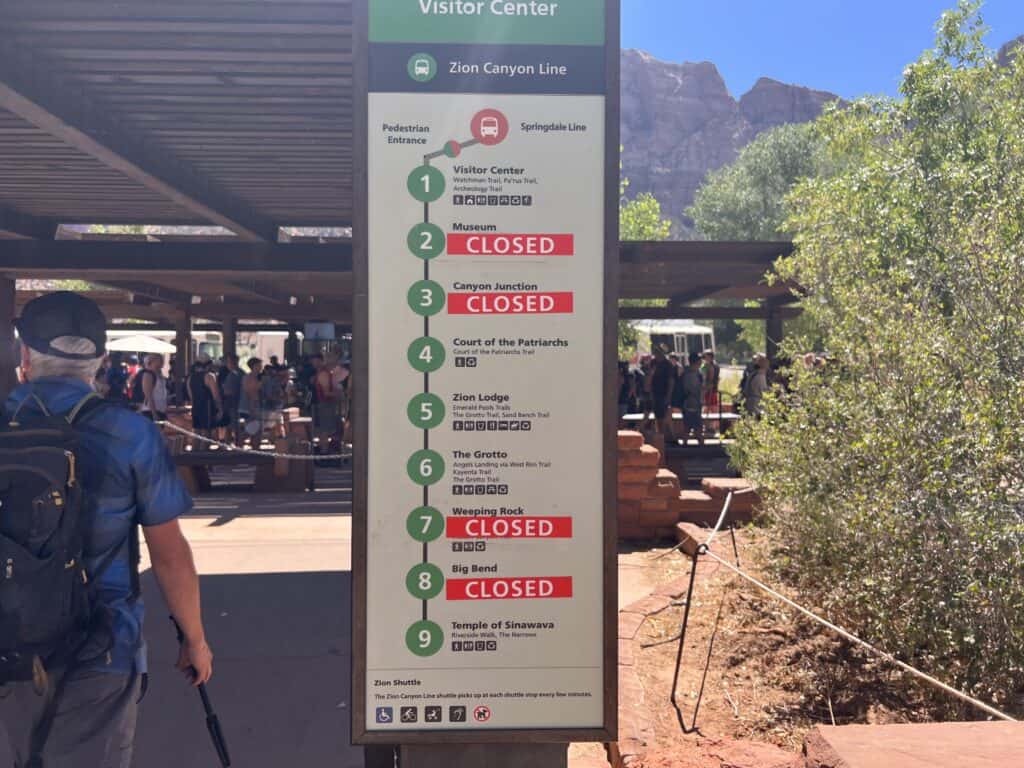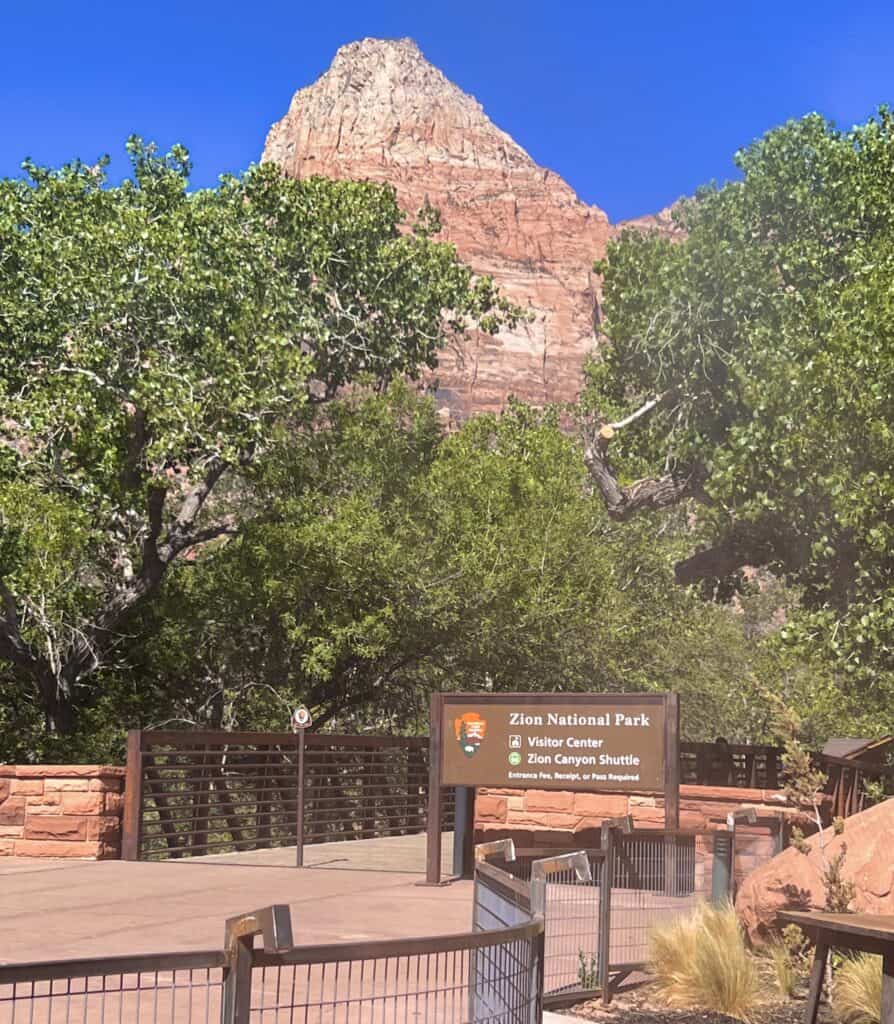 Typically the middle of March is when the full-time shuttle service resumes in Zion Canyon and Springdale. Access to the Zion Canyon Scenic Drive will be by free shuttle bus only. Please check for the shuttle schedule here.
Can You Drive Through Zion National Park in March?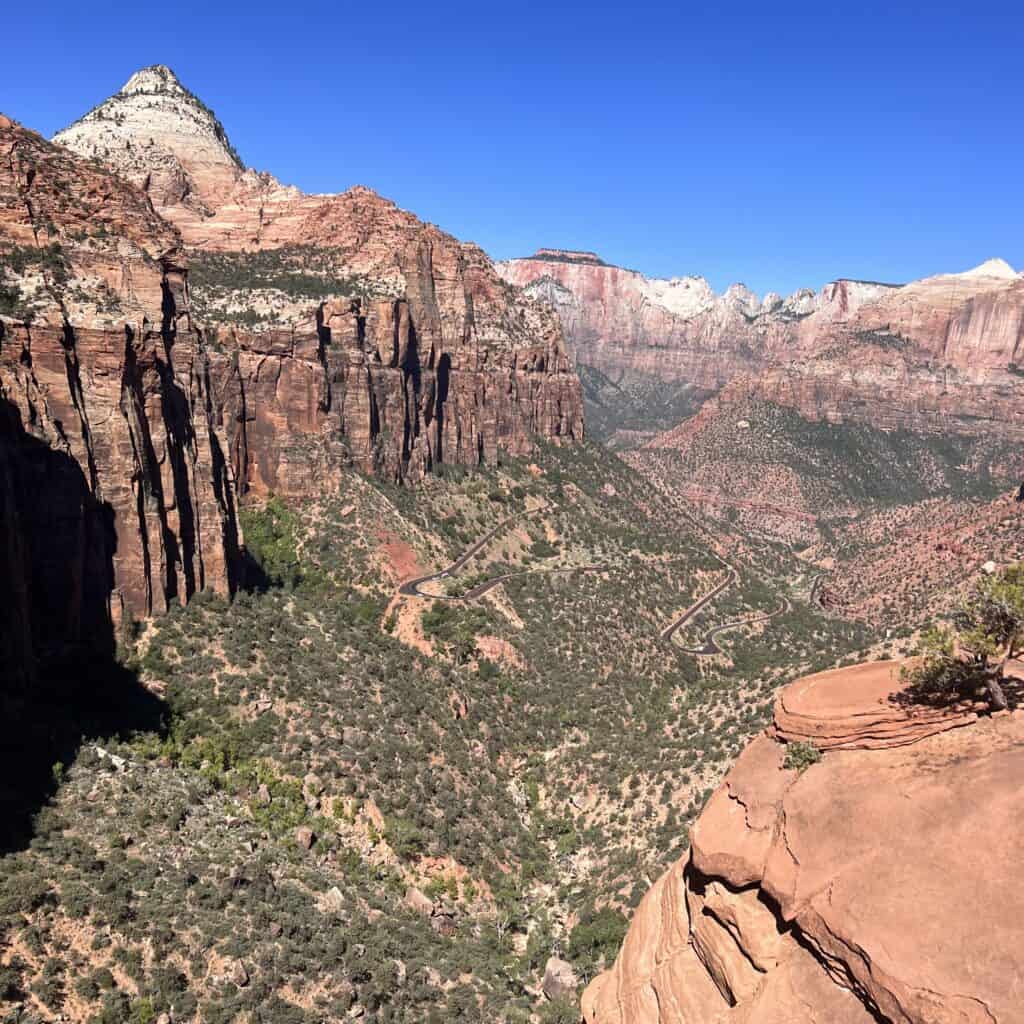 The park shuttle does get going sometime in early March, so you will be subject to its restrictions. If you are staying at the lodge, you will be able to drive into the main canyon. But if the shuttle is running, you will need to use it to access other points in the main canyon.
Things To Do At Zion National Park in March
Important Note – Angels landing is now operating off of a lottery system. You can not arrive to the park and hike Angels landing without having a permit. Learn more about the permit system here.
Some of the things you can do in Zion National Park in March include hiking, biking (designated areas), and exploring the park's many trails. March is an ideal time to explore Zion without the crowds, and trails are open, but there may still be snow on the ground.
Rock Climbing
Rock climbing in March is ideal, with a very small chance of rain and pleasant temperatures. The dry desert air aids in your grip, and once you've reached the wall, the crowds vanish. When you're 400 feet up the face, you'll have an incredible view of the cars and shuttle buses making their way through the canyon.
Canyoneering
You may enjoy yourself in March if you are into canyoneering, but you'll need to have your gear dialed in for the chilly water. The Subway, for example, requires a dry suit to handle the cold water swims that are part of the journey.
Backpacking
In Zion National Park, you can completely get away from the crowds and experience solitude while backpacking. The days are hot enough to enjoy the hike while the evenings are chilly enough to get a good night's sleep.
Please Note: An overnight permit is required for overnight backpacking.
Hike Zion National Park In March: Recommended Trails That Shouldn't Be Missed
Angels Landing (permit now required as of April 2022 click here to learn more)
The Narrows (very cold so you'll need to be prepared with the right gear)
Emerald Pools
Observation Point (Main route from inside the park still closed as of June 2022 read more on alternative routes below)
Weeping Rock
Kayenta Trail
There are also many other activities to enjoy in March, including sunrise or sunset from Canyon Overlook Trail and Watchman Overlook Trail, hiking, and photography.
Hike Angels Landing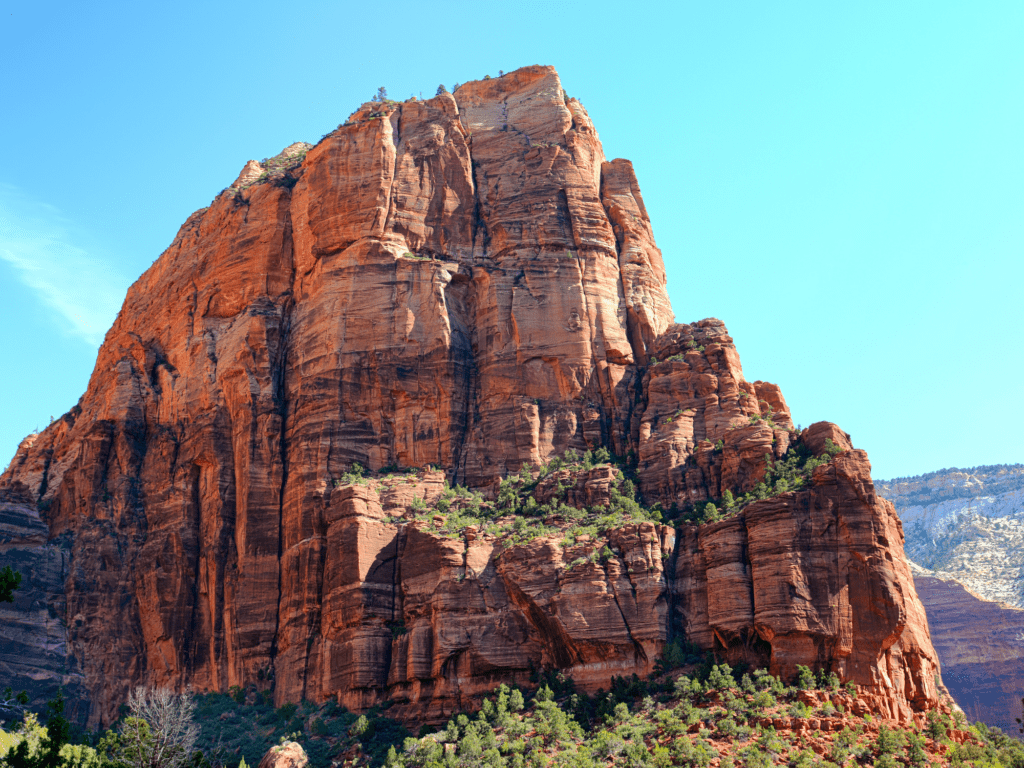 Distance: 4.1 Miles, 1617 ft elevation gain
Time: 2-4 Hours
Difficulty: Strenuous
Traffic: Very Crowded
NOTE: Angels Landing requires a permit to hike starting April 1, 2022. Find details about the lottery system here.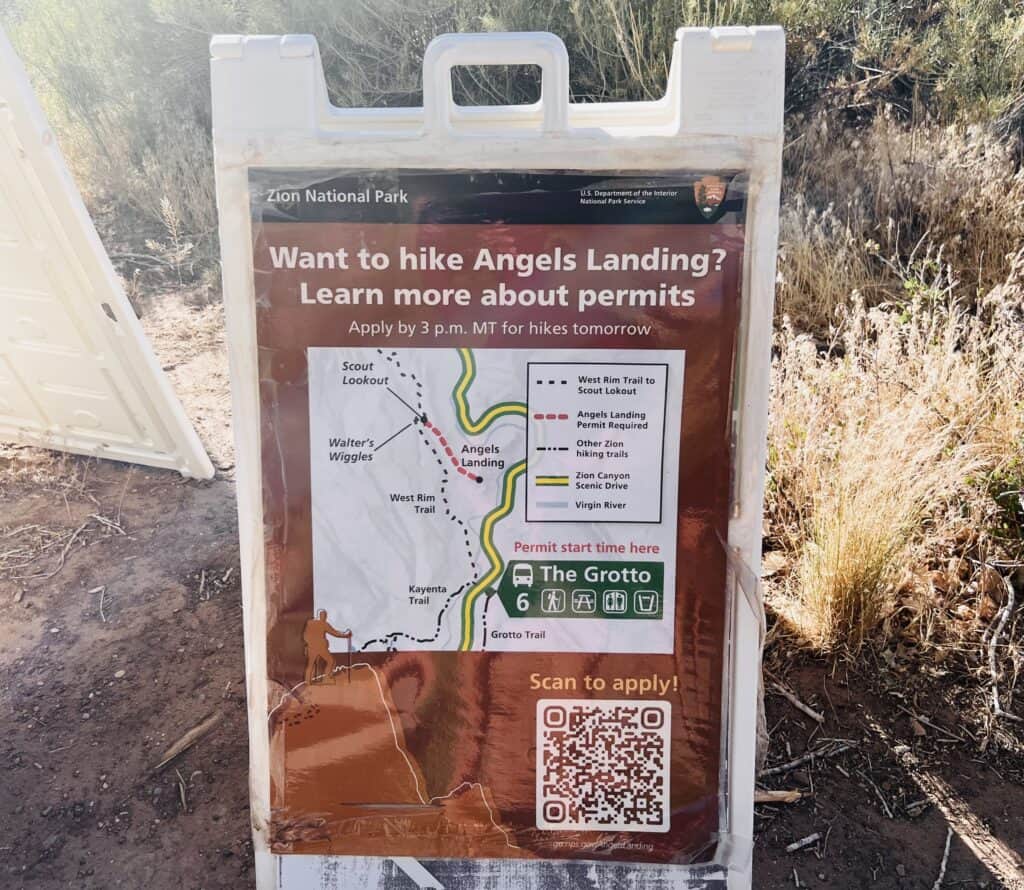 Angels Landing is one of the most popular hikes in Zion National Park. The hike is a 4.1 mile roundtrip and gains 1,617 feet of elevation. The last part of the trail is cut into solid rock, and hikers should only attempt this hike during fair weather conditions.
Fall is the best time to hike in Zion because it offers fewer crowds and more variety than Spring and Summer. Fall offers colors that cannot be found at any other time of year in Zion National Park.
Hike to Observation Point
Important Note (updated 2022): Observation Point is closed via the East Rim trail from Weeping Rock due to large rockfall.
Alternate Route to Observation Point: The East Rim Trail leads to Observation Point. To do so, start at the Zion National Park East Entrance on Route 9. This is a 20-mile round trip, so this is a big day hike that should only be attempted if you're a fast and efficient hiker. Hiking to Observation Point on the East Mesa Trail is a second and more suitable alternative. This is a shorter trip with a total distance of 7 miles. The hike begins at the East Mesa Trailhead, which is located outside of Zion National Park.
Distance: 6.7 Miles out and back, 2131 ft elevation gain
Time: 4-6 Hours
Difficulty: Strenuous
Traffic: Moderate to Crowded
In Zion National Park, the Observation Point is a hike that offers stunning views of the park. The hike is more strenuous than Angel's Landing, but it is less crowded and my favorite.
There are several switchbacks on this hike, and at the top of the switchbacks, you'll reach a steep slot canyon providing relief from the sun. Once you exit the slot canyon, your hike continues to climb around the backside of Zion Canyon and provide sweeping views.
The entire trail is wide and solid rock. Just past the point where the trail levels off, it takes you to Observation Point. Here you have a view of Angel's Landing and both rims of East and West Canyon.
Drive the Zion-Mount Carmel Highway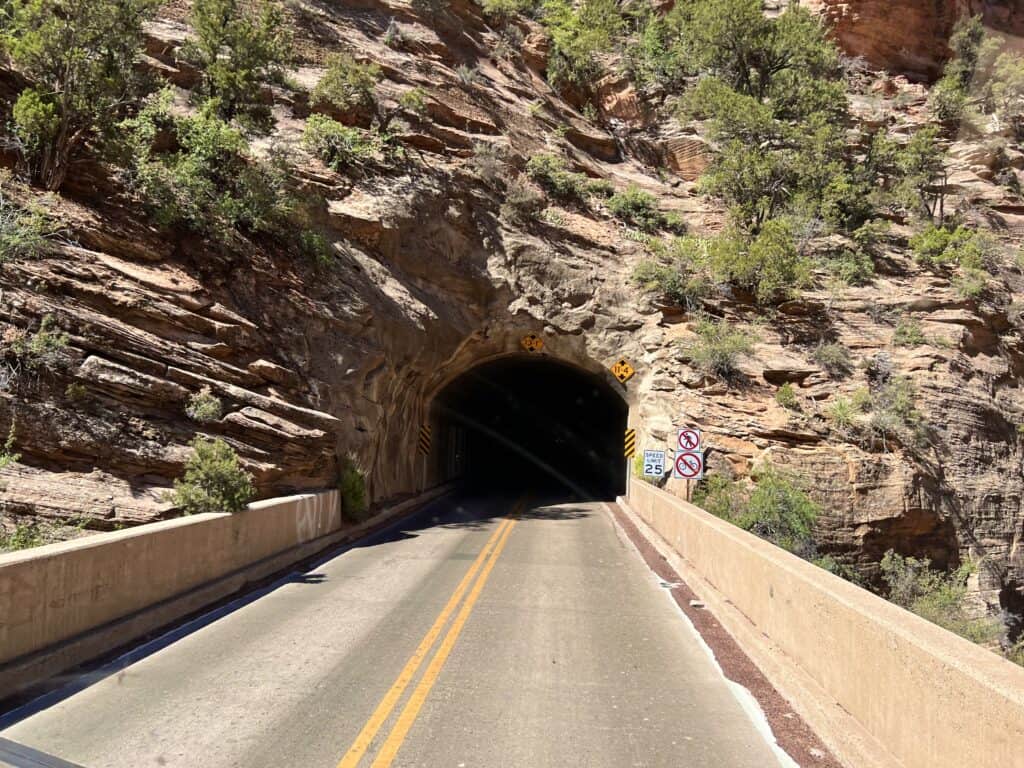 The Zion-Mount Carmel Highway also known as highway 9 is a scenic drive that offers the best views of Zion Canyon. The Highway runs between Zion's main canyon and Mount Carmel and offers stunning views. You will take a portion of this highway if you plan on driving from Zion to Bryce Canyon.
This road winds and offers spectacular views of the swirling, otherworldly rock formations, mounds, towers, hoodoos, and hilltops.
The tunnel is more than 5,000 feet long and rather small, making it suitable only for small passenger cars in two-way traffic. Larger RVs and trucks must have a special escort to keep single-direction flow and guide them through.
(The engineers of the 1920s were very clever, but they didn't anticipate RVs over 12 feet tall on these routes.)
The Zion-Mt. Carmel Tunnel has windows, which enable travelers to glimpse the outside world while passing through it — but there are no bicycles and no stopping permitted in the tunnel.
Please Note: Vehicles that are larger than the following dimensions (7 feet 10 inches (2.4 meters) in width and/or 11 feet 4 inches (3.4 meters) in height or larger) will be required to pay tunnel permit fee of $15. Your $15 tunnel permit is good for two trips through the tunnel for the same vehicle within seven days of purchase. You can learn more here.
Drive the Zion Canyon Scenic Trail in Early March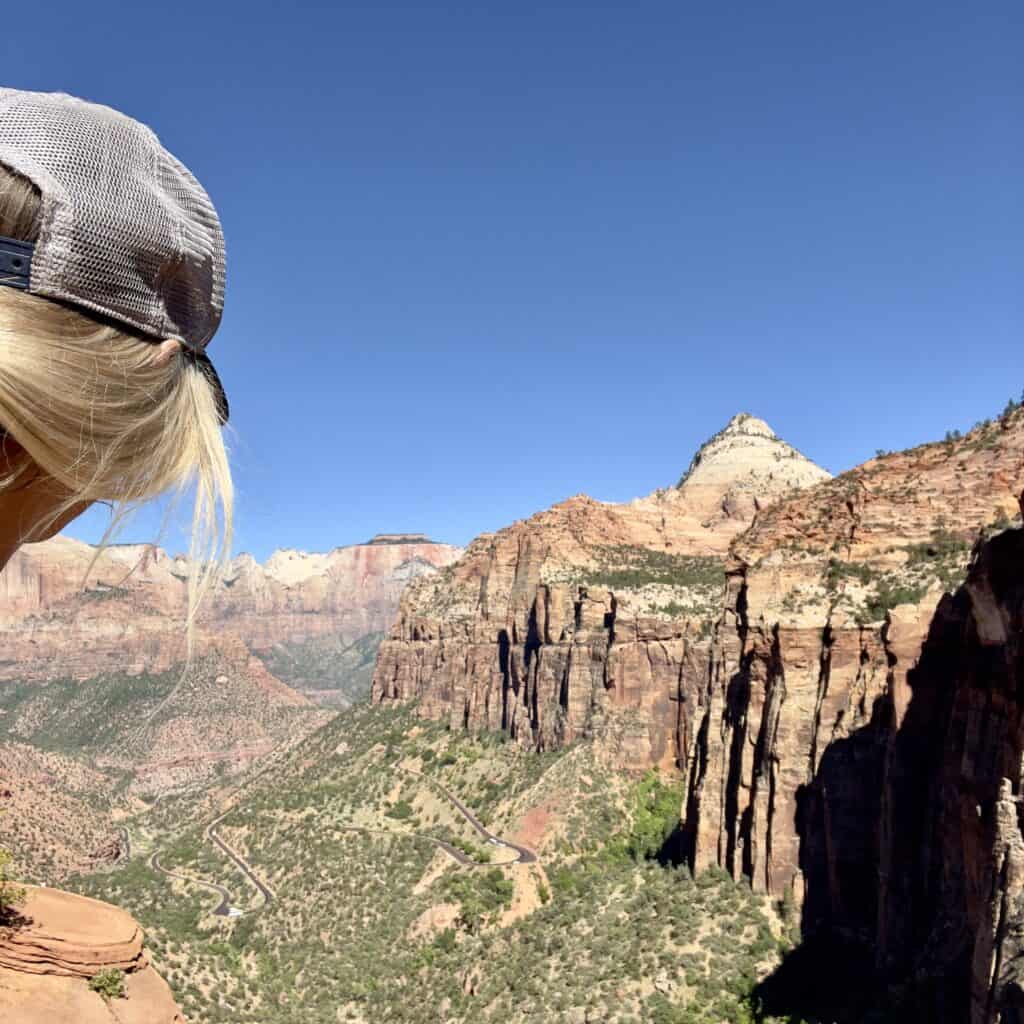 Early March is a great time to drive your own personal vehicle through the Zion Canyon (before the shuttle has started its service) Many animals live in Zion National Park or can be seen along the Zion Canyon Scenic Drive (deer, bighorn sheep, and birds).
Be sure to check the shuttle schedule to see when it has started it's service for the season.
There are shuttle stops for all major hiking trails in Zion National Park. Shuttle schedules change depending on the season, so check before heading out on a hike.
Check Out The Zion Visitor Center
The Human History Museum is a must see place to visit in Zion. It tells the story of the native people who lived in the area long before Europeans arrived.
Can I Drive My Private Vehicle Into Zion Canyon?
From late March through late November, access to the Zion Canyon Scenic Drive is by shuttle bus only. Private vehicles are allowed to access the Scenic Drive only when the Shuttle System is not in operation. Check the schedule here
Is There Any Camping in Zion Canyon?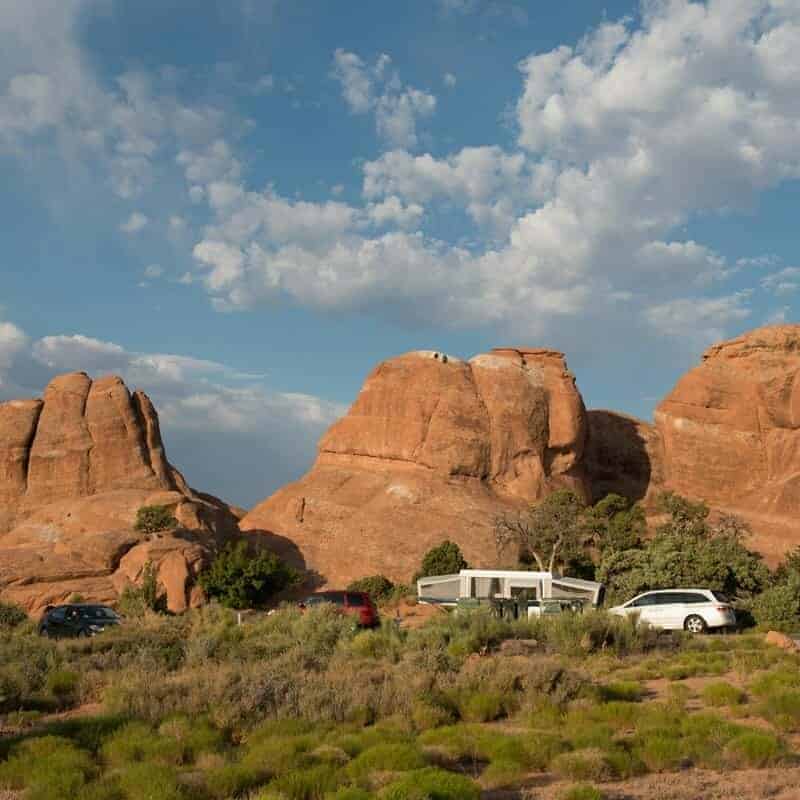 Yes, the closest camping available is in Watchman and South campgrounds, located near the south entrance.
Zion National Park has three campgrounds. The Watchman Campground in Zion Canyon is open all year. In the winter, South Campground is closed. The Lava Point Campground is about a 1-hour drive from Zion Canyon on the Kolob Terrace Road (closed in winter).
The campsites are usually full almost every night from mid-March through late November. If you wish to secure a camping space, make reservations at Watchman Campground (Call 877-444-6777 or go to www.recreation.gov).
Campgrounds Outside of Zion National Park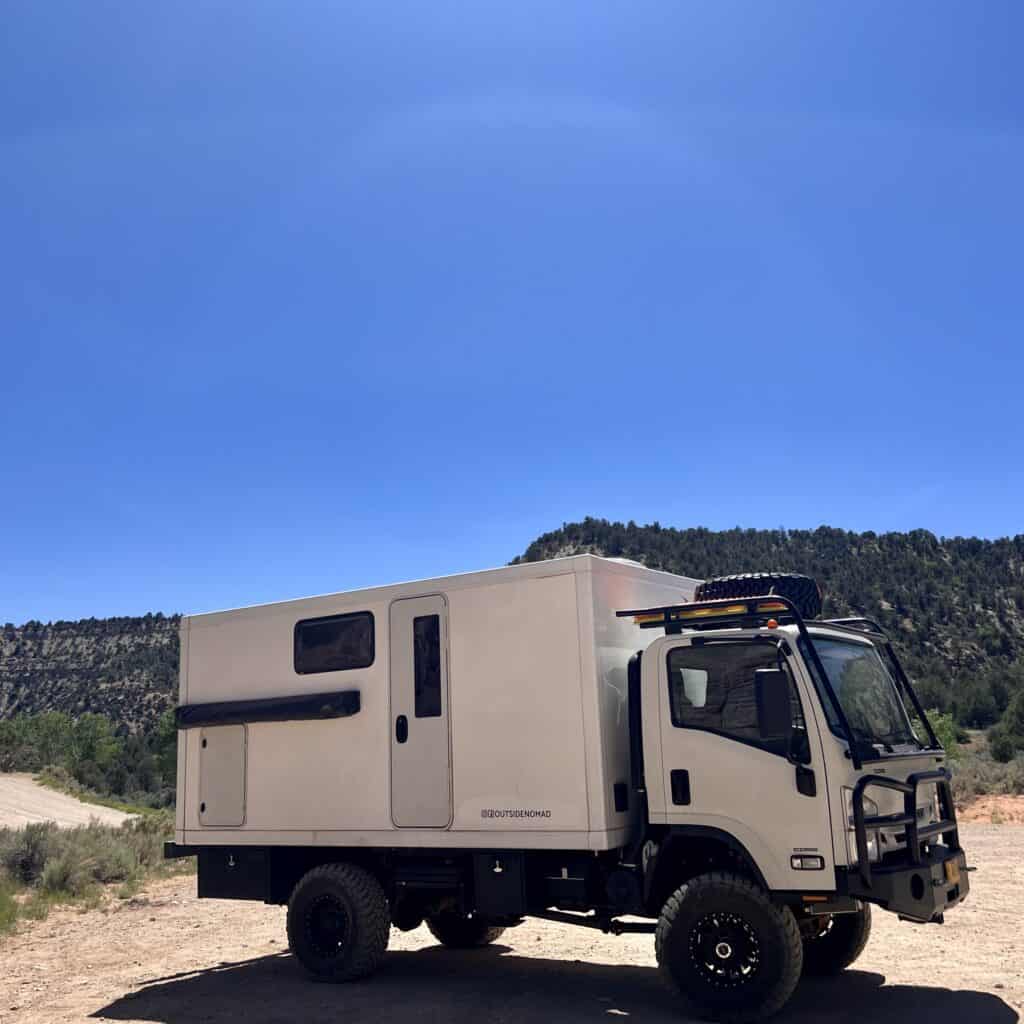 As noted above the campgrounds inside the park fill up very quickly but lucky for you there are other options for camping. We like to use I overlander to find free public camping sites outside the park.
On two separate occasions we've been lucky enough to score absolutely beautiful sites close to the East and South Entrances. Please note these are dry camping sites so you have to be self sustainable (no hookups or services).
There's also campground not far from the East entrance outside of the park thats an option another park called the Hi Road Campground that we saw on our recent visit to the park.
How Much Does it Cost to Visit Zion National Park?
Planning a trip to Zion National Park can be an exciting experience–but it can also be expensive if you're staying in a hotel and eating out! The good news is that the cost varies depending on what you want to do while there. If all you want to do is drive through the park without doing any activities, then all you need is a National Parks Pass.
However if you plan on camping the fees range from $15 to $30 per night.
There are also different hiking permits depending on the activity you choose, which start at $3-5. So as you can see, there's something for everyone, no matter what your budget may be.
Get Out And Explore Zion National Park
I really hope this guide of visiting Zion NP will help you to enjoy your visit to Zion National Park. Please don't hesitate to ask any questions. We've visited Zion 3 times in the last couple of years so have some good beta if you're looking for free camping or a nice place to eat.